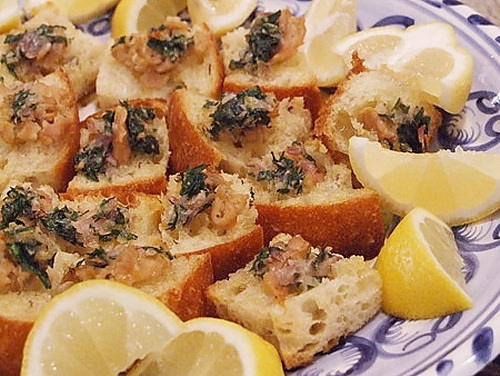 Crostini with Clams
It's amazing how the simplest of recipes can be so good. This is one of them!
Yield:
16 appetizers
Prep Time: 20 minutes
Cook Time: 10 minutes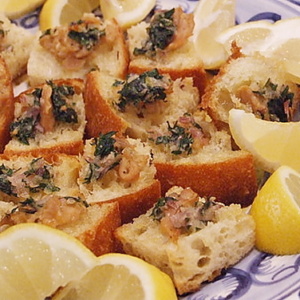 Ingredients:

1 (6.5-ounce) can chopped clams
4 large slices of Italian bread (Ciabatta works great)
3 Tablespoons butter
2 Tablespoons chopped fresh Italian parsley
1 medium shallot, very finely chopped
olive oil for brushing
lemon wedges for serving

Instructions:

1. Preheat oven to 375 degrees. Spray baking sheet with nonstick spray.

2. Drain liquid from can of clams; set aside.

3. Cut each slice of bread, then cut bread into quarters, set aside.

4. In a small frying pan, heat the butter, then cook the parsley with the shallot until shallot softens. Make a slight indentation in the middle of each piece of bread. Brush each piece of bread with olive oil, then put small amount of clam, then a small spoonful of the shallot/parsley mixture in the center of the bread.

5. Place on prepared baking sheet and bake for 10 minutes. Serve at once, while still hot, with lemon sections.