Crostini with Gorgonzola, Caramelized Onions and Fig Jam is a delicious and elegant appetizer recipe.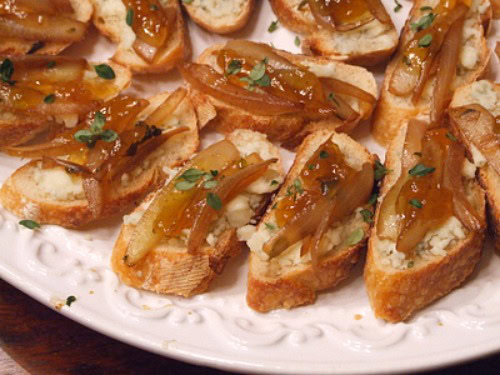 Crostini with Gorgonzola, Caramelized Onions and Fig Jam
Yield:
24 crostini
Prep Time: 25 minutes
Cook Time: 25 minutes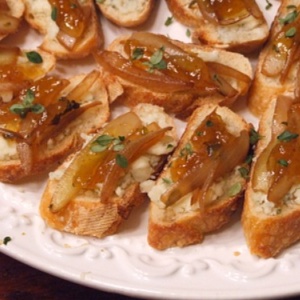 Ingredients:

ONIONS:

2 cups thinly sliced yellow onion
1 teaspoon balsamic vinegar
1/2 teaspoon chopped fresh thyme
1/4 teaspoon salt
1/2 cup water (optional)

REMAINING INGREDIENTS:

1/2 cup (4 ounces) Gorgonzola cheese, at room temperature
24 (1-inch-thick) slices diagonally cut French bread baguette, toasted (about 12 ounces)
1/3 cup fig jam, heated a little bit in the microwave to soften it up
1 teaspoon chopped fresh thyme

Instructions:

Caramelize the onions: Heat a large nonstick skillet coated with cooking spray over medium heat. Add onion, vinegar, 1/2 teaspoon thyme, and 1/4 teaspoon salt; cover and cook 5 minutes. Uncover and cook 20 minutes or until onion is deep golden brown, stirring occasionally. While onion cooks, add 1/2 cup water, 1/4 cup at a time, to keep onion from sticking to pan.
Assemble the Crostini: Spread 1 teaspoon cheese over each baguette slice. Top each slice with about 1 teaspoon onion mixture and 1 teaspoon jam. Sprinkle evenly with thyme leaves.

Tips:

You should be able to find fig jam in your market's jam/jelly aisle, and it can also be found in specialty food shops.
Tip: Melt the jam a bit in the microwave so it is more of a drizzle consistency.
Feta may be substituted for gorgonzola.
SOURCE:  RecipeGirl.com (adapted from Cooking Light)