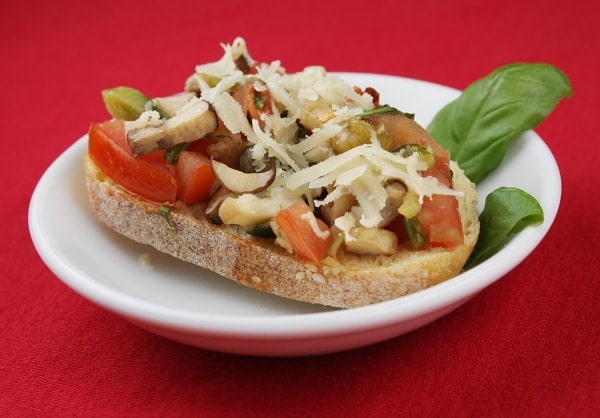 Mushroom and Parmigiano Bruschetta
An amazing, elegant appetizer. Perfect for a cocktail party...
Yield:
Serves 4 (2 bruschetta per serving)
Prep Time: 20 minutes
Cook Time: 5 minutes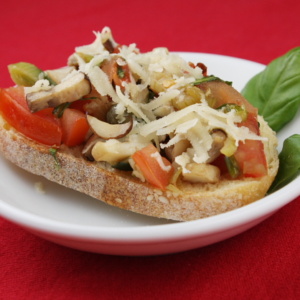 Ingredients:

1/2 cup chopped seeded Roma tomato
2 Tablespoons Sherry vinegar
1 teaspoon capers
1/2 teaspoon granulated sugar
1/4 teaspoon crushed red pepper
1/8 teaspoon salt
10 thinly sliced basil leaves
2 teaspoons butter
1/3 cup sliced cremini mushrooms
1/3 cup sliced shiitake mushrooms
1/3 cup sliced baby portobello mushrooms
1/4 cup chopped green onions
1 clove garlic, minced
8 (1/2-inch-thick) sliced diagonally cut French bread baguette, toasted
1/4 cup (1 ounce) shaved Parmigiano- Reggiano cheese

Instructions:

1. Combine first 7 ingredients (through basil) in a medium bowl; set aside.

2. Melt butter in a medium nonstick skillet over medium heat. Add mushrooms, onions and garlic; cook 5 minutes or until tender, stirring frequently. Add mushroom mixture to tomato mixture; toss well to combine.

3. Spoon about 1 Tablespoon mushroom mixture onto each bread slice. Sprinkle evenly with cheese. Serve immediately.