If you're looking for something a little different, try this Fingerling Potato and Prosciutto Salad.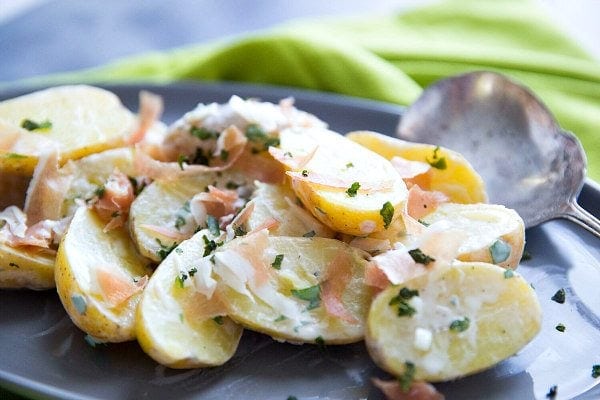 Fingerling potatoes are a small, stubby, finger-shaped potato.  They're a little odd looking, but they're fun to use in recipes because people don't expect to see them!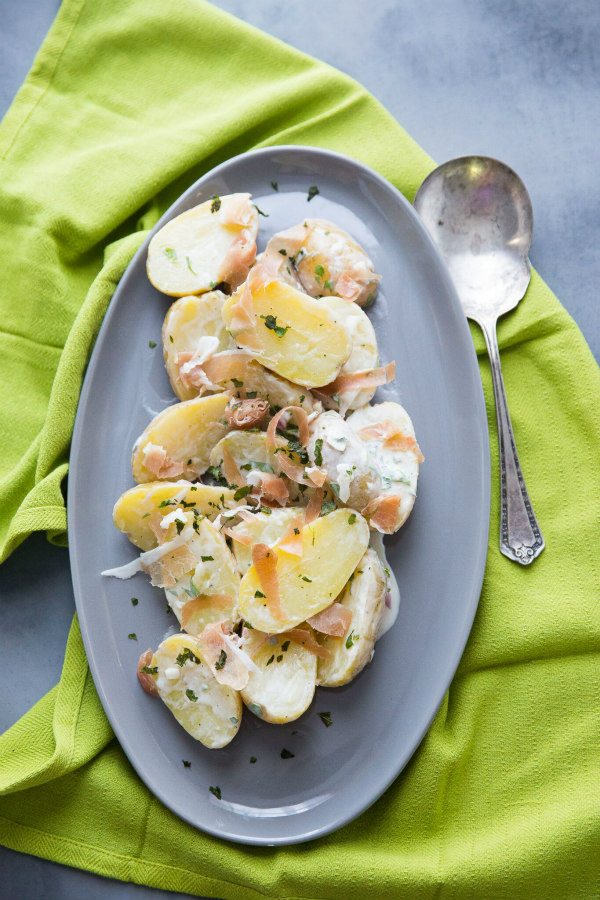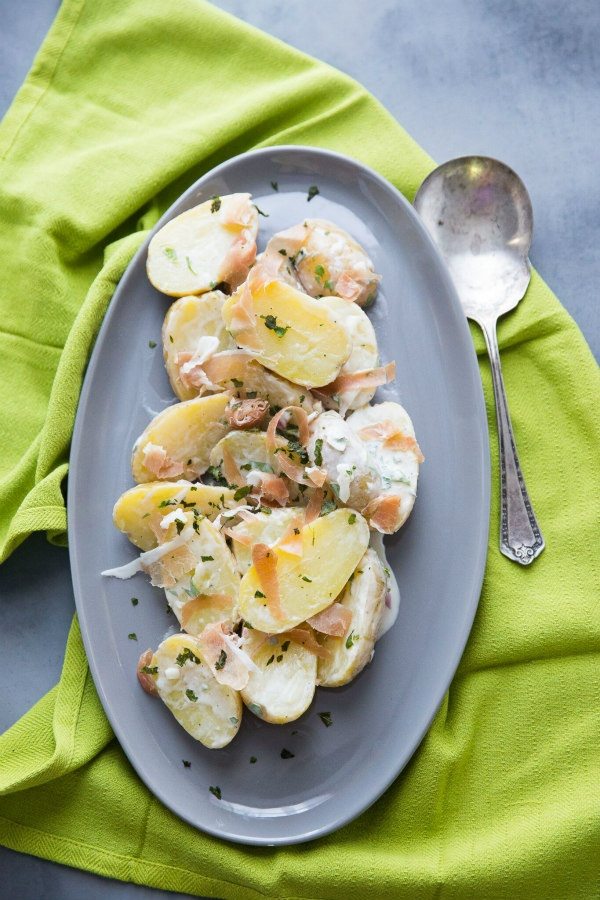 In this recipe, the potatoes are tossed with a lightly creamy dressing.  They're not smothered in it as you see in other potato salad recipes.  Thin slices of prosciutto are mixed in, and they make a delicious addition.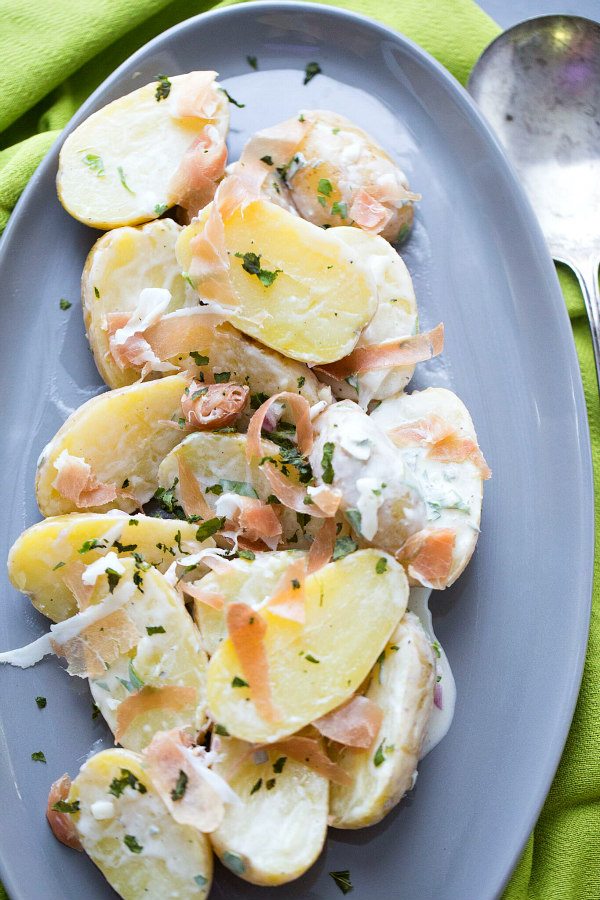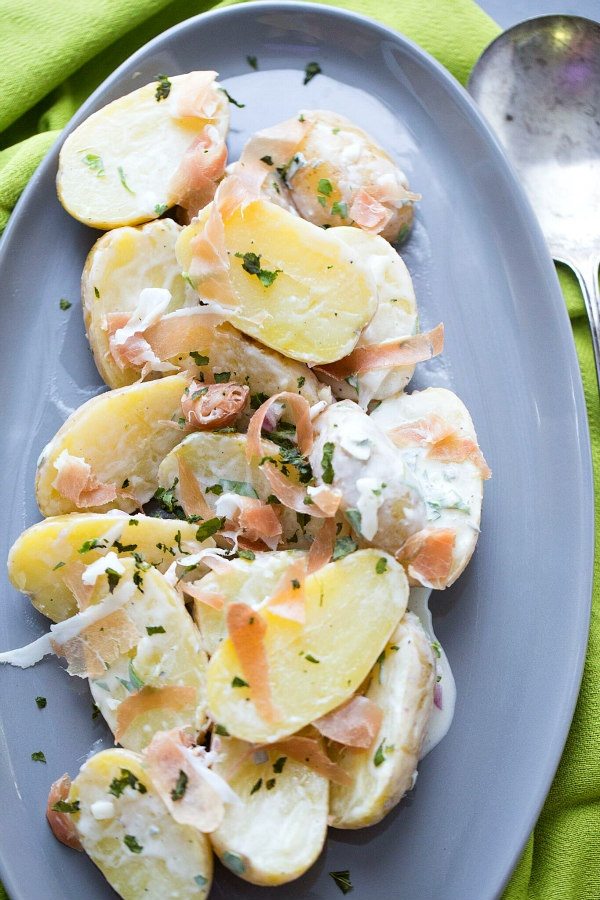 Shallots, parsley and fresh sage round out the flavors in this salad.  It's the perfect sort of potato salad to serve at a nicer, more intimate gathering.  People will appreciate that you made something new!
Fingerling Potato and Prosciutto Salad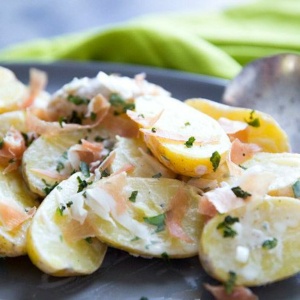 Yield:
4 servings (serving size = 1 cup)
Prep Time: 25 minutes
Cook Time: 20 minutes
Ingredients:
1 pound fingerling potatoes, halved lengthwise
1 tablespoon white wine vinegar
1/4 cup finely chopped shallots
1/4 cup chopped fresh flat-leaf parsley
3 tablespoons crème fraîche
1 teaspoon chopped fresh sage
1/2 teaspoon kosher salt
1/4 teaspoon freshly ground black pepper
3 ounces very thin slices prosciutto, finely chopped
Directions:
Place potatoes in a medium saucepan; cover with water. Bring to a boil; reduce heat, and simmer 15 minutes or until tender. Drain. Stir until tender. Drain. Stir in vinegar. Cover and chill.
Combine potato mixture and remaining ingredients in a large bowl; toss gently to coat.
Nutrition:
Nutritional Information per 1-cup serving: Calories:

154, 

Fat:

3.12g, 

Saturated Fat:

1.38g, 

Sugar:

.94g, 

Sodium: 826.43mg, Fiber:

2.69g, 

Protein:

8.99g, 

Cholesterol:

18.84mg, 

Carbohydrates:

23g

Weight Watchers POINTS per 1-cup serving:  Freestyle SmartPoints: 6, Points Plus Program: 4, Old Points Program: 3
SOURCE:  RecipeGirl.com (via Cooking Light)
Here are a few more potato salad recipes you might enjoy: