Garlic Green Beans with Prosciutto
This is a fantastic green beans side dish recipe: Garlic Green Beans with Prosciutto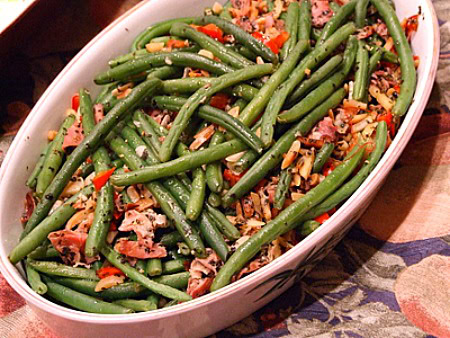 Yield: 6 servings
Prep Time: 15 minutes
Cook Time: 8 minutes
Garlic Green Beans with Prosciutto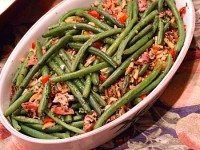 Ingredients:
12 ounces French Haricot Verts (green beans)
2 tablespoons extra-virgin olive oil
2 cloves garlic, minced
1/3 cup diced red bell pepper
1/3 cup toasted slivered almonds
1/4 cup diced prosciutto
1 tablespoon dried basil
splash of dry vermouth
salt and pepper to taste
Directions:
Steam beans to crisp texture- do not overcook.
Meanwhile, heat olive oil in a large skillet on medium-low heat. Add garlic and bell pepper and saute for 1 minute or until garlic releases its aroma. Add almonds, prosciutto, basil and a splash of vermouth, stirring lightly. Add mixture to the beans and toss lightly. Add salt and pepper to taste. Serve warm.
Tips:
You can usually find large bags of Haricot Verts at Costco.
If you are preparing this recipe as GLUTEN FREE, just be sure to use prosciutto that does not have any added gluten.
SOURCE: RecipeGirl.com