Mushrooms + Shallots + Green Beans make a lovely and delicious side dish: Green Beans with Mushrooms and Shallots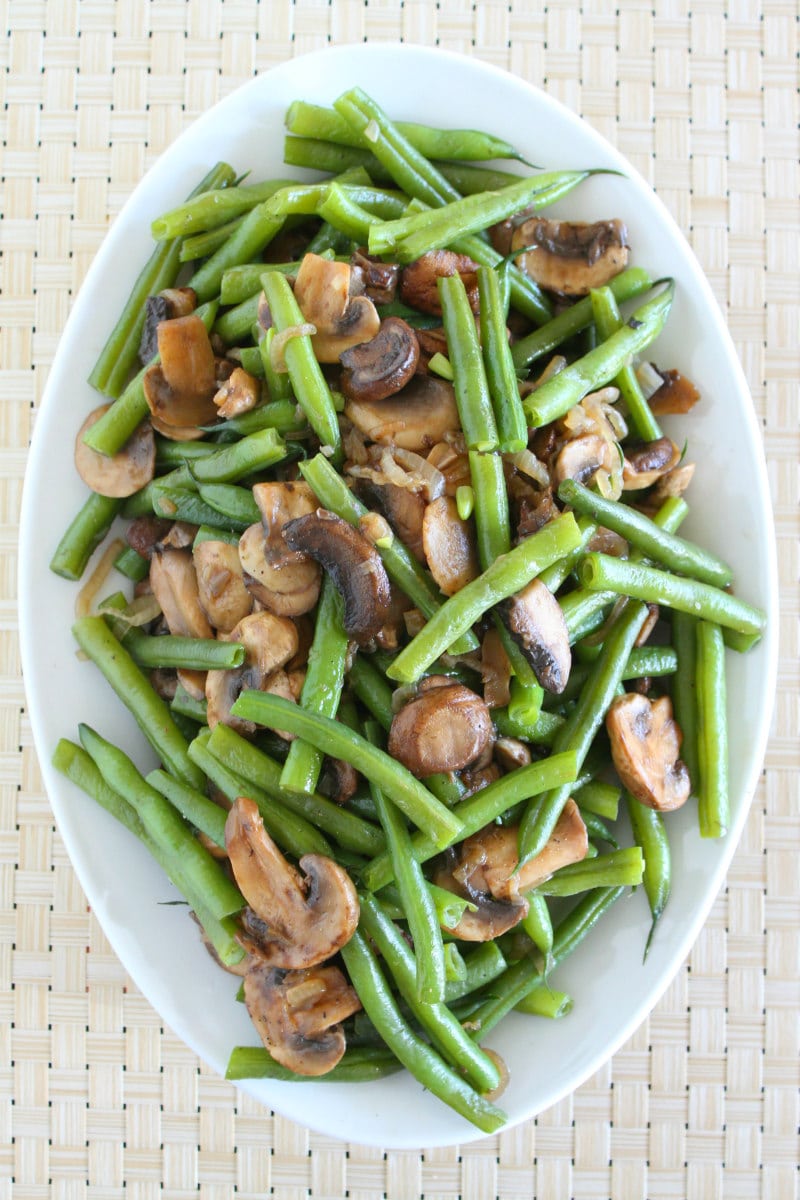 Sometimes simple is best. And this is one of those super simple side dishes. Do you love mushrooms? If you do, then I suggest whipping up these Green Beans with Mushrooms and Shallots. Mushrooms cooked with fresh green beans add great flavor, and the shallots cooked in there too are just an added bonus!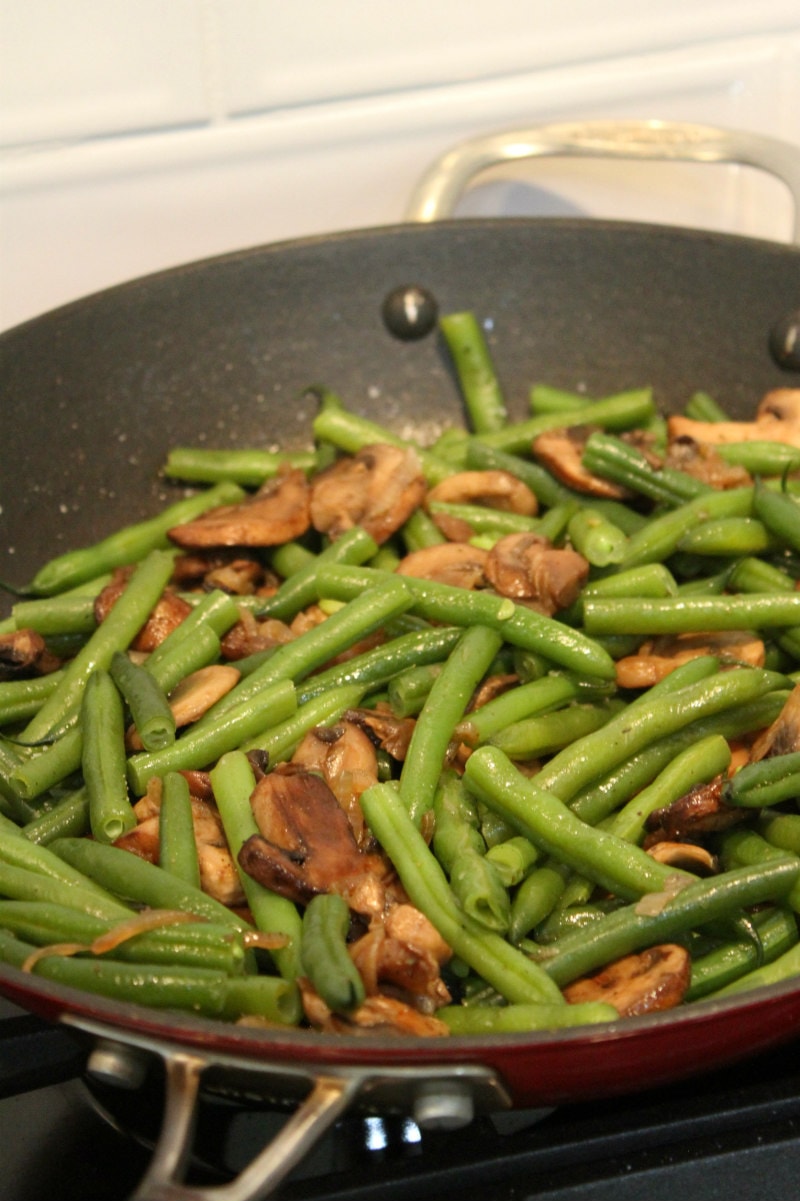 You don't need anything fancy to make this dish. The green beans are steamed in a steamer basket. And then you'll sauté the shallots and mushrooms in a bit of olive oil while those are steaming.
How to choose the best green beans:
Look for green beans that feel firm and crisp. Avoid green beans with bruises or discoloration. Nice, fresh green beans will snap easily and cleanly.
How long do mushrooms last?
If you've ever wondered whether or not your mushrooms are still okay to use, you're not alone. Sliced should be able to stay fresh in your refrigerator for several days. A good way to tell if they're still fresh is to feel them. Mushrooms going bad develop a slimy surface, and they darken in color too. They'll begin to smell a little "off" as well. Whole mushrooms last a little bit longer than sliced.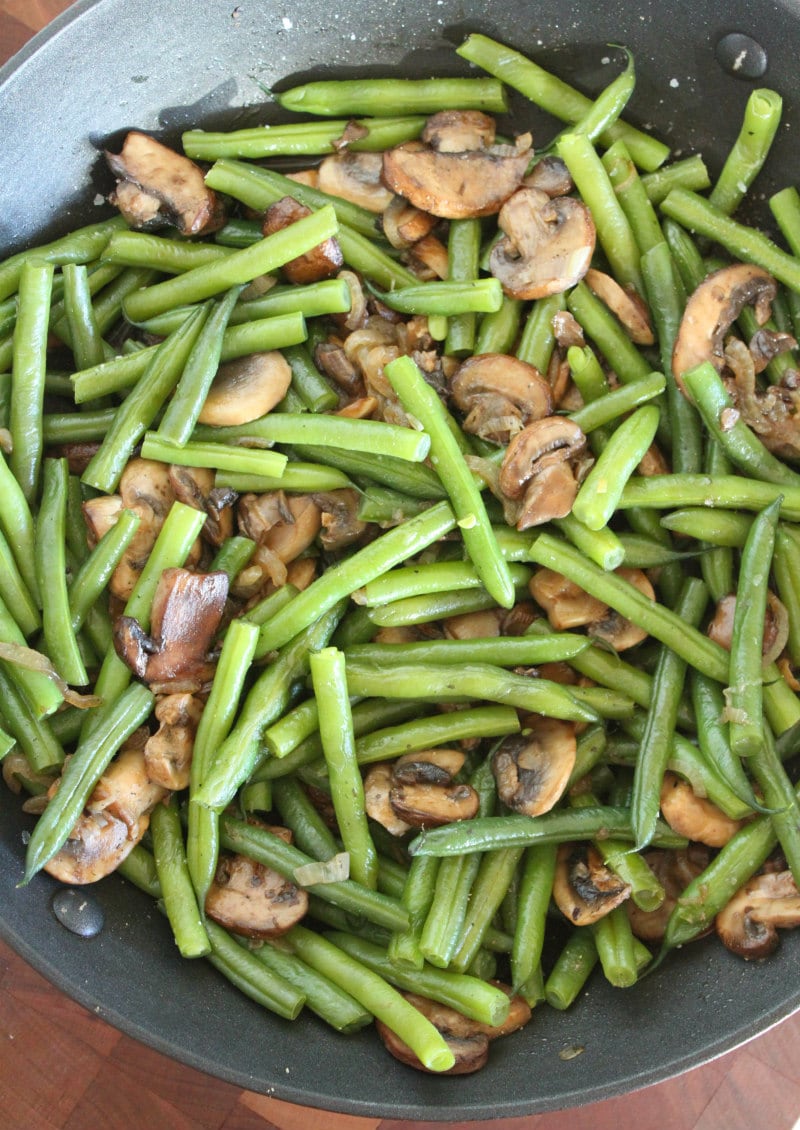 Once softened up, the green beans are added to the cooked shallots and mushrooms. An addition of salt and pepper completes the dish!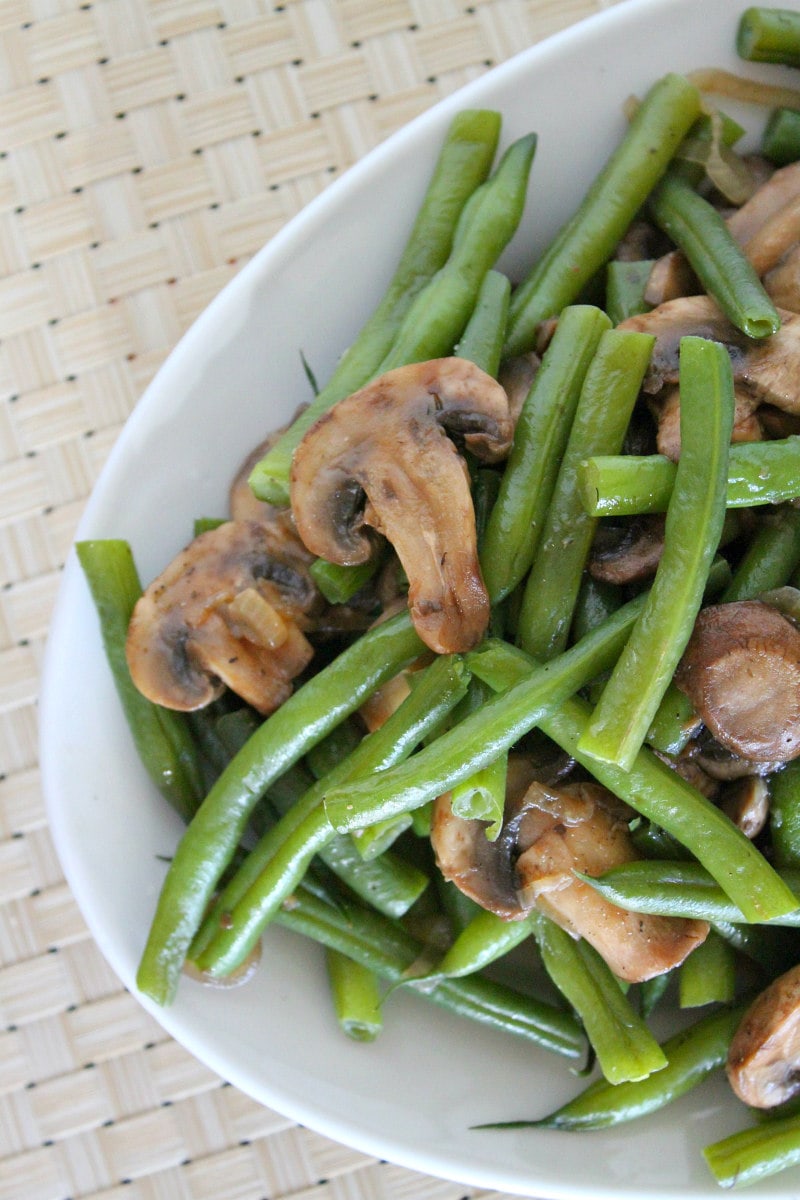 I love shallots in a dish like this because shallots have a milder flavor than onions and they don't overpower the flavors of the vegetables. This is a great side dish to steaks, chicken and other proteins. Enjoy!
Here are a few more recipes with green beans that you might like to try:
If you happen to be following the Weight Watchers WW plan, you will find a link to the WW Points on the recipe card below.
Green Beans with Mushrooms and Shallots
Simple green beans cooked in a skillet with shallots and mushrooms- delicious!
Recipe Details
Ingredients
1

pound

fresh green beans,

trimmed and cut into 1-inch pieces

2

tablespoons

olive oil

2

medium

shallots,

sliced (about 1/3 cup)

12

ounces

assorted sliced fresh mushrooms

salt and freshly ground black pepper,

to taste
Instructions
Place the green beans in a steamer insert placed in a pan above a small amount of boiling water. Cover and steam until tender but not squishy (or however you desire them to be).

While the beans are steaming, heat the oil over medium-high heat in a large nonstick skillet. Add the shallots and cook, stirring, until softened slightly, about 2 minutes. Add the mushrooms and cook, stirring occasionally, until the water they release has evaporated and they begin to brown, about 10 minutes. Add the green beans and stir to combine and rewarm. Season with salt and pepper and serve.
Nutrition
Serving:
1
serving (3/4 cup)
,
Calories:
125
kcal
,
Carbohydrates:
13
g
,
Protein:
5
g
,
Fat:
8
g
,
Saturated Fat:
1
g
,
Sodium:
13
mg
,
Potassium:
551
mg
,
Fiber:
4
g
,
Sugar:
6
g
,
Vitamin A:
782
IU
,
Vitamin C:
17
mg
,
Calcium:
49
mg
,
Iron:
2
mg