Since I'm quite the expert in pickling now, I decided to go for another pickling recipe.  My sister S picked this one out from a magazine.  We thought it might be a good summer-time treat to nibble on, virtually calorie-free.  They've gotta be better for you than downing an entire bag of Sea Salt Crinkle Cut Kettle Chips, or eating Red Sox Green Monster Mint Ice Cream by large spoonfuls, or nibbling oodles of tootsie rolls or anything else that I'm currently addicted to (which is not anything all that great for you, unfortunately).  These… these are good for you:  Spicy Pickled Green Beans.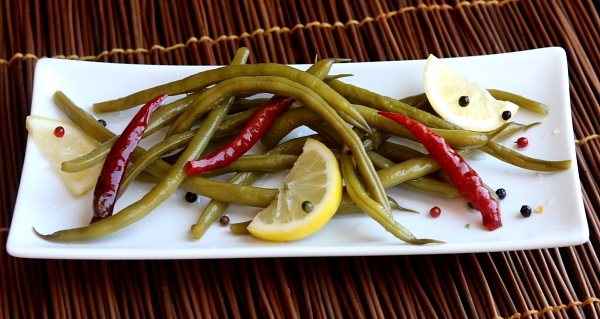 See how pretty they are? How can you resist a treat like that?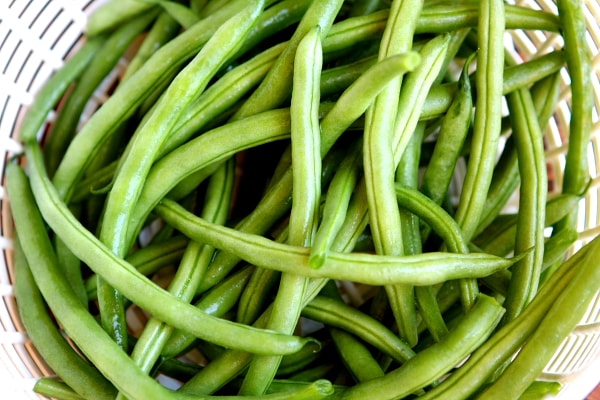 I suppose you have to like green beans at least a little bit to enjoy this recipe. Choose the best fresh green beans you can find. You don't have to do anything very special to them. Just trim the ends and rinse them.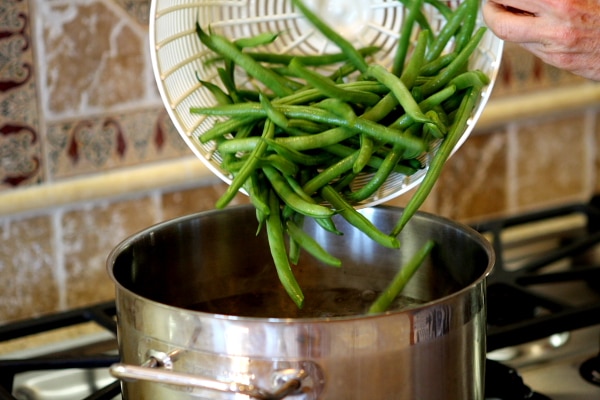 Blanch them in boiling water for just a couple of minutes- seriously! You want them just slightly cooked, but you definitely don't want them limp. You want them to stay bright green and crisp!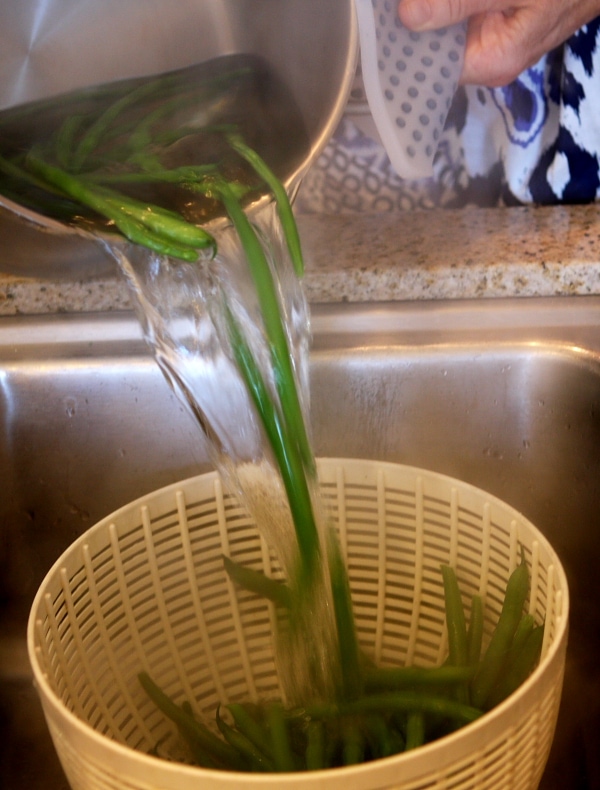 Then drain the green beans and rinse them well with cold water. You don't want them to keep cooking, so keep rinsing until they are pretty well cooled-off.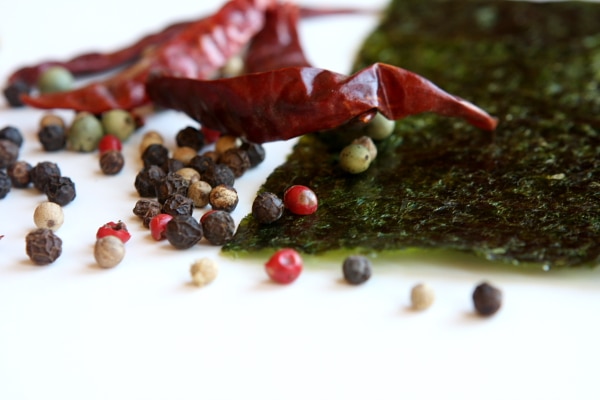 There are a few ingredients in the pickling marinade that are key to giving it that spicy flavor:  peppercorns (I used these pretty multi-colored ones, but you can use any…), kelp or seaweed, and dried red chiles.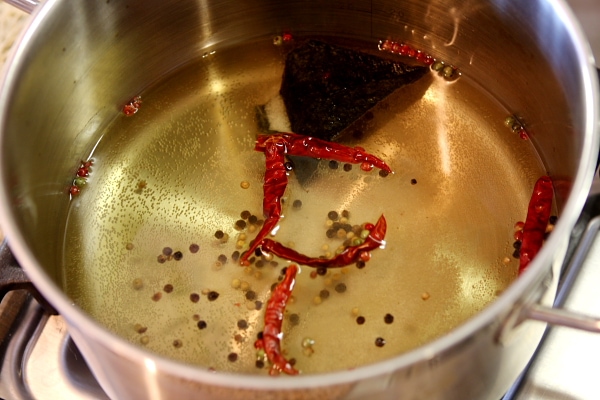 These ingredients are mixed with rice vinegar, sugar and kosher salt.  Everything is brought just to a boil.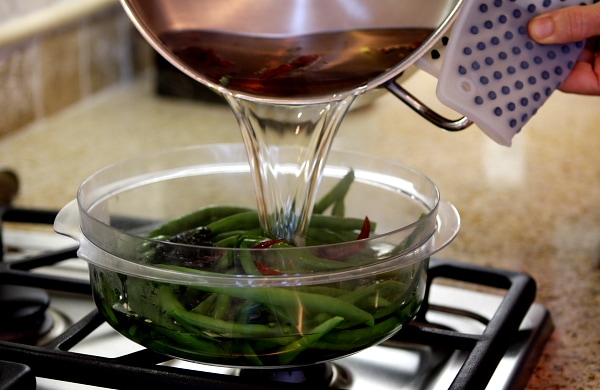 The boiling pickling liquid is poured over your blanched green beans in a bowl.
Lemon slices are added.  And then it sits until it comes to room temperature.  Slit open a couple of the red chiles and let that spicy flavor spill forth into the pickling liquid.  Refrigerate until you're ready to start munching.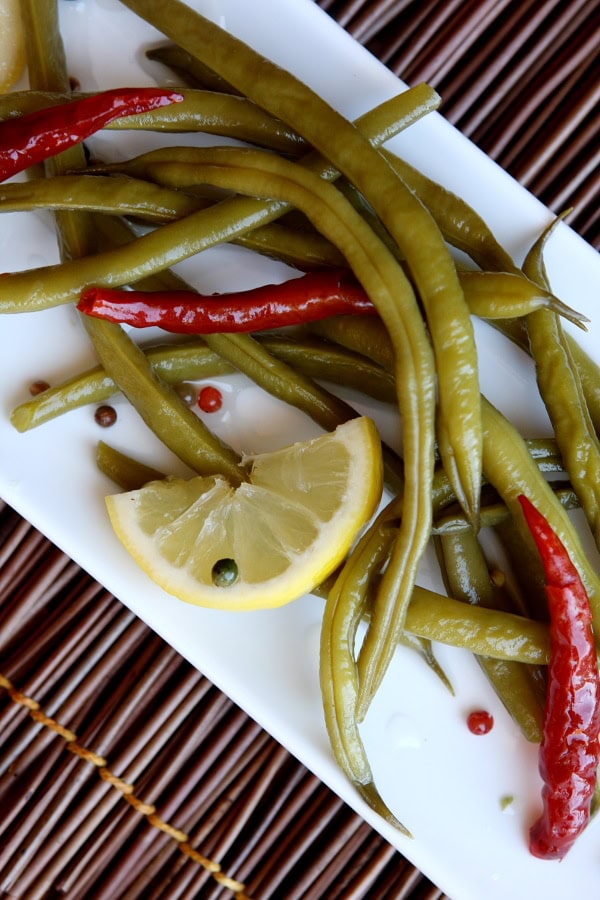 The beans turn out crisp and tangy with hints of spice and lemon.  They are a perfect, low calorie, weight-watching, summertime treat.  In fact, if you're on Weight Watchers, you can munch on these and count zero points.  How cool is that? 
Enjoy 🙂
Spicy Pickled Green Beans
Delicious, low fat summertime snack...
Yield:
8 cups
Prep Time: 45 min + chill time
Cook Time: 10 min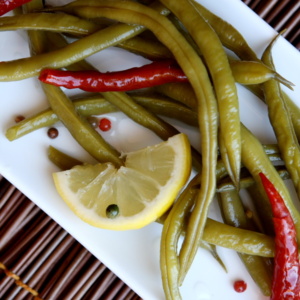 Ingredients:

1 pound very fresh green beans (nice and crisp), ends trimmed
2 cups rice vinegar
1/4 cup granulated white sugar
2 Tablespoons kosher salt
6 small dried red chiles, such as Thai or arbol
1 teaspoon multi-colored peppercorns
3 inch-long piece of kombu (dried kelp) or seaweed
1 lemon, sliced (seeds removed)

Instructions:

1. Bring a medium pot of water to boil and blanch green beans until tender-crisp, 2 to 3 minutes (don't overcook... you don't want limp green beans). Drain and put in a large heatproof bowl.

2. Bring 2 1/2 cups of water to boil in another medium pot with vinegar, sugar, salt, chiles, peppercorns, and seaweed. As soon as the liquid boils, pour over beans and add the lemon slices. Let cool to room temperature. Slit 3 of the chiles to let seeds spill into liquid. Chill, covered, overnight to let flavors develop. Serve cold.

Tips:

*I found the red chiles (Arbol) in my market's Latin products aisle, and I found the seaweed in the Asian foods aisle.
*You can use regular, old black peppercorns if you'd like, but the multicolored ones are so pretty in this.
*These green beans will keep - covered in the refrigerator- for about one week.

Nutrition:

Nutritional Information per serving:
Serving size: 1/4 cup (drained)
Calories per serving: 5.4
Fat per serving: 0g
Fiber per serving: .4g
Protein per serving: .2g
Carbohydrates per serving: 1.3g

WW POINTS per serving:
Points Plus Program: 0 Old Points Program: 0

Source: RecipeGirl.com (Adapted from Sunset)