This recipe has been featured in a how-to post on The Recipe Girl blog: S'Mores Granola Bars. These are gluten-free adaptable- please see tips below the recipe.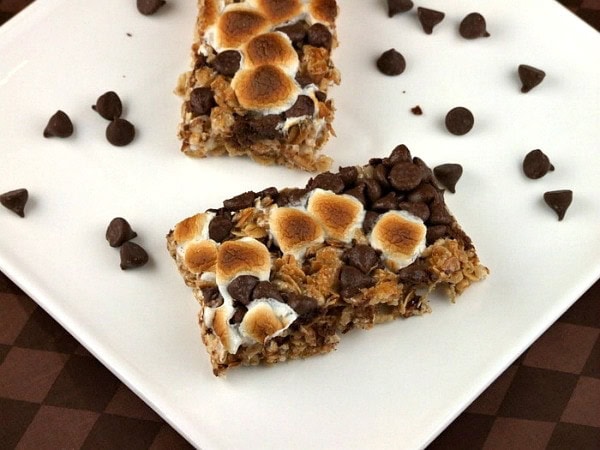 S'Mores Granola Bars
Yield:
About 36 small bars
Prep Time: 30 min
Cook Time: 18 min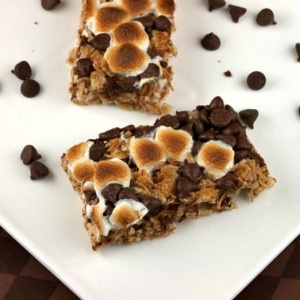 Ingredients:

4 cups rolled oats (regular- not quick cooking oats)
4 cups Rice Krispies cereal
3/4 cup granulated white sugar
1/2 cup (1 stick) unsalted butter
1/4 cup water
1/2 cup light corn syrup
1 teaspoon salt
3 cups miniature marshmallows, divided
1 1/2 cups chocolate chips

Instructions:

1. Preheat oven to 425°F. Lightly grease a half-sheet (18x13-inch) pan, or two 9x13-inch pans.

2. Place the oats on the prepared pan(s). Bake for 3 minutes- stir oats- bake for 3 more minutes. The oats won't brown, but they should begin to smell toasty. Don't overbake, or the oats will begin to burn. Remove the pan from the oven; transfer the oats to a bowl and add the Krispies. (Keep the oven on).

3. In a large saucepan, combine sugar, butter, water, corn syrup, and salt. Bring the mixture to a boil and boil for 5 minutes, or until the temperature reaches 250°F. on a candy thermometer. Remove the mixture from the heat and pour it over the oats and cereal, tossing to combine. Add 1 1/2 cups of the marshmallows, and stir again until well combined.

4. Place the mixture on the prepared pan (the one you used for the oats), patting it flat. Sprinkle with the remaining 1 1/2 cups of marshmallows and chocolate chips. If you grease the bottom of another half-sheet pan, you can use it to press down on the mixture to make it flat and even.

5. Return the pan of bars to the oven for 3 minutes, or until the marshmallows have puffed and are slightly browned. Be careful... the marshmallows will burn if you leave them in too long. Remove the bars from the oven and cool for about 10 minutes on a rack. Cut into squares while still warm- it's easiest to do this using a baker's bench knife or a knife with a wide blade.

Tips:

*If you are preparing this recipe as gluten free, be sure to use GF oats and the GF variety of Rice Krispies. Use brands of marshmallows and chocolate chips that are known to be GF too.
*These will store best in individual zip baggies. They should be fine for snacking for a week or so if kept in well-sealed bags.