This recipe has been featured in a post on The Recipe Girl blog: It's a Candy Bar… It's a Cookie.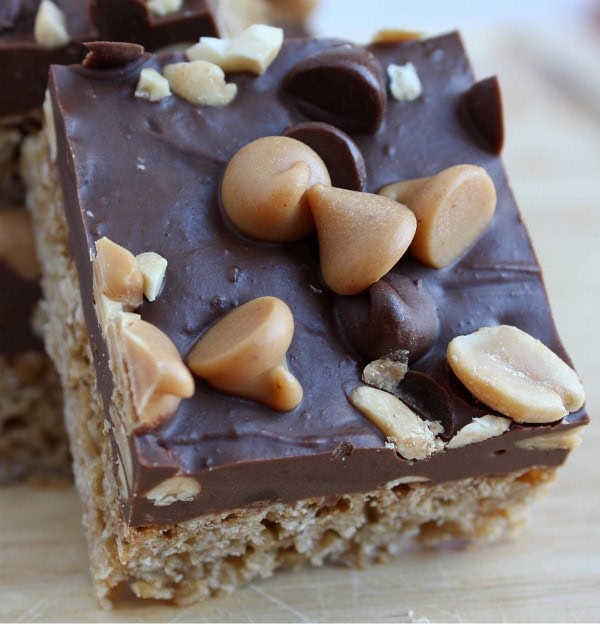 Candy Bar- Cookie Bars
These delicious little treats have an oatmeal-peanut butter cookie layer that is topped with a layer of melted chocolate & peanut butter... and chips and peanuts on top too.
Yield:
30 pieces
Prep Time: 25 min
Cook Time: 20 min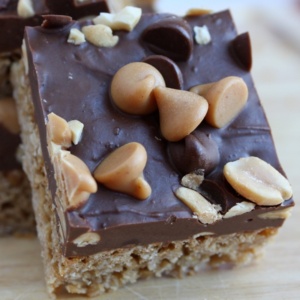 Ingredients:

COOKIE LAYER:
1 cup (packed) brown sugar
2/3 cup butter
1/4 cup corn syrup
1/4 cup creamy peanut butter
1 teaspoon vanilla extract
3 1/2 cups quick-cooking rolled oats

CANDY BAR LAYER:
2 cups semisweet chocolate chips (12 ounces)
1 cup peanut butter chips
2/3 cup creamy peanut butter
1/2 cup chopped peanuts

TOPPING:
1/2 cup semisweet chocolate chips
1/2 cup peanut butter chips
1/3 cup chopped peanuts

Instructions:

1. Preheat oven to 375 degrees F. Line 13x9-inch pan with foil; spray foil with nonstick spray.

2. In a medium saucepan, stir brown sugar, butter and corn syrup over medium heat until combined. Remove from heat and stir in peanut butter and vanilla; stir until smooth.

3. Place oats in a very large bowl. Pour brown sugar mixture over oats; stir to combine. Press oat mixture onto the bottom of prepared pan.

4. Bake 10 to 12 minutes, until golden. Don't over-bake (you don't want it to brown) or it will be on the crunchy side. Let the cookie layer cool for about 15 minutes on a wire rack.

5. In the same saucepan, stir chips and peanut butter over low heat until melted and smooth.

6. Sprinkle 1/2 cup of chopped peanuts over the baked cookie layer. Pour chocolate over the peanuts; spread to make an even layer. Sprinkle chocolate and peanut butter chips and peanuts over the top; press lightly into the chocolate layer.

7. Refrigerate until firm; cut into squares.