This recipe has been making the rounds on the internet for quite some time. I finally got around to making them… so simple and delicious. Be sure to throw some festive sprinkles on top!  This recipe has been featured in a post on The Recipe Girl blog:  Sugar Cookie Bars Make People Happy.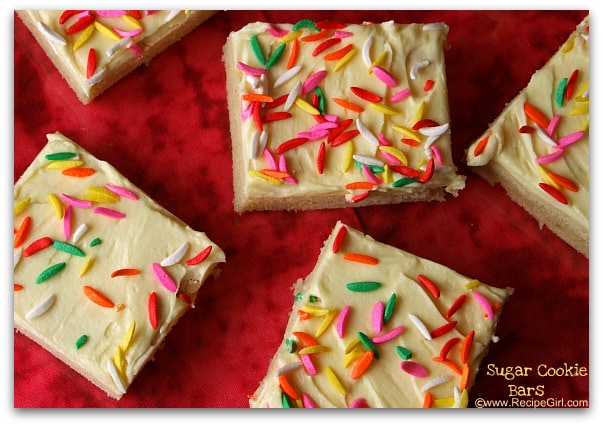 Sugar Cookie Bars
Yield:
32 bars
Prep Time: 25 min
Cook Time: 13 min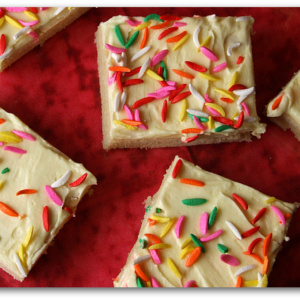 Ingredients:

COOKIES:
1 cup (2 sticks) unsalted butter, at room temperature
2 cups granulated white sugar
4 large eggs
2 teaspoons vanilla extract
5 cups all-purpose flour
1 teaspoon salt
1/2 teaspoon baking soda

FROSTING:
1/2 cup (1 stick) butter; at room temperature
1/2 cup shortening
1 teaspoon vanilla extract
pinch of salt
4 cups powdered sugar (sift after measuring)
5 tablespoons milk
food coloring, if desired

Instructions:

1. Prepare bars: In a large bowl with an electric mixer, cream butter and sugar until fluffy. Add eggs, one at a time, mixing after each egg. Mix in vanilla.

2. In a separate bowl whisk together flour, salt & baking soda. Add to wet mixture and mix just until combined. Spread on a greased, rimmed baking sheet (use a 13 x 18 pan).  The dough will be just like cookie dough- heavy & sticky- so it's best to spray your hands with a little nonstick spray and use them to help mold the dough into the pan.

3. Bake at 375 degrees for 10-15 min, until light golden brown or until a toothpick comes out clean. Cool completely before frosting.

4. Prepare frosting: In a large bowl, beat butter and shortening together until smooth and creamy. Mix in vanilla and salt. Add powdered sugar (1 cup at a time) until combined, then add milk & mix until smooth and spreading consistency. Add a few drops of color, if desired. Spread over cooled cookie, then cut into bars.

Tips:

*Refrigerate the bars until firm... it will be easier to get nice, clean cuts.