Here's a bar recipe you probably haven't tried before:  Apricot Bars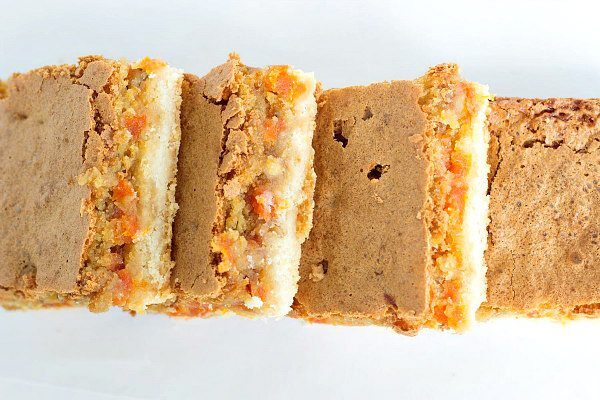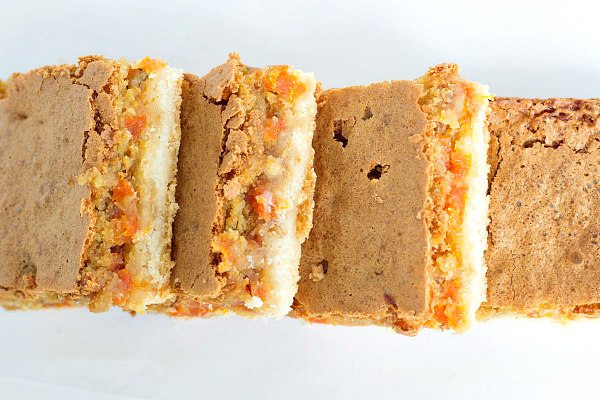 This is an updated recipe from many years ago.  The photographs I took for this recipe so many years ago were atrocious, so I chose to update it and share it again.
Thank you to Miranda from the CookieDoughAndOvenMitt.com blog for shooting beautiful photos of these Apricot Bars for me.  I think Miranda certainly captured how delicious these bars truly are!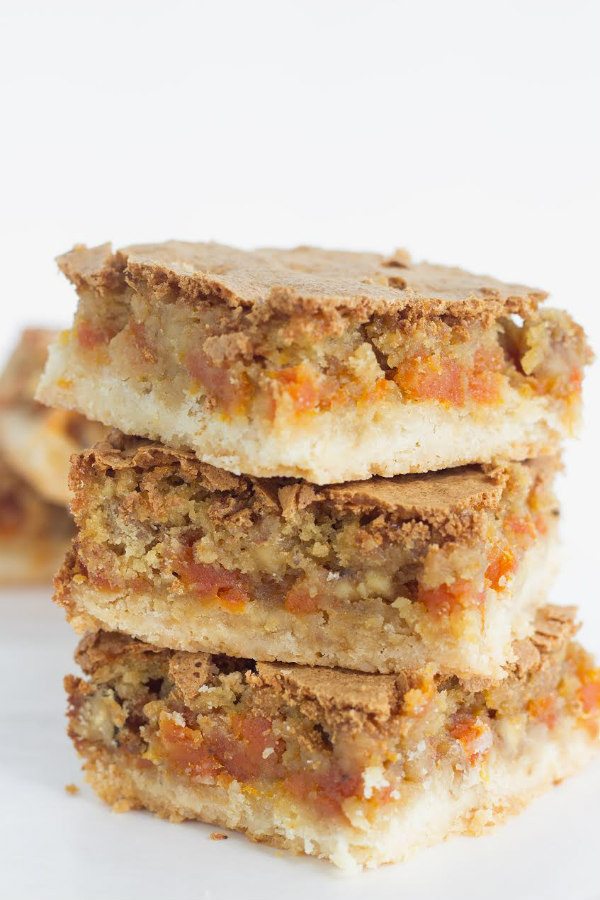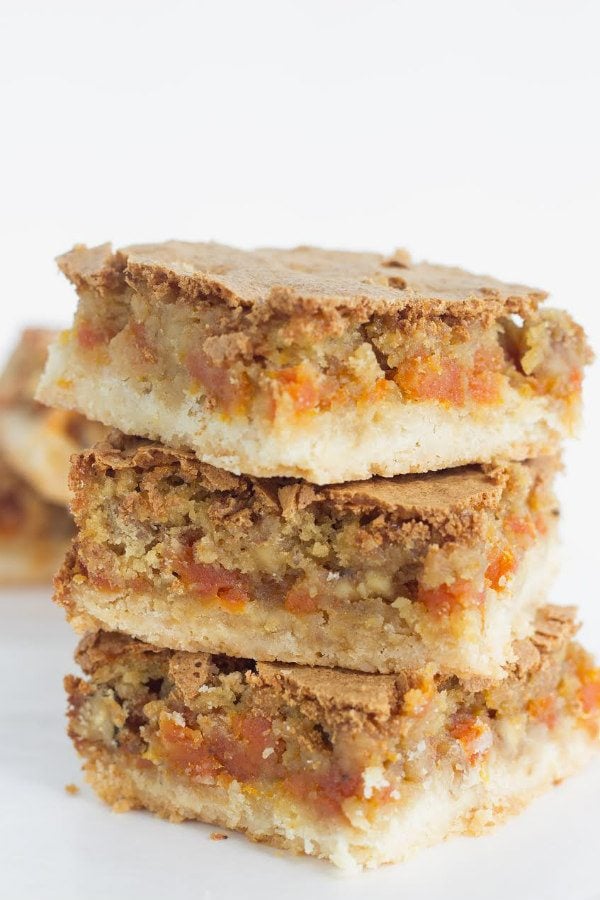 I first made this recipe in the middle of a week-long family reunion.  I have 2 siblings and 11 cousins.  Everyone has families, so our family reunions are quite large and loud!  It's the perfect sort of setting for recipe testing and tasting.
I surprised our crowd with these Apricot Bars, and they were a very big hit.  Everyone thought they were delicious!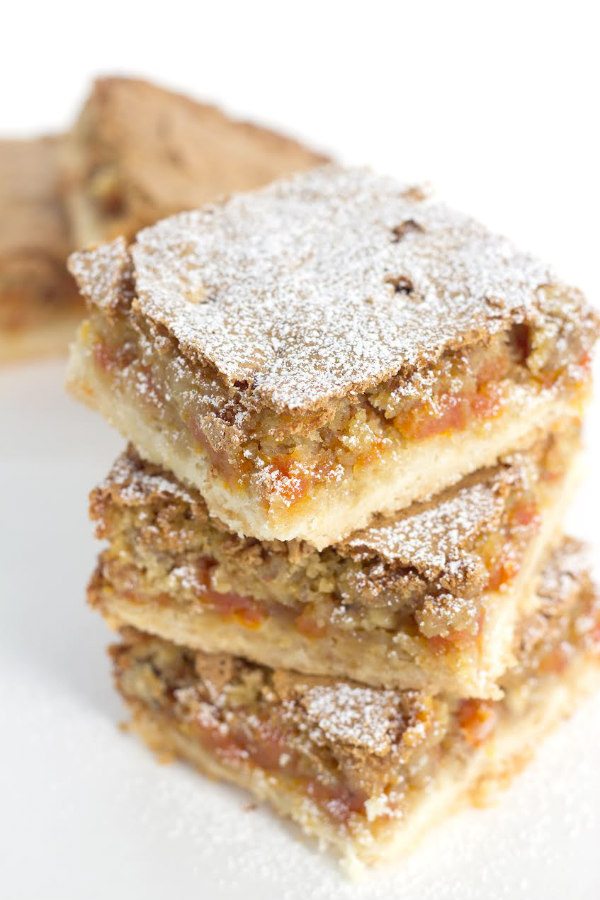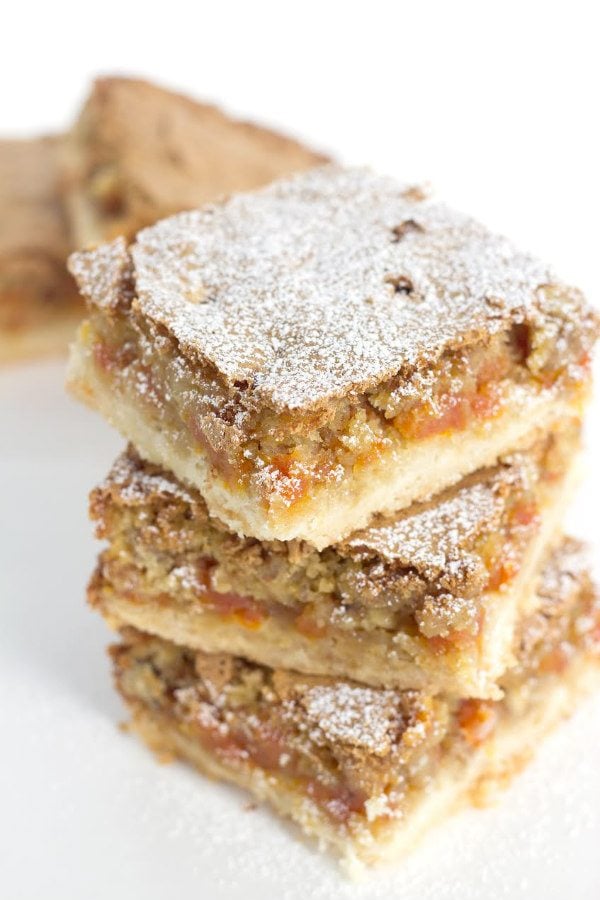 Apricot Bars
Yield:
18 bars
Prep Time: 30 minutes
Cook Time: 1 hour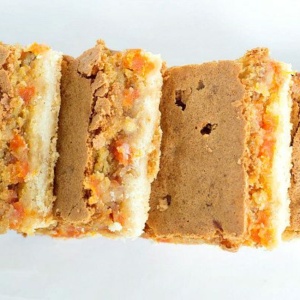 Ingredients:

SHORTBREAD LAYER:

1 cup all-purpose flour
1/4 cup granulated white sugar
pinch of salt
1/2 cup (1 stick) chilled unsalted butter, cut into small pieces

APRICOT LAYER:

2/3 cup dried apricot halves, chopped finely
1/3 cup all-purpose flour
1/2 teaspoon baking powder
1/4 teaspoon salt
2 large Eggland's Best eggs
1 cup packed light brown sugar
1/2 teaspoon vanilla extract
1/2 cup chopped toasted walnuts
powdered sugar

Instructions:

Preheat the oven to 350 degrees F. Spray an 8x8-inch pan with nonstick spray.
Prepare the shortbread layer: Blend the flour, sugar and salt in food processor. Add the butter gradually and process until coarse crumbs form. (If you do not have a food processor, you can do this by hand by cutting the butter into the dry ingredients until crumbs form). Press the crumbs onto the bottom of the prepared dish. Bake until the center is golden, about 25 minutes. Keep the oven heated.
While the shortbread layer is baking, prepare the apricot layer: Place the apricots in a small saucepan, and add enough water to cover them. Boil until soft, about 4 minutes. Drain and set aside.
Sift the flour, baking powder, and salt into small bowl. In a separate, large bowl, beat the eggs with an electric mixer. Add the brown sugar and vanilla, and beat until thickened. Stir in the flour mixture, then nuts and drained apricots. Gently spread over the baked shortbread layer.
Bake the bars until they are puffed and dark brown. A toothpick inserted into the middle should come out with a few crumbs attached, about 35 minutes. Cool completely before cutting.
Cut uniformly into desired size. Transfer to waxed paper or rack w/ paper towels underneath. Sift powdered sugar over bars.
SOURCE:  RecipeGirl.com
Here are a few more bar recipes you might enjoy: