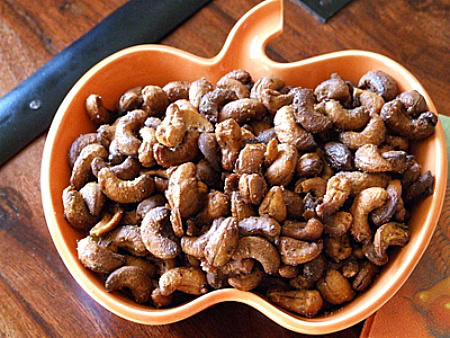 Rosemary- Maple Cashews
Yield:
4 cups
Prep Time: 10 min
Cook Time: 30 min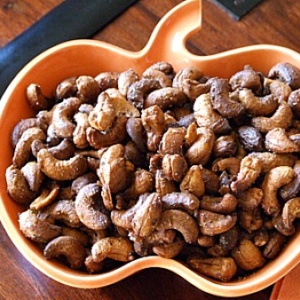 Ingredients:

4 cups raw cashews
2 1/2 tablespoons pure maple syrup
1 1/4 tablespoons extra-virgin olive oil
1/2 tablespoon minced fresh rosemary
1/8 teaspoon cayenne pepper
kosher salt and freshly ground black pepper

Instructions:

1. Preheat oven to 375°F.

2. In a large bowl, toss cashews with the maple syrup, olive oil, rosemary and cayenne.

3. Spread the cashews on a large rimmed baking sheet and toast for 30 minutes, stirring occasionally, until browned. Immediately season the cashews with salt and pepper; let cool, tossing occasionally.

Tips:

*If you are preparing this recipe as gluten free, just be sure to use a brand of syrup that is known to be GF.
*The cashews can be stored in an airtight container for up to 2 weeks.