Pumpkin Cheesecake Recipe
Among my "favorite desserts ever" : Pumpkin Cheesecake Recipe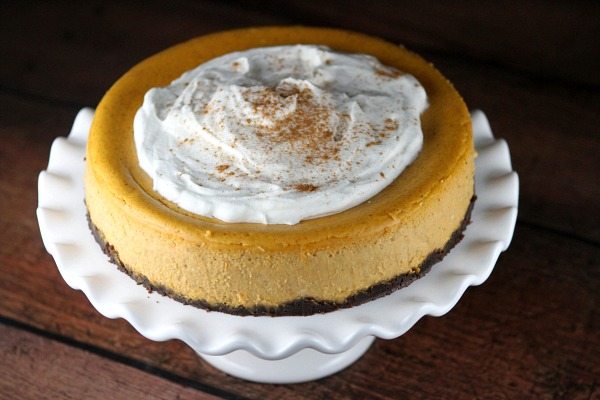 I have never been a humongous fan of pumpkin pie.  At Thanksgiving, it's the last dessert I'll reach for… and if it's the only option available, I'll usually pass.  But Pumpkin Cheesecake!!!  That's a whole different story.  Cheesecake is my passion.  It's my thing.  It's my forever craving!  If it's on the dessert menu at a restaurant, I can't resist trying it!  So Pumpkin Cheesecake is a big draw for me, for sure.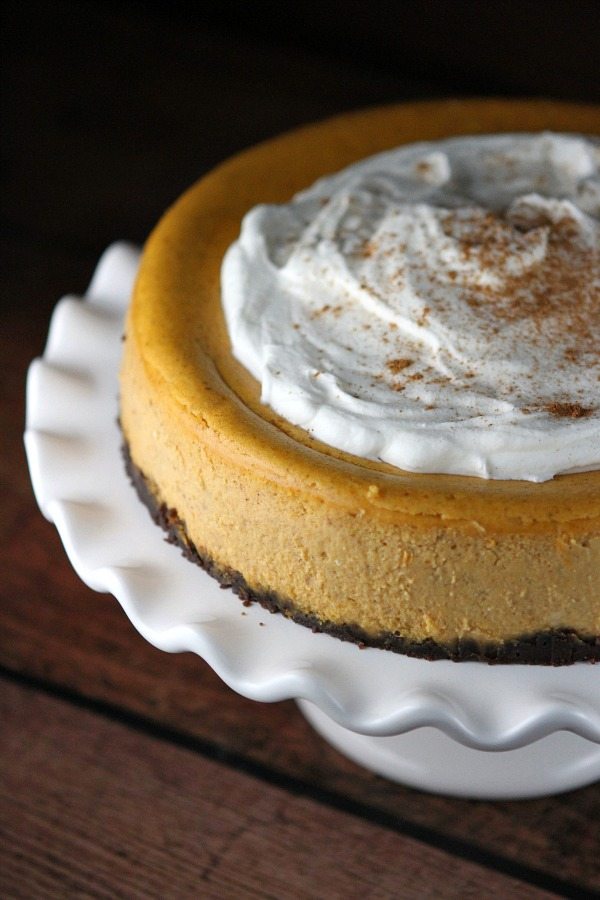 This pumpkin cheesecake recipe turns out a very creamy and delicious dessert.  You'll find that it's crazy good, especially if you're an overly obsessive cheesecake lover like me!!  The gingersnap crust is the perfect pairing with the pumpkin cheesecake.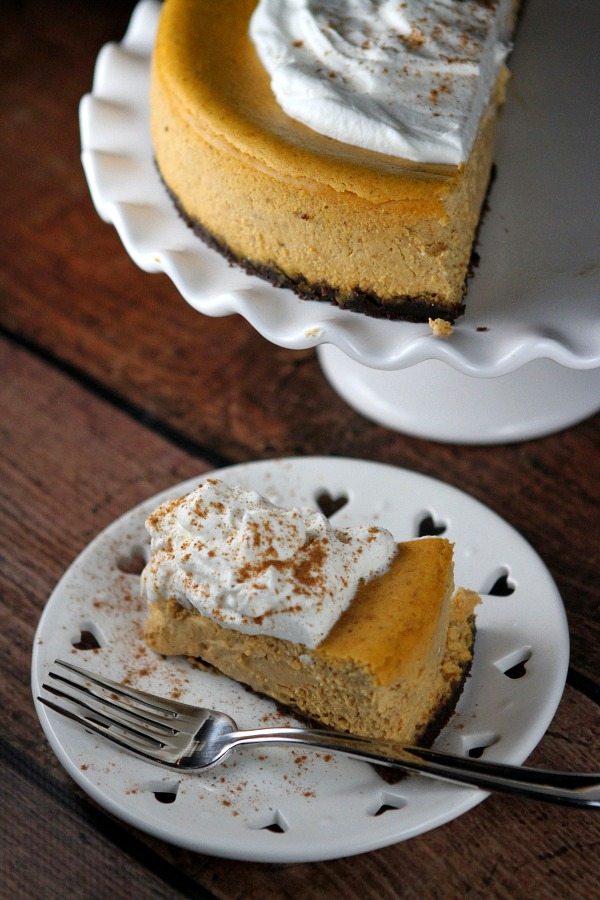 I tried to have just one slice of this one.  I really, really tried.  But I totally failed.  It was too good.  I kept digging in and sampling until the entire dessert was gone.  At least it took a few days to demolish.  And now I'm currently paying for it by spending extra hours on the treadmill.  The truth:  it was worth it 🙂
Yield: 12 servings
Prep Time: 20 min
Cook Time: 1 hr + chill time
Pumpkin Cheesecake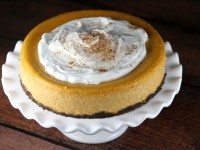 Ingredients:
CRUST:
1 1/4 cups fine gingersnap cookie crumbs
1/4 cup (1/2 stick) salted butter, melted
PUMPKIN FILLING:
Three 8-ounce packages cream cheese, softened
1 cup granulated white sugar
1 teaspoon ground cinnamon
1 teaspoon ground ginger
1/2 teaspoon ground cloves
One 16-ounce can pure pumpkin puree (unsweetened)
4 large eggs
3/4 cup whipping cream, chilled
Directions:
1. Prepare crust: Preheat oven to 350°F. Mix cookie crumbs and butter in a bowl and pat the crumb mixture over the bottom of a 9-inch springform pan. Bake for 10 minutes. Cool on a wire rack. Reduce oven temperature to 300°F.
2. Prepare filling: Combine cream cheese, sugar, cinnamon, ginger and cloves in a mixing bowl and beat with a hand mixer at medium speed until smooth and fluffy, scraping the bowl occasionally. Add pumpkin to the cream cheese mixture and beat until smooth. Add eggs 1 at a time, beating at low speed just until blended after each addition. Spread the pumpkin mixture over the baked crust layer.
3. Bake for 1 hour or until the cheesecake tests done (doesn't jiggle in middle when shaken). Cool on a wire rack for 20 minutes. Chill, covered, for 3 hours but no longer than 48 hours. Run a sharp knife around edge of cheesecake and remove the sides.
4. Beat whipping cream in a chilled bowl until soft peaks form. Top each serving with a dollop of whipped cream. If your cheesecake cracked during baking (likely), just spread the whipped cream over the top with a sprinkle of pumpkin pie spice.
Tips:
*I find that the only way to get really fine gingersnap crumbs is to either use a food processor or a really powerful blender (like a BlendTec).
Other pumpkin cheesecake recipes you may enjoy:
Pumpkin Cheesecake Trifles by My Baking Addiction
Pumpkin Cheesecake Cookies by The Messy Baker
Pumpkin Cheesecake Cake by RecipeGirl
Maple- Pumpkin Cheesecake Bars by Brown Eyed Baker
Low Fat Pumpkin Cheesecake by RecipeGirl
39 Responses to "Pumpkin Cheesecake Recipe"
Leave a Comment