If you're looking for the best Classic Pumpkin Pie recipe to bake, this is your pie!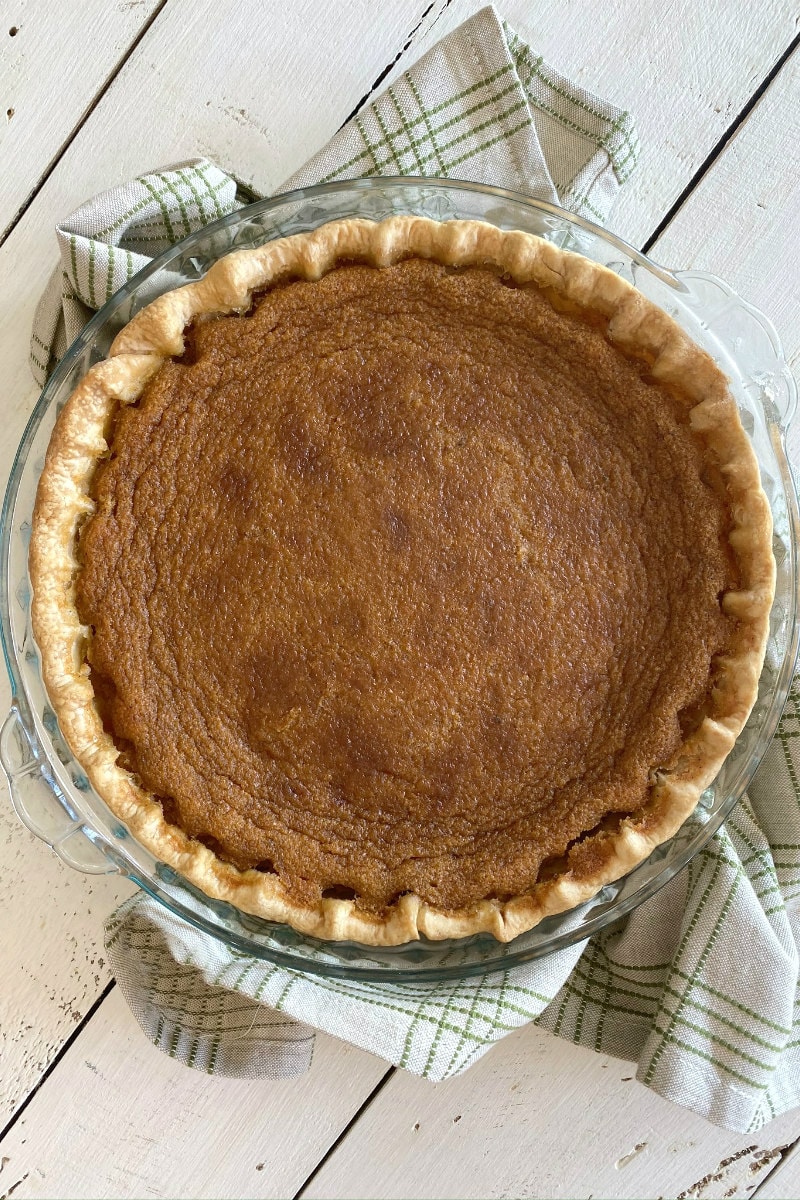 I can't remember where I got this recipe, but it's one that I've had forever… and it's the pumpkin pie that I always bake for Thanksgiving. You can use your favorite single crust recipe for this pie, or you can use one refrigerated pie crust that you can buy at your market. I buy the store-bought crust for this recipe, and that makes baking pumpkin pie for Thanksgiving totally easy!
Have you ever tried the pumpkin pie from Costco? They actually do a pretty good job with it. I buy that one sometimes when I don't feel like baking pie, but this Classic Pumpkin Pie is so simple to make that it doesn't make sense to buy it from Costco. Plus, my son gives me a hard time if I don't bake it myself. He tells me that my pie is much better than Costco. He's right!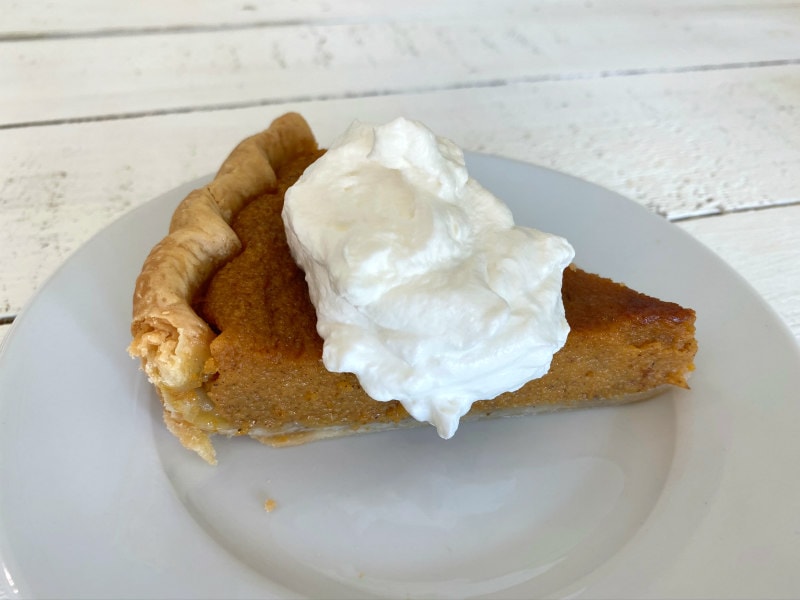 All it needs is a little freshly whipped cream. You can either put spoonfuls of whipped cream on individual slices, or you can spread some whipped cream over the whole pie and slice and serve that way.
How to make freshly whipped cream:
If you have a metal bowl, use that. If you don't, then just use a regular bowl. If you have the room, put your bowl in the freezer for a few minutes before making your whipped cream. Combine 1 cup of heavy whipping cream and one heaping tablespoon of powdered sugar in your chilled bowl. Use an electric mixer to combine until the cream becomes thickened and reaches a "thick peaks" consistency. You can make it ahead and store it in a covered container in your refrigerator for up to 10 hours.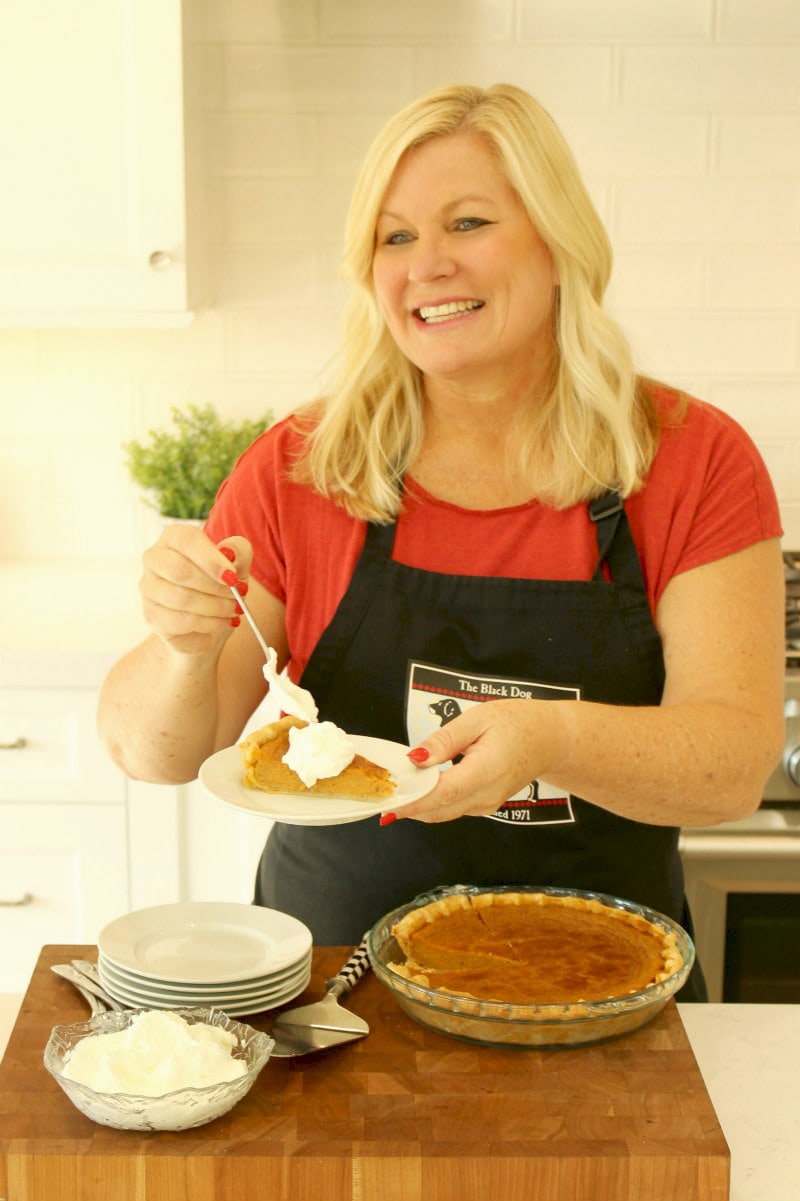 Make ahead:
Bake this pie one day ahead of serving and keep refrigerated. You won't have to worry about trying to bake it on the same day you're making all of your other dishes. And it'll be ready to go for dessert after your holiday dinner.
Here are a few more pumpkin pie recipes you might like to try:
Classic Pumpkin Pie
A delicious version of traditional pumpkin pie!
Recipe Details
Ingredients
PIE:
One

9-inch

unbaked pie crust

3

large

eggs

1

cup

evaporated milk

1

cup

granulated white sugar

1

cup

unsweetened pumpkin puree

1/8

teaspoon

salt

1/2

cup (1 stick)

salted butter,

melted

1/2

teaspoon

ground cinnamon

1/2

teaspoon

ground nutmeg

1/2

teaspoon

ground allspice
TOPPING:
1

cup

heavy whipping cream

1

tablespoon

powdered sugar
Instructions
Preheat oven to 375 degrees F. Place the pie crust into a 9-inch pie pan and crimp the edges.
PREPARE THE PIE:
In a large bowl, use an electric mixer to combine the eggs, milk and sugar. Add the remaining ingredients and mix together well. Pour into the pie shell and bake for 40 to 45 minutes, or until a knife inserted into the middle comes out clean. Do the jiggle test... it should just jiggle a little bit in the center, with the sides being set. Let cool.
PREPARE THE TOPPING:
Use an electric mixer to whip the cream and powdered sugar until thickened and spread over the cooled pie, or serve individual slices with dollops of whipped cream.

Keep refrigerated until ready to serve. May be made one day ahead.
Nutrition
Serving:
1
serving
,
Calories:
390
kcal
,
Carbohydrates:
35
g
,
Protein:
6
g
,
Fat:
26
g
,
Saturated Fat:
14
g
,
Cholesterol:
128
mg
,
Sodium:
242
mg
,
Potassium:
186
mg
,
Fiber:
1
g
,
Sugar:
24
g
,
Vitamin A:
4599
IU
,
Vitamin C:
2
mg
,
Calcium:
104
mg
,
Iron:
1
mg