Here's a pumpkin pie recipe that's a little bit different:  Pumpkin Peanut Butter Pie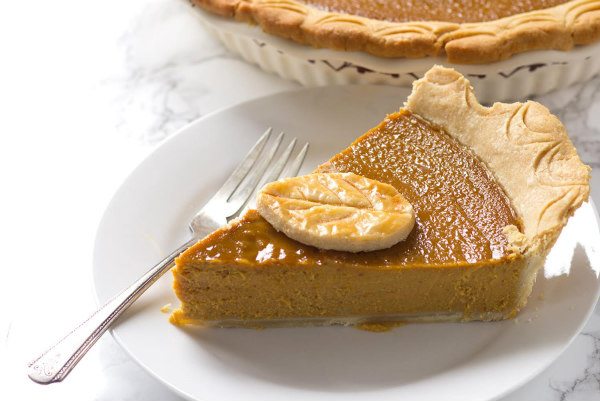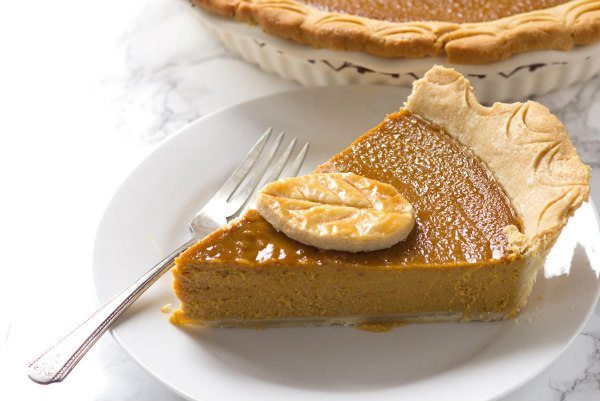 The peanut butter in the pie does not overwhelm (there is only 1/2 cup).  I'd say it merely just helps create a beautiful texture for the pie.  The PB makes it unique for sure– because who puts peanut butter in pie?!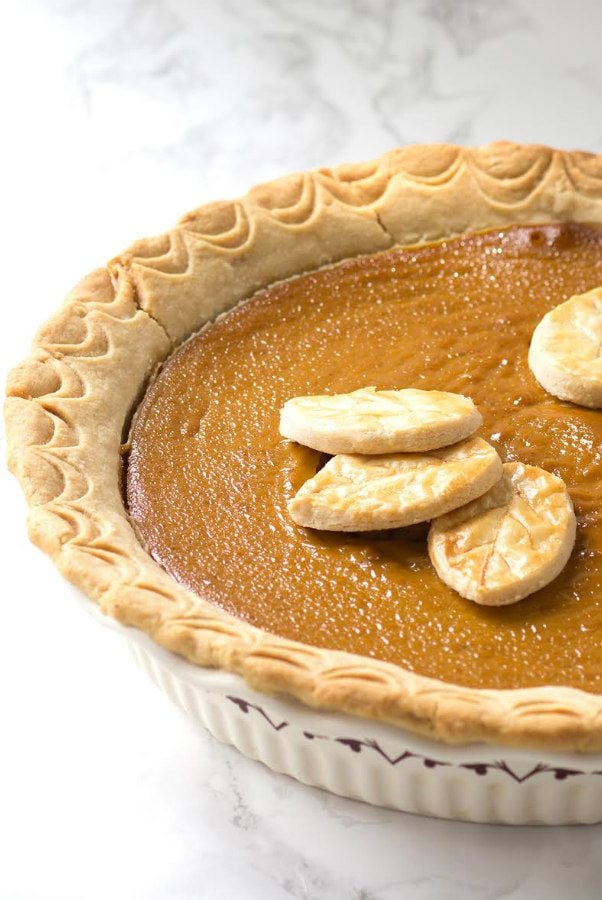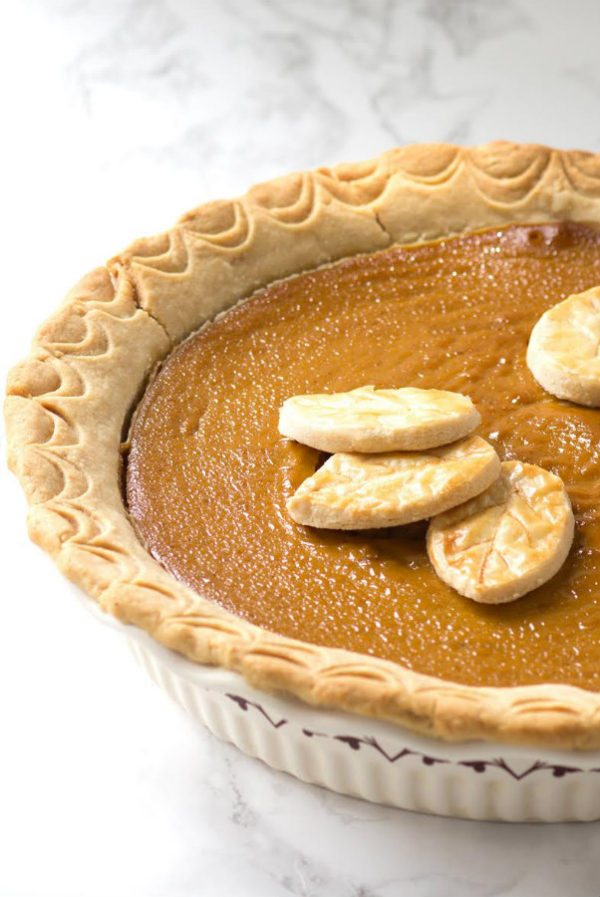 There's a good amount of booze in the pie (whiskey!), so if you're not into booze… I'd add in a tablespoon of vanilla instead and call it a day.  Or reducing the whiskey to 2 tablespoons would be fine too.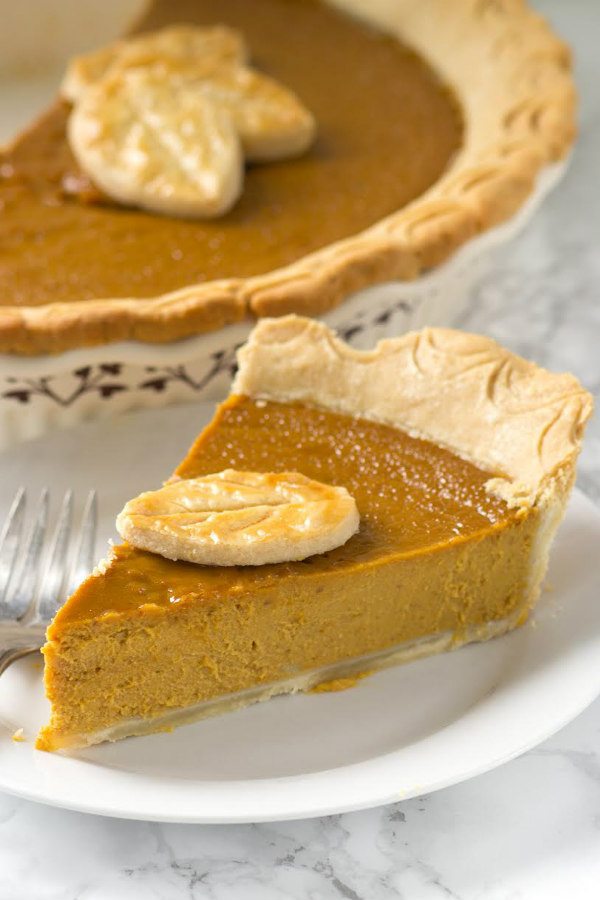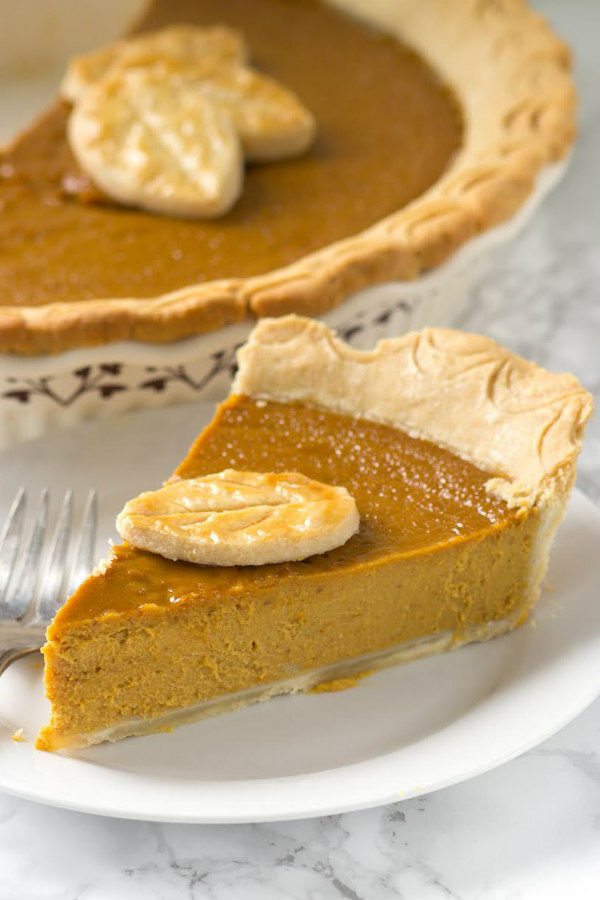 Pumpkin Peanut Butter Pie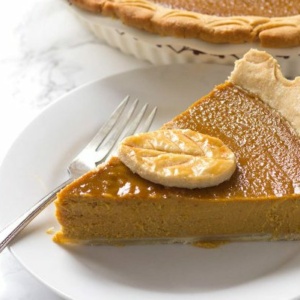 Yield:
8 servings
Prep Time: 40 minutes + chill time
Cook Time: 1 hour and 16 minutes
Ingredients:
CRUST AND PASTRY LEAVES:
2 1/2 cups all-purpose flour
1/4 teaspoon salt
10 tablespoons chilled unsalted butter, cut into pieces (1 1/4 sticks)
5 tablespoons well-chilled solid vegetable shortening, cut into small pieces
6 tablespoons (about) ice water
FILLING:
One 16-ounce can (unsweetened) pure pumpkin
3/4 cup firmly packed light brown sugar
1/2 cup creamy peanut butter
3 large eggs
1 1/4 cups half and half cream
1/4 cup whiskey
2 teaspoons vanilla extract
1/2 teaspoon freshly grated nutmeg
1/4 teaspoon salt
1 large egg yolk, beaten with 2 teaspoons whipping cream (glaze)
Directions:
For crust: Mix flour and salt in processor. Cut in butter and shortening using on/off turns until mixture resembles coarse meal. With machine running, blend in water 1 Tablespoon at a time until dough just starts to come together (do not form ball). Turn dough out into lightly floured surface. Gather together. Cut off 1/4 of dough. Form each piece into a ball; flatten into discs. Wrap in plastic and refrigerate at least 30 minutes. (Can be prepared 2 days ahead.)
Roll large dough piece out on lightly floured surface into 1/8-inch-thick round. Transfer dough to 10-inch glass pie pan, leaving 1/2-inch overhang. Crimp edges, forming 1/2-inch high decorative border. Cover; chill 30 minutes. (Can be prepared 1 day ahead.)
For pastry leaves: Roll out small dough piece between 1/16 and 1/8-inch-thick on lightly floured surface. Cut out leaves using leaf-shaped cookie cutters. Transfer leaves to baking sheet using metal spatula. Refrigerate 30 minutes. (Can be prepared 1 day ahead.)
For filling: Mix first 3 ingredients in large bowl. Blend in eggs 1 at a time. Stir in half and half, Southern Comfort, vanilla, nutmeg and salt. (Can be prepared 1 day ahead. Refrigerate.)
Position rack in lower third of oven and preheat to 425°F. Pour filling into prepared shell. Bake 20 minutes. Reduce temperature to 350°F. Continue baking until filling is set and uniformly puffed, about 50 minutes. Transfer to rack. Brush glaze over pastry leaves. Bake until puffed and tops are golden brown, about 6 minutes. Transfer leaves to rack. Cool pie and pastry leaves completely. (Pie will fall in center as it cools.) (Can be prepared 8 hours ahead.) Arrange pastry leaves atop pie before serving.
Here are a few more pumpkin pie recipes you might enjoy: