This recipe has been featured in a post on the Recipe Girl blog: Fall Dinner Party Menu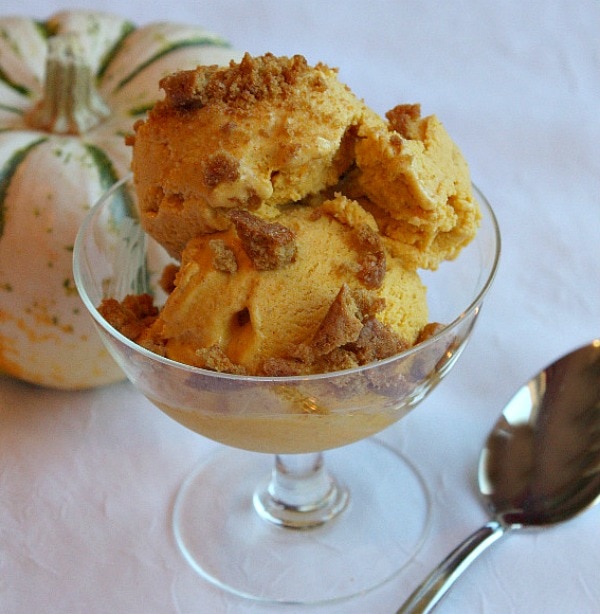 Pumpkin Pie Ice Cream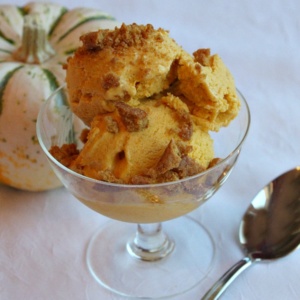 I made this recipe for a fall dinner party that I hosted, and it was quite the hit. Just the right amount of spices make it festive and perfect for fall.
Yield:
6 cups
Prep Time:30 min + chill time
Cook Time:30 min
Ingredients:
CUSTARD:
5 large egg yolks
1/2 cup light brown sugar
1/2 cup light corn syrup
1 Tablespoon cornstarch
1/2 teaspoon ground cinnamon
1/2 teaspoon pumpkin pie spice
1/4 teaspoon ground nutmeg
1/4 teaspoon ground ginger
ADDITIONS:
1 cup half & half cream
One 15-ounce can canned pure (unsweetened) pumpkin
1 cup heavy whipping cream
1 teaspoon vanilla extract
1 teaspoon freshly grated orange zest
1 cup coarsely chopped gingersnaps, for garnish of scooped servings, if desired
Directions:
1. Place egg yolks in bowl of stand mixer, or a large bowl if using hand mixer. Beat brown sugar and corn syrup into the yolks until thickened and pale yellow. Beat in the cornstarch, cinnamon, pumpkin pie spice, nutmeg and ginger. Set aside.
2. Bring half & half to simmer in a large, heavy saucepan (this will take a while on low heat, but don't leave it). Use a pot much bigger than seems required to help minimize splashing with later mixing. Stir with a whisk- watch the mixture carefully to see the simmering bubbles (turn off heat as soon as you see those).
3. Temper the yolk mixture by slowly whisking in 1/4 cup of half and half at a time until all is added. Pour the entire mixture back into the saucepan. Wash out and dry the mixer bowl and beaters. Place mixture over low heat. Stir constantly with a spatula until the custard thickens slightly. Be careful not to let the mixture boil or the eggs will scramble!
4. Remove from heat and dump the mixture back into the clean mixer bowl. Add pumpkin; stir it a little with the beater and then reinstall the beaters into the mixer; mix until smooth.
5. Pour the hot custard through a strainer into a large, clean bowl. Don't use a strainer with holes that are too tiny; it takes a while for the custard to pass through. Mash the custard around with a spatula to force it through the strainer. Allow the custard to cool slightly, then stir in the cream, vanilla and orange zest. Chill custard thoroughly (24 hours is best).
6. Churn chilled mixture in an ice cream maker according to manufacturer's directions (30 minutes for the Cuisinart).
7. Transfer mixture into a covered container to store in freezer.
8. Garnish individual servings with crumbled gingersnaps, if desired.
Tips:
*Don't use food processor to chop your gingersnaps or they will be pulverized into crumbs! You don't want that.