Here's a perfect copycat recipe for Cherry Garcia Ice Cream, a Ben & Jerry's classic.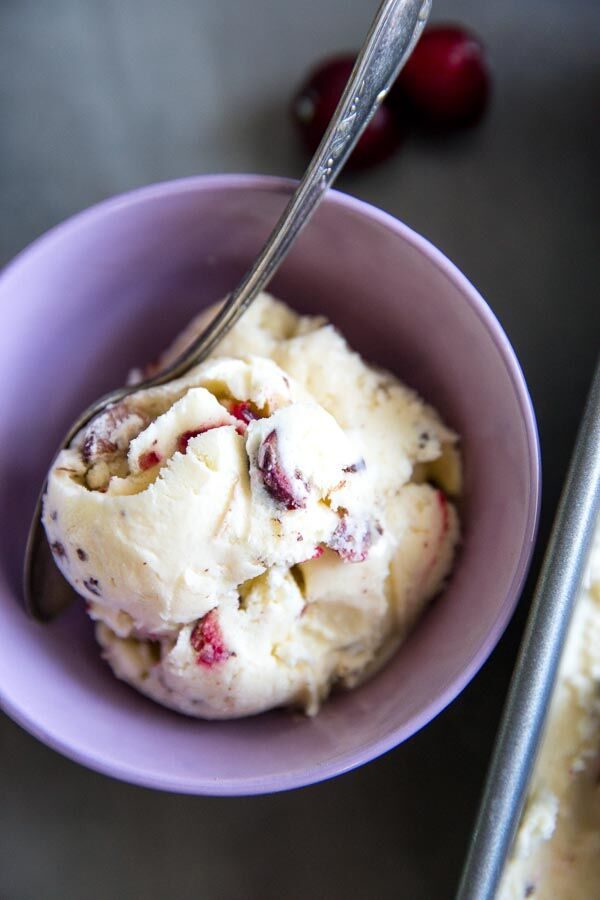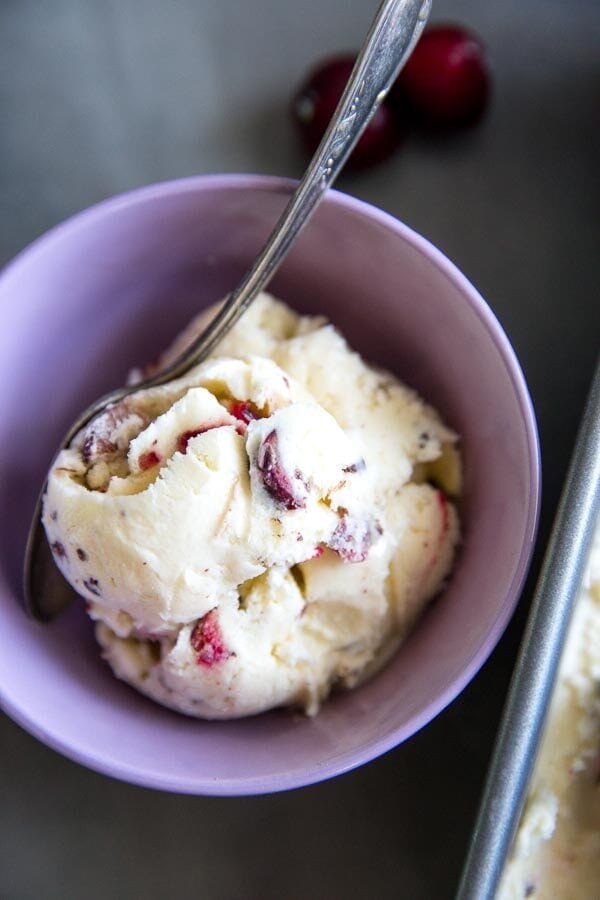 Cherry Garcia Ice Cream
There are vanilla lovers, and there are chocolate lovers. There are fruit ice cream lovers, and there are super-sweet, candy ice cream lovers. And then there are those ice cream lovers who are willing to venture away from the norm and try something a little bit unique.
Cherry Garcia Ice Cream definitely fits into the "unique" category. It's a nice and rich vanilla ice cream recipe with chopped fresh cherries and small pieces of dark chocolate swirled in. The combination is delicious!
For those people who are very familiar with the Ben & Jerry's brand, this particular flavor is quite iconic. It's been around for a long time, and there are a lot of people out there who dub this as their favorite.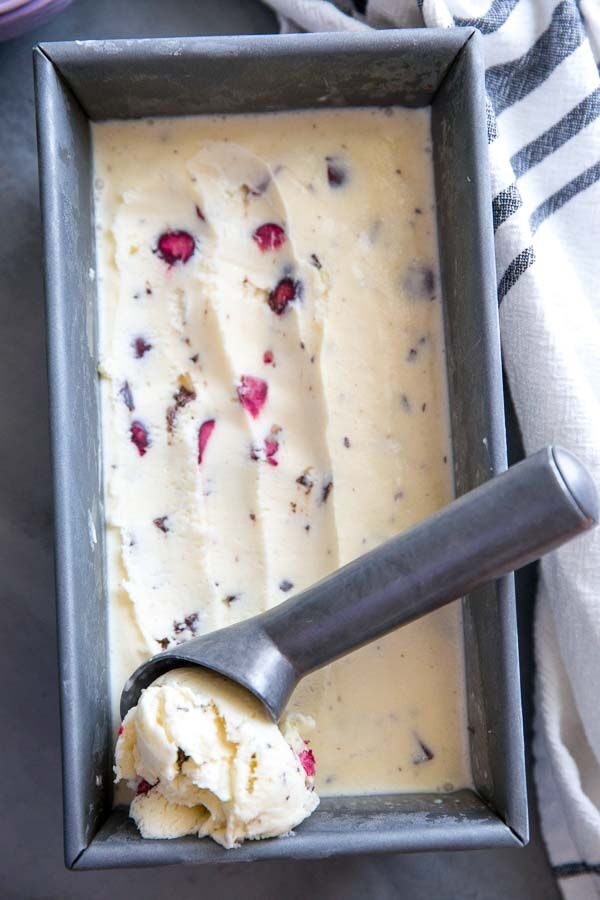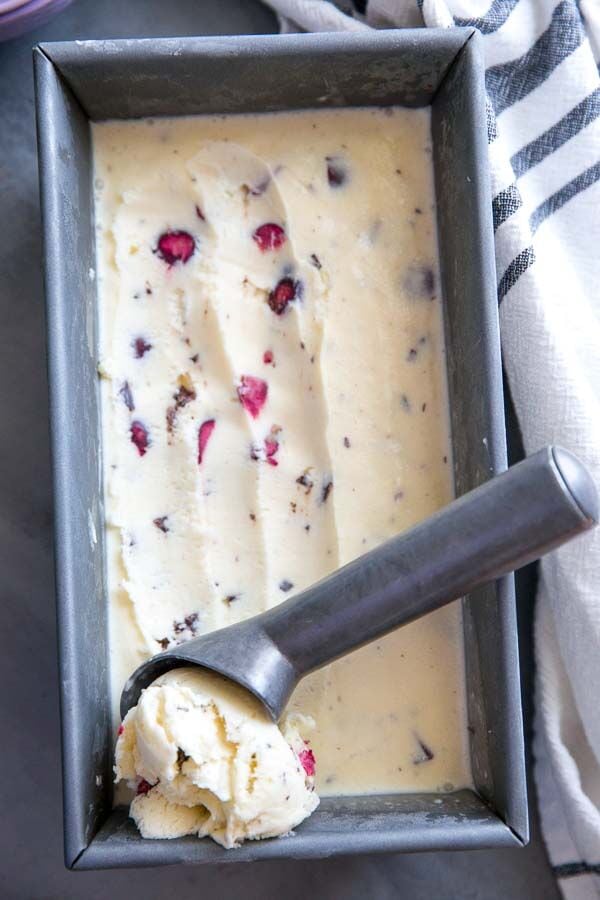 Why is it called Cherry Garcia Ice Cream?
Ben & Jerry's has always encouraged their audience to write in a suggest new flavor creations. Back in the 80's, someone contacted them to see if they'd create a cherry flavored ice cream as a tribute to Jerry Garcia from the Grateful Dead. They explained that the flavor might be hugely popular since there are so many "dead heads" around the world who follow the Grateful Dead.
The company thought it was an interesting idea, and they got to work on creating this new flavor. They went with a vanilla ice cream with cherries and chocolate swirled in. This was the creation that they marketed, and it quickly became one of their top three flavors.
The first eight pints were sent to Jerry Garcia himself, who gave the new flavor a big thumbs up. How cool is that?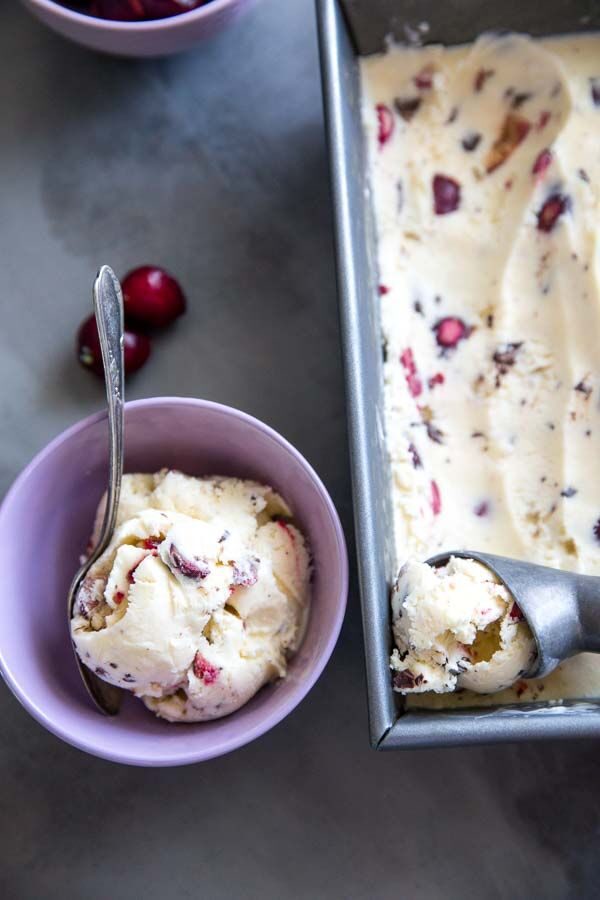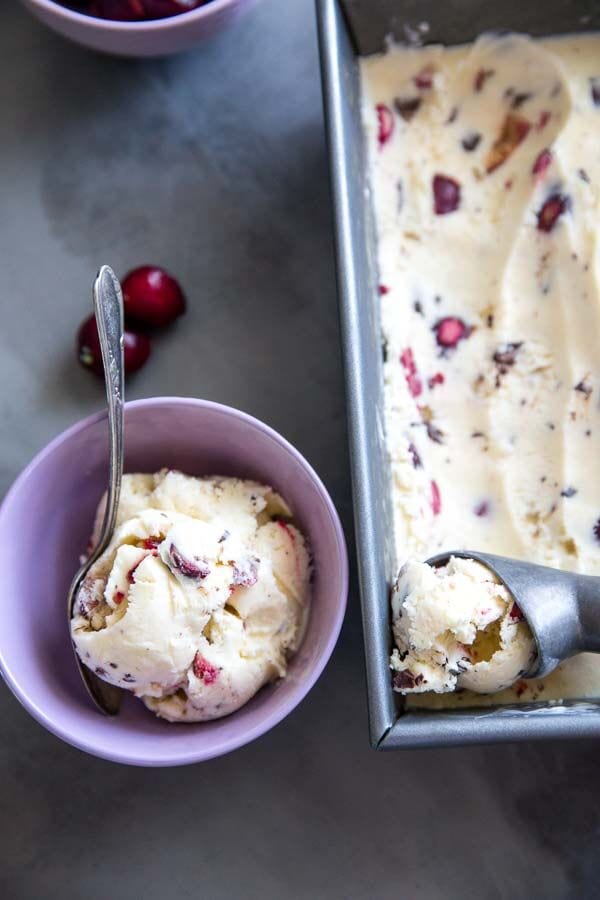 The present day Cherry Garcia Ice Cream that you'll find in the stores is now made with a base of Cherry Ice Cream instead of vanilla. I'm not sure why they changed it because I absolutely love the vanilla base in this recipe!
So you've got the original (copycat) Cherry Garcia Ice Cream recipe here. Try it, and let us know if you think it's worth all of the hype!
Here are a few more ice cream recipes you might like to try:
It's summer, and you're probably in the mood to make lots of ice cream recipes, right? I have a few more suggestions for you. If you like chocolate, you might like to try Rocky Road Ice Cream or Old Fashioned Homemade Chocolate Ice Cream.
If you'd like to try something a little different, you might consider this Key Lime Pie Ice Cream or Easy Peanut Butter Brownie Ice Cream.
Thanks to Tanya Schroeder from the Lemons for Lulu blog for shooting these Cherry Garcia Ice Cream photos. Tanya is one of the photographers for Recipe Girl, and her photos are fabulous!
Cherry Garcia Ice Cream
A perfect copycat of Ben & Jerry's classic recipe.
Recipe Details
Servings:
8
servings (1/2 cup per serving)
Ingredients
1/4

cup

shaved or chopped dark chocolate

1/4

cup

fresh Bing cherries,

halved & pitted

2

cups

regular or heavy whipping cream

1

cup

2% or whole milk

3/4

cup

granulated white sugar

2

large

eggs

1

teaspoon

vanilla extract

1/4

teaspoon

salt
Instructions
Place shaved chocolate flakes and the cherries in separate bowls. Cover and refrigerate.

Mix cream, milk and sugar in a saucepan. Place saucepan over medium heat, stirring occasionally, until the sugar has dissolved and the mixture is hot. Remove pan from heat.

Whisk eggs in a mixing bowl until light and fluffy, 1 to 2 minutes. Mix in the vanilla and salt. Slowly add 1 cup of the hot cream mixture to the eggs, whisking constantly. Whisk the warmed egg mixture back into the saucepan and place on medium-low heat. Stir constantly, until mixture thickens, 10 to 15 minutes; do not boil. Remove from heat and allow to cool to room temperature, and then refrigerate it, loosely covered, until chilled (preferably overnight).

Pour into ice cream freezer and follow the manufacturer's instructions. Add the chilled chocolate and cherries at the very end of processing, just until mixed in.
Notes
*If you are preparing this recipe as gluten-free, just be sure to use a brand of chocolate that is known to be GF.
*Nutritional information was calculated using regular whipping cream and 2% milk.
*You can use canned cherries, but be sure to drain the syrup!
*Ice cream turns out best when the container is frozen ahead for at least 24 hours, and if the base is completely chilled- at least 8 hours.
Nutrition
Serving:
1
serving
,
Calories:
345
kcal
,
Carbohydrates:
25
g
,
Protein:
4
g
,
Fat:
26
g
,
Saturated Fat:
15
g
,
Cholesterol:
130
mg
,
Sodium:
55
mg
,
Potassium:
151
mg
,
Sugar:
22
g
,
Vitamin A:
970
IU
,
Vitamin C:
0.7
mg
,
Calcium:
85
mg
,
Iron:
0.9
mg