This Low Fat Mint Chocolate Chip Ice Cream is a great lower fat version of the classic, favorite flavor.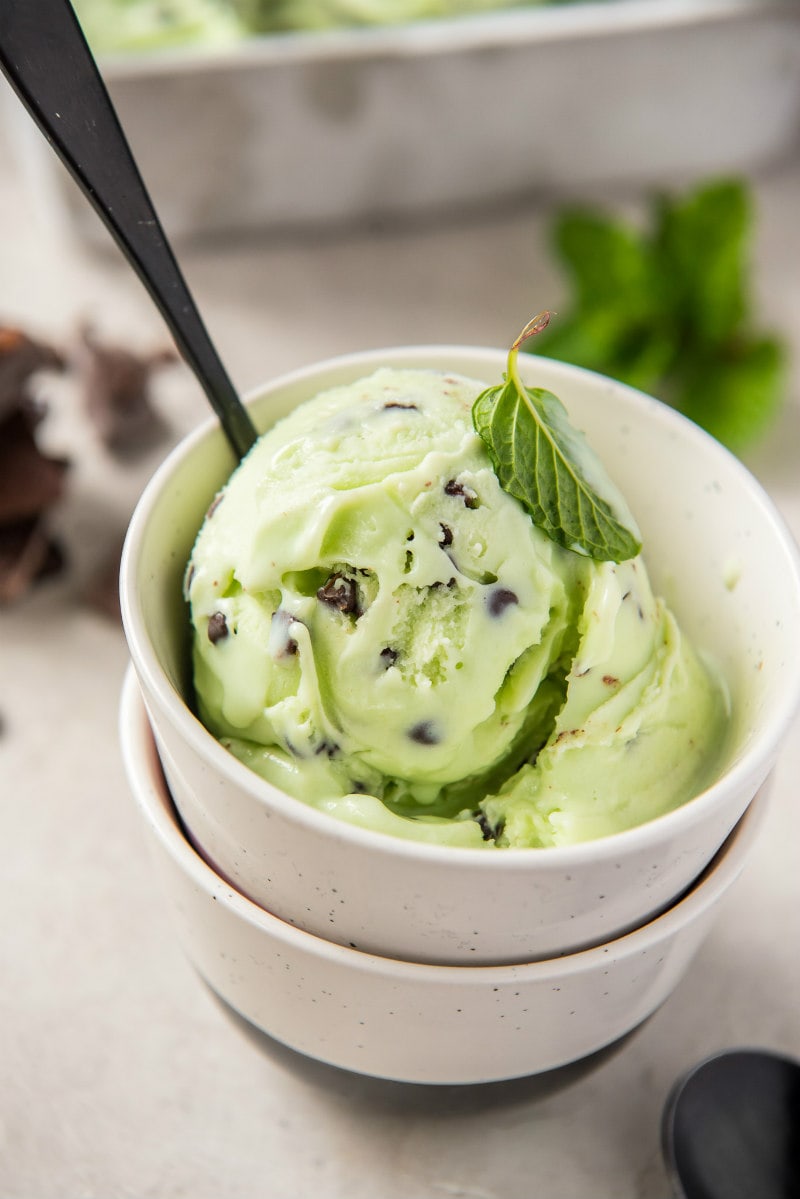 When it's getting super hot in the summer, it feels like it's time to make ice cream. I live in Arizona, where temperatures can reach 120 degrees in worst of the summer months, and it feels like it's time to make ice cream every day here! My favorite ice cream flavor of all time is Blueberry Cheesecake Ice Cream. It's an incredible flavor! My husband always asks me to buy Mint Chocolate Chip. I do indulge his craving once in a while, but I prefer to make this Low Fat Mint Chocolate Chip Ice Cream instead.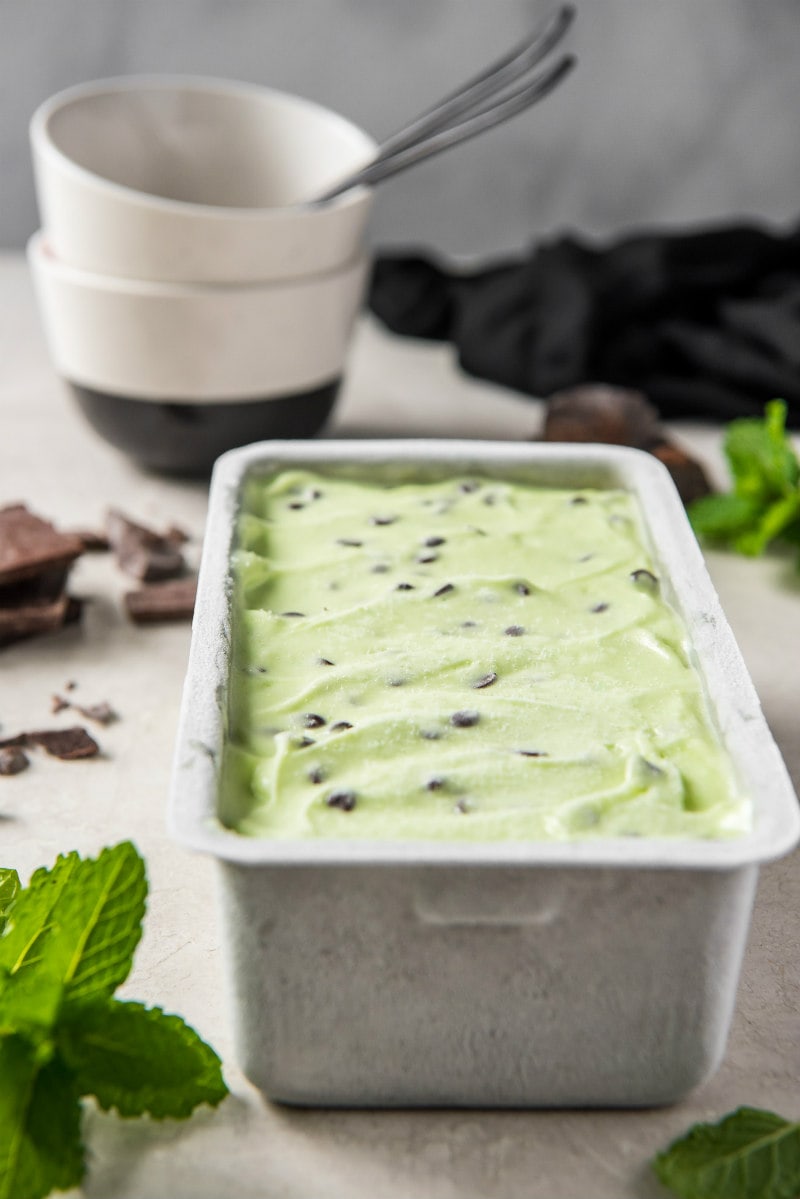 What makes this ice cream low fat?
Well, I would have to say it's "lower" fat than regular ice cream– about 1/2 the fat. But it certainly has calories, and it isn't considered "light" by any means. I mean… it's ice cream! There's only so much you can do to lighten it up and still have it tasting delicious. This recipe calls for using 2% milk instead of whole milk or cream. It's lighter on the sugar (1/4 cup) because it also calls for fat-free sweetened condensed milk (which contains sugar, but no fat).
Low Fat Mint Chocolate Chip Ice Cream
The texture is nice and creamy, just like regular full-fat ice cream. There are eggs in the recipe, so it's made with a custard base. Just as a good ice cream should be made! The flavor is mint… just like the mint chocolate chip ice cream you've tasted from the market or from ice cream shops. And it has just the right amount of crunchy chocolate chips swirled throughout.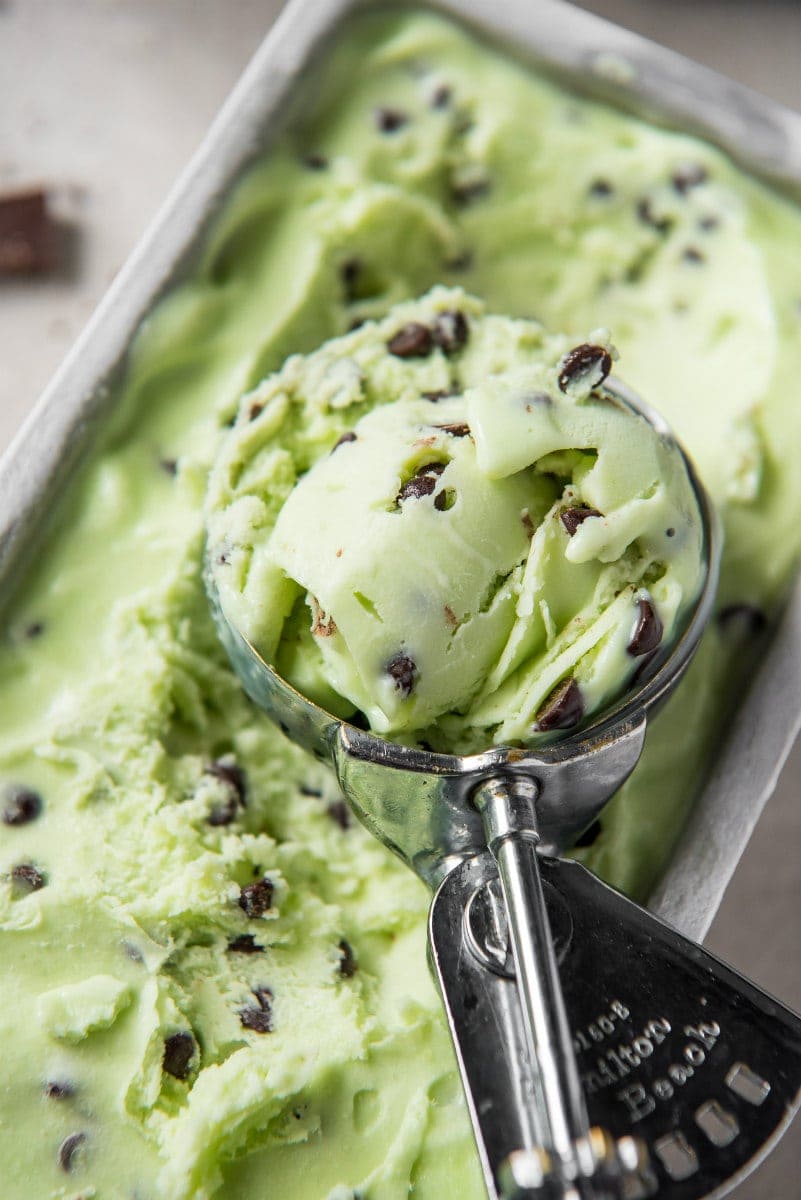 A note about peppermint extract:
Be sure to use peppermint extract. Don't use spearmint extract. I know this from experience. Once upon a time, I picked up spearmint instead of peppermint and my ice cream tasted like toothpaste. That's not the flavor you're going for here!
Recommendations on chocolate:
You'll need 1/2 cup of chocolate. You can make it easy on yourself and use miniature chocolate chips. Or you can use regular chocolate chips and chop them up to be smaller chunks. Better yet, you can chop up some good chocolate and use that instead of chips!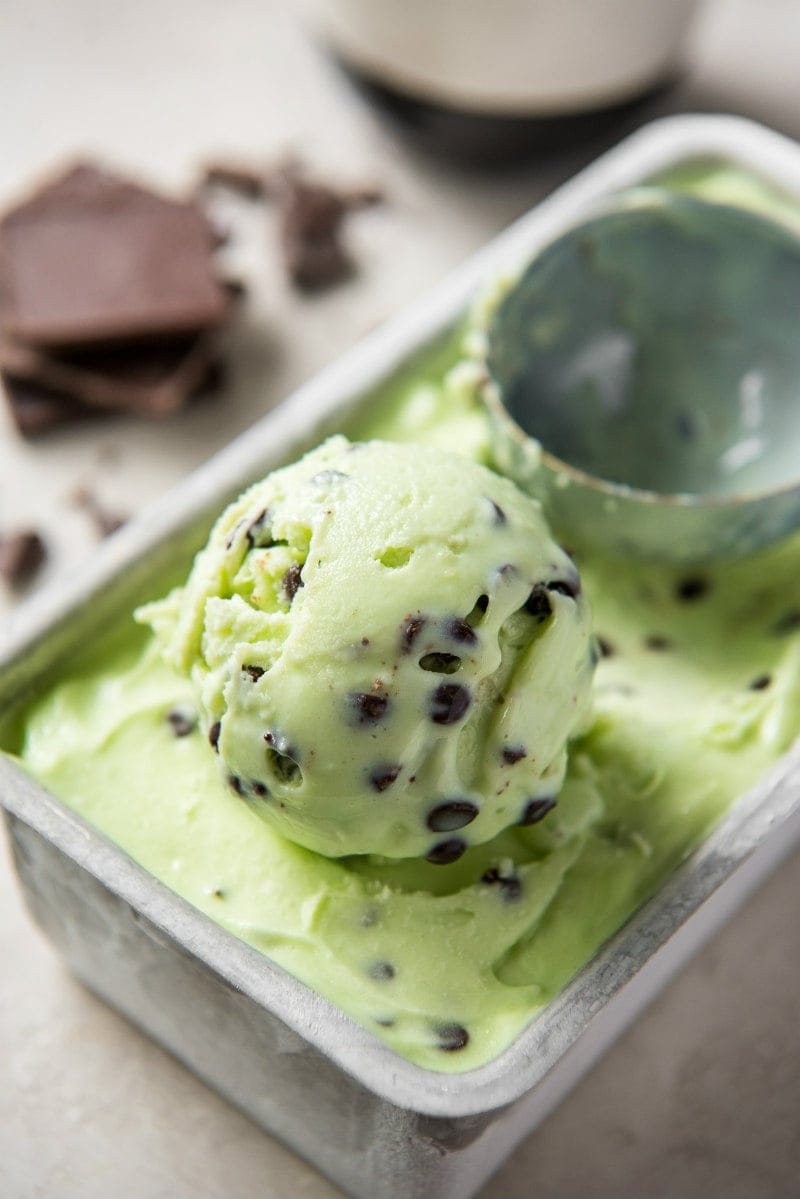 The best ice cream maker:
I use Cuisinart's Ice Cream Maker, and I have done so for many years. My ice cream recipes always turn out perfect, and it's a super easy machine to use. It's also less expensive than some of the fancier options. I've also had this ice cream scoop for a long time, and I would never use anything else. It's super easy to scoop the ice cream, you don't have to wait for it to soften, and you can get nice round scoops out of it.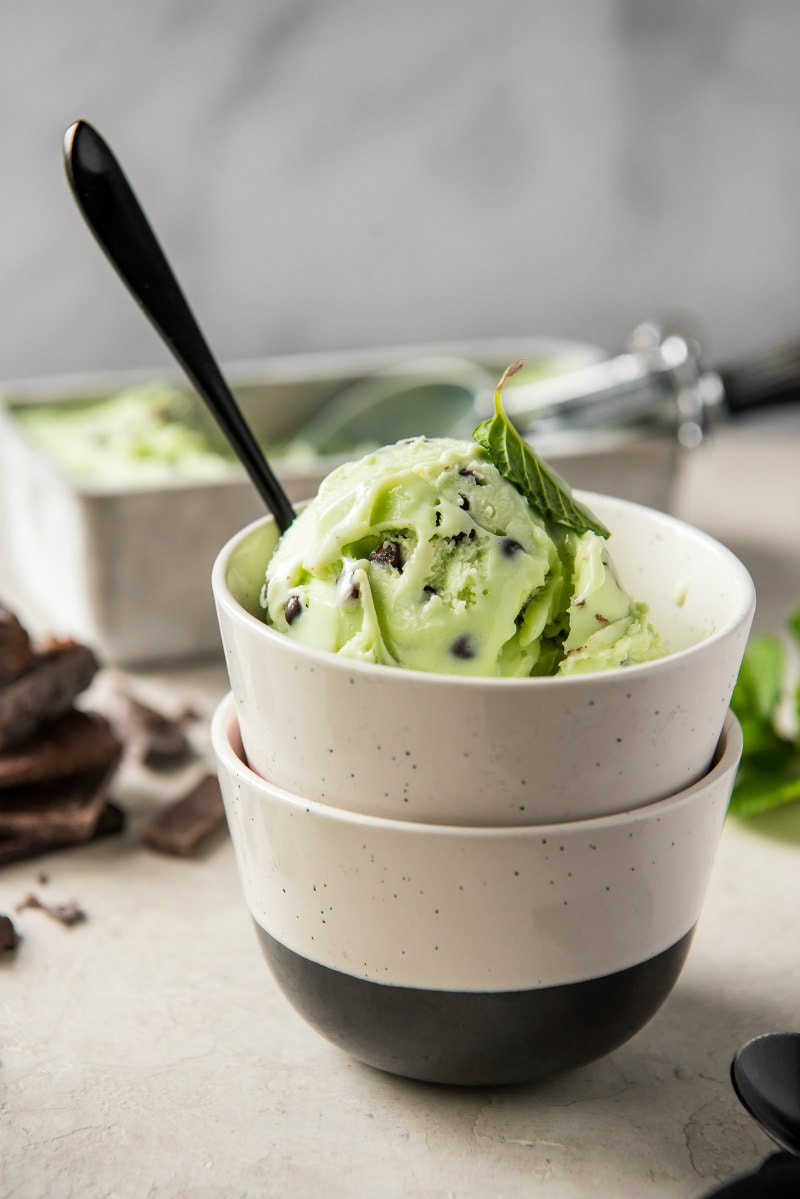 Here are a few more ice cream recipes you might like to try:
Low Fat Mint Chocolate Chip Ice Cream
A lower fat version of this favorite ice cream flavor.
Recipe Details
Servings:
8
(1/2 cup) servings
Ingredients
3

large

eggs

1/4

cup

granulated white sugar

1½

cups

2% low fat milk,

divided

1

cup

fat-free sweetened condensed milk

1½

teaspoons

peppermint extract

(or to taste)

1/2

cup

chocolate chips (chopped),

or use miniature chocolate chips
Instructions
In a large bowl, beat the eggs with sugar until pale, yellow and foamy.

In a small saucepan, heat 1 cup of milk slowly until it reaches a simmer. Very gradually beat in the milk with the egg mixture in the bowl. Pour this into the pan and return to heat.

Heat slowly, while stirring, until the mixture slightly thickens (coats the back of a spoon). Be careful... don't heat too quickly or you'll end up with scrambled eggs!

Strain the egg custard mixture through a fine mesh sieve into a large bowl. Whisk in the condensed milk, remaining 1/2 cup milk, and peppermint extract.

Refrigerate the mixture until completely chilled- at least 8 hours.

Process in your ice cream maker according to the manufacturer's instructions. When slightly thickened (toward the end), add the chocolate chips. Scrape into a container, and freeze until ready to serve.
Notes
*If you are preparing this recipe as GLUTEN-FREE, just be sure to use brands of sweetened condensed milk, extract and chocolate chips that are known to be GF.
*Be sure to use peppermint extract and not spearmint.
*As with all ice cream recipes, they will turn out best if the base is thoroughly chilled (at least 8 hours), and if the insert is completely frozen (24 hours or more).
Nutrition
Serving:
1
serving (1/2 cup)
,
Calories:
238
kcal
,
Carbohydrates:
40
g
,
Protein:
8
g
,
Fat:
6
g
,
Saturated Fat:
3
g
,
Cholesterol:
84
mg
,
Sodium:
110
mg
,
Potassium:
91
mg
,
Fiber:
1
g
,
Sugar:
39
g
,
Vitamin A:
280
IU
,
Calcium:
218
mg
,
Iron:
0.5
mg