Blueberry Cheesecake Ice Cream is a delicious and different ice cream flavor!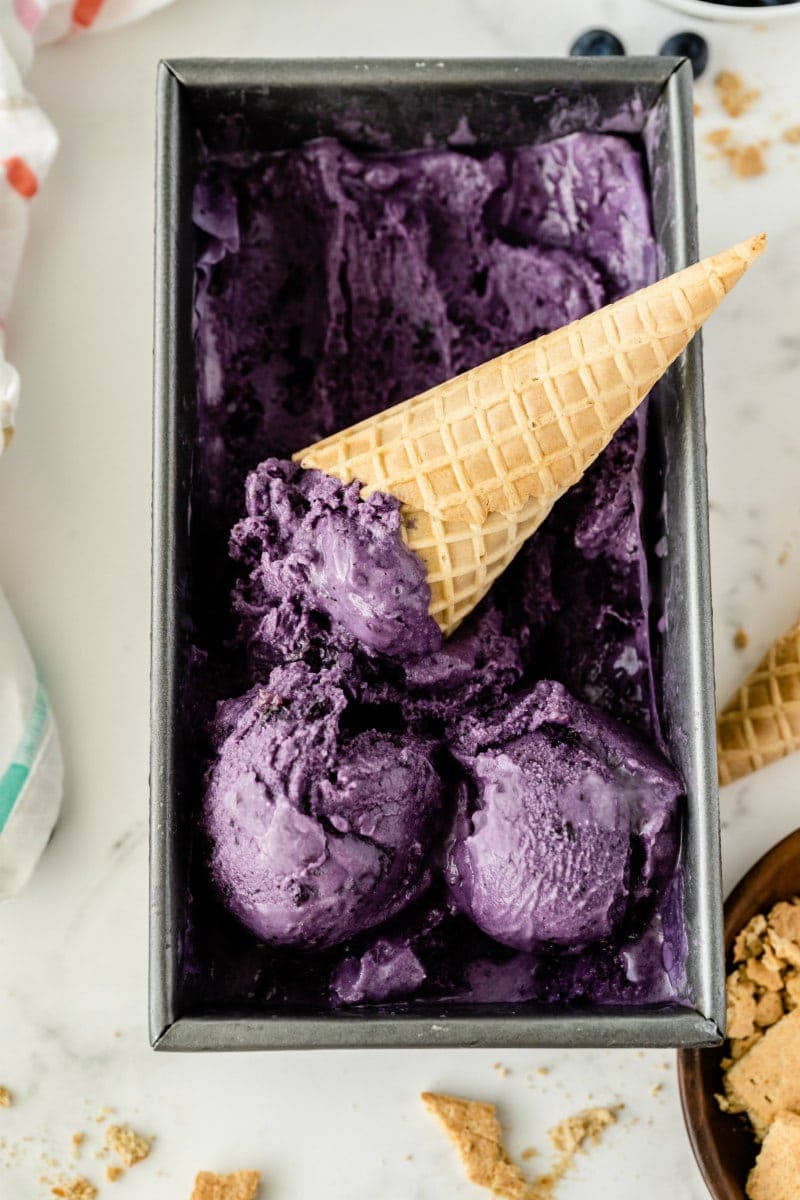 This fruit-flavored, cheesecake lovers ice cream is incredibly good. The recipe was published in Cooking Light magazine a long time ago. I often mess with the ingredients to make it a little more rich. But this recipe is so delicious as it is. It's time to make some Blueberry Cheesecake Ice Cream for dessert this summer!
My favorite ice cream maker:
Yes, you need an ice cream maker to make this blueberry cheesecake ice cream. And if you're thinking that you might not use it that much, think again! Once you've made homemade ice cream once, you'll want to make if often. I have the Cuisinart Ice Cream Maker, and it's the best!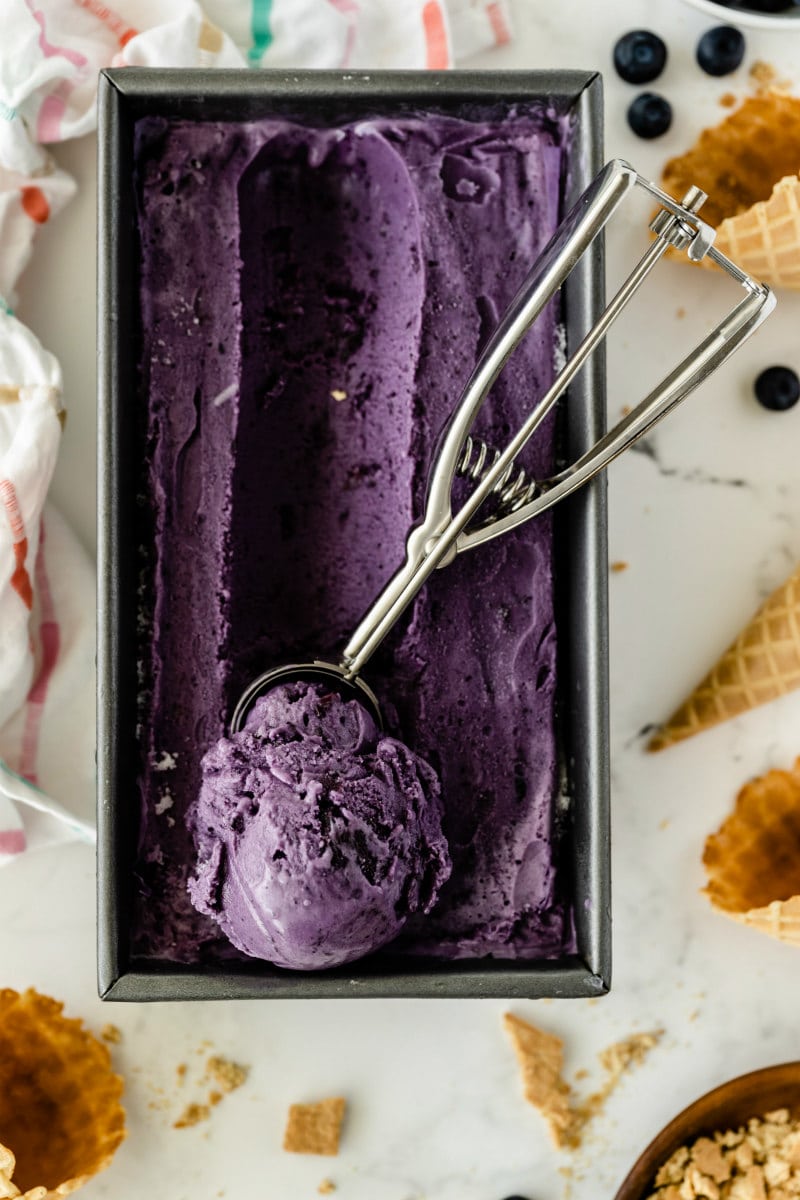 How to make Blueberry Cheesecake Ice Cream:
In one bowl, you'll combine sugar, cream cheese and egg yolks. Then you'll heat up a milk/half and half mixture and gradually add it to the creamy mixture. Next, you'll heat those together, and then let the mixture cool.
Blueberries are then cooked in a pan with sugar and water until boiling and thickened. Then that's set aside to cool. When all is cool, you'll combine the blueberry mixture with the milk mixture to create the ice cream base. The base is refrigerated until it's very cold. I like to make the base one day, let it chill overnight and process the next day.
Finally, the ice cream base is processed in an ice cream machine. Just follow your ice cream machine's instructions for processing. Make sure your ice cream machine freezer bowl is frozen before you process. After processing, you'll move the ice cream to a container and freeze until ready to eat!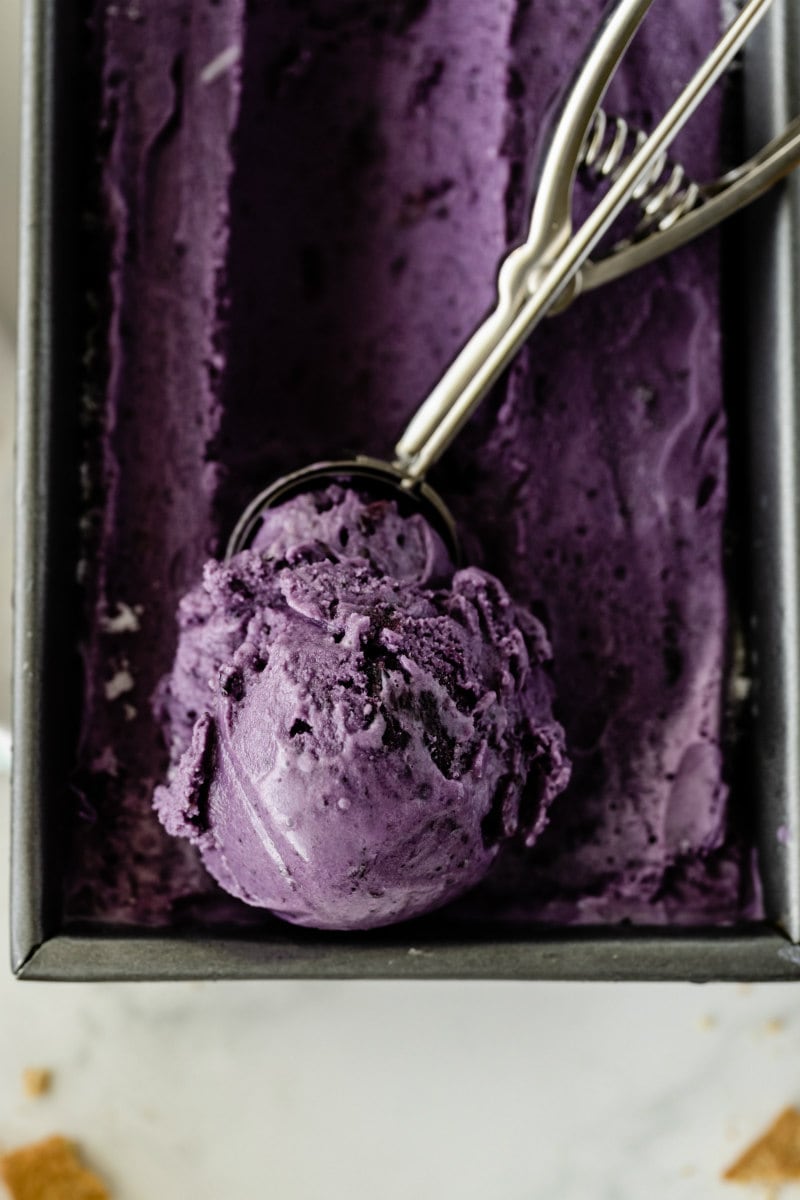 Award winning tips:
There was a fun comment left on this ice cream recipe the first time it published back in 2007.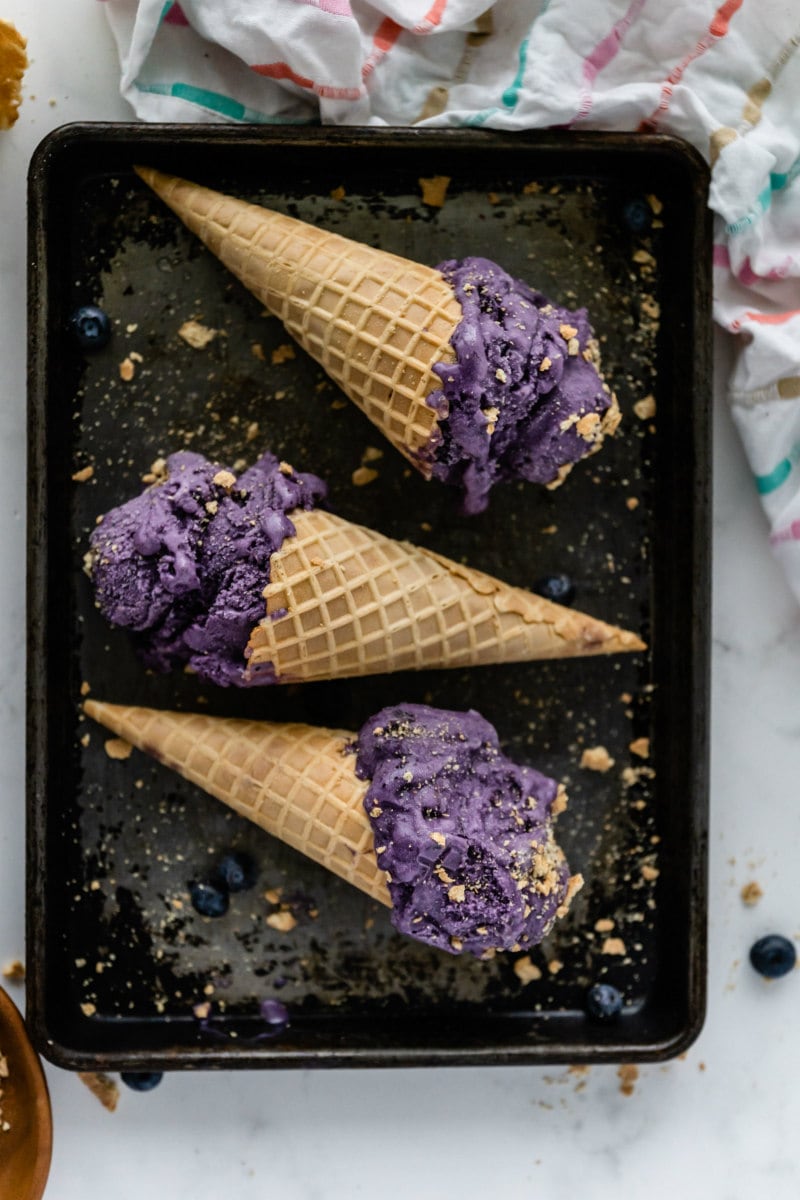 How to serve this ice cream:
Of course, it's fun to serve Blueberry Cheesecake Ice Cream on top of ice cream cones. Sprinkle it with graham cracker crumbs to get that full effect of being like cheesecake. Don't wear a white shirt.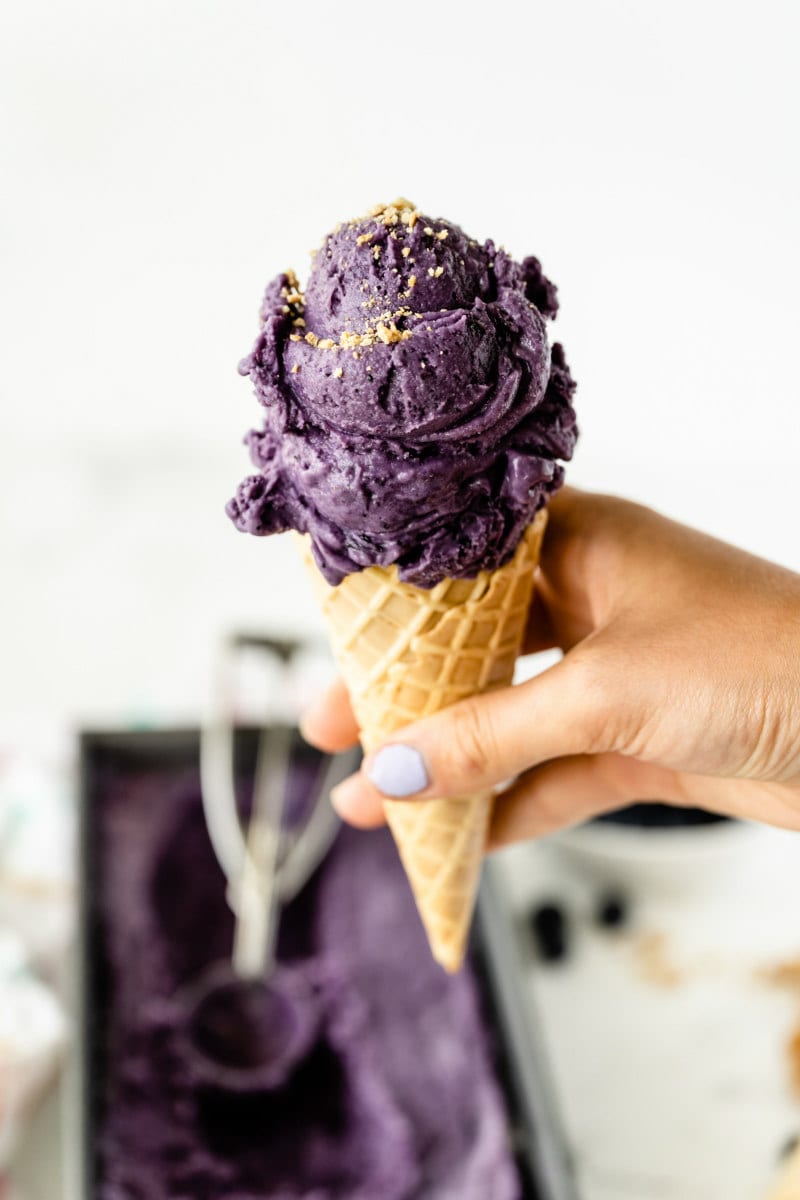 This ice cream is delicious. But it's important to know that this isn't a super rich and decadent ice cream as it's a lightened up version. It's not made with heavy cream, and there is a limited amount of light cream cheese. If you want to make it super rich, use whole milk or half and half in place of the 2% milk. And use heavy cream instead of half and half. Use a full 8-ounces of cream cheese, if you'd like too. That should do it if you want a more decadent version of blueberry cheesecake ice cream!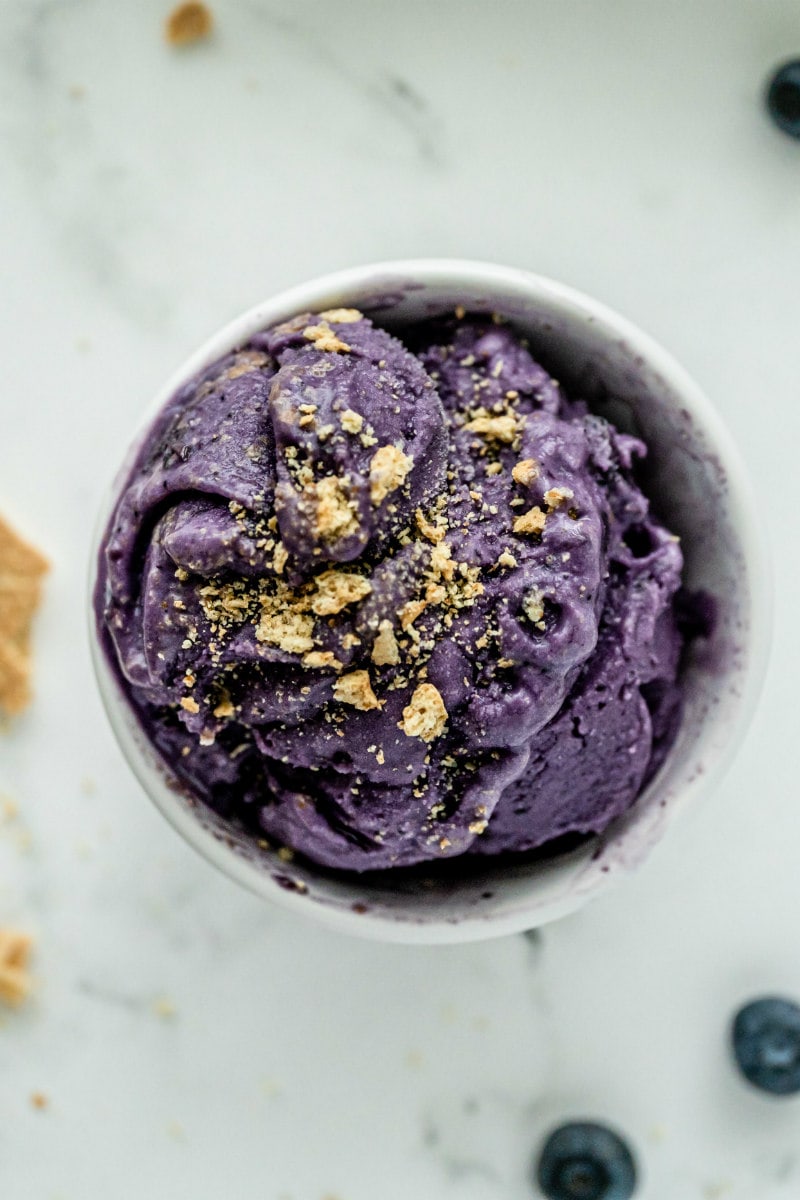 If you're not into ice cream cones, scoop this ice cream into a dish instead. Don't forget those graham cracker crumbs. Enjoy!
Here are a few more recipes using blueberries that you might like to try:
Blueberry Cheesecake Ice Cream
A totally delicious flavor of homemade ice cream!
Recipe Details
Servings:
12
servings (2/3 cup)
Ingredients
2

cups

granulated white sugar

6

ounces

reduced-fat cream cheese,

at room temperature

4

large

egg yolks

3

cups

2% milk

1

cup

half and half

3

cups

fresh blueberries,

coarsely chopped

1/4

cup

powdered sugar

1/4

cup

water

graham cracker crumbs,

for serving (optional)
Instructions
In a large bowl, use an electric mixer to combine the sugar, cream cheese and egg yolks; beat at high speed until smooth.

In a medium saucepan, combine the milk and half-and-half; bring to a boil. Remove from heat.

Gradually add the hot milk mixture to the cheese mixture, a spoonful at a time (being careful to temper the mixture and not 'cook' the egg), stirring constantly with a whisk until all has been incorporated. Return the milk mixture to the pan. Cook over medium-low heat 5 minutes or until a thermometer registers 160°, stirring constantly. Scrape the mixture into a bowl and place it on top of ice in another bowl. Cool completely, stirring occasionally.

In a small saucepan, combine the blueberries, powdered sugar, and 1/4 cup water; bring to a boil. Reduce heat, and simmer for 10 minutes or until the mixture thickens slightly, stirring frequently. Remove from heat, and cool completely.

Stir the blueberry mixture into the milk mixture. Refrigerate several hours until mixture is very cold.

Pour the mixture into the freezer container of an ice-cream machine; process according to the manufacturer's instructions. Spoon the ice cream into a freezer-safe container; cover and freeze for 1 hour or until firm.

Sprinkle graham cracker crumbs on top of individual servings to complete the cheesecake theme!
Nutrition
Serving:
1
serving (2/3 cup)
,
Calories:
262
kcal
,
Carbohydrates:
46
g
,
Protein:
5
g
,
Fat:
7
g
,
Saturated Fat:
4
g
,
Cholesterol:
81
mg
,
Sodium:
106
mg
,
Potassium:
178
mg
,
Fiber:
1
g
,
Sugar:
43
g
,
Vitamin A:
312
IU
,
Vitamin C:
4
mg
,
Calcium:
122
mg
,
Iron:
1
mg