This recipe has been featured in a post on The Recipe Girl blog: Ice Cream Man Smackdown.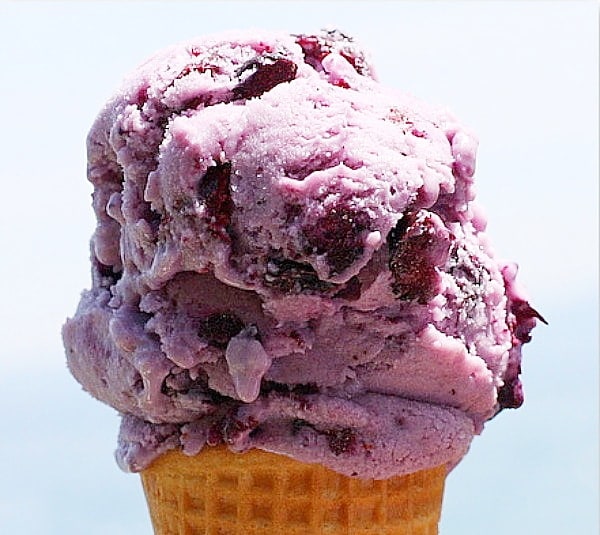 Blueberry Cheesecake Ice Cream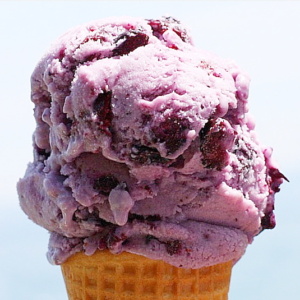 Yield:
12 Servings (Serving Size about 2/3 cup)
Prep Time:25 min
Cook Time:30 min
Ingredients:
2 cups granulated sugar
3/4 cup (6 ounces) 1/3-less-fat cream cheese, softened
4 large egg yolks
3 cups 2% reduced-fat milk
1 cup half-and-half
3 cups fresh blueberries, coarsely chopped
1/4 cup powdered sugar
1/4 cup water
Directions:
1. Combine first 3 ingredients in a large bowl; beat with a mixer at high speed until smooth. Combine milk and half-and-half in a medium, heavy saucepan; bring to a boil. Remove from heat. Gradually hot milk mixture to cheese mixture, a spoonful at a time (being careful to temper the mixture & not 'cook' the egg), stirring constantly with a whisk until all has been incorporated. Return milk mixture to pan. Cook over medium-low heat 5 minutes or until a thermometer registers 160°, stirring constantly. Place pan in an ice-filled bowl. Cool completely, stirring occasionally.
2. Combine blueberries, powdered sugar, and 1/4 cup water in a small saucepan; bring to a boil. Reduce heat, and simmer for 10 minutes or until mixture thickens slightly, stirring frequently. Remove from heat, and cool completely.
3. Stir blueberry mixture into milk mixture. Refrigerate several hours until mixture is very cold.
4. Pour mixture into the freezer can of an ice-cream freezer; freeze according to manufacturer's instructions. Spoon ice cream into a freezer-safe container; cover and freeze for 1 hour or until firm.
Tips:
*Sprinkle graham cracker crumbs on top to complete the cheesecake theme!
Nutrition:
Nutritional Information per serving:
Serving size: 2/3 cup
Calories per serving: 268
Fat per serving: 7.8g
Fiber per serving: .9g
Protein per serving: 5.4g
Cholesterol per serving: 90mg
Carbohydrates per serving: 45.8g
WW POINTS per serving of 2/3 cup:
Points Plus Program: 7 Old Points Program: 6