Today, I made some rather fabulous Blueberry Refrigerator Jam.
What kind of jam person are you? Are you apricot? Seedless raspberry? Maybe classic strawberry? Or are you some other kind of weird jam that we don't know about? My absolute favorite jam in the whole wide world is one that they don't typically sell in the market: peach. So it would make sense that this post would be about peach jam, right? Well, no. But peach jam will definitely be on my radar. Blueberry Refrigerator Jam is where it's at today.
Canning Jam vs. Refrigerator Jam:
I'm not a big canning person. I don't own canning equipment, and it's not really my kind of thing. But I enjoy making things in jars and keeping them in the fridge for an amount of time long enough to make sure my family has time to consume them. Refrigerator jam isn't meant to can. It's meant to eat within a couple of weeks. That's what we've got here with this jam.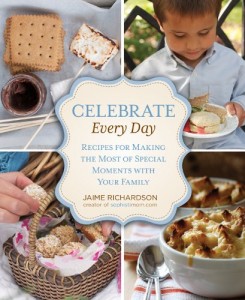 This recipe comes from the cookbook: Celebrate Every Day- Recipes for Making the Most of Special Moments with Your Family by Jaime Richardson. I love this book. My son and I took a peek at it together, and we put sticky notes on a whole bunch of things that we wanted to try together… like Fried Chicken Strips, Homemade Snow Caps, Fresh Peach French Toast Bread Pudding, Homemade Cream Soda and Maple- Vanilla Crunch Granola. It's adult food that kids like too.
How to make Blueberry Refrigerator Jam:
The recipe couldn't be simpler. It begins with fresh blueberries, of course. It's a good one to make when you can find blueberries for next-to-nothing cost-wise at your local market or farmer's market. In a pinch, you can substitute frozen blueberries.
Some of the blueberries are added to a saucepan and smashed.
The rest of the ingredients are added in- more blueberries, lemon zest/juice, and sugar.
The ingredients are stirred together.
And then the mixture is brought to a boil. It boils like that for about 20 minutes.
After 20 minutes on the stove, it magically turns into homemade jam.
You don't even have to get all fancy and put it in jars unless you want to. Honestly, you could scrape it into a plastic container and place it in your refrigerator and you'll enjoy it just as much. In general, the jam will fill up two 10-ounce jars. Mine fit nicely in three smaller jars that I had lying around. I kept one for my family to sample on English muffins (YUM!), and I saved two to give as take-home gifts for guests who were coming to a dinner party of ours. This is delicious jam!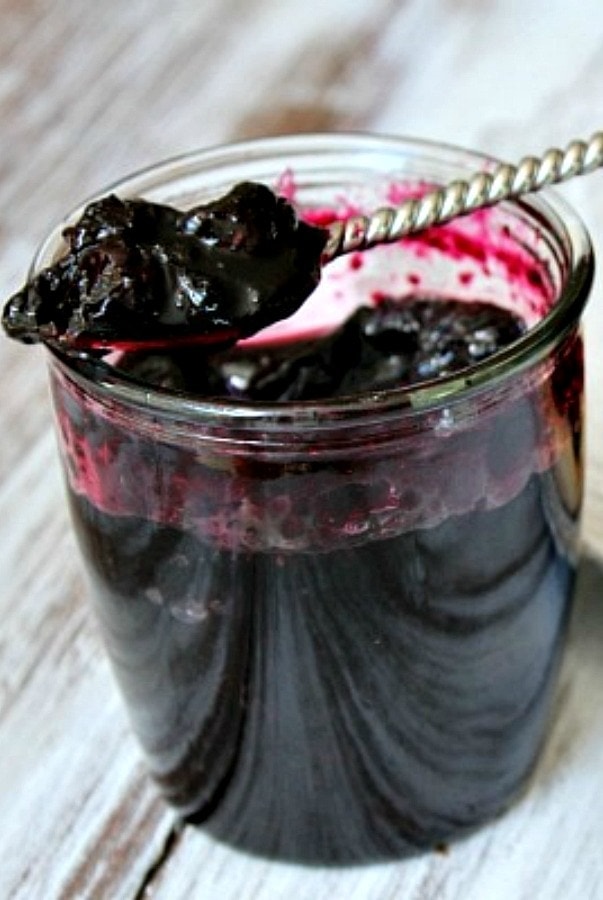 Here are a few more jam recipes you might like to try:
Blueberry Refrigerator Jam
Perfect, easy jam recipe to keep in the refrigerator!
Recipe Details
Servings:
20
servings (two 10-ounce jars)
Ingredients
5

cups

fresh blueberries

zest of 1 lemon

5

tablespoons

freshly squeezed lemon juice

1½

cups

granulated white sugar
Instructions
Place a small ceramic plate in the freezer. Place 2 cups of blueberries in a high-sided saucepan, and mash with a potato masher. Add the remaining blueberries along with the rest of the ingredients. Set the saucepan over medium-high heat, and bring mixture to a boil.

Once the blueberries start boiling vigorously enough that the bubbles don't dissipate when you stir, set the timer for 12 minutes and continue boiling the berries at the same rate, stirring frequently.

When the jam begins to thicken, pull the plate from the freezer and place a small amount of the jam on the plate. Run your finger through the jam, and if it jells and seems thick, remove the pan from the heat. If the jam is not thick enough, place the plate back into the freezer, and continue to cook the jam for a minute or two longer. Test again. Repeat until the jam is thickened (I usually have to cook mine for an additional 10 minutes to get it to the right consistency).

Divide the jam into clean glass jars. Allow to cool for about 2 hours, then top with lids. When the jam cools to room temperature, store in the refrigerator and enjoy within 2 weeks.
Notes
The original author of this recipe shared that getting jam to jell can be a funny business. If for some reason your jam doesn't thicken, remove it from heat and tell everyone it's blueberry sauce. For the record: mine turns out just perfect.
Nutrition
Serving:
1
serving
,
Calories:
80
kcal
,
Carbohydrates:
21
g
,
Protein:
1
g
,
Fat:
1
g
,
Saturated Fat:
1
g
,
Sodium:
1
mg
,
Potassium:
32
mg
,
Fiber:
1
g
,
Sugar:
19
g
,
Vitamin A:
20
IU
,
Vitamin C:
5
mg
,
Calcium:
2
mg
,
Iron:
1
mg