It takes just five simple ingredients to make this fresh Blackberry Freezer Jam. After your first taste you'll be spreading it on everything.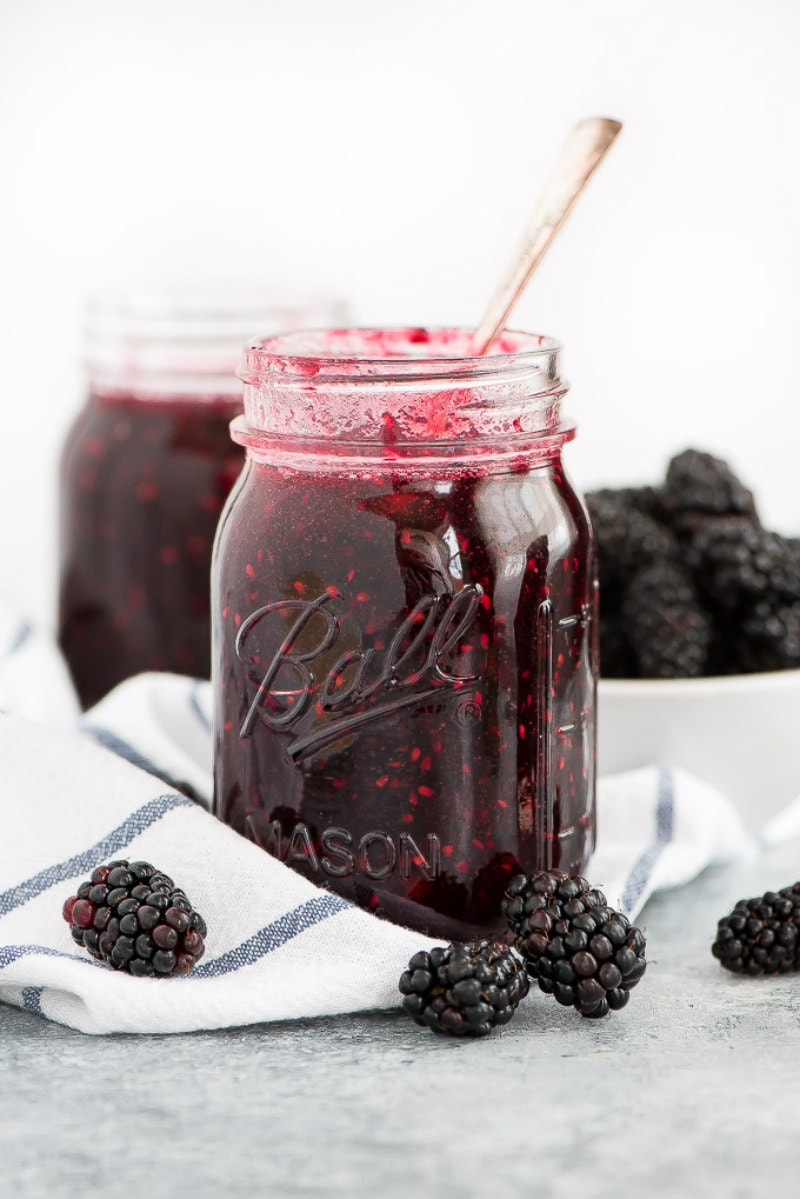 I am one lucky girl. My mother made everything from scratch when I was a kid. As grateful as I was to always have food… great food, I didn't fully realize how good I had it until I went to college and ran out of my mom's homemade jam. I decided to grab a jar off the shelf at the store, used it once, and never touched it again. It just didn't compare to the scrumptious taste of mom's freezer jam. Once you try blackberry freezer jam, you'll never go back to cooked.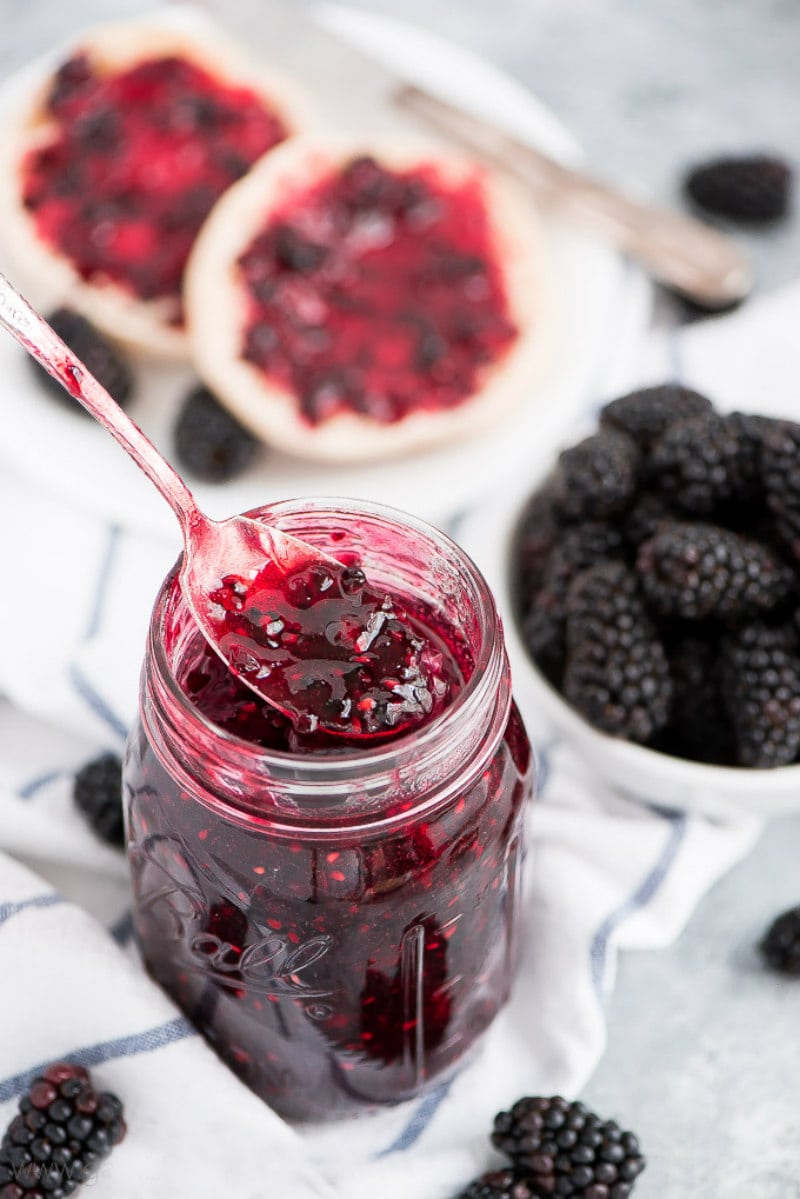 What makes freezer jam so good?
So why is freezer jam so amazing?
First, freezer jam has amazing flavor. Freezer jam is not cooked, so the integrity of the flavor of the berry stays intact and true to how a fresh berry tastes. When berries are cooked, their taste changes- and it's not always for the better. I notice it most with strawberries.
Second, you don't have to know a thing about canning methods when you're making freezer jam. This is not a recipe where you will be storing in on your pantry shelf for months to come.
Third, no special equipment is needed! I hate having my cupboards filled with things I use just once a year. For this recipe, all you need are containers- plastic or jars, a pot, a potato masher, and a freezer. I'm pretty sure you've got all of these but if you don't then they are very affordable to buy.
Fourth, freezer jam is more spreadable. Sometimes cooked jam or jelly is as thick as jello and so awkward to spread on bread. Freezer jam is thinner/more runny than cooked jam, and it's only heated on the stove briefly to dissolve the sugar.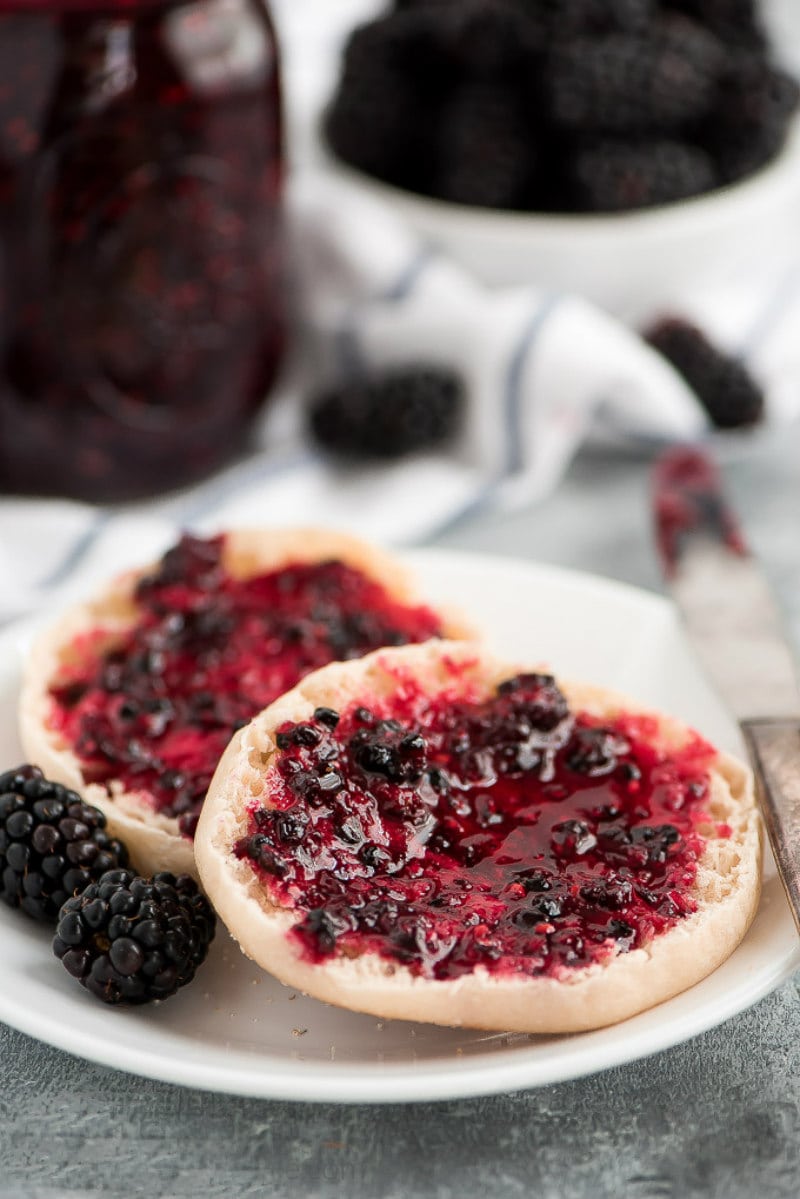 Can you store freezer jam in the refrigerator?
Yes! Freezer jam will last three weeks when stored in the refrigerator, and it's good for 6 months in the freezer.
I've tried many flavors of jam but my current favorite is this Blackberry Freezer Jam. Of course, you need to start with prime berries that are sweet and not tart. I like to spread this jam on English muffins, toast and peanut butter sandwiches. You'll want to eat it on everything! Enjoy!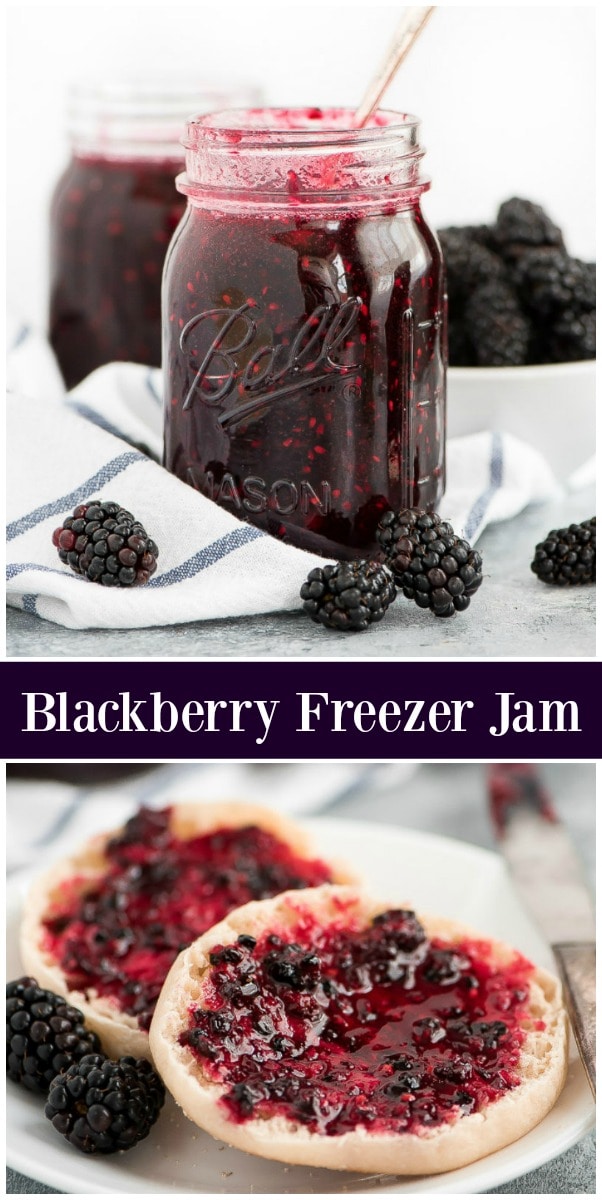 Here are a few more recipes freezer jam and bread recipes you might like to try:
Blackberry Freezer Jam
Easy jam recipe to whip up when you have some fresh blackberries!
Recipe Details
Servings:
64
servings (8 cups)
Ingredients
3¼

cups

mashed blackberries

2

tablespoons

freshly squeezed lemon juice

One

1.75-ounce box

Sure Gel pectin

(the yellow box)

1

cup

light corn syrup

4

cups

granulated white sugar
Instructions
In a large pot (off the stove), mix the blackberries and lemon juice together, and sift in the pectin a little at a time while stirring.

Once all the pectin is mixed in, set a timer for 30 minutes and give the fruit a stir every 7 to 10 minutes.

After the 30 minutes, stir in the corn syrup and then place the pot on the stove over medium heat. Stir in the sugar a little at a time and cook for about 5 minutes until the sugar is dissolved (it should be good to go when the jam reaches 100 degrees F or you can just rub it between your fingers to make sure you don't feel any grains). If it is cooked longer it will be quite runny.

Pour the jam into clean plastic containers or glass jars and place in the fridge and/or freezer.
Notes
Jam lasts about 3 weeks in the fridge and up to 6 months in the freezer.
Nutrition
Serving:
1
g
,
Calories:
70
kcal
,
Carbohydrates:
18
g
,
Protein:
1
g
,
Fat:
1
g
,
Saturated Fat:
1
g
,
Sodium:
5
mg
,
Potassium:
16
mg
,
Fiber:
1
g
,
Sugar:
17
g
,
Vitamin A:
19
IU
,
Vitamin C:
2
mg
,
Calcium:
3
mg
,
Iron:
1
mg