The perfect coffee cake to make in the summer months. The photo below does not include the sweet glaze on top. It's just as good without!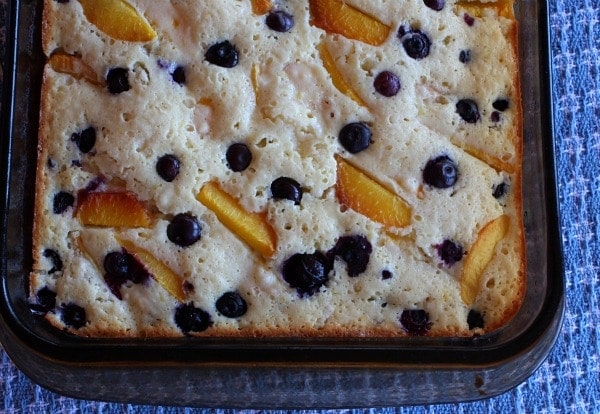 Peach and Blueberry Coffee Cake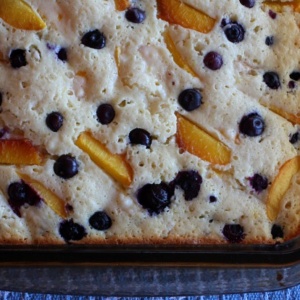 In the heart of summer... when you've got fresh peaches and blueberries on hand, this is the morning treat to make.
Yield:
12 servings
Prep Time:20 min
Cook Time:35 min
Ingredients:
2 cups all-purpose flour
1 cup granulated white sugar
2 teaspoons baking powder
1 teaspoon salt
1 1/2 teaspoons finely grated orange zest
1/2 cup butter
1 cup milk
2 large eggs, slightly beaten
1 teaspoon vanilla
1 cup sliced fresh peaches
1 cup fresh blueberries
ICING:
1 cup powdered sugar, sifted
3-5 Tablespoons milk
1/4 teaspoon almond extract
Directions:
1. Preheat oven to 350 degrees F. Spray 13x9-inch pan with nonstick spray.
2. In large bowl, whisk together flour, sugar, baking powder, salt and orange peel. Cut butter into mixture with pastry blender until fine crumbs form. Add milk, eggs and vanilla. Stir until well blended.
3. Pour 3/4 of batter into the prepared pan. Top with fruit, spreading out evenly.. Spoon remaining batter over fruit.
4. Bake 35-45 minutes, until golden brown.
5. Cool 30 minutes.
6. In a medium bowl, whisk together icing ingredients (add enough milk to create a good drizzle consistency); drizzle over cooled cake.