Here's an easy recipe to make for a weekend morning:  Banana Coffee Cake with Streusel Topping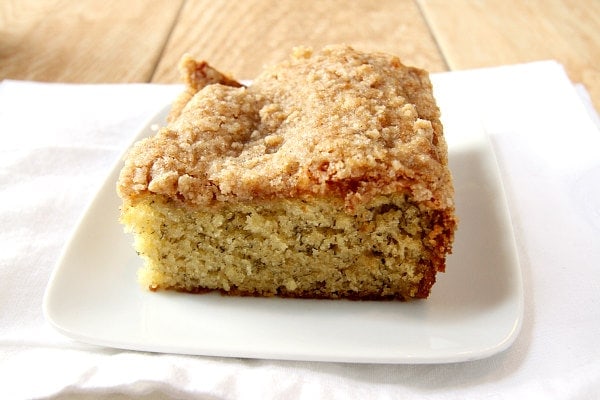 I'm guilty of over-buying bananas, and it turns out that I totally do it on purpose.  I eat a banana almost every single day, but I only like them when they're perfect- when they've just lost all of their green and before any black spots appear.  As soon as those black spots appear, the bananas are added to my "banana bread basket."  It's a place where my ripe bananas can continue to blacken and ripen until they're so sweet and perfect for baking.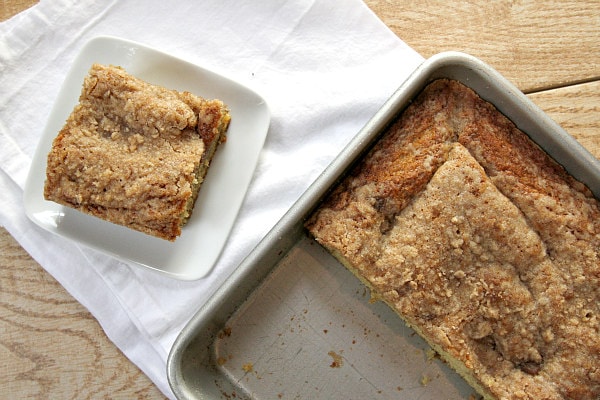 Last weekend, I opted to do a little something different and make a small banana coffee cake with a sugary streusel topping.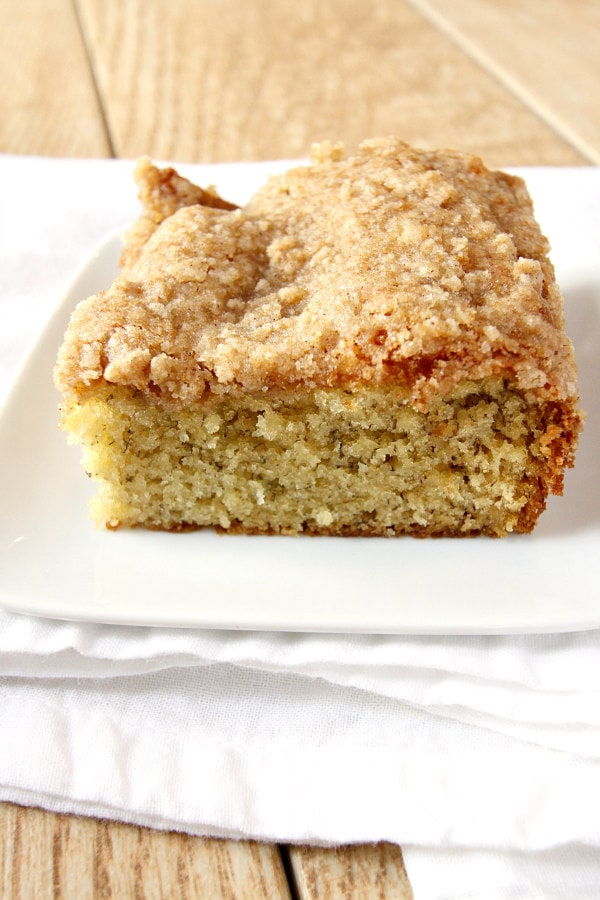 The streusel topping is what really made it delicious.  There's nothing like adding a little more cinnamony sugar on top of an already good cake.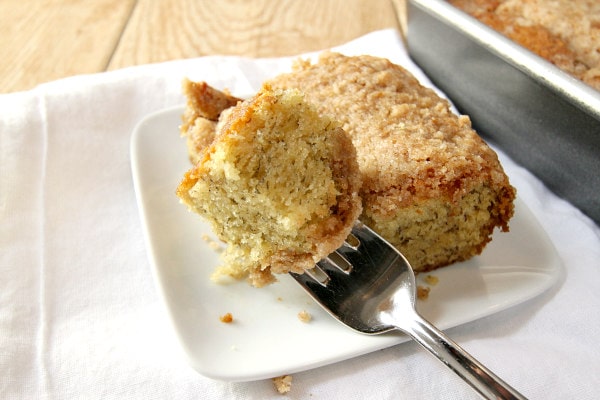 This coffee cake turned out tender and moist.  My son and his buddy chowed down on it after a late-night sleepover.  And it was a nice change from making ho-hum banana bread too.
Banana Coffee Cake with Streusel Topping
Yield:
9 servings
Prep Time: 15 minutes
Cook Time: 35 minutes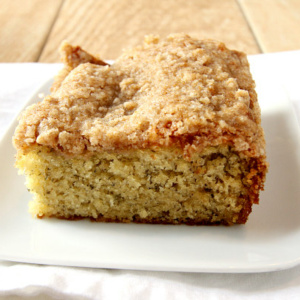 Ingredients:

Cake:

3/4 cup sugar
1/2 cup (1 stick) butter, melted
2 large Eggland's Best eggs
1/4 cup sour cream or plain yogurt
1 cup mashed banana
1 1/2 cups all-purpose flour
1 teaspoon baking powder
1 teaspoon baking soda
1 teaspoon vanilla extract

Streusel Topping:

1/3 cup all-purpose flour
1/4 cup (1/2 stick) butter, at room temperature
1/4 cup granulated white sugar
1/4 cup light brown sugar
1/2 teaspoon ground cinnamon
1/4 teaspoon ground nutmeg

Instructions:

Preheat the oven to 350 degrees F.  Spray a 9-inch square baking dish with nonstick spray.
In a large bowl, use an electric mixer to combine the sugar and butter.  Mix in the eggs, one at a time.  Mix in sour cream and banana.  Add the flour, baking powder, baking soda and vanilla; mix until combined.  Scrape the batter into the prepared pan.
Add all of the streusel ingredients to a medium bowl.  Cut the butter into the dry ingredients until the mixture is crumbled.  Sprinkle the streusel over the batter.
Bake 30 to 35 minutes, or until a toothpick inserted into the center comes out clean.
SOURCE:  RecipeGirl.com
Here are a few more coffee cake recipes you might enjoy:
Disclosure:  I'm working with Eggland's Best in 2016.  They are providing the eggs that I use in my recipes.