Here's an easy recipe for Gingerbread Coffee Cake: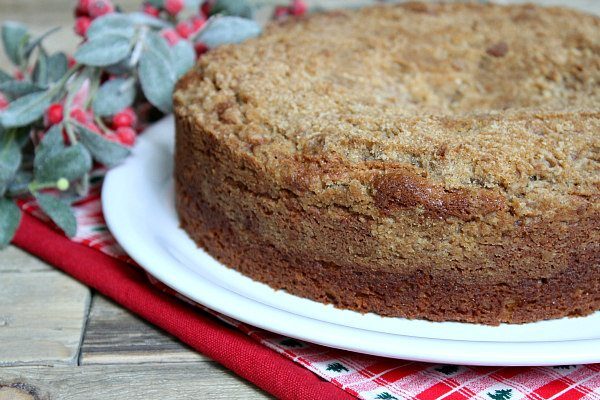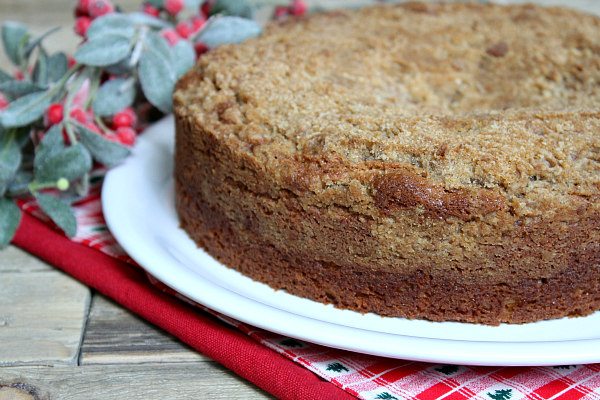 I made this beautiful, simple cake yesterday to have for Saturday morning breakfast.  When I woke up this morning, I sleepily stumbled to the kitchen to cut myself a slice to have with my morning tea, and the darn cake is almost gone.  The explanation = teenagers.  My hungry teenager pretty much scarfed down most of the cake.  Apparently, I really need to stock the house with more food!
Hungry teenagers aside, this cake is so simple to make and bake.  It should turn out perfect for you.  I love the flavor, and it has a tender crumb to it.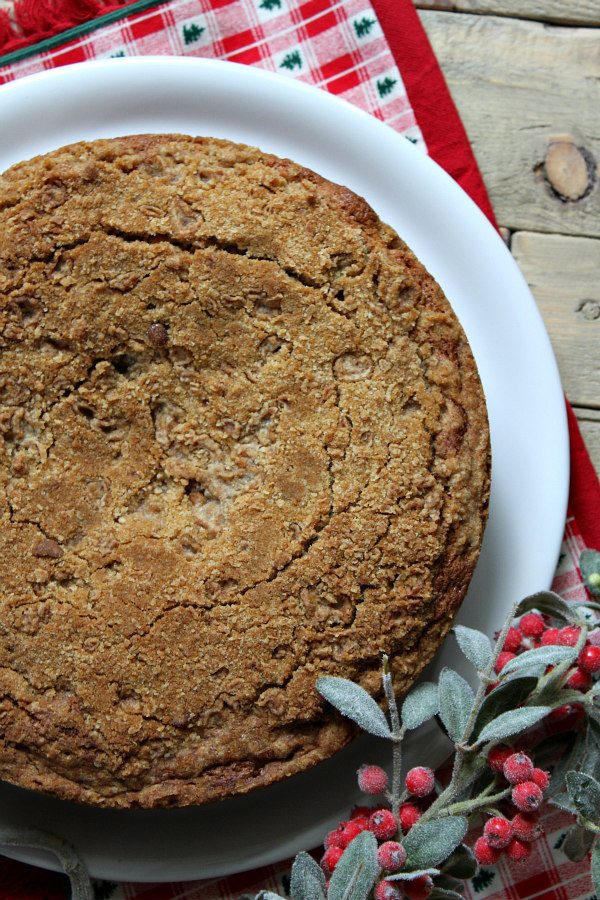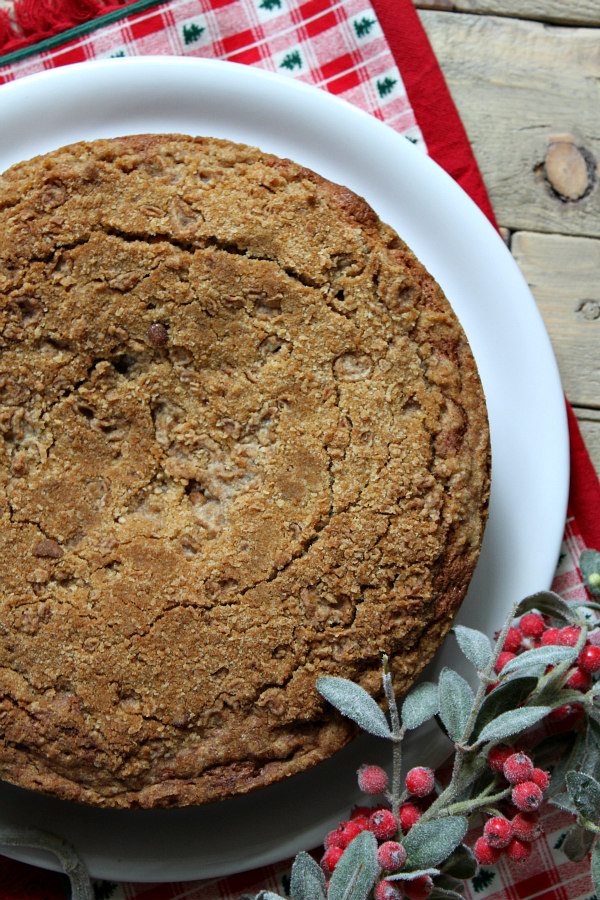 Since I'm baking at elevation (about 5800 feet), my cakes usually tend to dip a little bit right in the center.  They're still baked through and wonderful, but the elevation messes always messes with the middles!
This cake has a wonderful, simple crumb topping.  There are a good deal of spices mixed into the cake to give it that fabulous holiday flavor.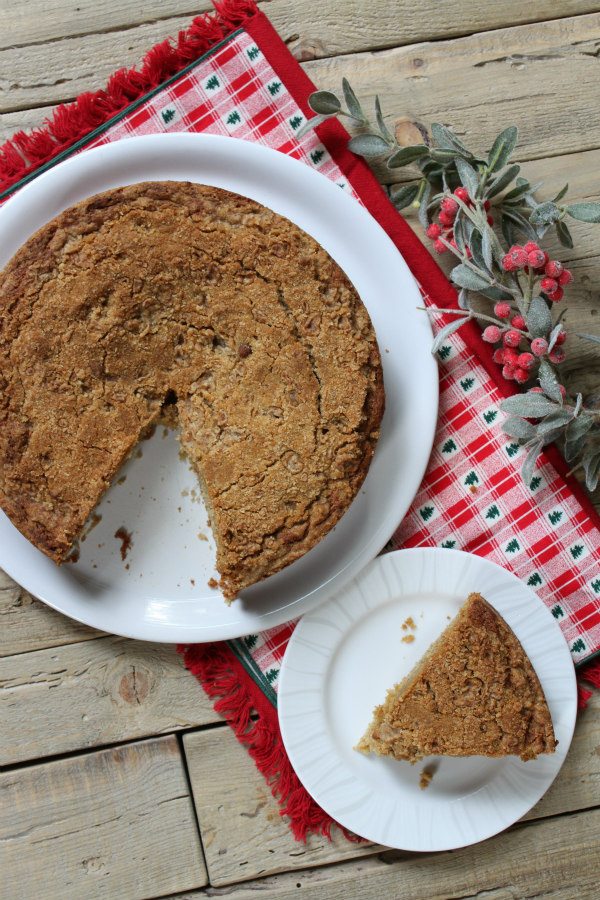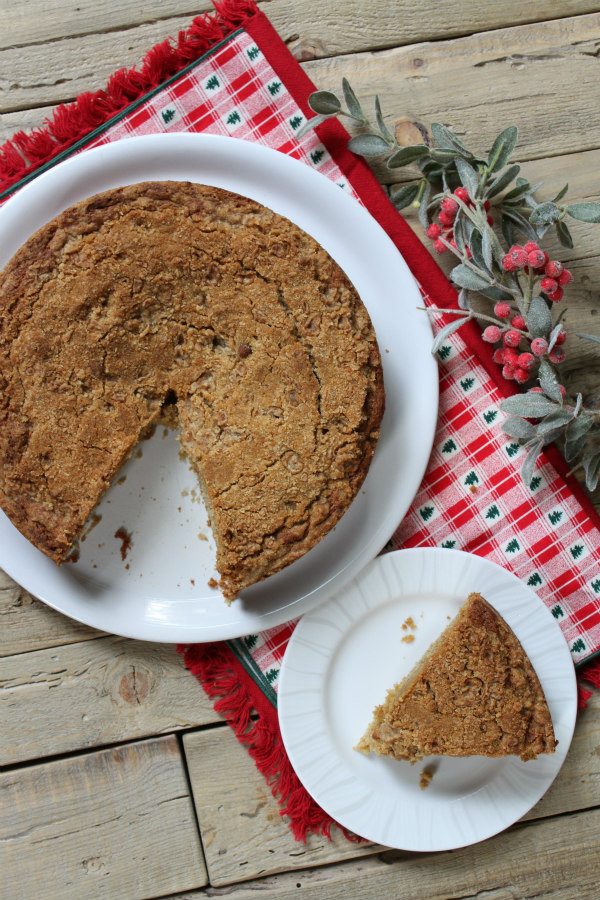 I tasted this cake while warm… and also the following morning.  It's good any-which-way, but I thought it was best when it was 20 minutes out of the oven.  It's simple enough to make in the morning and bake- it should only take you about an hour to do so.  And the recipients of your coffee cake will be grateful indeed!
This is a terrific cake to serve over the holidays- when you have relatives lurking around, and you're tired of trying to come up with breakfast ideas.  Everyone will love having a warm slice of gingerbread coffee cake!
Gingerbread Coffee Cake
Yield:
8 to 10 servings
Prep Time: 25 minutes
Cook Time: 50 minutes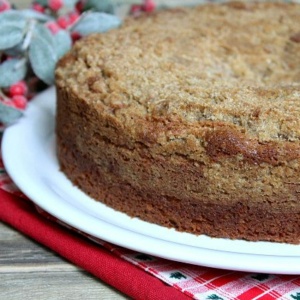 Ingredients:

Cake:

2 cups all-purpose flour
1 teaspoon baking powder
1/2 teaspoon baking soda
1/2 teaspoon salt
1/2 teaspoon ground ginger
1/2 teaspoon ground allspice
1/2 teaspoon ground cinnamon
1/4 teaspoon ground nutmeg
1/4 teaspoon ground cloves
10 tablespoons butter (1 1/4 sticks), softened
1 cup granulated white sugar
2 cup sour cream
2 large Eggland's Best eggs
2 teaspoons molasses
1 teaspoon vanilla extract

Topping:

3/4 cup all-purpose flour
2/3 cup brown sugar
1/2 teaspoon allspice
pinch of salt
5 tablespoons cold butter, cut into chunks

Instructions:

Preheat the oven to 350 degrees F.  Rub some butter along the inside of a 9-inch springform pan.
Prepare the cake batter:  In a medium bowl, whisk together the flour, baking powder, baking soda, salt and spices.  Set aside.
In a large bowl, use an electric mixer to combine the butter and sugar until light and fluffy.  Beat in the sour cream, eggs, molasses, and vanilla.  Add the dry ingredients, and mix just until combined.  Scrape the batter into the prepared pan.
Prepare the topping:  In a medium bowl, combine the flour, brown sugar, allspice and salt.  Add the butter and cut it into the dry ingredients using a pastry cutter, two knives or a fork until crumbly.  Sprinkle the topping on top of the batter in the pan.
Bake until golden brown- about 50 minutes.  Let cool at least 20 minutes, then cut into slices and serve.
SOURCE:  RecipeGirl.com (very loosely based on a recipe in Food Network Magazine)
Here are a few more coffee cake recipes you might enjoy: