Overnight Eggnog Coffee Cake with Nog Glaze
This recipe has been featured in a post on The Recipe Girl blog: Eggnog Coffee Cake with Nog Glaze.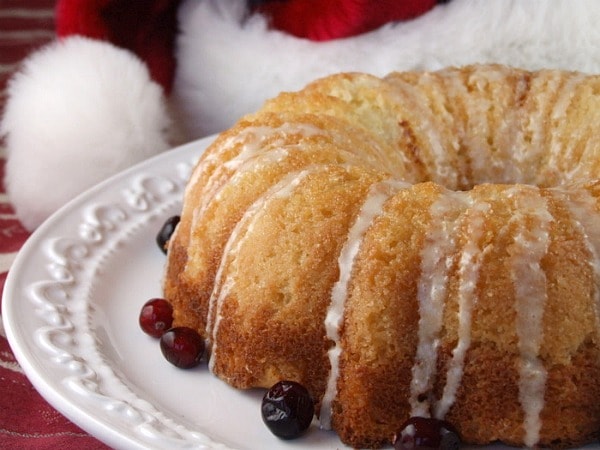 Yield: 15 servings
Prep Time: 25 min + chilling time
Cook Time: 35 min
Overnight Eggnog Coffee Cake w/ Nog Glaze
Incredibly moist cake. The drizzle on top basically absorbs into the cake to add to the moistness. Absolutely delicious.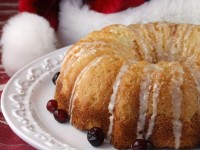 Ingredients:
(edited to add that some readers have had trouble with the "topping" portion of this recipe. You might be better off just leaving the topping off and your cake will be just as good. The glaze will be the final topping anyways!)
TOPPING:
1/3 cup granulated sugar
1 Tablespoon all-purpose flour
1 Tablespoon butter, softened
1/2 teaspoon ground nutmeg
CAKE:
1 cup granulated sugar
1/2 cup butter, softened
1 cup eggnog
8 ounces sour cream
1 teaspoon rum extract
2 large eggs
2 1/2 cups all-purpose flour
1 1/2 teaspoons baking powder
1/2 teaspoon baking soda
1/2 teaspoon salt
1/4 teaspoon ground nutmeg
1/4 teaspoon ground mace
GLAZE:
1/2 cup powdered sugar
2 Tablespoons eggnog
1/8 teaspoon nutmeg
Directions:
1. Grease 12-cup round molded cake pan with shortening.
2. In a small bowl, mix all topping ingredients with a fork until crumbly; sprinkle evenly into prepared pan.
3. In a large bowl, beat 1 cup granulated sugar and 1/2 cup butter with electric mixer on medium speed. Beat in 1 cup eggnog, the sour cream, rum extract and eggs until blended.
4. In a separate bowl, whisk together flour and remaining dry cake ingredients. Stir dry mixture into wet mixture. Spoon evenly into pan (on top of the topping). Cover and refrigerate at least 8 hours.
5. Preheat oven to 350°F. Uncover pan; bake 25 to 35 minutes or until toothpick inserted in center comes out clean. Cool 10 minutes and then flip out onto a rack to cool completely.
6. In a small bowl, mix all glaze ingredients until smooth. Add more eggnog if not thin enough to drizzle. Spoon over coffee cake. Cut and serve.
Tips:
*Freshly grated nutmeg is best!
*I used full fat eggnog and full fat sour cream for this recipe, and the end result was a super moist and rich cake. You can certainly try to sub the lower fat versions but the baked product might turn out slightly different.
*Use real rum if you'd like (in place of the extract).
19 Responses to "Overnight Eggnog Coffee Cake with Nog Glaze"
Leave a Comment