This recipe has been featured in a post on The Recipe Girl blog: Eggnog Scones.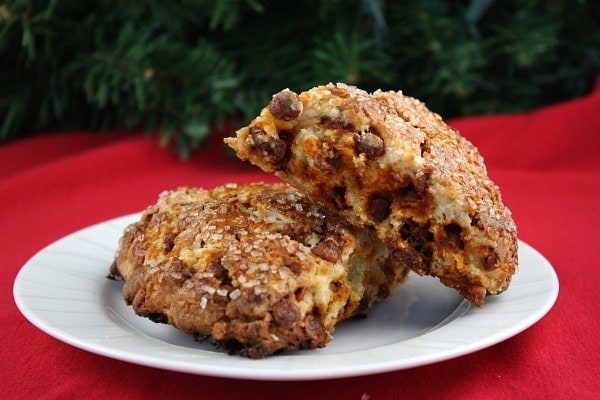 Cinnamon- Eggnog Scones
These scones are irresistible... tender and flaky scones with chunks of cinnamon in every bite.
Yield:
12 scones
Prep Time: 30 min + chill time
Cook Time: 20 min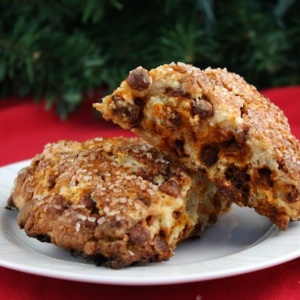 Ingredients:

DOUGH:
2 3/4 cups all-purpose flour
1/4 cup granulated white sugar
3/4 teaspoon salt
1 Tablespoon baking powder
1/2 teaspoon ground nutmeg
1/2 cup butter, cut into small pieces
2 cups cinnamon chips
1 large egg
1 teaspoon vanilla extract
3/4 cup eggnog

TOPPING:
1 Tablespoon (or more) eggnog
2 Tablespoons sparkling white sugar (or cinnamon sugar)

Instructions:

1. In a large mixing bowl, whisk together all the dry ingredients.

2. With a pastry blender (or your hands), work in the butter just until the mixture is crumbly. You're looking for some larger chunks of butter to remain unincorporated.

3. Stir cinnamon chips into flour/butter mixture.

4. In a separate bowl, whisk together egg, extract and eggnog.

5. Add egg mixture to dry ingredients and stir until all is moistened and holds together.

6. Transfer dough to a lightly floured surface and pat into a ball.

7. Divide ball of dough in half. Pat each half into a 6-inch wide circle (about 3/4-inch thick).

8. Using a knife (or a bench knife), slice each circle into 6 equal wedges.

9. Transfer the circle of wedges to a lightly greased or parchment-lined baking sheet. Pull the wedges away from the center to separate them just a bit (there should be about 1/2-inch space between them- when they bake, they'll merge together).

10. Brush each scone with eggnog and sprinkle with sugar.

11. Place scones in the freezer for 30 minutes before baking (see *tips below). Preheat oven to 425 degrees F.

12. Bake scones for about 20 minutes, or until they're golden brown. When you pull one away from the others, it should look baked all the way through. Edges shouldn't look wet or unbaked.

13. Remove scones from oven and cool in the pan. Serve warm. When they're completely cool, you can wrap them in plastic and store at room temperature for up to several days.

Tips:

*Cinnamon chips can be found in the baking aisle of some supermarkets. They're made by Hersheys. If you are unable to locate them, ask your market's manager if the store can order them for you! You can also find a version of cinnamon bits on King Arthur Flour's website.
*Sparkling white sugar can be found in baking supply stores (or try craft stores, like Michael's).
*According to to KA Flour, freezing the scones before baking relaxes the gluten in the flour, which makes the scones more tender and allows them to rise higher. It also chills the fat, which will make the scones a bit flakier.