Here's an easy to make recipe for a holiday breakfast or brunch:  No Yeast Eggnog Cinnamon Rolls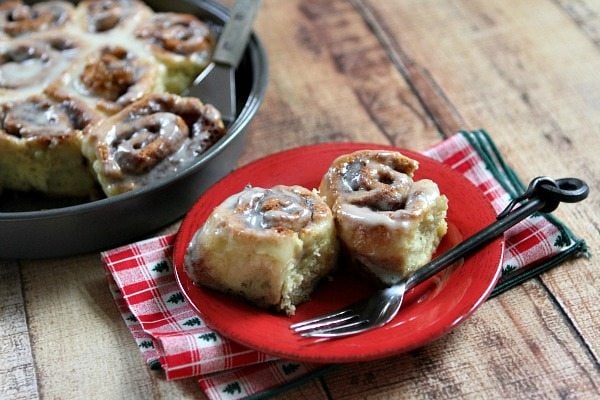 I have always wanted to be the kind of Mom who bakes bread from scratch, tucks homemade cookies into lunchboxes, and provides a hot, nutritious meal in the evenings for my family.  I've got the lunchbox thing down.  Homemade cookies go into my son's lunch every day.  I'm mostly good at making sure we have a nice dinner to eat each night too (with the exception of the occasional frozen pizza/In n' Out Burger downfall, of course!)  And the homemade bread… I've made on occasion, but working with yeast on a regular basis kind of terrifies me.  So I try my best not to use it much at all.  This recipe for these ridiculously delicious Eggnog Cinnamon Rolls doesn't use any yeast.  And that's a reason for celebration!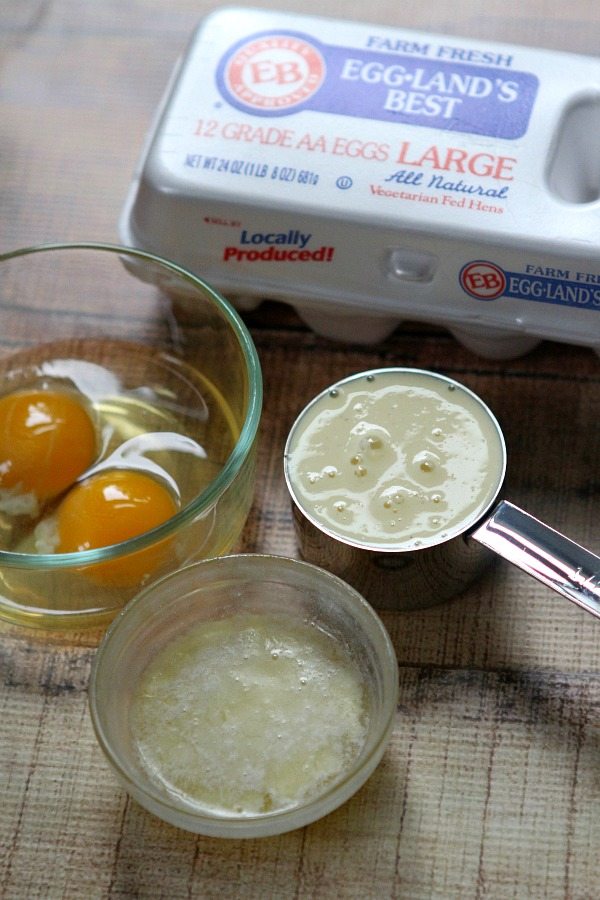 This recipe begins by mixing the liquids:  full-fat eggnog (it's okay, just use it!), melted butter, and eggs.  I have always used Eggland's Best Eggs  I like that they feed their hens vegetarian, healthy grains (never any steroids, hormones or antibiotics of any kind). They have 25% less saturated fat, double the Omega 3, and ten times more Vitamin E compared to ordinary eggs.  They stay fresher longer too, so you can feel good about feeding your family a healthier, more nutritious egg!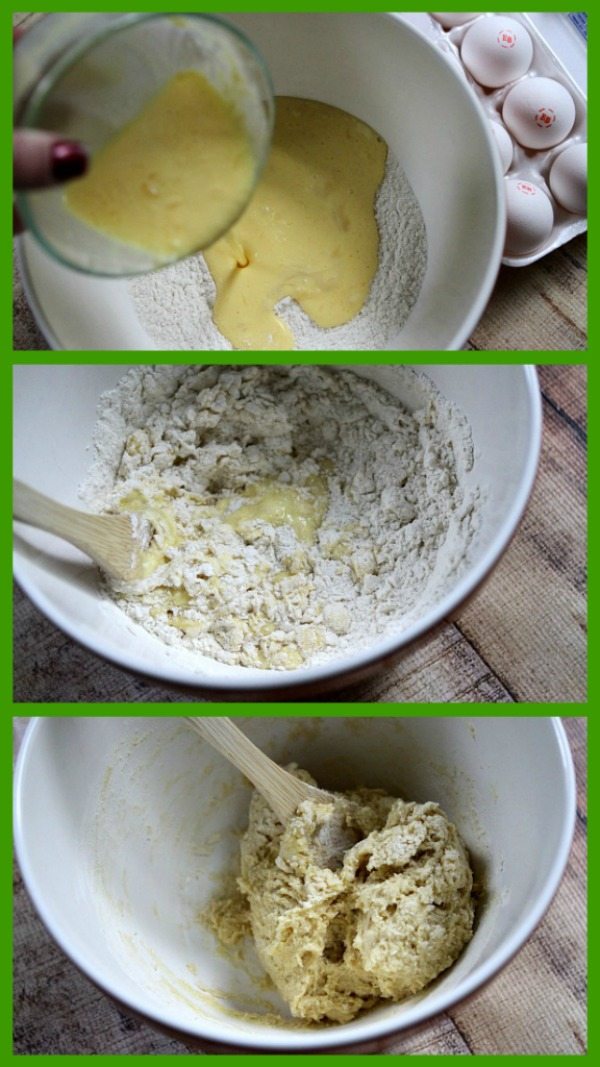 The liquids are added to a simple dry mixture of flour, sugar, baking powder and salt.  Everything is stirred with a wooden spoon until it comes together in a ball of dough.  It will be a little bit sticky when you dump it onto your floured surface.  Just work a small amount of flour into the dough until it's no longer sticky and nice enough to roll out.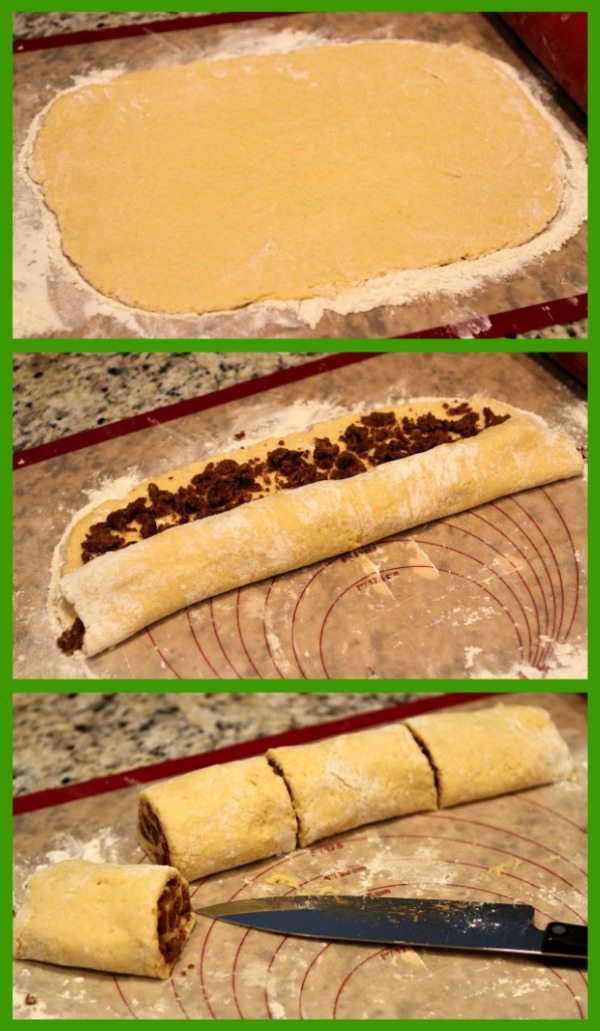 Roll out the dough on your floured surface.  It will be a soft dough, but should be nice to work with.  Sprinkle on a butter/sugar/cinnamon mixture, and roll up log-style.  Gently slice the log into fourths, then cut each fourth into thirds.  This will give you 12 rolls.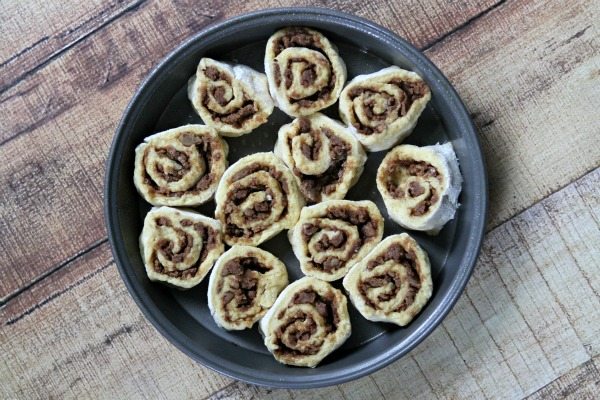 Carefully transfer the rolls to a greased round cake pan.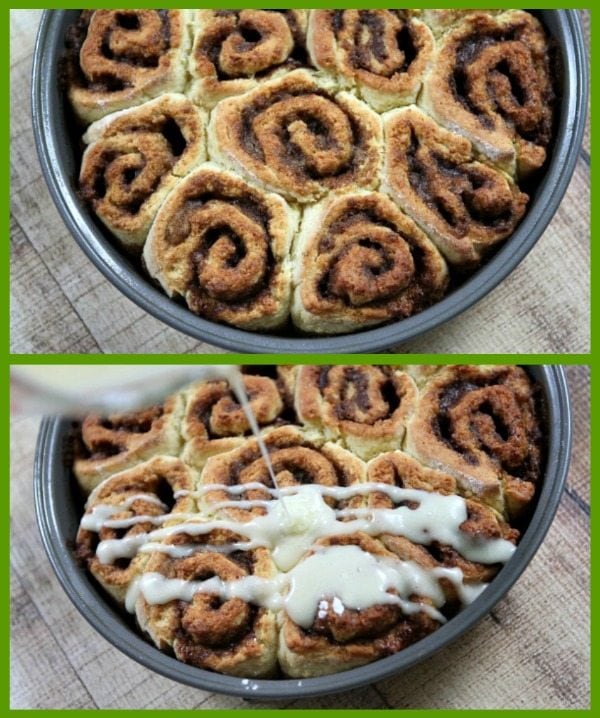 Bake and drizzle an eggnog glaze onto warm rolls.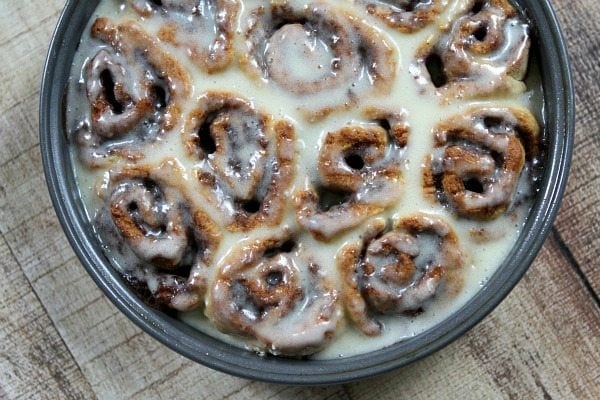 Let it all soak in, baby!
And now they are ready to eat!  They're best warm… just out of the oven and steaming hot and fresh.  They're kind of melt-in-your-mouth that way. It's perfectly okay to warm them up later though if you can't manage to eat them all at once.  Just a quick 20 seconds in the microwave and you're back in business.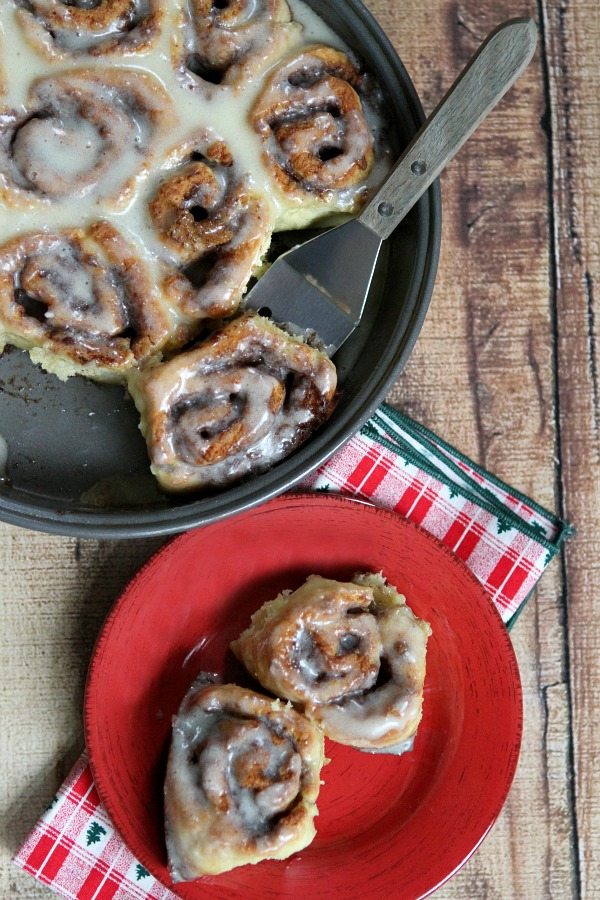 This will be a nice treat to make for family or friends over the holidays.  It's quick to make (because you don't have to bother with that pesky yeast!), and it only makes a dozen so you won't overeat, right?  The eggs and the eggnog and the butter in the dough help to create a tender (not tough) cinnamon roll.  The hint of eggnog flavor makes it holiday-appropriate, and the sugar/cinnamon put it over the top to create a most delightful breakfast or brunch treat.  Enjoy!
No Yeast Eggnog Cinnamon Rolls
Yield:
12 cinnamon rolls
Prep Time: 30 min
Cook Time: 25 min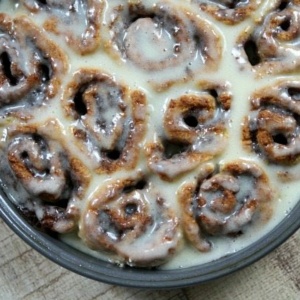 Ingredients:

CINNAMON-SUGAR FILLING:
4 tablespoons unsalted butter, softened
1 cup packed brown sugar
1 tablespoon ground cinnamon

CINNAMON ROLL DOUGH:
2 cups all-purpose flour
2 tablespoons granulated white sugar
1 tablespoon baking powder
1 teaspoon salt
3 tablespoons unsalted butter, melted
1/2 cup eggnog (don't use light)
2 large Eggland's Best eggs
more flour, as needed

ICING:
3 tablespoons butter, melted
3 to 4 tablespoons eggnog
1 cup powdered sugar (sifted to remove lumps)

Instructions:

1. Preheat the oven to 400 degrees F. Spray a 9-inch round cake pan with nonstick spray.

2. Prepare filling: Mix ingredients in a small bowl with a fork until well combined and crumbly.

3. Prepare dough: In a medium bowl, whisk together the flour, sugar, baking powder and salt. In a separate bowl, whisk together the butter, eggnog and eggs. Add the wet ingredients to the dry ingredients and use a wooden spoon to stir until combined. Remove the dough to a floured surface, sprinkling in a little more flour as needed so the dough isn't sticky. Roll the dough out into a 12x8-inch rectangle. Sprinkle the dough with the filling mixture, then roll up the dough log style. Slice the roll in half, then cut each half in half. Cut each quarter into 3 equal slices. Carefully place the 12 cinnamon roll slices into the prepared pan, leaving a little space between each one. Bake 20 to 25 minutes, or until the rolls are golden brown and cooked through.

4. Prepare icing: In a medium bowl, whisk together the butter, 3 tablespoons eggnog and the powdered sugar until smooth. If it's a little too thick, add a little more eggnog to thin it out. Pour the icing over the warm rolls. Serve warm. Leftovers may be stored in a covered container in the refrigerator and enjoyed later (just warm up in the microwave).
More eggnog breakfast recipes you might enjoy:
Eggnog Cinnamon Roll Cake by A Kitchen Addiction
Eggnog Monkey Bread by RecipeGirl
Eggnog Waffles by Cookie Monster Cooking
Eggnog Pancakes by RecipeGirl
Eggnog Muffins by Mother Thyme
Disclosure:  This post has been written in partnership with Eggland's Best, a product that I use every day in my kitchen.  All opinions shared are my own. For more recipes using Eggland's Best, visit their website.  You can also follow them on Facebook, Twitter and Pinterest.