A wonderful holiday pie: Eggnog Pie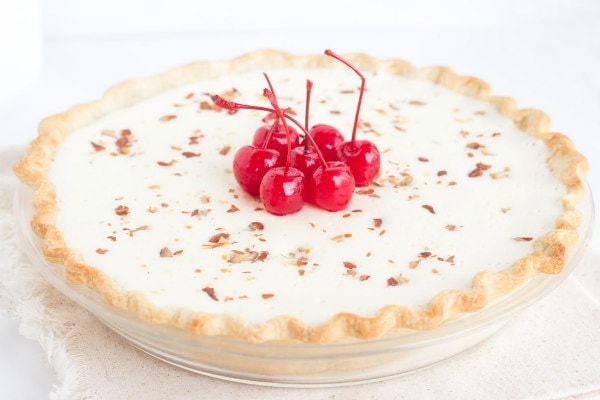 It has a mousse-like texture.  Use a warm, damp knife for cutting perfect slices.  It's a favorite pie at my house!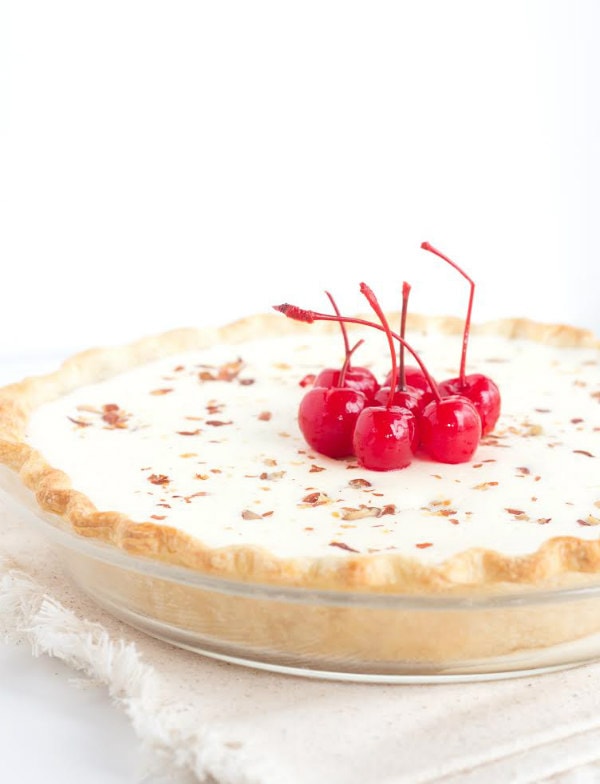 Eggnog Pie
This is a family favorite recipe in the RecipeGirl house!
Yield:
10 servings
Prep Time: 30 minutes + chill time
Cook Time: 7 minutes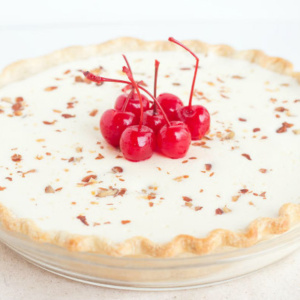 Ingredients:

3 large egg yolks, well beaten
2/3 cup granulated white sugar, divided
1/4 teaspoon salt
2 cups half and half, heated to the point of just before boiling
1 Tablespoon gelatin (unflavored)
2 Tablespoons cold water
1 1/2 teaspoons vanilla extract
1/4 teaspoon almond extract
3 large egg whites
1/2 cup almonds, chopped (optional)
1 baked pie crust
nutmeg
maraschino cherries to garnish, if desired

Instructions:

In large bowl add salt and 1/3 cup sugar to the egg yolks. Whisk together. Whisk in a tablespoon of the hot half and half, then whisk in another. Keep whisking in the half and half just a little at a time until it is all incorporated. Pour the mixture into a the top of a double boiler over low heat and cook for 7 to 10 minutes, stirring constantly, until the mixture thickens and coats the back of a spoon thickly. Dissolve the gelatin in cold water. Add the gelatin, vanilla, and almond extract to the custard- blend well.
Pour the mixture back into bowl and chill until slightly thickened.
In a separate bowl, beat egg whites until stiff. Add remaining 1/3 cup of sugar gradually. Fold the egg white mixture into the chilled mixture. Stir in the almonds.
Pour the eggnog custard into a baked pie shell and chill until ready to serve (at least 2 1/2 hours). Garnish with a sprinkle of nutmeg and maraschino cherries, if desired.
SOURCE: RecipeGirl.com