This recipe has been featured in a how-to post on The Recipe Girl blog: Candy Cane Coffee Cake.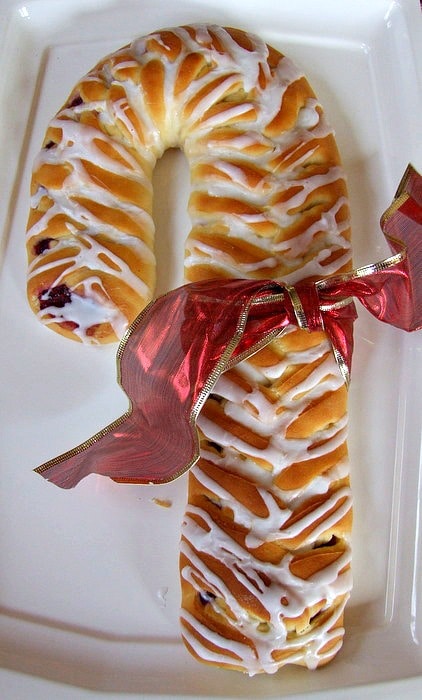 Candy Cane Coffee Cake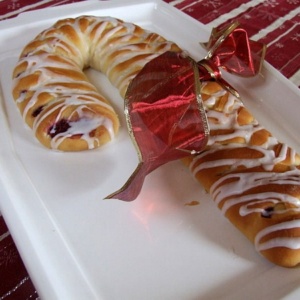 I've made these for a holiday brunch and they're always a big hit. Guests think they're adorable, and it's really quite delicious too.
Yield:
3 coffee cakes (12 servings each)
Prep Time:45 min + rising time
Cook Time:15 min
Ingredients:
FILLING:
12 ounce package frozen raspberries, sweetened
1/8 teaspoon ground cardamom
1/4 teaspoon almond extract
2 teaspoons cornstarch
CAKE:
2 packages active dry yeast(or 4 1/2 teaspoons)
1/2 cup water, warmed to 105 to 115 degrees
1 1/4 cups buttermilk
2 large eggs
5 1/2 to 6 cups bread flour
1/2 cup butter, softened
1/2 cup granulated white sugar
2 teaspoons baking powder
2 teaspoons salt
GLAZE:
3 cups powdered sugar, sifted
3 teaspoons almond extract
9 teaspoons water
Directions:
1. Prepare filling: Place all filling ingredients in saucepan. Heat until raspberries 'melt,' and stir until slightly thickened. Remove from heat. It will thicken a little bit more upon cooling.
2. Prepare cake: Dissolve yeast in warm water in large bowl. Add buttermilk, sugar, butter, eggs, baking powder, salt and 2 1/2 cups of the flour. Beat with electric mixer on low speed 30 seconds, scraping bowl constantly. Beat on medium speed for 2 minutes, scraping bowl occasionally. Stir in enough remaining flour to make dough easy to handle. (Dough should be soft and slightly sticky.)
3. Grease 3 cookies sheets. Turn dough onto parchment paper that has been sprinkled with flour; gently knead about 5 minutes or until smooth and elastic (Or you can use a stand mixer with a dough hook to do the kneading for you). Divide dough into 3 equal parts (should be a little over a pound each). Roll one part into rectangle, 15x9-inches. Turn parchment paper onto a cookie sheet and peel away the parchment. Spread 1/3 of the raspberry filling in a strip about 2 1/2 inches wide lengthwise down the center of the rectangle. Make cuts in dough at 1/2-inch intervals on both 15-inch sides almost to the filling. Fold strips over filling, overlapping and crossing in center (crisscross back and forth).
4. Carefully stretch dough until about 22 inches long; curve one end to form top of cane. The dough is very forgiving and easy to work with, so just gently move it around to get the look that you want.
5. Repeat preparations with 2 remaining balls of dough.
6. Cover and let rise in warm place for about an hour (or until double). The dough is ready if an indentation remains when touched.
7. Preheat oven to 375°F. Bake 13 to 17 minutes (or until lightly browned and slightly firm to touch). Prepare 1 recipe of glaze at a time... whisk together 1 cup of powdered sugar, 1 teaspoon extract and 3 teaspoons water and pour into a small zip baggie. Snip off a corner and squeeze to drizzle glaze onto one of the warm cakes. Follow the design of the weave for the best look.
8. Let set for at least half an hour. Wrap festive bow around longer part of the cake. Ready to serve!
Tips:
*If your frozen raspberries are not sweetened, toss them with 1 Tablespoon of granulated white sugar.
*Make ahead: These cakes can be partially prepared the night before. Prepare until the point just before you let them rise. Cover the cookie sheets well with plastic wrap and store in the refrigerator. Unwrap in the morning, let them sit at room temperature for about a half hour and then cover and continue with the recipe... let rise, etc.
*To simulate a warm place to rise, turn your oven on to 500 degrees F. for one minute. Turn on the oven light too. Turn off the heat after a minute and place your cake in the slightly warmed oven for rising. Don't forget to turn the oven off!