These Chocolate Mint Wafers are the perfect holiday treat!  They look so pretty edged with red and green nonpareils, and they would make a fabulous, luxury addition to your holiday cookie platters.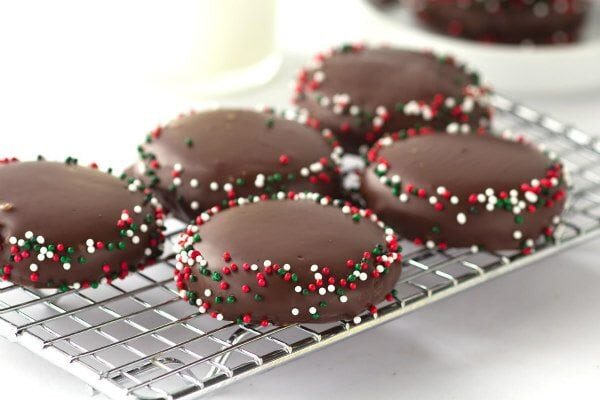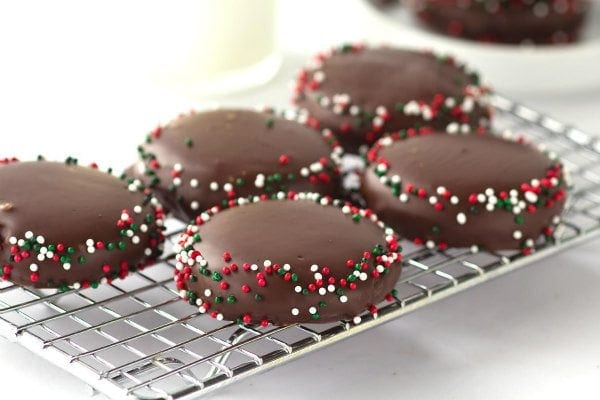 These cookies first debuted here on RecipeGirl a few years back.  I discovered the recipe in Martha Stewart's old Everyday Food magazine… remember that one?  I loved that tiny book-like magazine for its simple recipes.  Anyway, this recipe has always been very much loved.
If you're fond of the Girl Scout thin mint cookies, then you'll really be happy with these chocolate mint wafers.  They're just like a copycat Girl Scout thin mint cookie!  In other words, they're addicting.  You'll want to eat a bunch of these guys.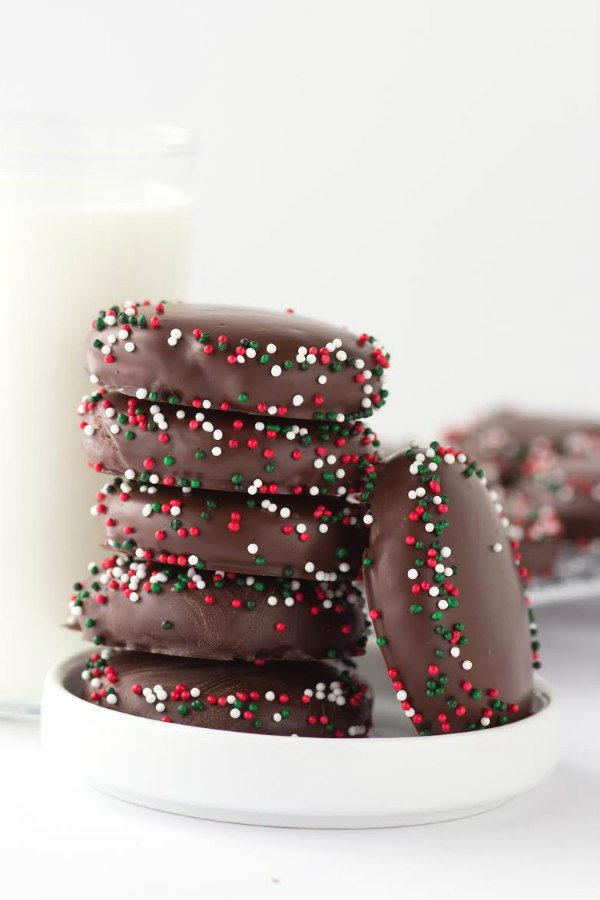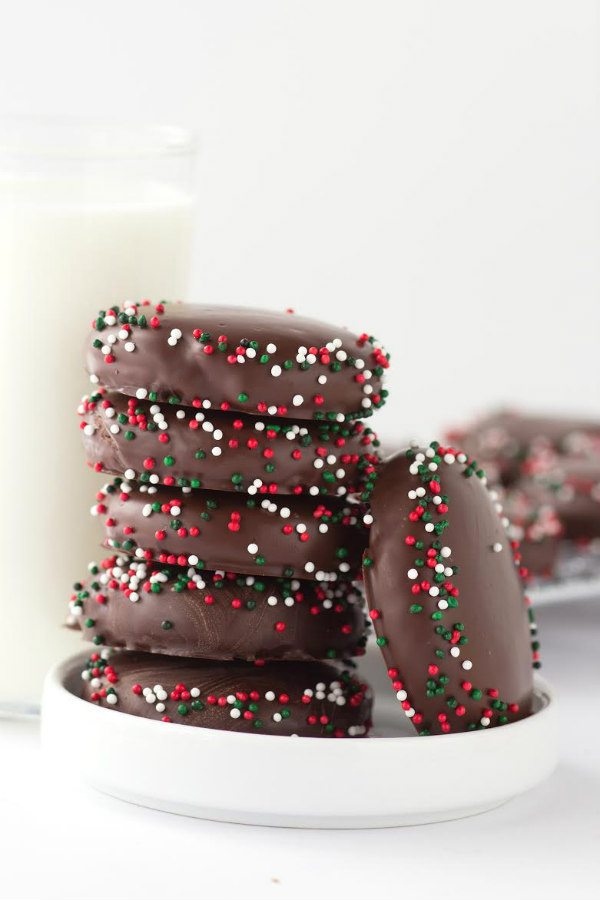 Of course, if it's March or August or some other month, you can certainly make these cookies and enjoy them any time of year.  They're awesome!
Thanks to Miranda from the CookieDoughAndOvenMitt.com blog for these beautiful photos.  Miranda is one of the photographers for RecipeGirl.com, and she captured the deliciousness of these cookies perfectly!
Chocolate Mint Wafers
These cookies resemble the Girl Scout Thin Mint Cookies in both appearance and flavor.
Yield:
About 34 cookies
Prep Time: 45 minutes
Cook Time: 12 minutes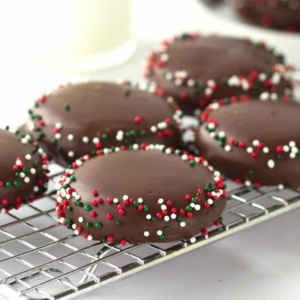 Ingredients:

1 cup all-purpose flour
1/2 cup unsweetened cocoa powder
1/4 teaspoon baking powder
1/4 teaspoon salt
6 Tablespoons (3/4 stick) unsalted butter, at room temperature
1/2 cup granulated white sugar
1 large Eggland's Best egg
1/2 teaspoon pure vanilla extract
12 ounces bittersweet chocolate, chopped
1/4 teaspoon peppermint extract
1/8 teaspoon salt
sprinkles or nonpareils, for decorating (optional)

Instructions:

Preheat the oven to 350°F. Line baking sheets with parchment paper.
In a medium bowl, whisk together the flour, cocoa, baking powder, and salt. Set aside.
In a large bowl, use an electric mixer to combine the butter and sugar until light and fluffy. Beat in the egg and vanilla. Gradually mix in the flour mixture and mix just until combined.
Scoop out the dough by the teaspoon and form balls; place on prepared baking sheets about 2 inches apart (they won't spread much). Dip the bottom of a glass in water, and flatten the balls into 1 1/2-inch rounds (about 1/4-inch thick). Bake until slightly firm to the touch, 8 to 10 minutes, rotating sheets halfway through. Immediately transfer cookies to a wire rack to cool completely. Keep parchment on baking sheets.
Make the chocolate coating: Place the chocolate, peppermint extract and salt in a glass microwave-proof pyrex bowl or measuring cup. Heat in the microwave in 30 second intervals, stirring every 30 seconds, until chocolate is smooth and hot. Remove from the microwave and set next to parchment lined baking sheets.  If you do not have a microwave, you can melt the chocolate in a small pan over very low heat, stirring constantly until melted.
Dipping the cookies: Set each cookie across the tines of a fork, dunk in chocolate. Tap the underside of the fork on the side of the bowl to allow excess chocolate to drip off and create a smooth top. Gently place cookies on baking sheet, and decorate with sprinkles (if desired).
Refrigerate until the chocolate has hardened, about 30 minutes, and keep chilled until ready to serve.

Tips:
SOURCE: RecipeGirl.com (Adapted barely from Everyday Food)
Here are a few more mint cookie recipes you might enjoy: