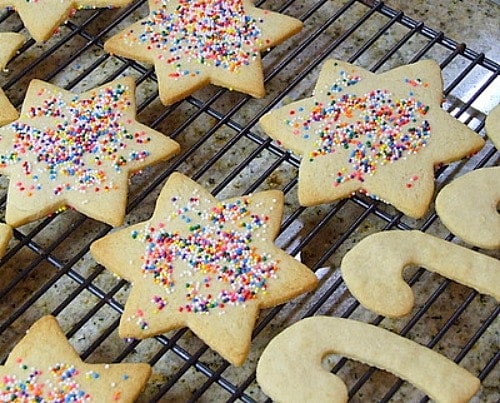 Cinnamon Sugar Cookies
A good sugar cookie recipe. Easy to roll and cut.
Yield:
32 cookies
Prep Time: 30 min + chilling time
Cook Time: 10 min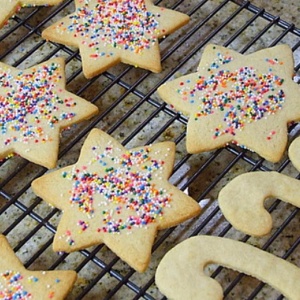 Ingredients:

2 cups all-purpose flour, plus more for rolling
1/2 teaspoon baking powder
1/4 teaspoon salt
1/2 teaspoon ground cinnamon
1 stick unsalted butter, at room temperature
1 cup granulated white sugar
1 large egg
1 teaspoon vanilla extract
decorating sugar and candies (optional)
powdered sugar, for decorating (optional)

Instructions:

1. Make the dough: In a large bowl, whisk together flour, baking powder, salt and cinnamon. Set aside. In another large bowl, using an electric mixer, beat butter and granulated sugar until light and fluffy. Beat in egg and vanilla. With mixer on low speed, gradually add flour mixture; beat until combined. Divide dough in half; form into two 3/4-inch-thick disks. Wrap each in plastic; refrigerate until firm, at least 1 hour.

2. Roll out and freeze: Place one disk between two sheets of floured parchment paper; roll out to an 1/8-inch thickness, lightly dusting dough with flour as needed. Cut out shapes with cookie cutters; if dough gets soft, chill 10 minutes. (To bake right away, follow directions in step 3) Using a metal spatula with a thin blade, transfer cut-out shapes to a parchment lines baking sheet. Re-roll scraps; cut more shapes. Repeat with remaining disk. Place baking sheet in freezer; once frozen, transfer shapes to a resealable plastic bag. Freeze up to one month.

3. Bake: Preheat oven to 325°F. Line baking sheet with parchment; bake, decorating if desired, until edges are golden, 10-15 minutes, rotating sheets halfway through- this time range applies whether dough is frozen or not. Cool cookies 1 minute on sheets, and transfer to wire racks to cool completely. Store in an airtight container at room temperature up to 1 week.

Tips:

*Decorating Tips: Sprinkle sugar on cut-out dough just before baking. Stick candies onto cookies after they are baked and cooled, using dabs of sugar "paste" (1/4 cup powdered sugar whisked together with 1 teaspoon of water).