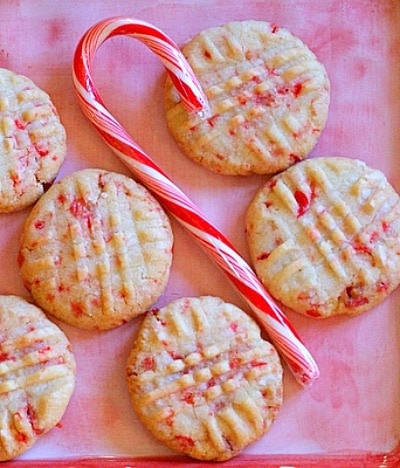 Peppermint Sugar Cookies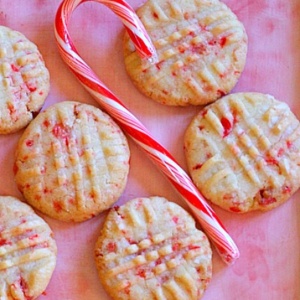 This is a nice, crispy cookie. Be careful not to bake them too long. The cookies that bake up best are those that don't have large chunks of peppermint in them. It's best if you crush the peppermint until almost powdered or very small pieces.
Yield:
3 dozen cookies
Prep Time: 25 min + chill time
Cook Time: 10 min
Ingredients:
2 1/2 cups all-purpose flour
1 teaspoon baking powder
1/4 teaspoon salt
1 cup (2 sticks) unsalted butter, at room temperature
3/4 cup powdered sugar
1 large egg yolk
2 large egg whites
1/2 teaspoon peppermint extract
1/2 cup finely crushed hard peppermint candies or candy canes (about 3-ounces)
additional powdered sugar for rolling
Directions:
1. Sift together dry ingredients- flour, baking powder and salt; set aside.
2. In a large bowl, beat butter and powdered sugar with an electric mixer until light and fluffy. Add egg yolk and beat until blended. Add egg whites and extract and mix well (mixture will look grainy). Gradually beat dry ingredients into butter mixture. Stir in peppermint candies.
3. Gather dough into a ball. Wrap dough in plastic and chill for about an hour.
4. Preheat oven to 350°F. Position rack in middle of oven. Line 2 large baking sheets with parchment, or spray with nonstick spray.
5. Form dough into 1-inch balls. Roll in powdered sugar and place on prepared baking sheets, spacing 2 inches apart. Using tines of a fork, flatten each cookie, creating crisscross pattern.
6. Bake until cookies are golden on bottom, 10 to 12 minutes. Transfer to racks to cool completely.
Tips:
*Use round peppermint mints or small candy canes (they easier to unwrap than the larger ones).
*These cookies turn out best if mint is crushed finely, with few large "chunks" of peppermint.
*Reader tip: Add white chocolate chips!
*Since readers recommended it, I added some peppermint extract to the original recipe.
Source: RecipeGirl.com (via Bon Appetit)