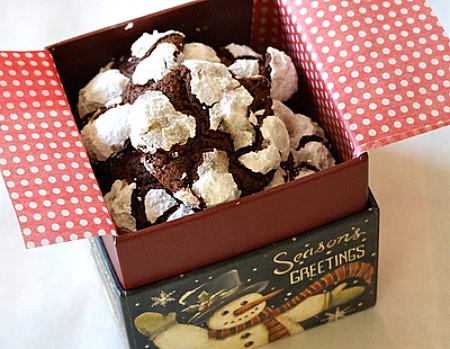 Chocolate- Espresso Snowcaps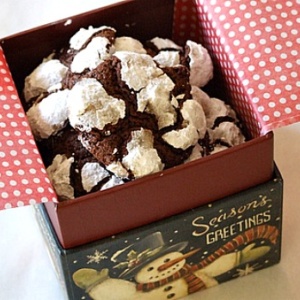 Yield:
18 cookies
Prep Time:30 min + freeze time
Cook Time:12 min
Ingredients:
1/2 cup all-purpose flour
1/4 cup unsweetened cocoa powder
4 teaspoons instant espresso powder
1 teaspoon baking powder
1/8 teaspoon salt
4 tablespoons unsalted butter, at room temperature
2/3 cup packed light brown sugar
1 large egg
4 ounces bittersweet or semi-sweet chocolate, melted and cooled
1 teaspoon milk
1/2 cup powdered sugar, for coating
Directions:
1. In a medium bowl, whisk together flour, cocoa, espresso, baking powder, and salt. With an electric mixer, beat butter and brown sugar until light and fluffy. Beat in egg until well-combined; mix in cooled chocolate. With mixer on low speed, gradually add dry ingredients; beat in milk just until combined. Flatten dough into a disk; wrap in plastic. Freeze until firm, about 45 minutes.
2. Preheat oven to 350°F. Line two baking sheets with parchment paper. Shape dough into 1-inch balls. Place powdered sugar into medium bowl; working in batches, roll balls in sugar twice.
3. Place balls on prepared baking sheets, 2 inches apart. Bake, rotating sheets halfway through, until cookies have spread and coating is cracked, 12 to 14 minutes; cookies will still be soft to the touch. Transfer to wire rack to cool completely.
Tips:
*Store in an airtight container, at room temperature for up to 3 days.
*You may also freeze finished cookies for use on holiday cookie platters.
Source: RecipeGirl.com (via Everyday Food)