This recipe has been featured in a post on The Recipe Girl blog: Halloween Recipes for Fans of Cinnamon Toast Crunch This breakfast is gluten-free adaptable- see tips below.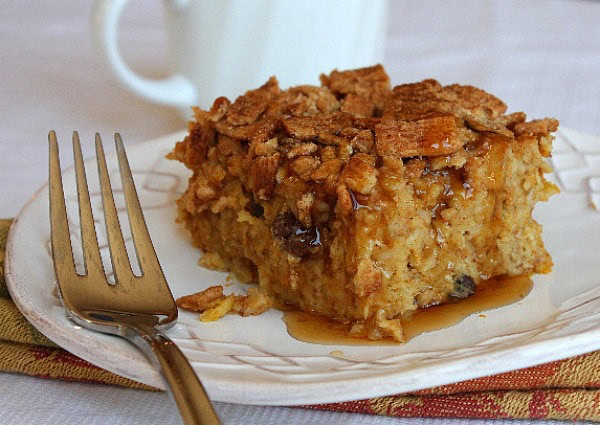 Baked Pumpkin Pie Oatmeal w/ Crunchy Cinnamon Crumbles
If your family is a fan of oatmeal, they might enjoy this baked breakfast treat... perfect for a chilly, fall weekend morning. The oatmeal bakes up into slightly sweet, sliceable portions, then they're topped with a crunchy Cinnamon Toast Crunch crust and drizzled with maple syrup.
Yield:
9 servings
Prep Time: 10 min
Cook Time: 60 min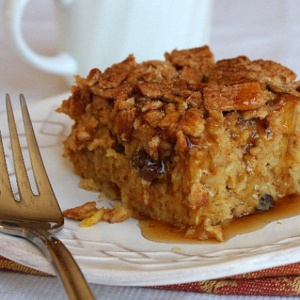 Ingredients:

2 3/4 cups old-fashioned oats
1/2 cup brown sugar, packed
1/2 cup raisins
1 teaspoon ground cinnamon
1/2 teaspoon pumpkin pie spice
1/2 teaspoon salt
1 cup unsweetened pumpkin puree
3 cups milk
2 large eggs, lightly beaten
1 Tablespoon vanilla extract
1 1/2 cups crumbled Cinnamon Toast Crunch cereal
syrup

Instructions:

1. Preheat oven to 350 degrees F. Spray 8x8 baking dish with nonstick spray.

2. In a medium bowl, combine oats, sugar, raisins, spices, and salt. In a separate bowl, whisk together pumpkin puree, milk, eggs and vanilla extract. Add liquid ingredients to dry ingredients; whisk until combined. Pour into prepared dish.

3. Bake 30 minutes, then sprinkle the crumbled cereal on top, pressing gently into the baking oatmeal. Return to oven and bake an additional 20 to 30 minutes, until the oatmeal feels set and firm.

4. Serve warm with plenty of warmed syrup.

Tips:

*This recipe is gluten-free adaptable. Make sure that the following ingredients are gluten free versions of: oats, vanilla extract and syrup, and leave off the cereal topping.
*This recipe is best when eaten the day it's made. You can save leftovers overnight in the refrigerator. The crumbles won't stay crunchy overnight, but you can sprinkle some more on, heat it up and drizzle with warm syrup.