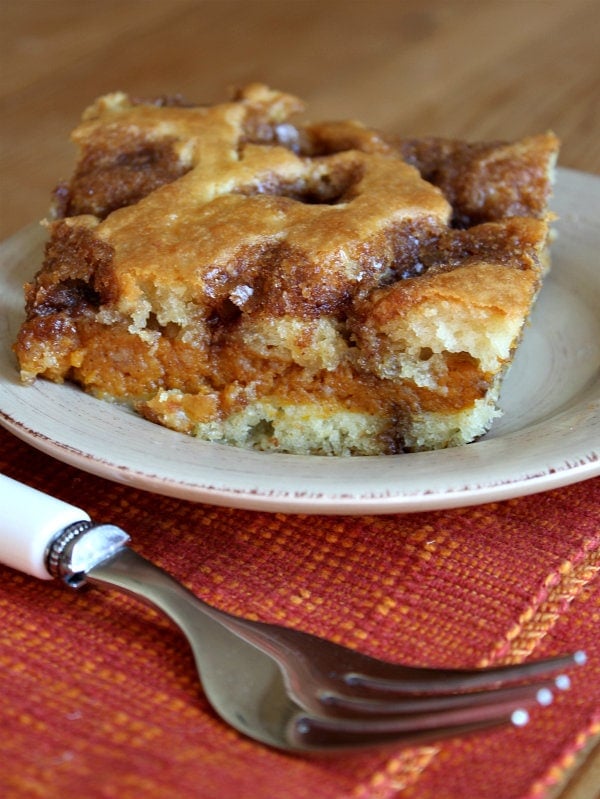 Pumpkin Coffee Cake
It's like pumpkin pie tucked into the middle of coffee cake!
Yield:
12 servings
Prep Time: 20 min
Cook Time: 50 min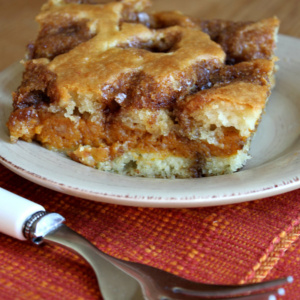 Ingredients:

CAKE:
1/2 cup butter, at room temperature
3/4 cup granulated white sugar
1 teaspoon vanilla extract
3 large eggs
2 cups all-purpose flour
1 teaspoon baking powder
1 teaspoon baking soda
1 cup sour cream
One (16 ounce) can unsweetened pumpkin puree
1 large slightly beaten egg
1/3 cup granulated white sugar
1 teaspoon pumpkin pie spice

STREUSEL TOPPING:
1 cup packed light brown sugar
1/3 cup butter, softened slightly
2 teaspoons ground cinnamon
1 cup chopped pecans or walnuts, optional

Instructions:

1. Preheat oven to 325°F. Spray a 9x13-inch pan with nonstick spray.

2. Prepare cake: Use an electric mixer to cream together the butter, sugar and vanilla in a large bowl; add eggs and beat well. In a separate bowl, whisk together flour, baking powder, and baking soda. Mix dry ingredients into the butter mixture half at a time, alternating with half of the sour cream. In another bowl, combine pumpkin, egg, 1/3 cup sugar, and pie spice. Keep separate.

3. Prepare topping: Mix the topping ingredients together with fork or hands until crumbly. Set aside.

4. Spoon half of the batter mixture into the prepared pan. Sprinkle half of the streusel topping over the batter. Spread the pumpkin mixture over the streusel. Carefully spread the remaining batter over the pumpkin mixture. Sprinkle remaining streusel on top.

5. Bake 45 to 50 minutes, or until toothpick inserted in center comes out clean.