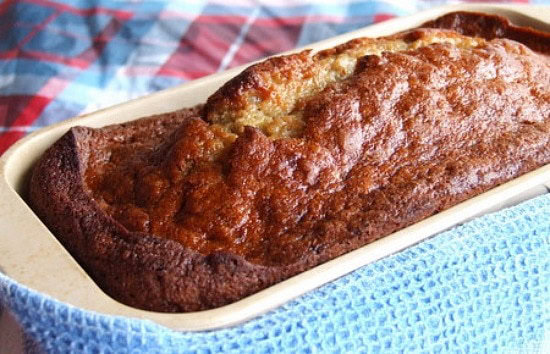 Classic Banana Bread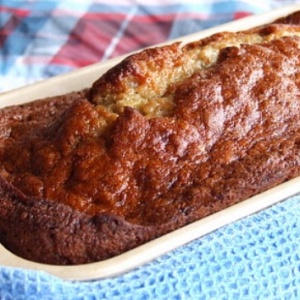 This banana bread recipe is a family favorite… very moist and flavorful, and it turns out perfect every time.
Yield:
12 servings
Prep Time: 15 minutes
Cook Time: 60 minutes
Ingredients:
2 cups all-purpose flour
3/4 teaspoon baking soda
1/2 teaspoon salt
1 cup granulated sugar
1/4 cup butter, at room temperature
2 large eggs
1 1/2 cups mashed ripe banana (about 3 bananas)
1/3 cup plain low fat yogurt
1 teaspoon vanilla extract
Directions:
1. Preheat oven to 350°F. Spray 8x4-inch loaf pan with cooking spray.
2. In a medium bowl, whisk together flour, baking soda and salt.
3. In a separate large bowl, beat sugar and butter with an electric mixer at medium speed until well blended (about 1 minute). Add eggs one at a time, beating well after each addition. Add banana, yogurt, and vanilla; beat until blended. Add flour mixture; beat at low speed just until moist. Don't over-mix.
4. Spoon batter into prepared pan. Bake for 50 to 60 minutes or until a wooden pick inserted in center comes out clean. Cool 15 minutes in pan on a wire rack. Remove from pan and cool completely on wire rack.
Tips:
*If you come up short on mashed banana, add unsweetened applesauce to make up the difference. It will make your bread nice and moist, and it won't add apple flavor to the bread.
Nutrition:
Nutritional Information per serving:
Serving size: 1/12 of the loaf
Calories per serving: 217
Fat per serving: 5.07g
Saturated Fat per serving: 2.82g
Sugar per serving: 20.74g
Fiber per serving: 1.29g
Protein per serving: 3.90g
Cholesterol per serving: 45.83mg
Carbohydrates per serving: 39.58g
WW POINTS per serving:
Points Plus Program: 6 Old Points Program: 5