This Double Decker Pumpkin Caramel Pie is so good that it has been a pie contest blue ribbon winner!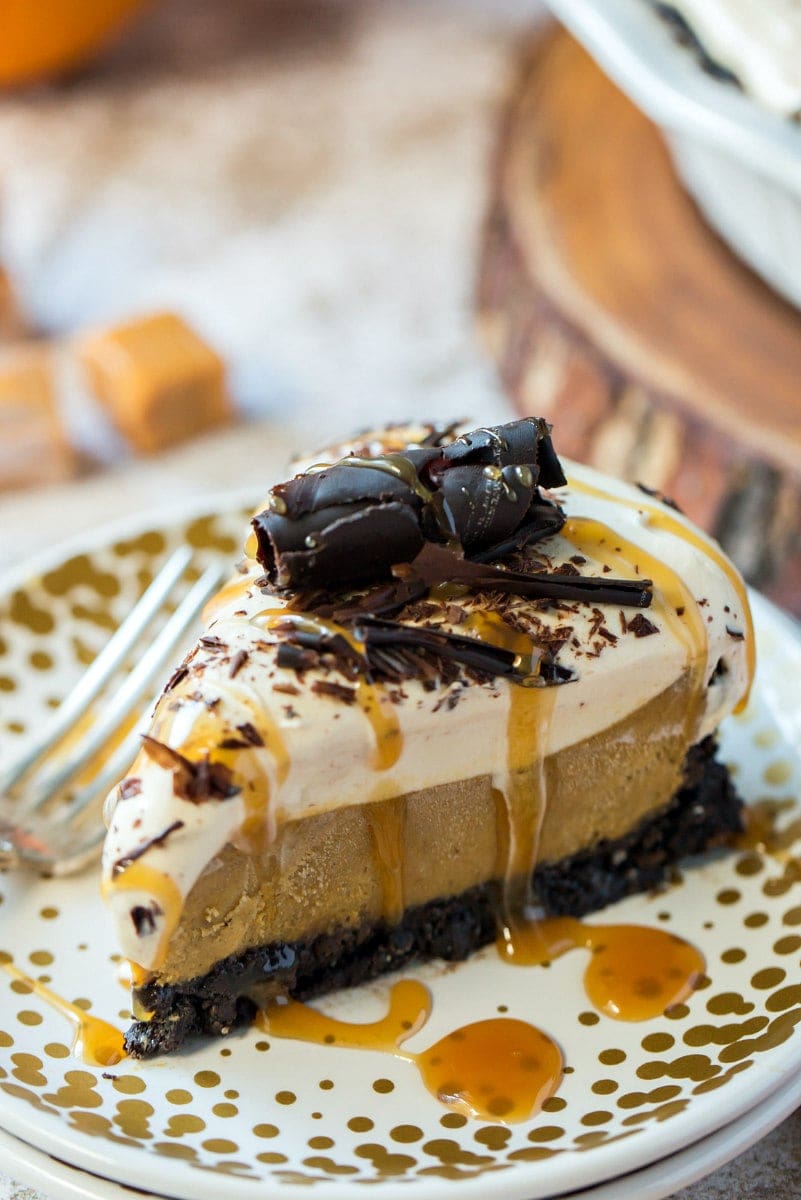 This recipe was first shared nine years ago when I made it for a pie contest. The recipe was originally created by Rachael Ray. I probably cut it out of her magazine. It's an excellent pie recipe… so completely delicious and totally decadent. I include some tips and tricks in this post for making this Double Decker Pumpkin Caramel Pie successful. Read on!
The Pie Contest:
Here's the back-story. Every year around this time, the community we used to live in had a small Harvest Festival, complete with hay rides, Kettle Corn, potato sack races, bratwurst with sauerkraut, those annoying body tattoos, and a pie bake-off/chili cook-off. My son and I always entered the pie contest. It was fun to sit around and talk about what we'd each like to bake. I usually had the kiddo enter into the "other" pies category while I tackled a fruit pie. Competing in the same category as your child is never a good idea. This particular year, however, I competed with my kid. I entered a Double Decker Pumpkin Caramel Pie.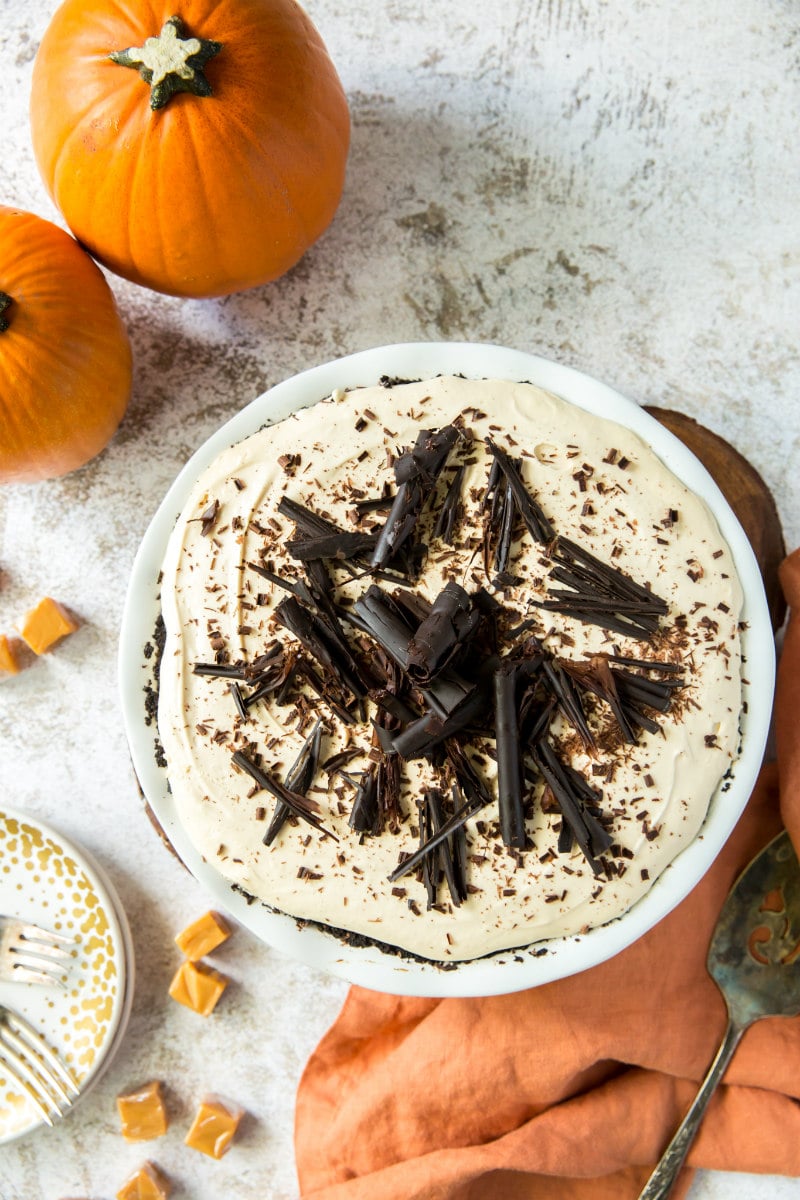 There is a simple crushed Oreo crust, and it's baked for a short time. Then that crust is filled with a simple pumpkin custard and baked some more. Refrigerated overnight, the caramel whipped cream layer is added the next day. Where's the caramel? It's melted with cream and then it's whipped into freshly whipped cream to create the best-tasting whipped cream EVER.
About the caramel whipped cream:
You're going to melt caramels for this recipe and combine them with a little bit of heavy whipping cream. Buy the KRAFT caramels… you know… the ones you unwrap. You'll need 28 of them. Once the caramels are melted and combined with the cream… then you're going to let that mixture cool completely. Once cooled, it can be beaten into freshly whipped cream. If the caramel mixture is warm, it will melted the whipped cream. So it's KEY that it's completely cooled before combining the two. That caramel whipped cream is SO DELICIOUS!!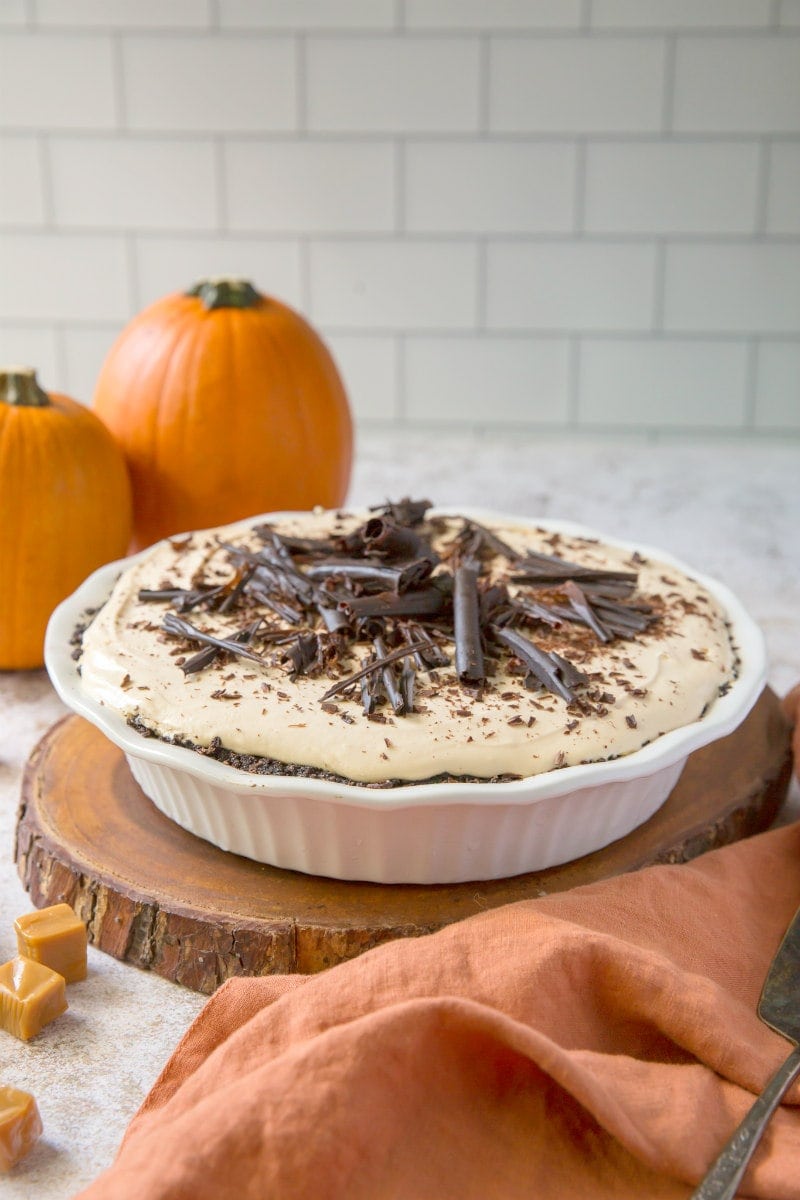 There it is in all its glory. Adding chocolate shavings on top makes it prettier. This is most definitely a pumpkin pie you should consider baking for Thanksgiving.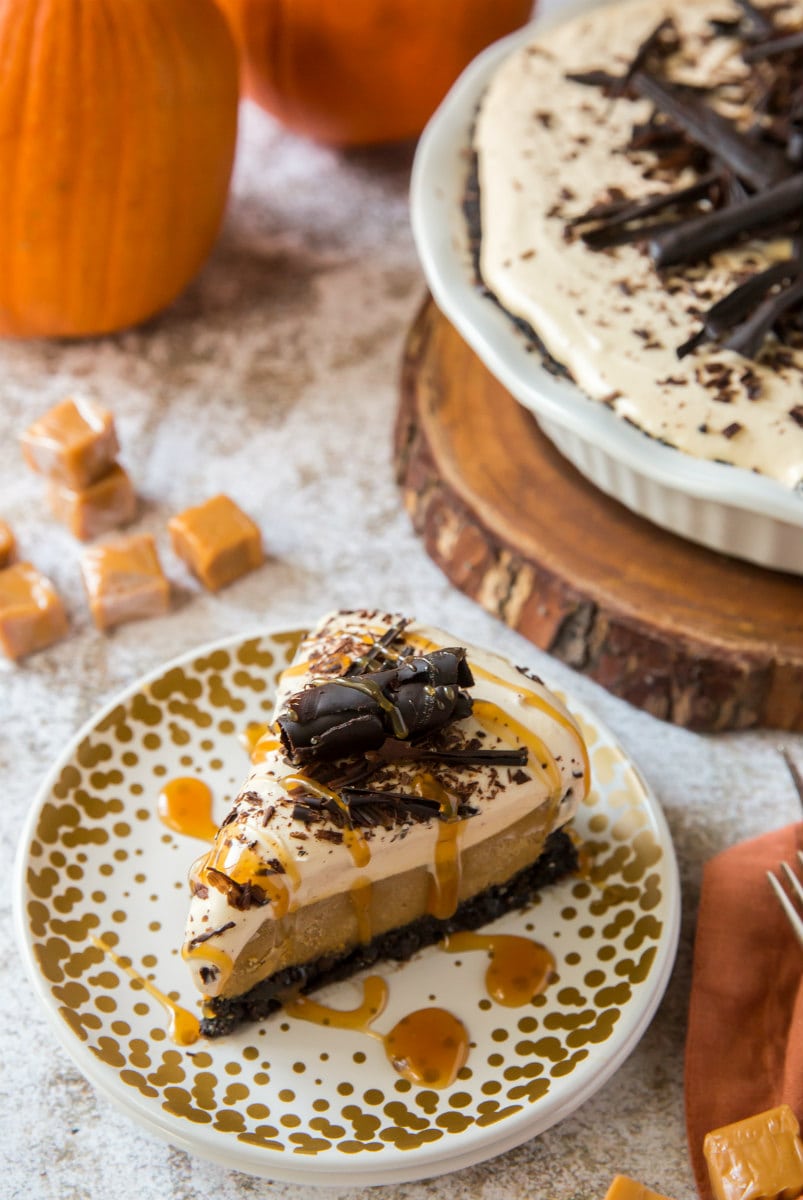 Slices of this pie… are simply delicious. That crust, that pumpkin layer and that caramel whipped cream make this Pumpkin Caramel Pie a totally unique pumpkin pie recipe.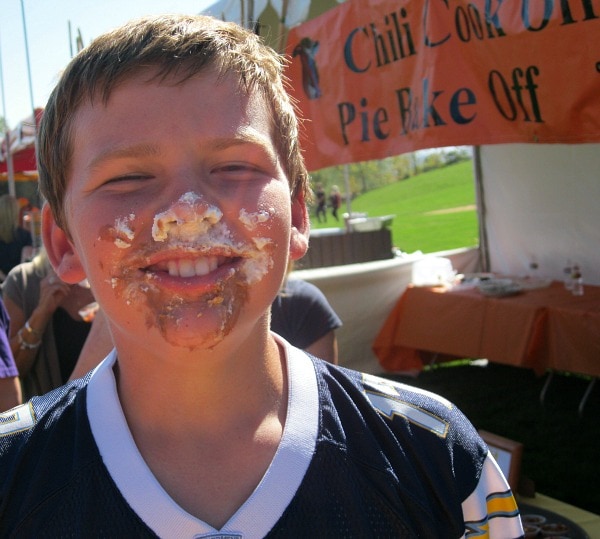 Back to the harvest festival: there was of course a pie EATING contest too. Chocolate cream pie. My boy competed as the reigning champ from the previous year. He wasn't able to shove the pie into his nose mouth quickly enough at this one. Maybe the caramel apple, bratwurst and churro he ate prior to competing had something to do with his inability to perform.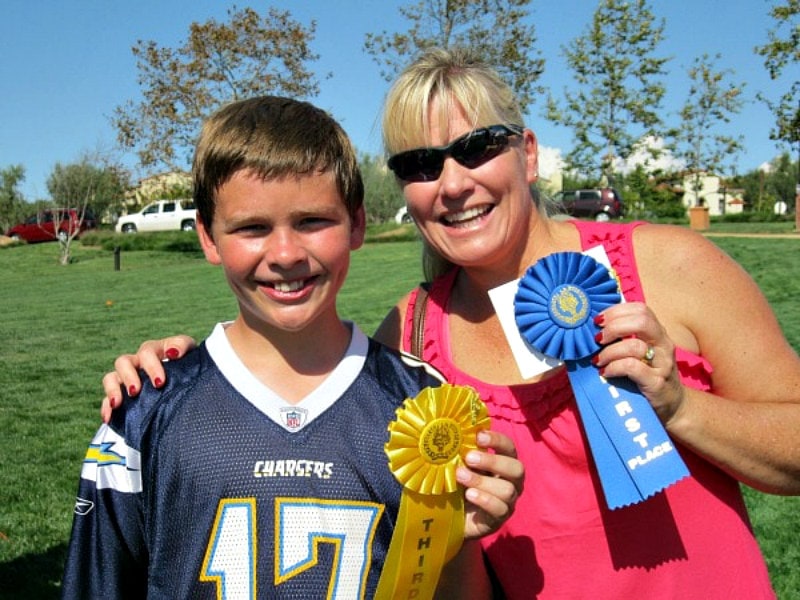 It was so fun that the Pumpkin Caramel Pie took first place in the pie contest. I had entered that darn pie contest eight years in a row and finally I brought home the prize. I'd say it was about time. But this pie was surely worthy of taking it. My boy scored with his pie too: 3rd place for his S'Mores Pie.
Here are a few more pie recipes that you might like to try:
Double Decker Pumpkin Caramel Pie
Two awesome layers to this pie!
Recipe Details
Ingredients
CRUST:
25

Oreos,

crushed into crumbs (need 2 cups)

6

tablespoons

unsalted butter,

melted
PUMPKIN LAYER:
3

large

eggs

1

cup

heavy whipping cream

One

15-ounce can

unsweetened pumpkin puree

1/2

cup

packed light brown sugar

1

teaspoon

pumpkin pie spice

1/2

teaspoon

salt
CARAMEL LAYER:
28

caramels,

unwrapped

1 3/4

cups

heavy whipping cream,

divided
TOPPING:
1 to 2

ounces

bittersweet chocolate,

for grating
Instructions
PREPARE THE CRUST:
Preheat the oven to 350 degrees F. In a small bowl, stir the Oreo crumbs and butter until combined. Press the mixture onto the bottom and up the sides of a 9-inch deep-dish pie pan; freeze until set (15 minutes). Bake for 10 minutes; let cool.
PREPARE THE PUMPKIN LAYER:
Meanwhile in a large bowl, whisk together the 3 eggs, 1 cup cream, pumpkin, brown sugar, spice and salt until just combined. Pour into the cooled pie shell and bake until set, 40 to 45 minutes. When you shake the pan, the filling should no longer be jiggly. Let the pie cool at room temperature slightly, then refrigerate for at least 3 hours, or overnight.
PREPARE THE CARAMEL LAYER:
In a glass bowl, microwave the caramels with 1/2 cup cream until melted, 2 to 3 minutes- adding 1 minute increments, if needed, if they are still not completely melted. Stir until smooth, then let cool to room temperature. The caramel mixture must be COMPLETELY COOLED before adding to the whipped cream in the next step.

Using an electric mixer, whip the remaining 1 1/4 cups cream until soft peaks form. Drizzle in the cooled caramel and beat until well blended. Spoon the caramel whipped cream on top of the pumpkin filling and refrigerate until completely chilled.
ADD THE TOPPING:
Before serving, coarsely grate the chocolate on top of the pie.
Notes
*If your pie cracks on the surface while baking, don't worry about it- you'll be covering that up with the caramel whipped cream!
*Don't have any pumpkin pie spice? Make your own by mixing equal parts of cinnamon, ginger, allspice and nutmeg.
*Stick toothpicks in the top of any leftover pie before you cover with plastic wrap (keep stored in the refrigerator).
Nutrition
Serving:
1
serving
,
Calories:
607
kcal
,
Carbohydrates:
56
g
,
Protein:
6
g
,
Fat:
42
g
,
Saturated Fat:
23
g
,
Cholesterol:
173
mg
,
Sodium:
378
mg
,
Potassium:
315
mg
,
Fiber:
2
g
,
Sugar:
44
g
,
Vitamin A:
7894
IU
,
Vitamin C:
2
mg
,
Calcium:
123
mg
,
Iron:
4
mg