Cranberry Pie is a delicious tasting pie to make for fall holidays and celebrations.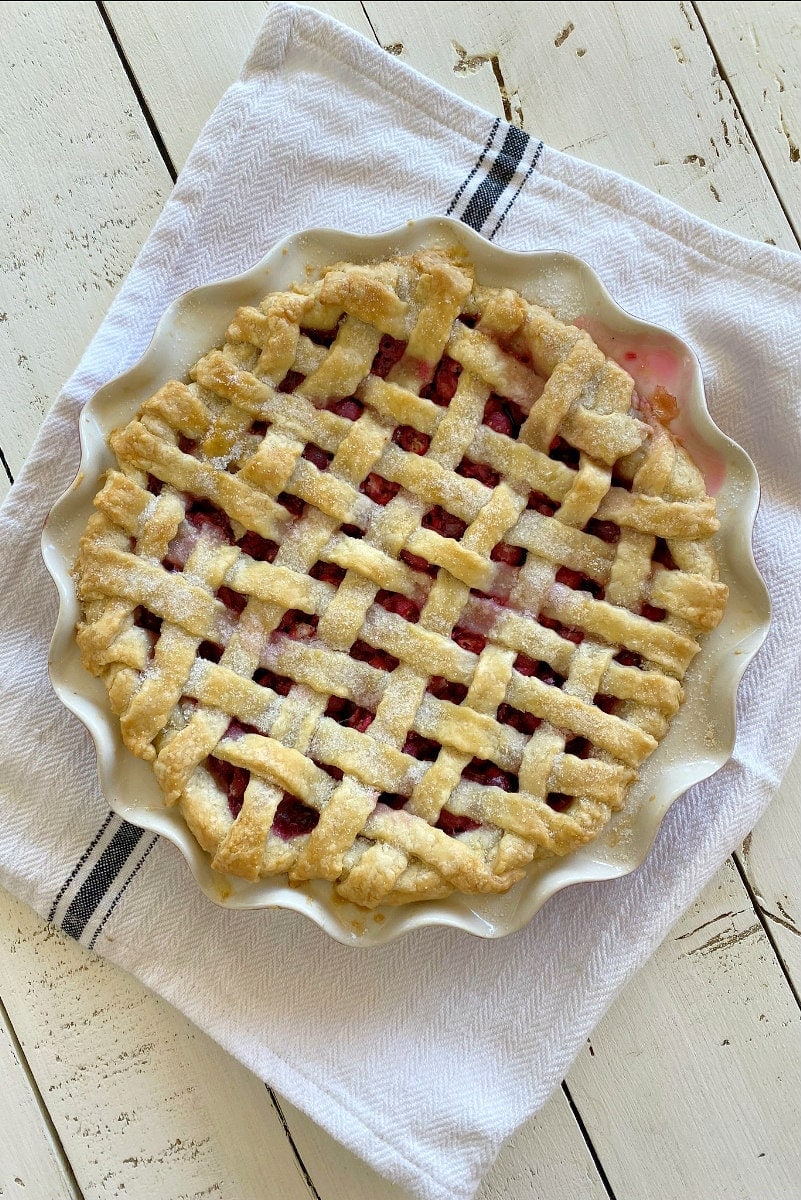 If you're a lover of cranberry sauce, you will like this pie a lot. It's very much like a fresh cranberry filled pie, and it has a buttery and flaky crust. It's not a very common pie to bake, but it's definitely one to consider when you have access to fresh cranberries in the fall.
For my latest pie cookbook purchase, I was faced with deciding what sort of pie to bake from the large selection of choices in the book. The cranberry pie recipe was calling my name because it wasn't a pie variety that I had considered before. Plus, it's almost Thanksgiving… so it seemed like the obvious choice.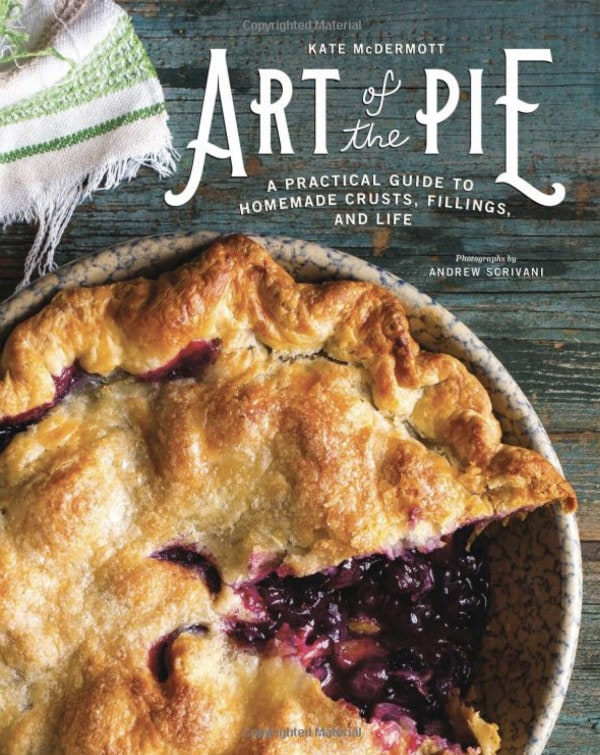 Art of the Pie
This post contains Amazon affiliate links.
This recipe comes from a beautiful cookbook of pies by Kate McDermott: Art of the Pie- A Practical Guide to Homemade Crusts, Fillings and Life. I've gathered quite a few pie cookbooks over the years, and this one is one of my favorites. What do I like about it? There is such a great wealth of information about pie in this book! Pie crust has always been challenging for me, and this book offers 67 pages of tips and tricks for how to be successful with making pie dough. There are recipes for several kinds of pie dough included- even several gluten-free varieties! There are chapters on apple pie, fruit pies, stone fruit pies, rhubarb and citrus, creamy and nutty pies and savory pies too.
Here are a few pie recipes from the book that are on my pie baking bucket list: Blackberry Pie, Huckleberry Pie, Blueberry Peach Pie, Nectarine Pie, Strawberry Rhubarb Pie, Angel Food Pie, Chess Pie and Shepard's Pie. This is a great baking book to add to your cookbook shelf!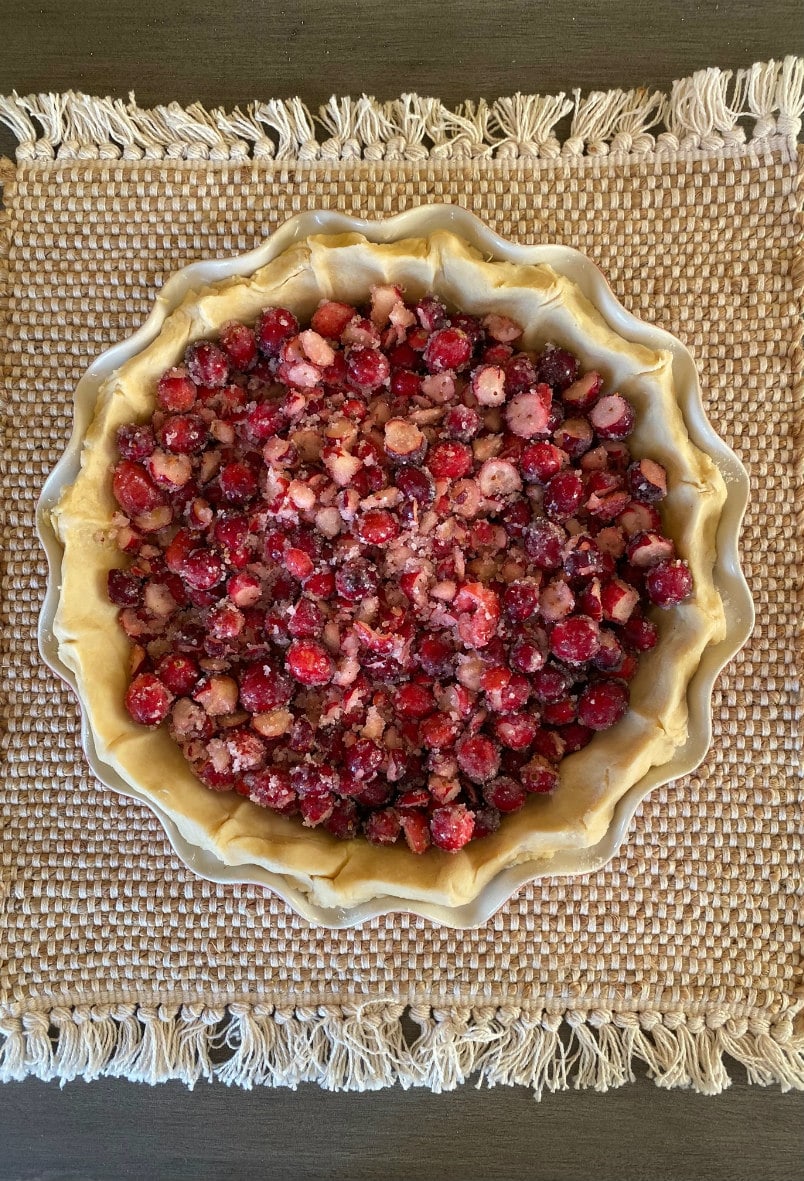 How to make Cranberry Pie:
You'll need four cups of fresh cranberries for this recipe. Three cups of the cranberries are given a rough chop in the food processor. The chopped cranberries are combined with the remaining cup of whole cranberries- plus sugar, nutmeg, cornstarch, salt and a little bit of Grand Marnier (or orange zest). That cranberry filling is placed into an unbaked pie crust. You can use the crust recipe that I've included in the recipe below, or you can use your own recipe or the store bought crust.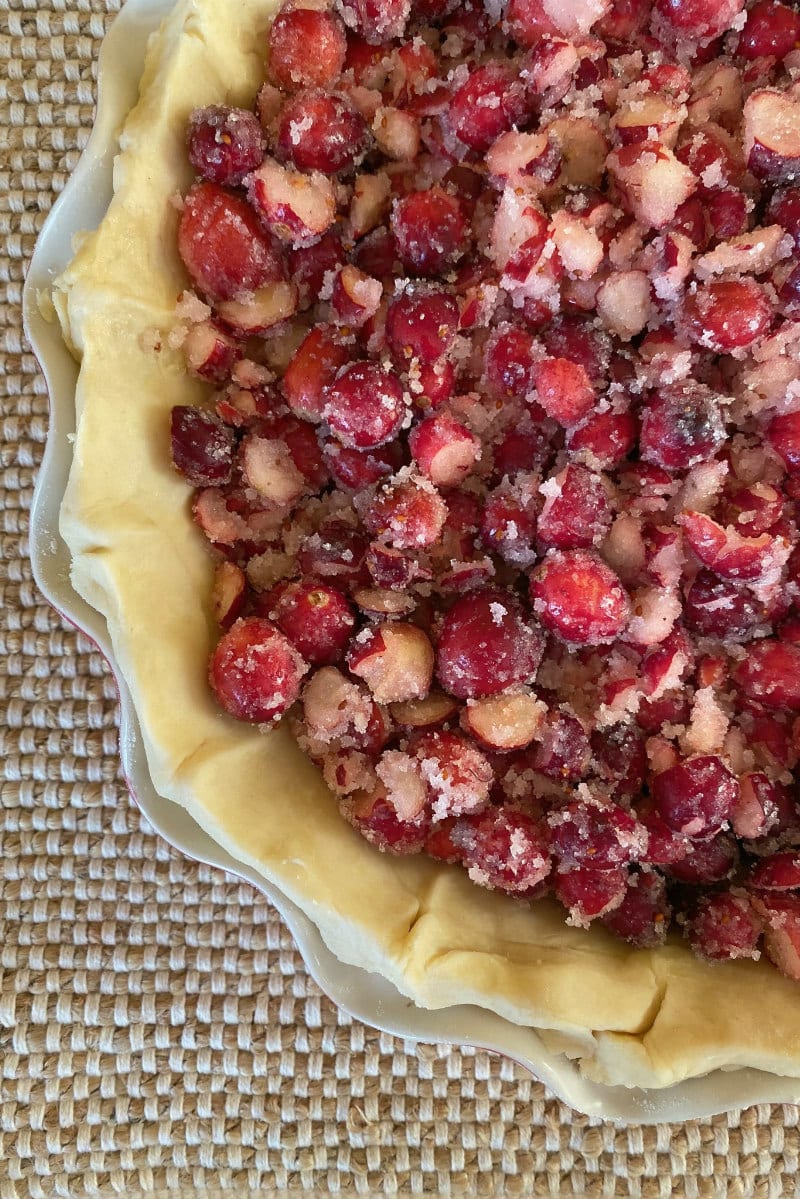 I must admit that I was a little worried that the filling in this pie would be sour. Cranberries, after all, are known for being sour! Not to worry. The cranberries are combined with plenty of sugar to offset their sour nature. It turns into a filling that tastes a lot like a really good, chunky cranberry sauce. It's delicious!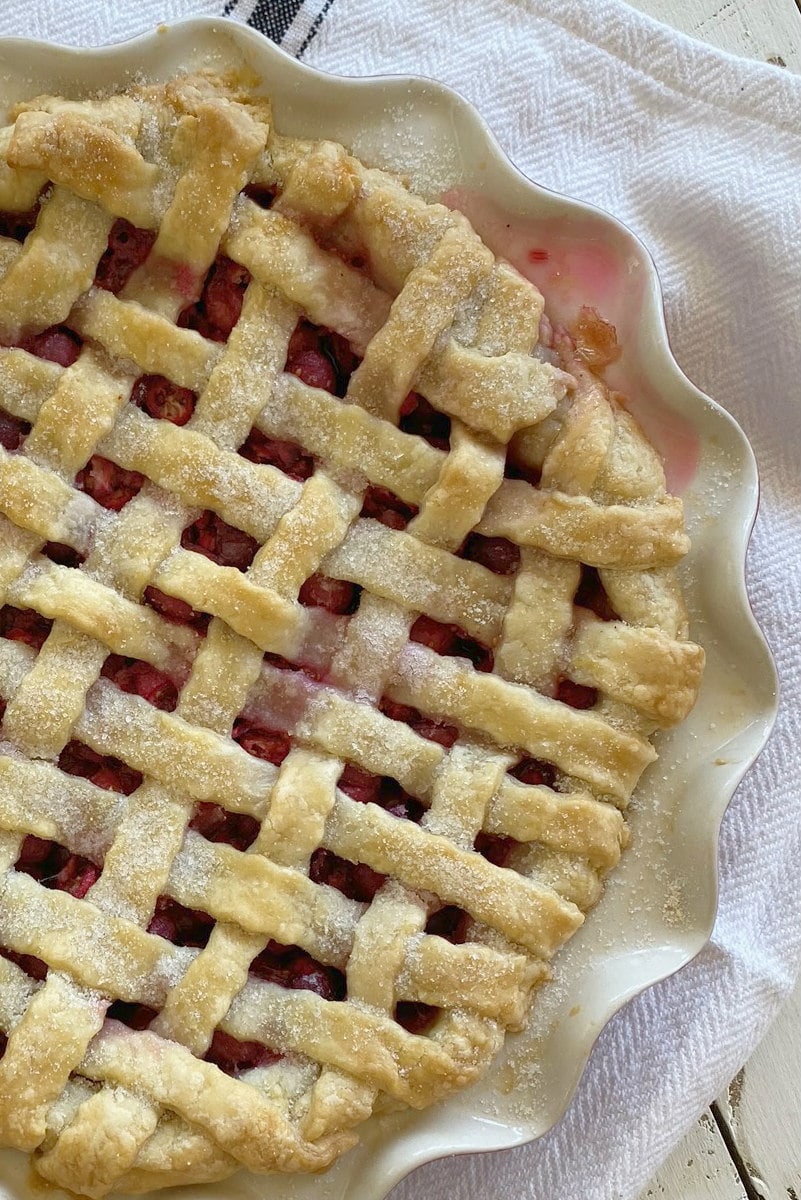 The Pie Crust:
The all-butter crust recipe included with the recipe comes from the Art of the Pie cookbook as well. I consider myself "crust challenged" at times, and I found this crust recipe to be very easy to work with and the texture and flavor was good too. One of the most important things in preparing crust is to make sure you give the dough time to chill before rolling. Don't rush it! If you follow the instructions as they're written, you are likely to have success. You can choose to make either a lattice topper for your pie or a traditional top crust with vents. It's up to you!
Tools that are helpful in making pie crust:
A pastry cutter makes combining the dry ingredients with the butter so much easier. If you don't have one, you can use your hands to combine or two knives to cut them together. But the pastry cutter is a great tool to have for making pie crust. If you want to make a lattice-type top to your pie, be sure to pick up a pastry wheel. You can cut decorative, even strips with this little tool!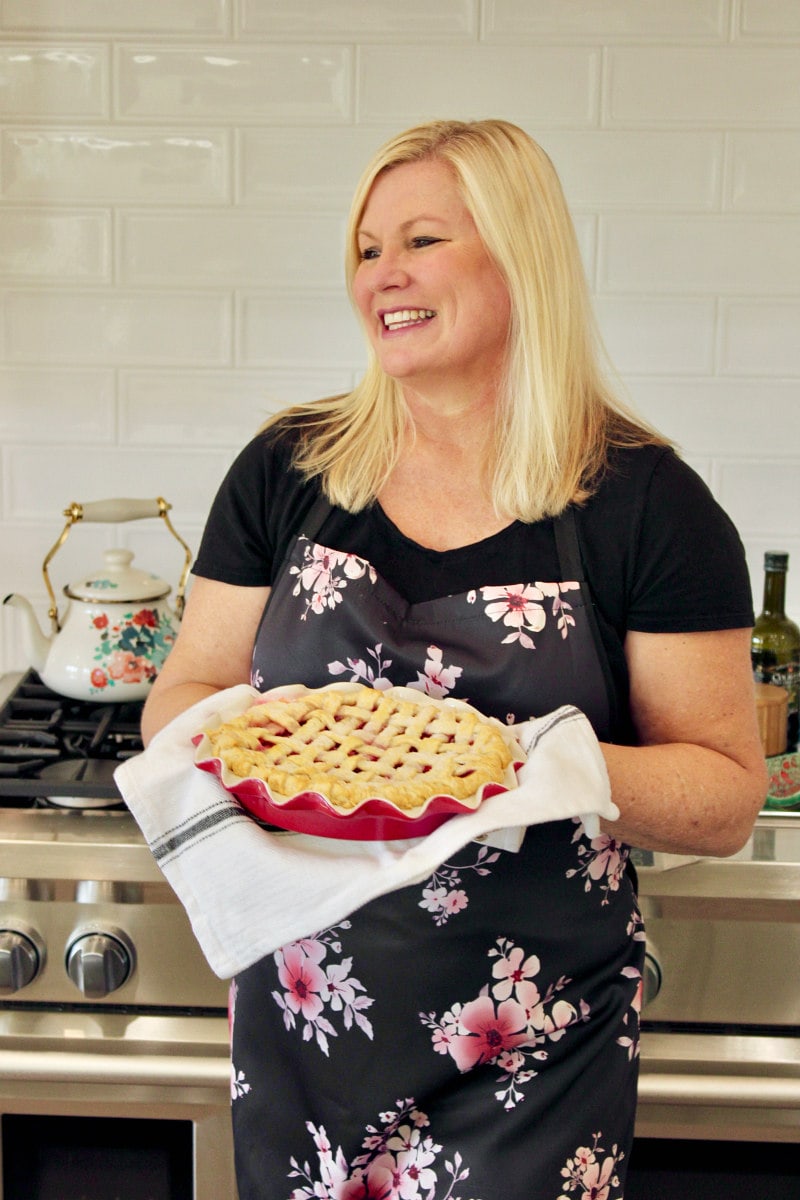 You can bake this pie a day ahead of serving. Keep it on the counter or refrigerate it. Serve it with a little whipped cream or vanilla ice cream. And be proud of the fresh cranberry pie that you're serving to your guests!
Here are a few more pie recipes you might like to try:
Cranberry Pie
A really lovely fresh cranberry pie!
Recipe Details
Ingredients
DOUBLE CRUST PIE DOUGH:
2 1/2

cups

all purpose flour

1/2

teaspoon

salt

14

tablespoons

chilled butter (salted or unsalted),

cut into pieces

1/2

cup

ice water

(+ 1 to 2 tablespoons more, as needed)

additional flour,

for rolling out the dough
CRANBERRY FILLING:
4

cups

fresh or frozen cranberries,

divided

1 1/4

cups

granulated white sugar

2 1/2

teaspoons

cornstarch

1

pinch

nutmeg

1/4

teaspoon

salt

1

tablespoon

Grand Marnier

(or 1/2 teaspoon grated orange zest)

2

tablespoons

butter,

cut into small pieces
TOPPING:
2

teaspoons

granulated white sugar

1

large

egg white,

beaten with 1 tablespoon water
Instructions
PREPARE THE CRUST:
In a large bowl, add the flour, salt and butter. Use a pastry blender in an up and down motion to blend the ingredients together until the mixture looks like crumbs with lumps the size of peas and almonds. These lumps will make your crust flaky. If you don't have a pastry blender, you can combine the ingredients by using clean hands to mash the ingredients together.

Sprinkle 1/2 cup ice water over the mixture and stir lightly with a fork. Squeeze a handful of dough to see if it holds together. Mix in more water as needed. Divide the dough in half and form each half into a chubby disc about 5-inches in diameter. Wrap each in plastic wrap and chill for about an hour.
PREPARE THE CRANBERRY FILLING:
Place 3 cups of the cranberries in a food processor and pulse until they are slightly chopped. In a medium bowl, place the chopped and remaining whole cranberries, sugar, cornstarch, nutmeg, salt, liqueur and mix well.

Roll out one disc of the chilled pie dough to an 11-inch diameter. Place it in a 9-inch regular-depth pie plate. Trim edges to 1/2-inch over the edge of the plate. Tuck the edges under to the edge of the pie plate. Pour the cranberry filling into the unbaked pie crust and dot the little pieces of butter all over the top.

Roll out the second disc of dough and place it on top of the fruit. Trim the edges, crimp and cut vents on top. Alternately, you can cut strips and make a lattice top. Chill the pie for one hour before baking.
BAKE THE PIE:
Preheat the oven to 375 degrees F. Lightly brush some of the egg wash over the entire pie, including the edges.

Bake for 30 minutes. Then pull the pie out of the oven and sprinkle sugar on top. Bake until the crust is just golden, or until you see bubbling coming out between the vents- about 10 more minutes. Remove the pie from the oven, and let it cool completely.
Notes
NUT ADD-IN OPTION: Add in 1/2 cup chopped walnuts to the cranberry mixture, if desired.
Nutrition
Serving:
1
serving
,
Calories:
401
kcal
,
Carbohydrates:
56
g
,
Protein:
4
g
,
Fat:
19
g
,
Saturated Fat:
12
g
,
Cholesterol:
48
mg
,
Sodium:
342
mg
,
Potassium:
78
mg
,
Fiber:
3
g
,
Sugar:
28
g
,
Vitamin A:
584
IU
,
Vitamin C:
5
mg
,
Calcium:
13
mg
,
Iron:
2
mg