Fresh cherries are in season right now, and this Cherry Slab Pie recipe is a must-make this summer.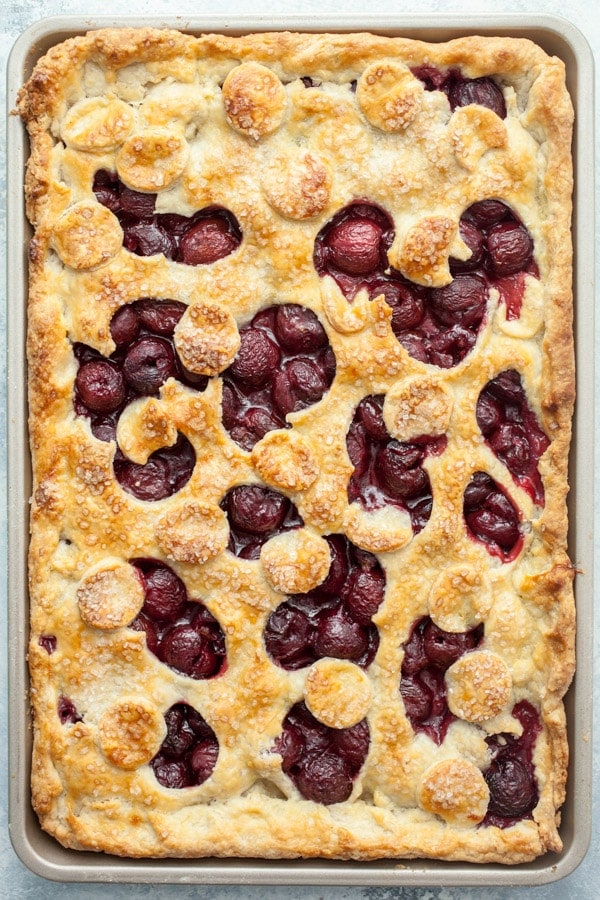 I think this is a complete show-stopper of a dessert. It feeds a crowd and would be the perfect dessert for an outdoor party or picnic.
I do think you need to make your own pie crust for this Cherry Slab Pie as it requires a lot of crust! If you used store-bought, you'd probably want four crusts and you would have to reshape them since those usually come in rounds and you need rectangles for this!
So I recommend just making it and rolling the dough into the shape of your pan.  It will be so much easier!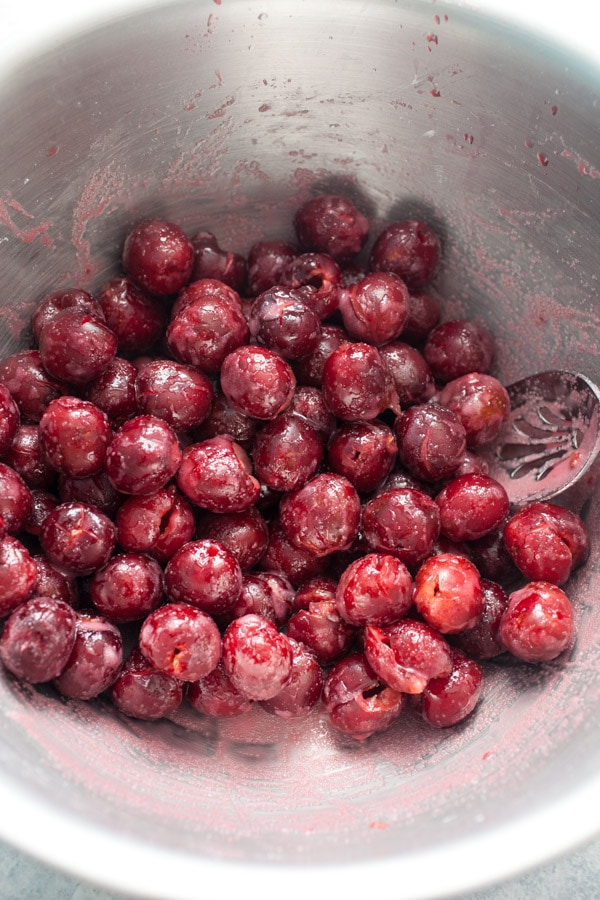 For the filling, you need lots of cherries! Six cups is what I used for 10×15 jelly roll sheet pan, but you might need more if you have a larger sheet pan.
Pit the cherries (hardest part of this recipe) and toss them with sugar, lemon juice, cornstarch, and a pinch of salt.
How do you pit cherries?
You can buy a cherry pitter, and use that to pit your cherries (recommended).  Or, you can use a chopstick to simply push into the cherry to pop out the pit.  Pitting cherries is a little time consuming, but your Cherry Slab Pie will be worth the effort!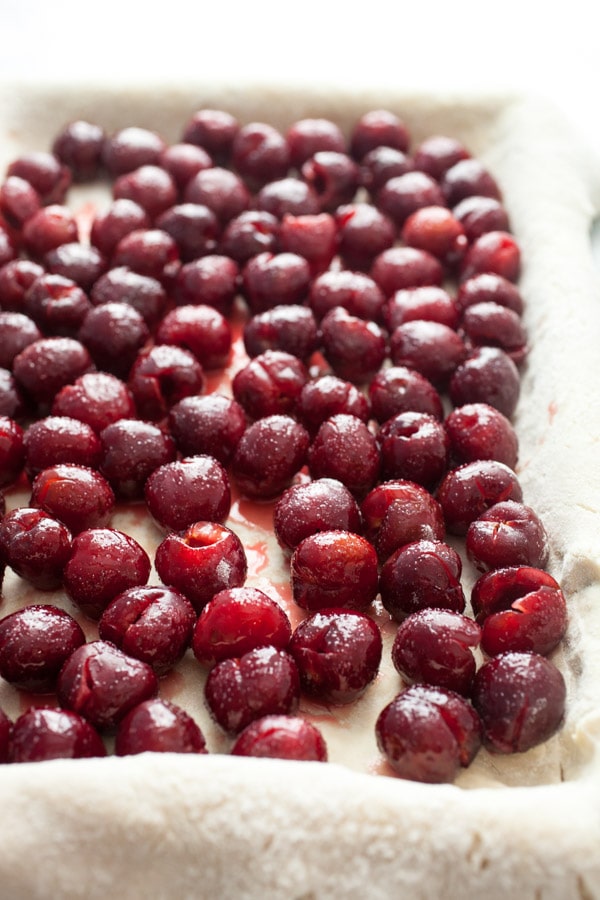 After you've made your pie crust, roll it out into the shape you need and pour in your filling. It's okay if there are lots of gaps. The cherries shouldn't cover the entire surface as they will expand and fill the gaps as the pie bakes.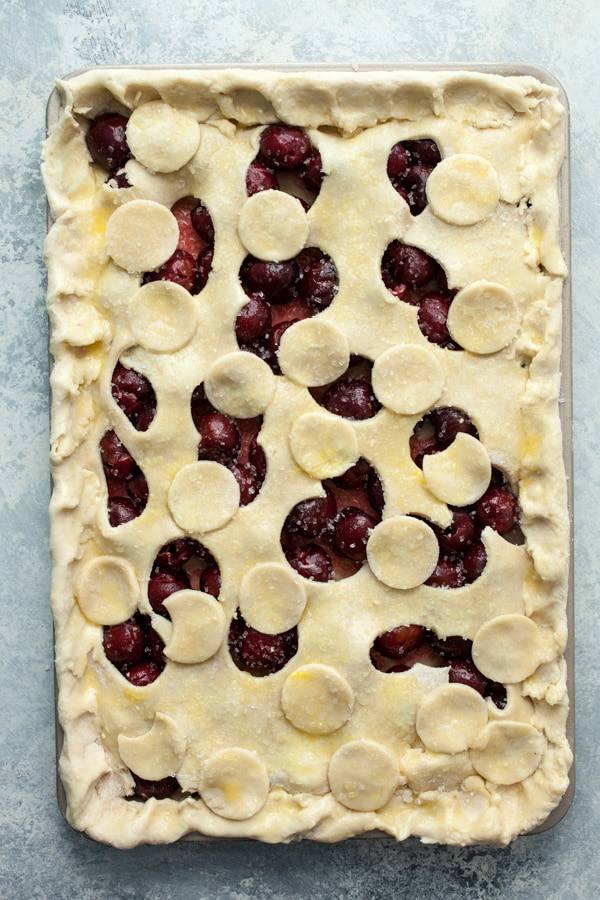 Then add your lid (the top crust)! I cut out some fun circles to show off the delicious filling. You do want some cuts in the crust so steam can escape but no need to do it exactly like I did.
An egg wash and coarse sugar finish off the pie.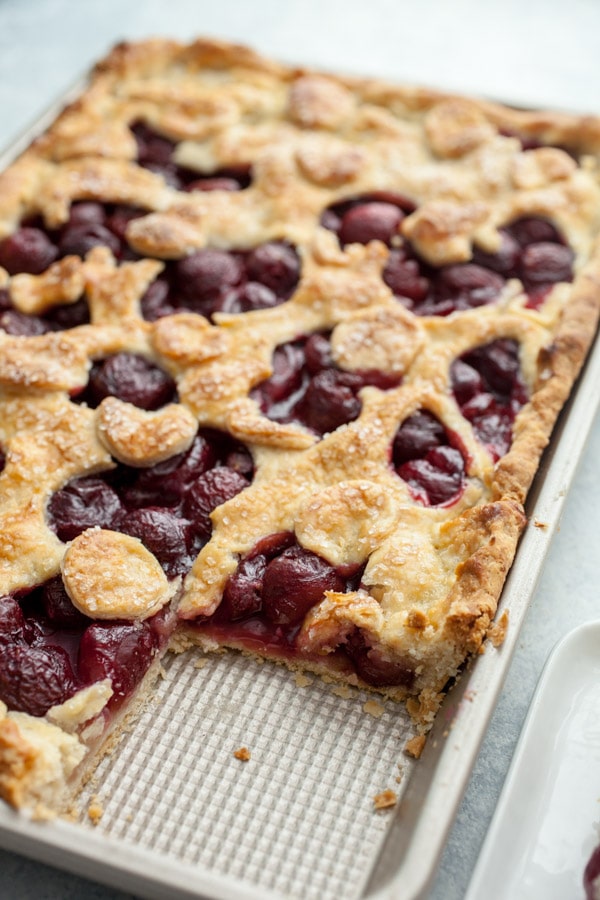 This Cherry Slab Pie goes into the oven for about an hour at 375 degrees F., and you'll be left with a perfectly set pie.
This summer dessert will be a huge hit. Trust me!
Here are a few more fresh cherry recipes you might enjoy:
Cherry Slab Pie
Beautiful fresh cherry pie made in a sheet pan. Great for a party!
Ingredients
CRUST:
3 3/4

cups

all purpose flour

2

tablespoons

granulated white sugar

1

tablespoon

kosher salt

1 1/2

cups (3 sticks)

cold unsalted butter

1

cup

ice water
FILLING:
6

cups

fresh cherries

1/3

cup

granulated white sugar

1

lemon,

juice only

1

tablespoon

cornstarch

1

pinch

salt

egg wash (1 egg whisked with 1 Tablespoon water)

coarse sugar,

for garnish
Instructions
PREPARE THE PIE CRUST:
In a medium bowl, stir together the flour, sugar and salt. Cube the cold butter and use a pastry cutter to cut the butter into the dry ingredients. You can also use your clean fingers to work the butter into pea-sized pieces into the flour.

Make the ice water in a bowl and the add ice water a teaspoon at a time to the dough base until the dough just comes together. You'll probably need about 8 to 10 tablespoons of ice water for this much pie crust. Try not to add too much water.

When you can pull the dough together into a ball, knead it a few times and then divide it into a 2/3 piece and 1/3 piece. The 2/3 piece will be the base of the pie and the 1/3 piece will be the lid. Wrap the pieces separately in plastic wrap and chill in the fridge for at least 30 minutes.
PREPARE THE FILLING:
Preheat the oven to 375 degrees F.

Pit the cherries using a cherry pitter or a chopstick to push the pit out of the fruit. Add the pitted whole cherries to a bowl with the sugar, lemon juice, cornstarch, and a pinch of salt. Let sit for 15 minutes.

Preheat the oven to 375 degrees F. Remove the pie crust from the fridge and roll out the larger piece of pie crust to fit your pan. I use a 10x15inch jelly roll pan, and it fits perfectly. You can roll the pie crust thinner if you have a slightly larger sheet pan, but if you do that then you might need to up the filling on the pie to 7 or 8 cups of fruit.

Press the pie crust into your pan and pour fruit filling into the crust. There should be gaps in the fruit. It shouldn't cover the entire crust as the fruit will expand as it bakes.

Roll out the smaller piece of crust and cut out some circles to show off the cherries. Place the pie crust over the filling, and crimp the edges to attach it to the bottom crust.

Brush the pie with egg wash, and dust liberally with coarse sugar.

Bake the pie for 55 to 60 minutes, rotating once halfway through. Then allow to cool for 15 minutes before slicing and serving.

Store leftover pie in the fridge for a few days.
Nutrition
Serving:
1
serving
|
Calories:
423
kcal
|
Carbohydrates:
49
g
|
Protein:
5
g
|
Fat:
23
g
|
Saturated Fat:
14
g
|
Cholesterol:
61
mg
|
Sodium:
789
mg
|
Potassium:
214
mg
|
Fiber:
2
g
|
Sugar:
16
g
|
Vitamin A:
755
IU
|
Vitamin C:
9.6
mg
|
Calcium:
24
mg
|
Iron:
2.1
mg