This recipe has been featured in a post on The Recipe Girl blog: 4th of July Recipes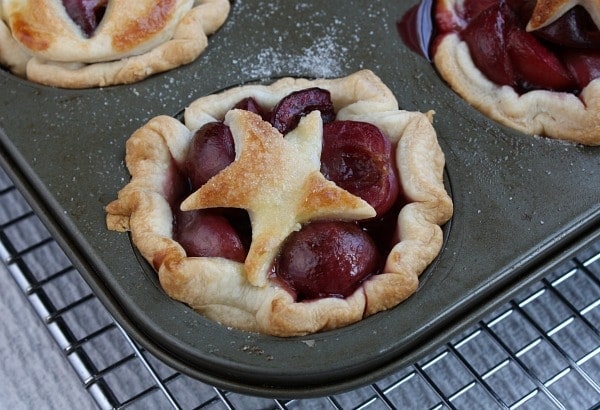 Cherry Pie Cups
These quick and easy little summer desserts are full of fresh cherries. Be creative with decorating the top! Serve with whipped cream and blueberries for a 4th of July red-white-and-blue dessert!
Yield:
8 cup pies
Prep Time: 30 min
Cook Time: 15 min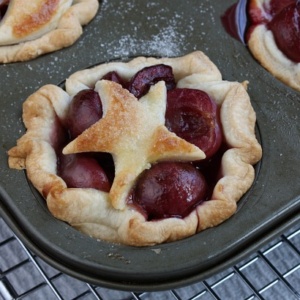 Ingredients:

1 package of ready-made pie crusts (or make homemade)

FILLING:
2 1/2 cups pitted & halved fresh sweet cherries (about 3/4 pound)
2 Tablespoons white granulated sugar
1 Tablespoon finely grated lemon zest
1 Tablespoon freshly squeezed lemon juice
1 Tablespoon cornstarch
1/4 teaspoon salt

EGG WASH:
1 large egg yolk
2 Tablespoons milk or cream

TOP:
coarse grain sugar, optional

Instructions:

1. Preheat oven to 350 degrees F. Spray 8 muffin cups with nonstick spray.

2. Roll out ready made pie crust until it's a bit thinner. Use a plastic tupperware-type bowl as your "cutter" to cut out 5-inch rounds. You should be able to cut out 8 rounds from a package of pie crust (re-roll scraps, if needed). Line 8 muffin cups with the rounds, pressing in lightly.

3. Place filling ingredients in a medium bowl and toss. Scoop into crust-lined cups.

4. With leftover pie crust scraps, cut out decor for the tops of the pie cups- stars, stripes, whatever you'd like… be creative! Then crimp the edges of the pie cups.

5. Brush them lightly with egg wash, and sprinkle with sugar- the chunky, sparkly kind of sugar if you have it.

6. Bake 15 to 20 minutes (watch closely since baking time will depend upon how thinly you've rolled your crust). Cover lightly with foil during baking if they're browning too quickly. They should be lightly browned (like the photo above) with the filling slightly bubbly.

7. Remove from oven and let cool for 15 minutes. Remove to a wire rack and cool completely (or serve warm). Serve with whipped cream and blueberries, if desired.