Cherry Amaretto Pie is the most wonderful pie made with fresh or frozen cherries and flavored with the great taste of Amaretto liqueur.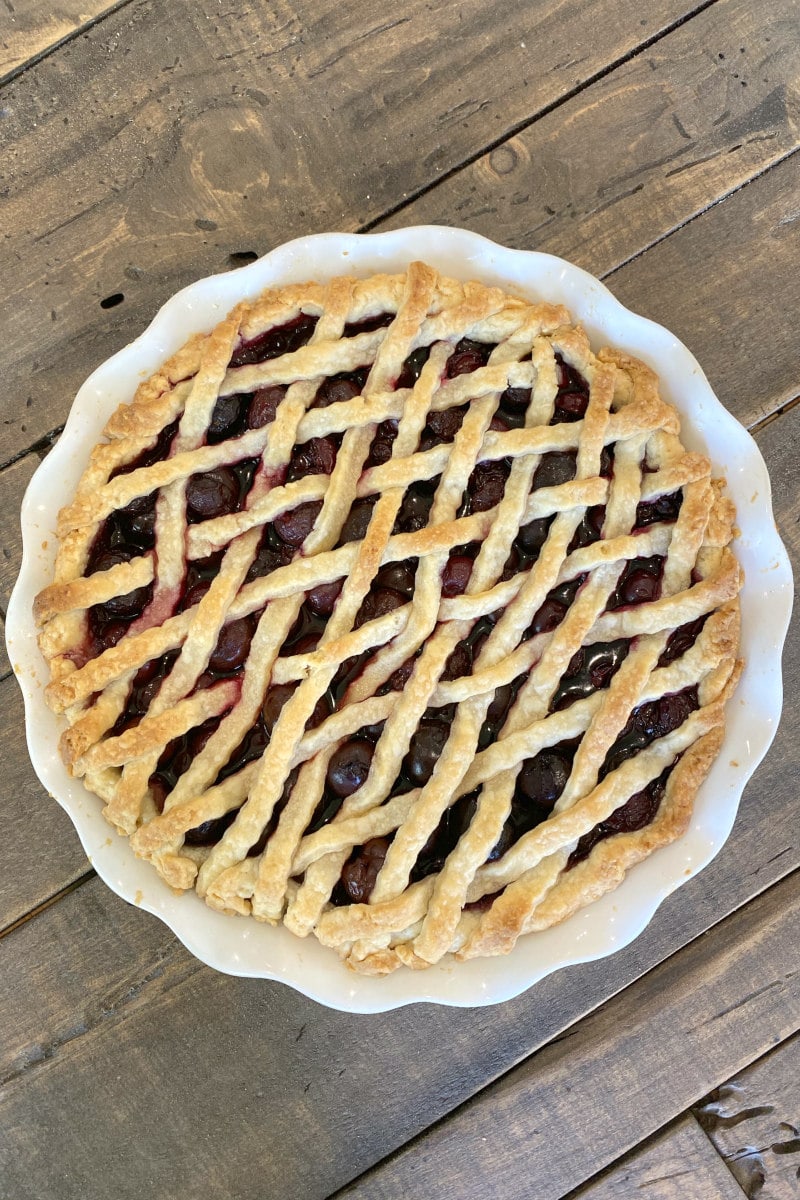 I love to serve this pie around the holidays and also in the summer months. Everyone loves a good fruit pie, and it's kind of rare to find a cherry pie as a dessert option. So this pie is always a happy surprise! The sweet cherry filling is a little bit almond flavored, and the lattice pie crust topping gives it a pretty touch. That makes this Cherry Amaretto pie a good choice to serve to guests.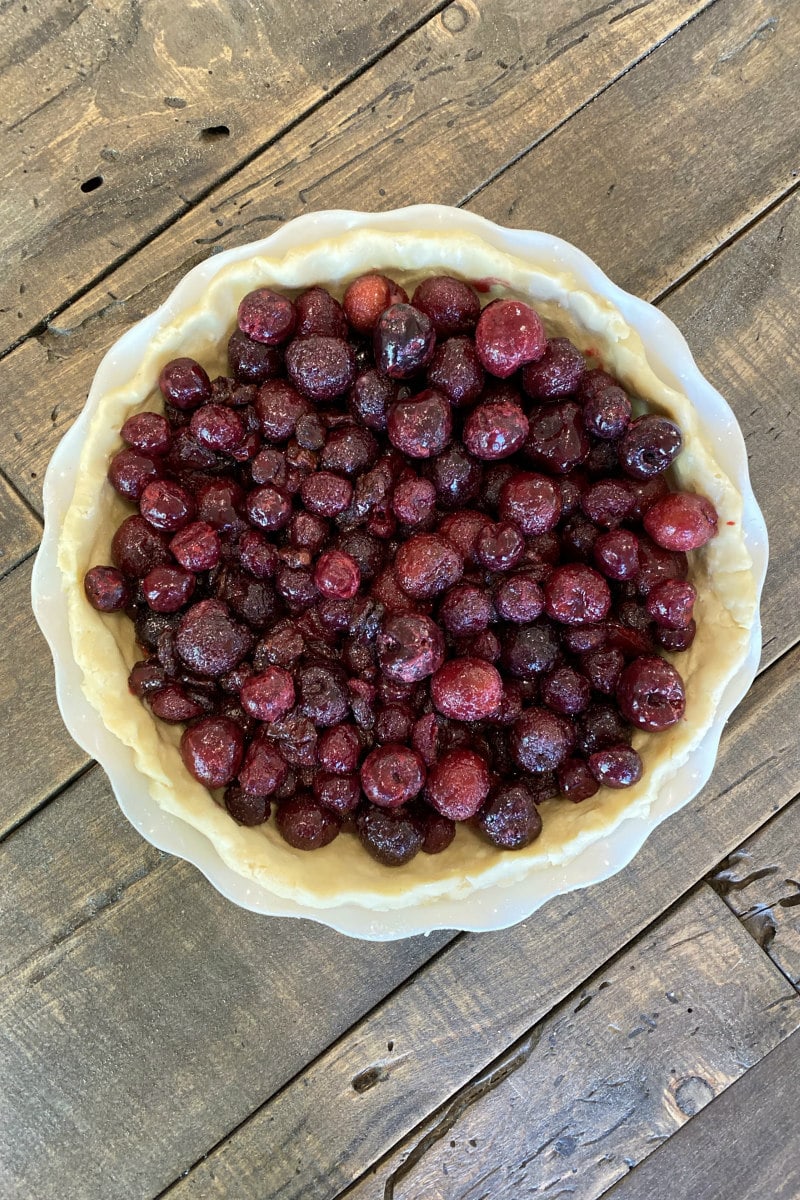 How to make Cherry- Amaretto Pie:
I've included instructions in the recipe below for the double crust, foolproof pie dough from America's Test Kitchen. This was my first time trying this pie dough recipe, and now it's my favorite! The dough is super easy to work with, it rolls out nicely, and it turns out light and flaky. Winner! If you have a two-crust pie recipe that you prefer, then you can certainly use your own recipe. Or to make things even easier, you can use store-bought pie crust.
The cherry filling is super easy to make. You'll combine frozen (defrosted) pitted cherries with sugar and cornstarch. And then you'll soak some dried cherries in Amaretto, and combine the two cherry mixtures together to make the filling. You don't have to pre-bake the crust, so you'll simply roll out the first crust, add the filling, and then put the second crust on top.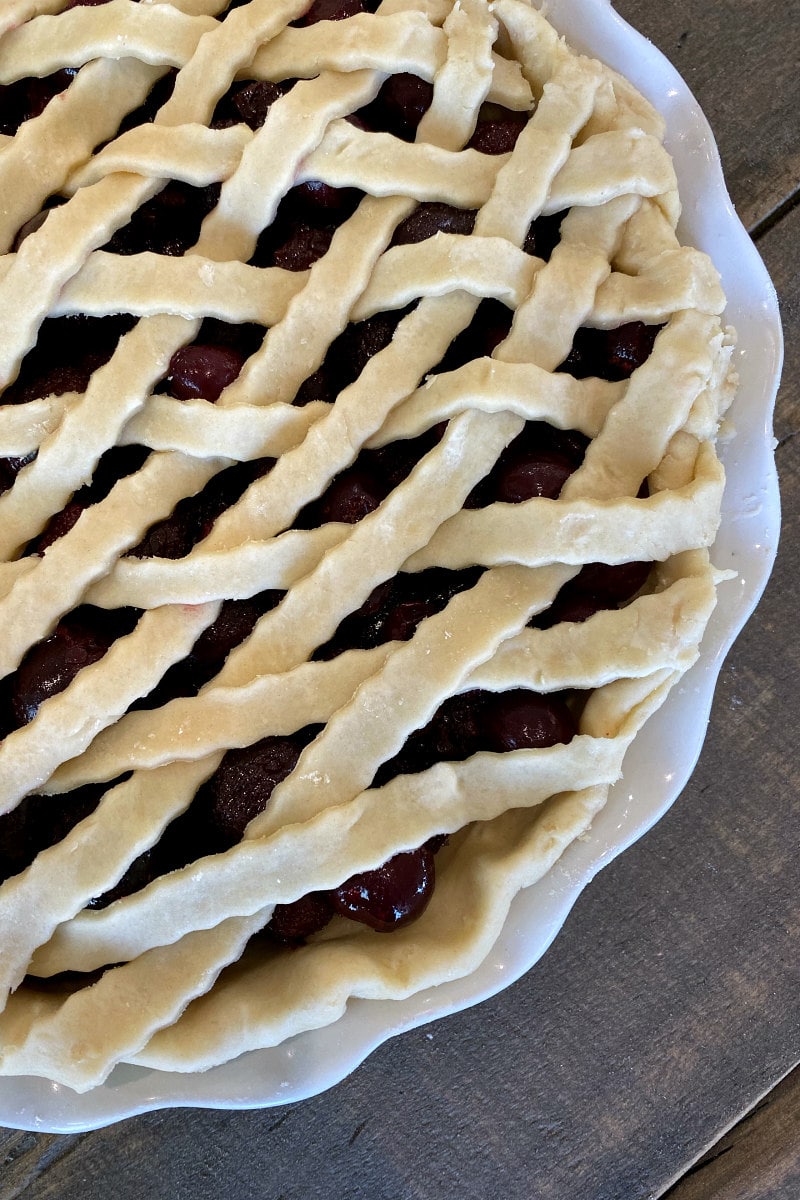 How to make a lattice pie crust:
You could always just place the second crust on top and cut a few vents to complete this pie. But a lattice topper is so much prettier since you can see the red cherry filling mixture peeking out.
To make the lattice topping, roll out your second disk of dough. Cut strips of the dough (as thin or as wide as you want) with a knife, pastry cutter or pizza wheel. Start with the longest strips and lay the first two strips in an X in the center of the pie. You can arrange them at 90 degree angles or at a sharper 45-degree angle. Alternate horizontal and vertical strips, weaving them in an over-and-under pattern. Use the shortest strips for the edges of the lattice. Then use a little water to seal the strips to the edges of the pie.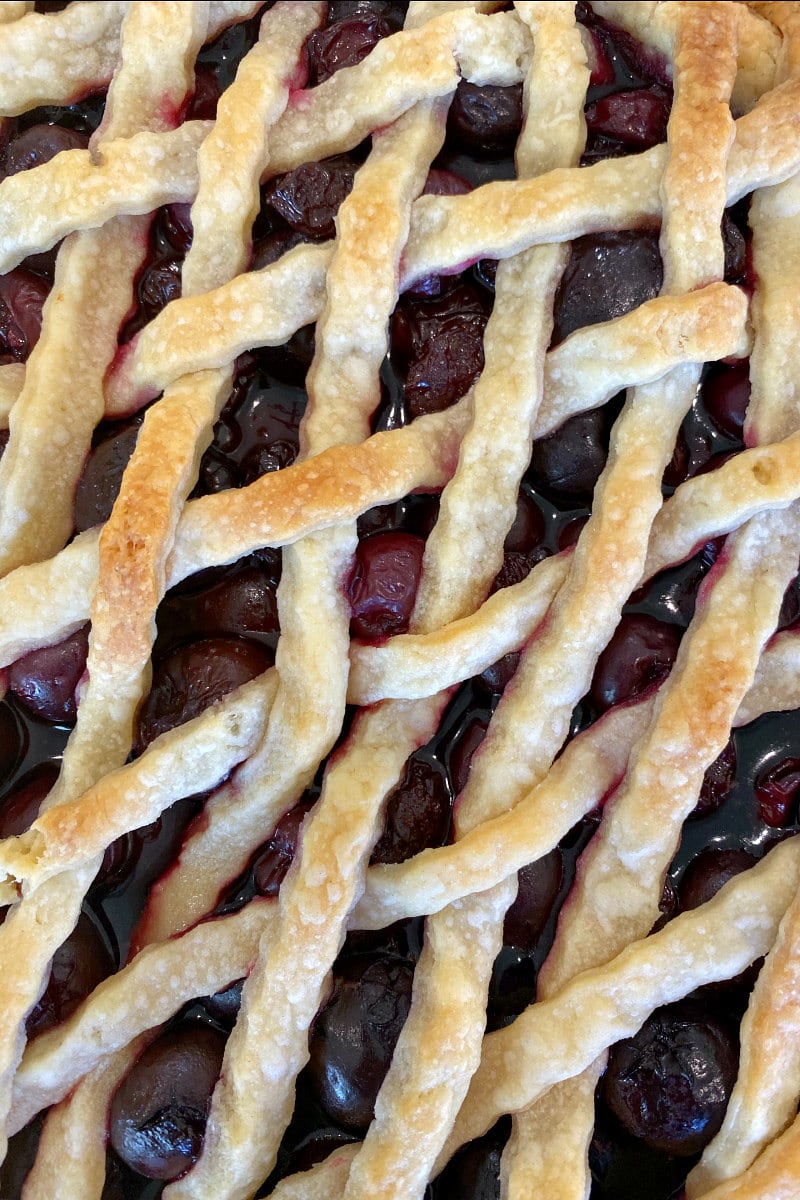 About Cherries:
When cherries are not in season, it's perfectly okay to use frozen cherries for this Cherry Amaretto Pie. And when they're in season and at their sweetest, you can pit 4 cups of cherries and use fresh cherries instead. If you are using sour cherries, you will want to use more sugar (3/4 cup). And if you're using sweet cherries, use a little less sugar (1/2 cup).

What is a good substitute for Amaretto?
Amaretto is an almond-flavored liqueur. If you don't want to buy Amaretto, or if you don't wish to use alcohol in your pie, you can use almond extract instead. Substitute 1 teaspoon of almond extract for the Amaretto. To soak the cherries, combine 1 tablespoon of water with 1 teaspoon of almond extract, and soak the cherries in that mixture. It will be better with the Amaretto, so consider that. And also… the alcohol burns off completely in the cooking process, so you don't need to worry about serving alcohol to little ones.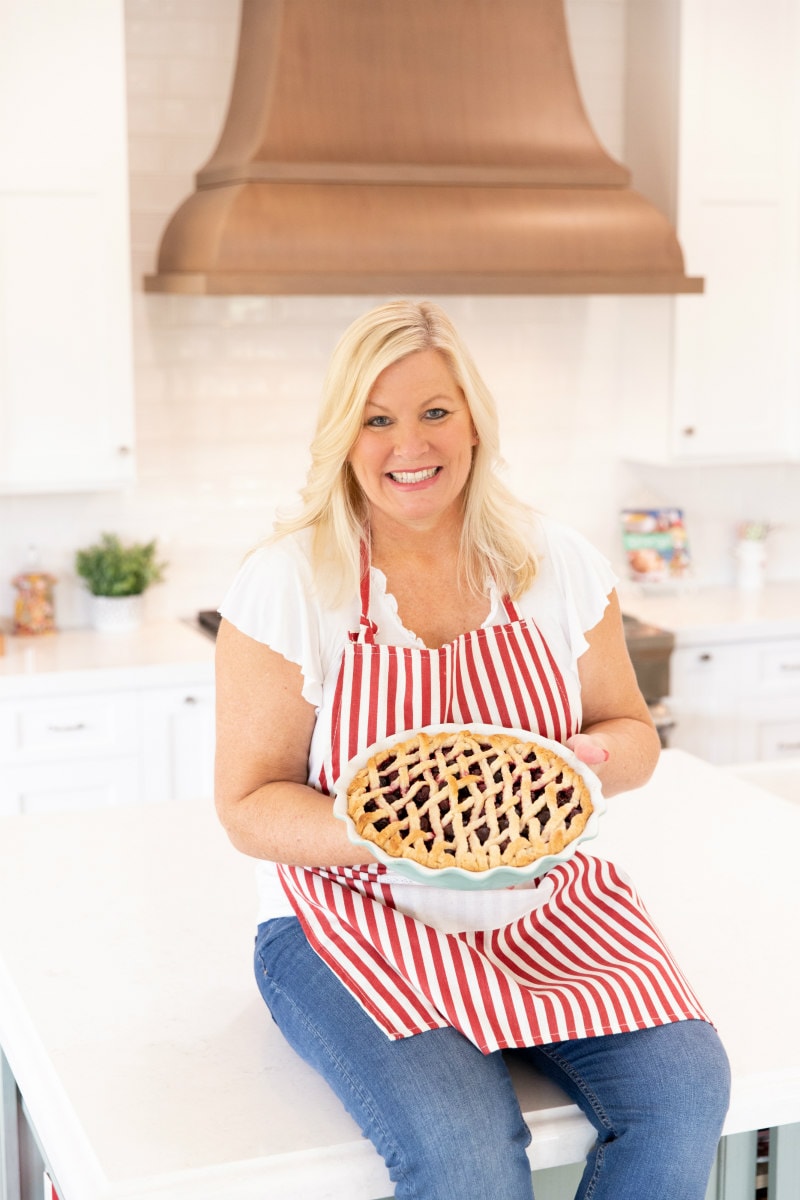 I hope you try my Cherry Amaretto Pie! Enjoy 🙂
Here are a few more pie recipes you might like to try:
Cherry- Amaretto Pie
Great combination of flavors!
Recipe Details
Ingredients
DOUBLE PIE CRUST:
2½

cups

all purpose flour,

divided

2

tablespoons

granulated white sugar

1

teaspoon

salt

12

tablespoons

unsalted butter,

cut into pieces and chilled

1/2

cup

shortening,

cut into pieces and chilled

1/4

cup

chilled vodka

1/4

cup

ice water
CHERRY PIE FILLING
1/2

cup

dried cherries

3

tablespoons

Amaretto

4

cups

frozen sour or sweet pitted cherries,

thawed and drained

1/2 to 3/4

cup

granulated white sugar

(use less sugar for sweet cherries)

3

tablespoons

cornstarch
Instructions
PREPARE THE PIE CRUST:
Pulse 1½ cups of flour, sugar and salt in a food processor until combined, about 2 pulses. Add the butter and shortening and process until the dough begins to collect in uneven clumps, about 15 seconds. Scrape the bowl with a rubber spatula and redistribute the dough evenly around the processor blade. Add the remaining 1 cup of flour and pulse until the mixture is evenly distributed around the bowl and the mass of dough has been broken up, 4 to 6 quick pulses. Empty the mixture into a large bowl.

Sprinkle vodka and water over the mixture. With a rubber spatula, use a folding motion to mix, pressing down on the dough until the dough is slightly tacky and sticks together. Divide the dough into 2 even balls and flatten each into a 4-inch disk. Wrap each in plastic wrap and refrigerate at least 45 minutes or up to 2 days.
PREPARE THE CHERRY FILLING:
In a small bowl, soak the dried cherries in Amaretto at least 15 minutes.

In a large bowl, toss the thawed cherries with sugar and cornstarch. Then toss in the dried cherries with the Amaretto.
ASSEMBLE THE PIE:
Adjust oven rack to lower position, and preheat the oven to 425 degrees F.

Remove one of the chilled pie crust disks from the refrigerator and roll out on a generously floured counter to a 12-inch circle. Roll the dough around the rolling pin and unroll into a 9-inch pie plate, leaving a 1-inch overhang. Ease the dough into the plate and press it gently into the plate bottom.

Spoon the cherry mixture into the unbaked pie crust.

Roll out the 2nd disk of dough and cut strips. Weave a lattice top onto the top of the pie, connecting the strips to the edge of the pie and cutting off the excess dough. Pinch around the edge of the pie to seal.

Bake for 10 minutes. Then reduce the heat to 375 degrees and bake for another 30 minutes or so, until the filling is bubbling.
Notes
Feel free to substitute your own favorite double crust pie recipe, or use store-bought pie crust!
Nutrition
Serving:
1
serving
,
Calories:
580
kcal
,
Carbohydrates:
66
g
,
Protein:
5
g
,
Fat:
30
g
,
Saturated Fat:
14
g
,
Cholesterol:
45
mg
,
Sodium:
297
mg
,
Potassium:
200
mg
,
Fiber:
3
g
,
Sugar:
30
g
,
Vitamin A:
838
IU
,
Vitamin C:
5
mg
,
Calcium:
27
mg
,
Iron:
2
mg