Hoosier Pie is also known as sugar cream pie, and it's the most delicious pie recipe to try this year!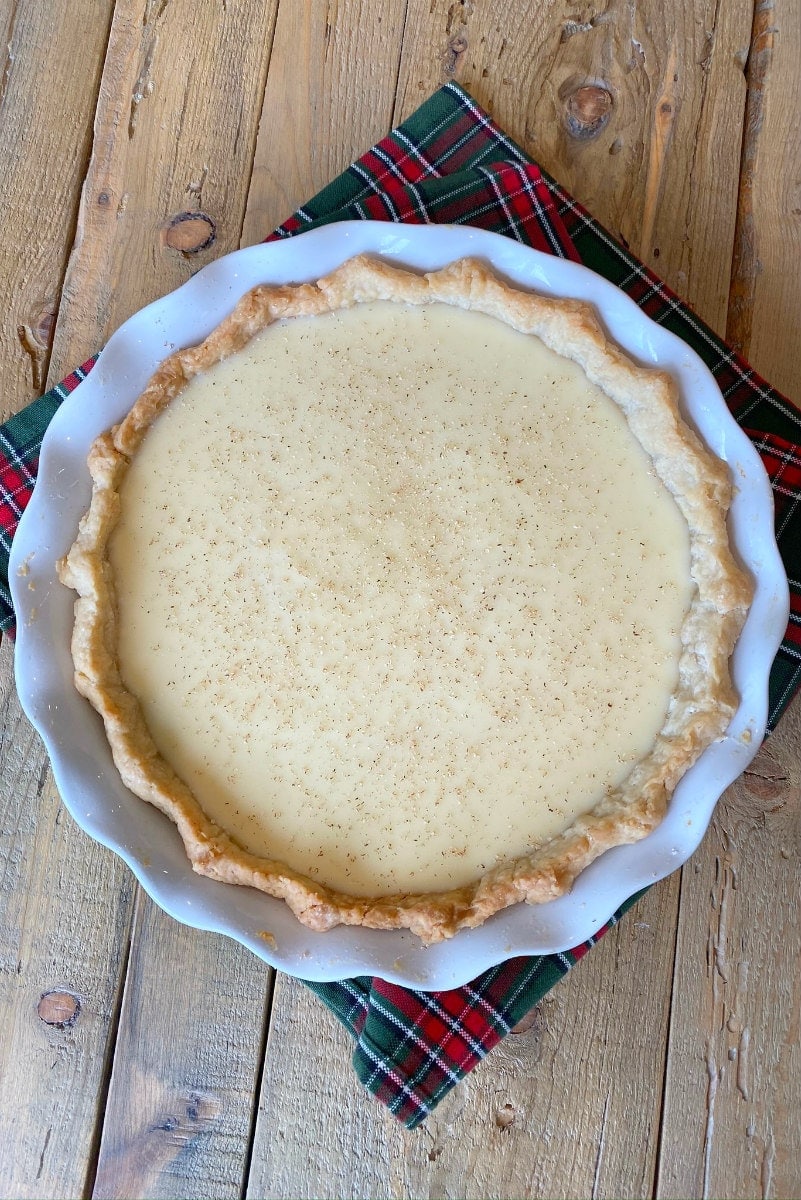 This pie has a creamy, buttery texture. It's not as soft as a cream pie, rather it's somewhere in the middle between a cream pie and a custard pie. I love the sweet vanilla flavor of the pie with the hint of nutmeg sprinkled on top.
History of Hoosier Pie:
Hoosier Pie is what is known as a "regional pie." America's Test Kitchen shares that it was a pie born in Indiana as a "desperation dessert" in the 1800's when fresh fruit was scarce and eggs weren't always easy to come by. In winter months, home cooks turned to the basics- sugar, cream, flour and spices like nutmeg.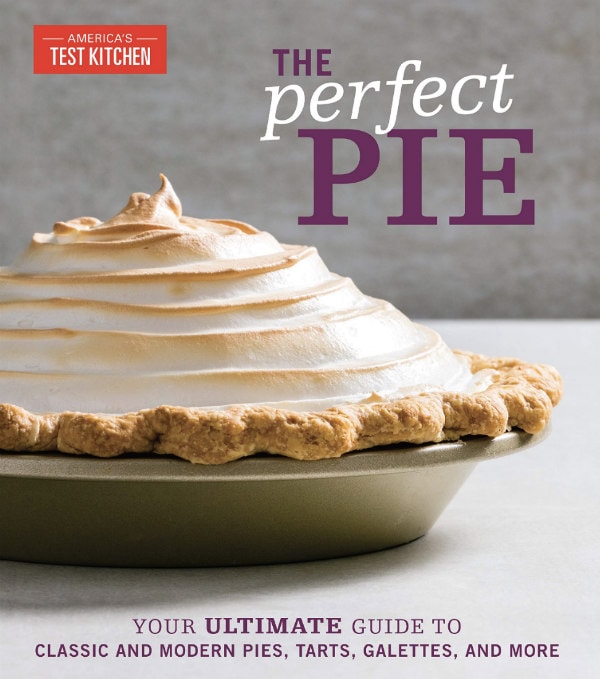 The Perfect Pie
There are Amazon affiliate links included within this post.
I bought quite a few pie recipe books this year that I'm sourcing for my pie baking frenzy this year. This pie cookbook is my absolute favorite, and it's by far the most useful. It was written by the experts at America's Test Kitchen: The Perfect Pie- Your Ultimate Guide to Classic and Modern Pies, Tarts, Galettes and More. In general, I really love to try recipes from America's Test Kitchen because I know they have such a rigorous testing process. The resulting recipes are always pretty foolproof and good! You kind of want that precision when you're baking. I have The Perfect Cookie book by ATK as well, and I've been super happy with that one too.
This book has plenty of crust recipes with very good instructions, and a section for sauces and toppings too. There are chapters for custard, cream and curd pies, tarts, slab pies and small pies, regional pies and frozen pies. There is also a chapter for more unique varieties of pie.
I've only tried the Hoosier Pie and one other (soon to be shared) from the book, but here are several others that are on my pie-baking bucket list: Sweet Cherry Pie, Vanilla Cream Pie, Butterscotch Cream Pie, Passion Fruit Curd Pie, Peanut Butter & Concord Grape Pie, Plum-Ginger Pie, Easy Pear Tarte Tatin, Linzertorte, Peach Slab Pie, Caramel Apple Hand Pies, Apple Butter Pie Pops, Nutella Tartlets, Maple Syrup Pie, Fudgy Tar Heel Pie, Oregon Blackberry Pie and Caramel Turtle Icebox Pie. There really are so many more pie recipes that are worthy of naming, but you'll just have to get to book and check it out. Trust me on this one… The Perfect Pie is a must-add to your cookbook shelf if you love to bake.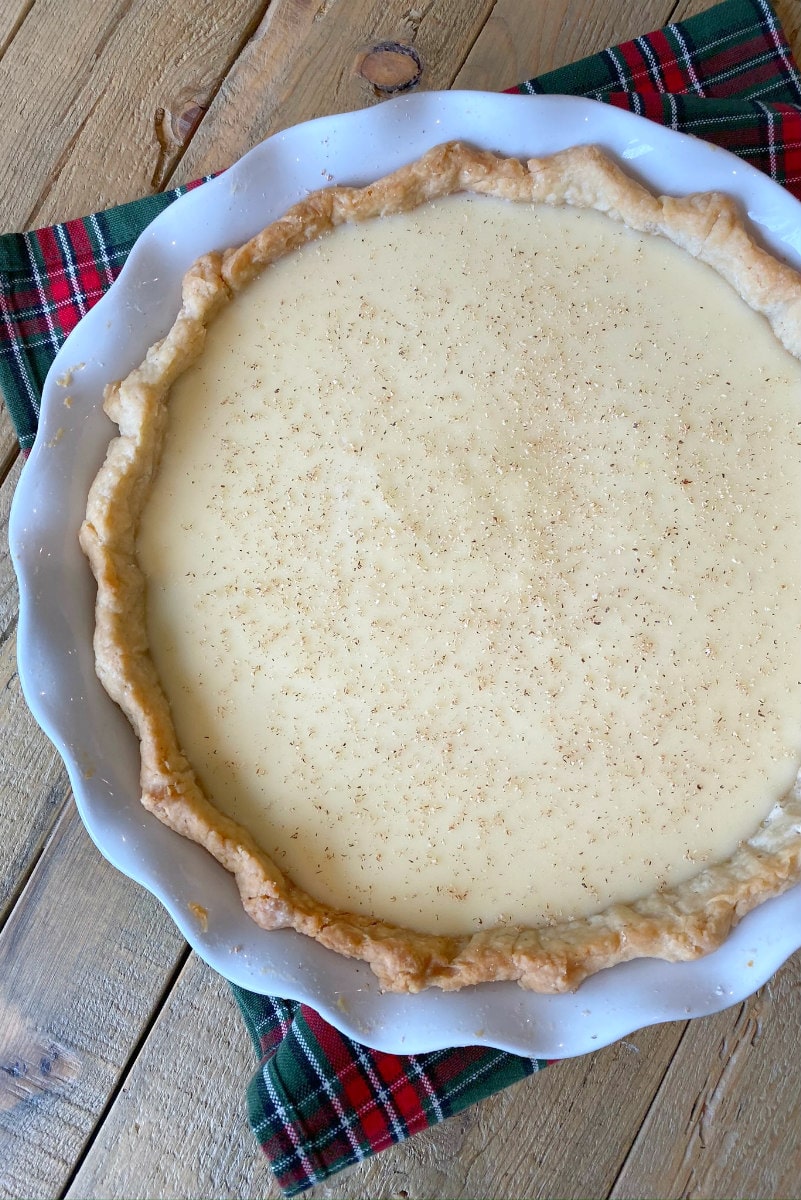 The crust:
In the cookbook mentioned above, there are plenty of pie crust recipes you can use for this recipe. I opted to use the Foolproof Pie Dough recipe from Cooks Illustrated (same company as ATK) because I'd been wanting to try it. There is quite a process for making the foolproof crust (shared in the recipe at the end of this post), and it contains vodka (which many people swear by when making pie crust). I suggest you try it. It really did turn out perfect, and the pie dough was easy to work with. I followed the directions to a "T," and all was good.
You can certainly use your own pie crust recipe, or you can use a store-bought pie crust for Hoosier Pie too. The filling of this pie is super easy to make (on the stovetop), so you'll just bake the crust separately and then put the cooked filling in the baked crust and refrigerate until serving.
Although Hoosier Pie has a creamy, custard-like texture, it's a very sliceable pie. You'll get clean slices out of it, and you'll still get that wonderful, creamy texture.
Cornstarch vs. Flour:
Although original Hoosier Pie recipes called for using flour in the filling, America's Test Kitchen uses cornstarch instead of flour. They tested this pie filling many different ways, and they found that cornstarch helped produce the best texture.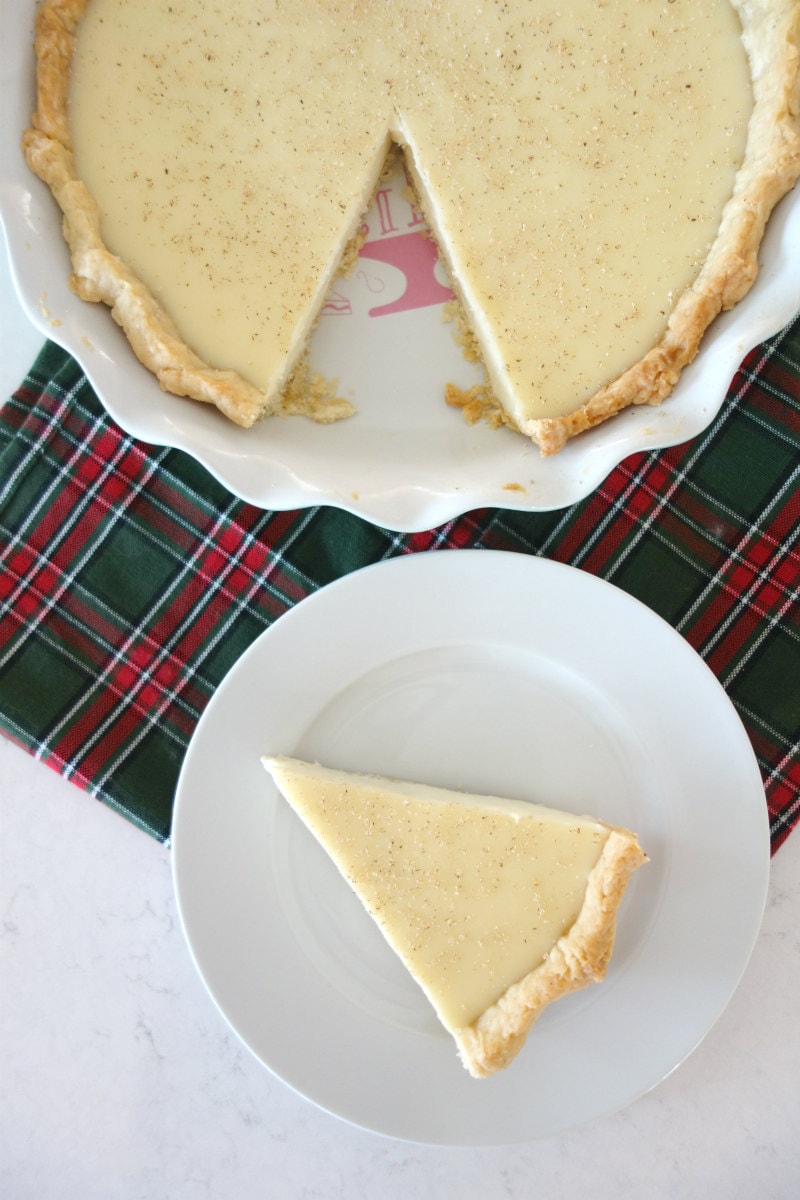 Since I've been doing a lot of pie recipe testing this year, I served this one at Thanksgiving (along with six other pies). Hoosier Pie was the hands-down favorite of the 10 people trying my pies. Everyone loved the flavor of this pie, and no one had tried it or even heard of it before. It was a delightful new pie variety discovery.
Make Ahead and Freeze:
You can freeze this pie without any problems! I stored it in the freezer for two weeks before serving. Just wrap with plastic wrap, and let defrost in the refrigerator until ready to serve.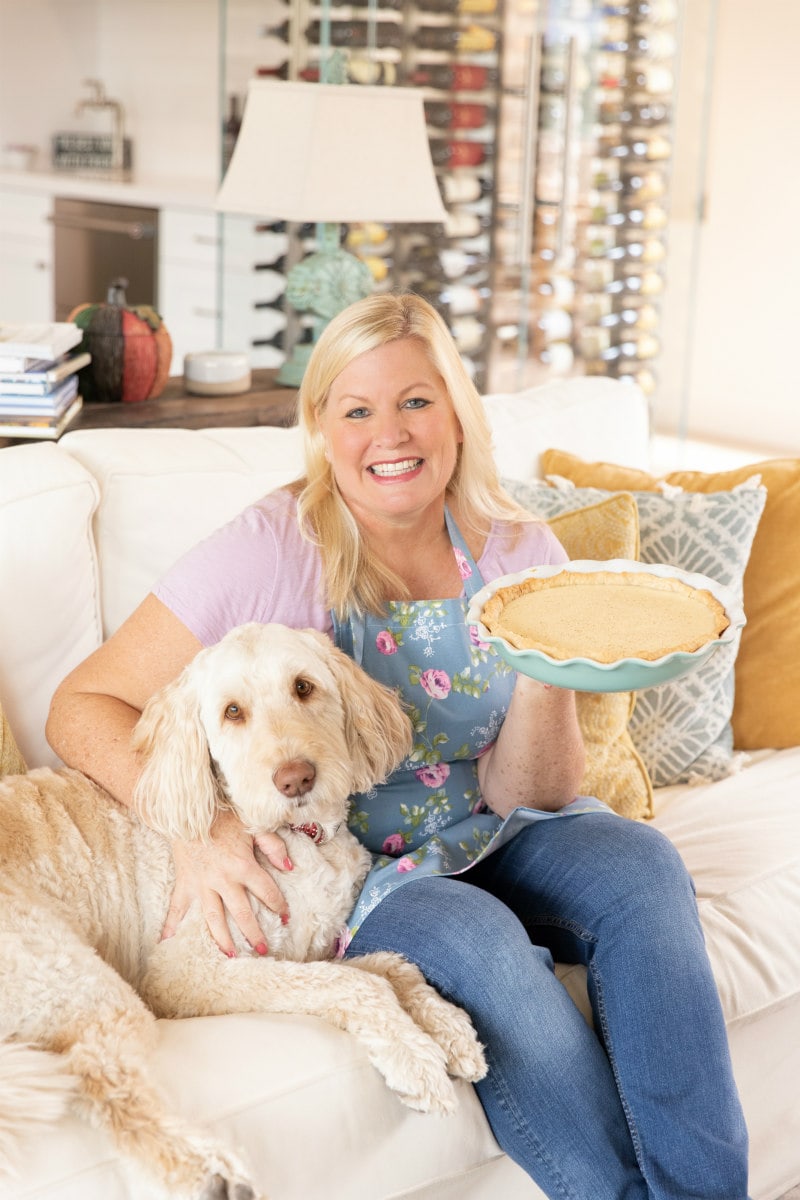 My sweet dog Tessie is loving all of my pie baking. She waits at the counter faithfully… hoping I'll drop something that she can eat! I hope you'll try this pie. It's a great Christmas pie with that hint of nutmeg flavor, but it's such a delicious pie that I'd bake it any time of year. Enjoy!
Here are a few more pie recipes you might like to try:
Hoosier Pie
Otherwise known as Sugar Cream Pie!
Recipe Details
Ingredients
FOOLPROOF PIE CRUST:
1¼

cups

all purpose flour,

divided

1

tablespoon

granulated white sugar

1/2

teaspoon

salt

6

tablespoons

unsalted butter,

cut into 1/4-inch slices and chilled

1/4

cup

shortening,

cut into 2 pieces and chilled

2

tablespoons

cold vodka

2

tablespoons

ice water
HOOSIER PIE FILLING:
1

cup

granulated white sugar

1/4

cup

cornstarch

1/4

teaspoon

salt

3

cups

heavy whipping cream

5

tablespoons

unsalted butter,

cut into 5 pieces

1

tablespoon

vanilla extract

whole nutmeg
Instructions
PREPARE THE PIE CRUST:
Pulse 3/4 cup flour, sugar and salt in a food processor until combined, about 2 pulses. Add the butter and shortening and process until the dough begins to collect in clumps, about 10 seconds. Scrape the bowl with a rubber spatula and redistribute the dough around the blade. Add the remaining 1/2 cup flour and pulse until the mixture is evenly distributed around the bowl (4 to 6 quick pulses). Empty the mixture into a medium bowl.

Sprinkle vodka and water over the mixture. With a rubber spatula, use a folding motion of pressing down on the dough until it sticks together. Flatten the dough into a 4 to 6-inch disk. Wrap in plastic wrap and refrigerate for 45 minutes (or up to 2 days).

Remove the dough from the refrigerator and roll it out on a generously floured mat or board to a 12-inch circle. Roll the dough around the rolling pin and unroll it into a 9-inch pie plate, leaving at least 1-inch overhang. Press the bottom of the crust into the plate gently. Leave the overhanging crust in place and refrigerate until dough is firm- 30 minutes.

Trim the overhang to 1/2-inch beyond the lip of the pie plate. Fold the overhang under itself and flute the edges. Freeze the crust-lined pie plate for 20 minutes.

Adjust the oven rack to the lowest position and place a rimmed baking sheet on that lower rack. Preheat the oven to 425 degrees F. Line the pie crust with aluminum foil and then fill it with pie weights. Place the pie crust on the heated baking sheet and bake for 17 minutes. Remove the pie weights and the foil and bake an additional 15 minutes. Let cool.
PREPARE THE HOOSIER PIE FILLING:
In a large saucepan, whisk together the sugar, cornstarch and salt. Whisk in the cream until combined. Add the butter and cook over medium heat, whisking constantly, until the mixture is thick and large bubbles appear at the surface, 6 to 8 minutes. Continue to whisk 20 seconds longer. Off heat, whisk in the vanilla. Pour the custard into the baked pie crust and smooth the top with a rubber spatula. Let the pie cool completely, about 2 hours. Refrigerate the pie until cold, about 2 hours. Grate nutmeg over the pie and serve.
Notes
You can certainly shortcut things and use a store-bought pie crust, if you'd like. Just bake it according to package directions.
Nutrition
Serving:
1
slice
,
Calories:
564
kcal
,
Carbohydrates:
38
g
,
Protein:
3
g
,
Fat:
44
g
,
Saturated Fat:
26
g
,
Cholesterol:
131
mg
,
Sodium:
205
mg
,
Potassium:
70
mg
,
Fiber:
1
g
,
Sugar:
21
g
,
Vitamin A:
1434
IU
,
Vitamin C:
1
mg
,
Calcium:
52
mg
,
Iron:
1
mg