Cherry- Limeade Pound Cake
My family was tucked away in a beach house in Massachusetts the last couple of weeks. We relaxed and read books, we searched for sea glass and swam in the ocean and we ate… we ate a lot. We ate Maple Leaf hot dogs on New England-style hot dog rolls. We ate crinkle-cut salt and vinegar chips. We ate loads of lobster and chowder and fried clams. We ate soft serve ice cream with rainbow jimmies. We ate fresh corn salad and local blueberries. We ate watermelon and nectarines…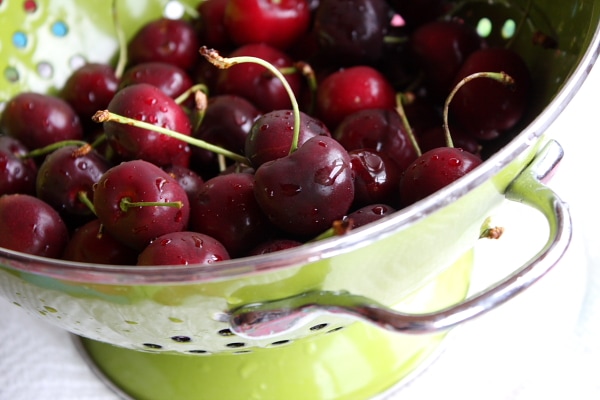 and loads and loads of fresh cherries!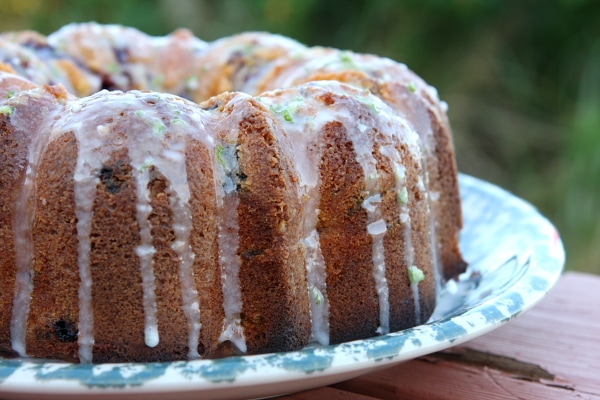 I took some of those fresh cherries, and baked them into a Cherry-Limeade Pound Cake.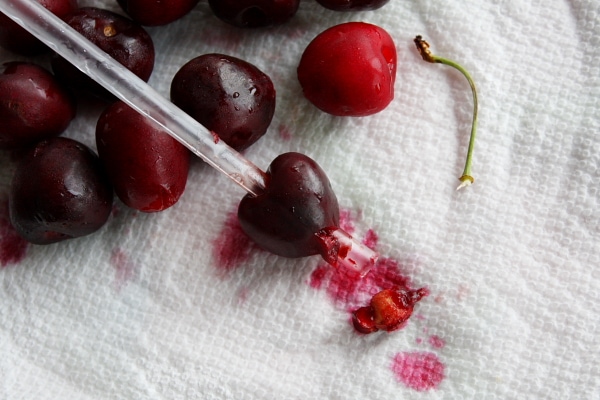 It may sound glamorous and all… staying in a beach house for a couple of weeks. Trust me, it's not as glamorous as you might imagine. It's an extremely rustic place we stay in. No TV. No air conditioning. No internet! And no cherry pitter. I used a straw to pop pits out of the cherries. It was time consuming, but it worked like a charm 🙂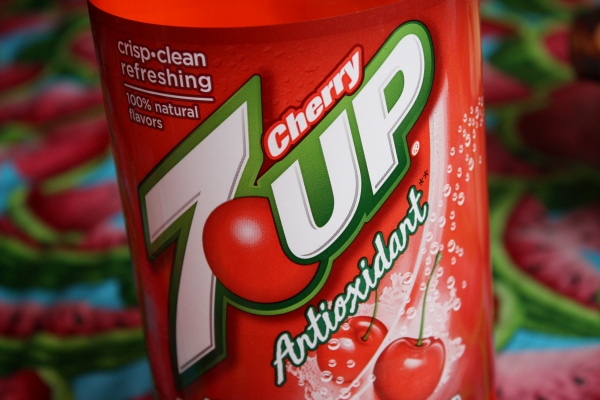 I'm not a soda drinker at all… just the occasional orange soda or root beer. On this vacation, I became rather fond of Cherry-flavored 7-Up. This is some good stuff, and it's what I put in this cake.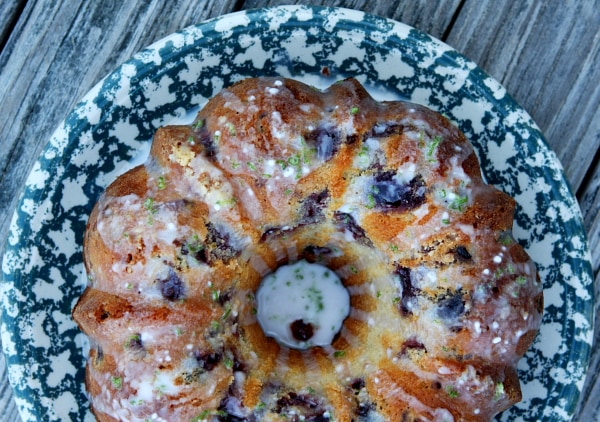 The cake turned out to be a typical dense pound cake, flavored with plenty of lime and chopped fresh cherries, and then drizzled with more limey glaze.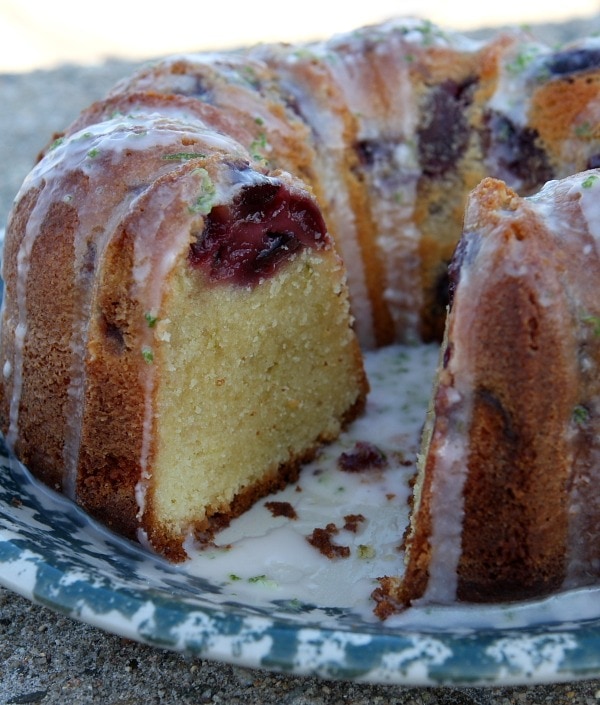 The flavors in the cake reminded me of Sonic Drive In's Cherry-Limeade, that heavenly drink that I only discovered last summer on our family's cross country road trip.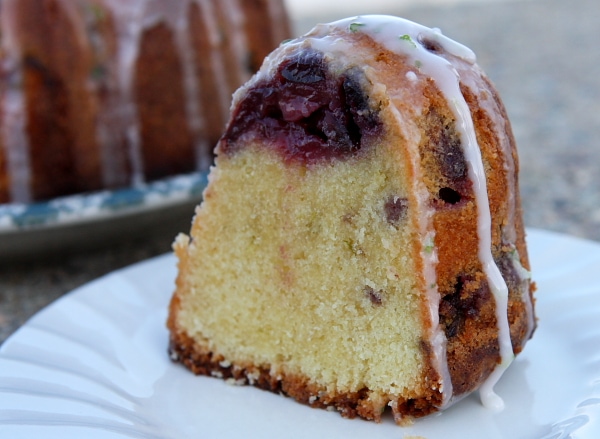 Here's a heavenly slice of that cherry-limeade pound cake. It was tender and full of that lemon-lime flavor with a hint of cherry. And it was quite the big beach-house hit.
This recipe is my contribution to Food Network's Summer Fest, a season-long garden celebration to help give you ideas for using up Summer's best fruits and vegetables. What's your favorite way to eat cherries? Do you have a tip for working with cherries that you'd like to share? Tell us in the comments below, or join in the conversation on Twitter using the hash tag #cookingwith.
Yield: 10 to 12 servings
Prep Time: 30 min
Cook Time: 1 hour 15 min
Cherry- Limeade Pound Cake
Reminiscent of the flavors in Sonic Drive In's infamous Cherry Limeade.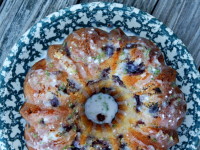 Ingredients:
CAKE:
3 cups all-purpose flour
1/2 teaspoon salt
1 1/2 cups unsalted butter, at room temperature
3 cups granulated white sugar
1 1/2 teaspoons freshly grated lime zest
5 large eggs
3/4 cup Cherry 7-Up (*see tips below)
2 cups pitted and quartered fresh sweet cherries
GLAZE:
1 1/4 cups powdered sugar, sifted
2 Tablespoons Cherry 7-Up
1 1/2 teaspoons freshly grated lime zest
Directions:
1. Preheat oven to 325 degrees F. Grease and flour a 12-cup bundt cake or tube pan.
2. In a medium bowl, whisk together flour and salt
3. In a large bowl, use an electric mixer to cream together butter and sugar. Add lime zest. Beat in eggs one at a time, until each is well incorporated. Mix in 1/3 of the flour mixture at a time, alternating with the 7-Up. Stir in cherries.
4. Scoop batter into the prepared pan. Tap the pan on the counter several times to rid the batter of any air bubbles. Bake 1 hour and 15 minutes, or until sharp, thin knife inserted into the center of the cake comes out clean. Place the pan on a wire rack and let cool for 20 minutes, then place a serving plate over the top and gently flip over. Give the bottom of the pan a few taps if you need to loosen the cake from the pan. Let cake cool completely on the serving platter before topping with the glaze.
5. Prepare glaze: in a medium bowl, whisk together the glaze ingredients until smooth. Drizzle over the cooled cake.
Tips:
*If you only have regular 7-Up, Sprite, or even generic lemon-lime soda on hand, go ahead and use that- but add in a splash of maraschino cherry juice to make it a cherry flavored soda- and make sure it still comes out to 3/4 cup. For the glaze, use 1 1/2 Tablespoons of soda + 1/2 Tablespoon juice.
And lookie here at all of the other bloggers participating in SummerFest Cherries! Check out these great recipes too:
What's Gaby Cooking: Cherry Chocolate Truffle Ice Cream
Big Girls Small Kitchen: Cherry Cornmeal Cake
Cooking With Elise: Roasted Cherries with Lavender and Almond Panna Cotta
Daydreamer Desserts: Cherry Crumble Cake
Ingredient Challenge Monday: Black Forest Ice Cream Done Two Ways
Spices and Aroma: Dilkush with Cherries
And Love It Too: Cherry-Pecan Chicken Salad
FN Dish: The Ultimate Cherry Pie
Daily*Dishin: Simple French Cherry Clafouti
Glory Foods: Collard Greens and Cherry Reduction
Chez Us: Gluten-Free Cherry Clafoutis
Food for 7 Stages of Life: South Indian Hot and Sour Soup
Virtually Homemade: Dark Chocolate Cherry Kuchen
In Jennie's Kitchen: Cherry Conserves
The Sensitive Epicure: Gluten-Free Cherry Almond Clafouti
Cooking Channel: Very Cherry Sangria
Napa Farmhouse 1885: Cherry Balsamic Vinegar
Zaika Zabardast: Balsamic Cherry and Peach Crisp
Mooshu Jenne: Rainier Cherry Panna Cotta
Food2: A Very Cherry Recipe Round-Up
Virtually Vegan Mamma: Fresh Cherry and Almond Scones
CIA Dropout: Italian Cherry Cake
Sweet Life Bake: Honey-Tequila Pickled Cherries
Cooking With Books: Cherry Cooler
Comments