You've probably noticed that I have a few cocktails to share with you this summer.  Here's another! > Cherry Mojitos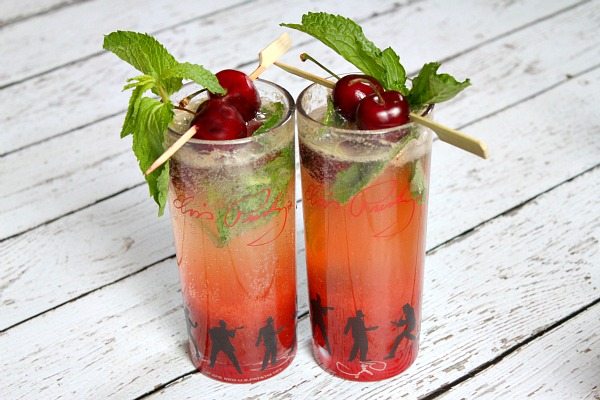 Yes, you're seeing Elvis on those glasses.  Once upon a time, my husband was quite enamored with Elvis.  We had a whole lot of memorabilia, he once participated in an Elvis impersonation contest (complete with costume), and yes… my whole family has been to Graceland!  Over the years, his "Elvis Mania" has calmed a bit.  But we did happen to hang onto these cocktail glasses.  When I made this recipe, I asked my husband if he had any tall cocktail glasses.  He brought me these.  They were not exactly what I had in mind, but they actually worked perfectly for my Cherry Mojitos!
These mojitos begin with fresh mint leaves in the bottom of the glass.  I like a lot of mint in my mojitos, and the fresher the better too!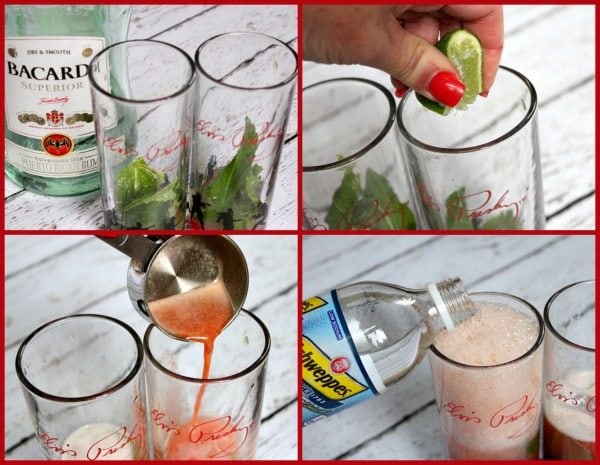 A little rum, a little lime juice, and a little muddling to smash those all together.  The "cherry juice" comes from mixing simple syrup and fresh cherries in the blender.  Strain out the cherry pulp, and you've got a perfect, sweetened cherry juice for making mojitos!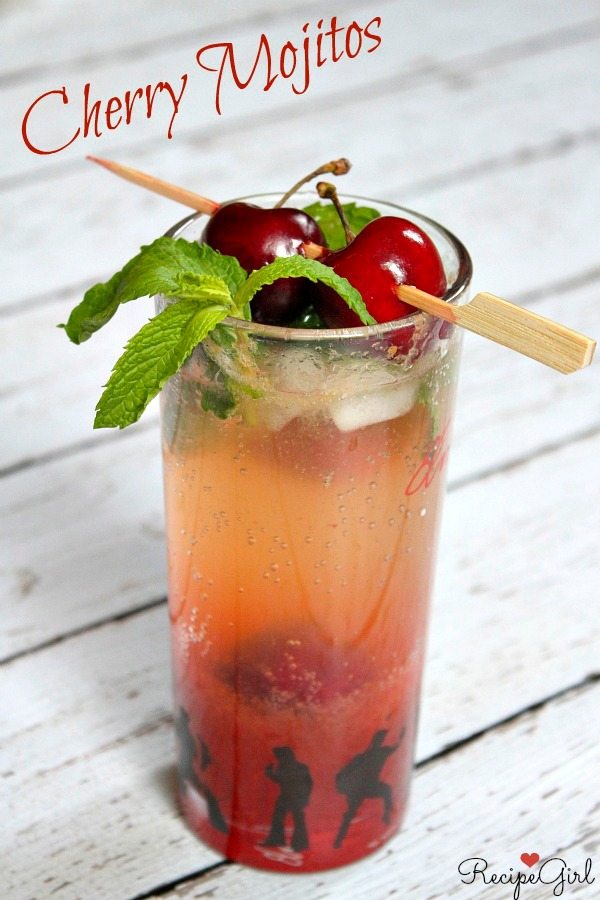 I added some fresh cherries for garnish- inside and outside the glass.  If they're already pitted, that's a major bonus since it's a given that those cherries will be eaten by the drinker of the beverage.  These are the perfect summery cocktail- especially if you come across some perfectly sweet and wonderful fresh cherries!
Cherry Mojitos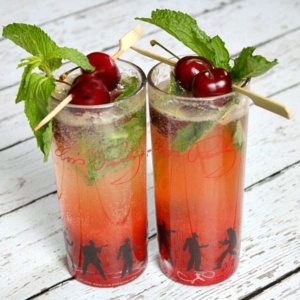 Yield:
4 to 6 cocktails
Prep Time:15 min
Cook Time:1 min
Ingredients:
1 cup water
1 cup granulated white sugar
1 1/2 cups pitted fresh cherries (reserve a few for garnish)
20 or so good-sized fresh mint leaves
2 limes
8 ounces white rum
club soda, chilled
ice cubes, optional
Directions:
1. Prepare a simple syrup (do this a couple of hours ahead of time- or longer- so that it has time to chill). > Boil water, add sugar and stir until dissolved. Let cool, then chill in the refrigerator until it has a chance to get very cold.
2. In a blender or food processor, blend chilled simple syrup and cherries. Pour through a strainer, discard the cherry pulp and keep the sweetened cherry juice.
3. Place 4 to 5 mint leaves in the bottom of 4 to 6 tall glasses. Squeeze half a lime into each glass. Add 2 ounces of rum to each glass. Use a muddler (or the handle of a wooden spoon) to smash the mint leaves, lime juice and rum together. Divide the sweetened cherry juice between the four glasses. Top each drink off with chilled club soda. Stir, garnish with fresh cherries and serve. Add an ice cube or two, if desired.
Tips:
*It's okay to prepare the sweetened cherry juice up to one day ahead. Keep chilled.
*Don't have a cherry pitter? Find a straw and poke the straw through the cherries. It might take a little longer, but the pit will pop right out!