This recipe has been featured in a post on The Recipe Girl blog:   Fresh Cherry Turnovers with Cream Cheese Crust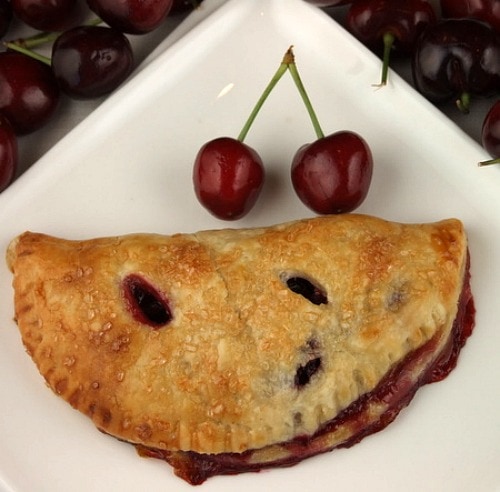 Fresh Cherry Turnovers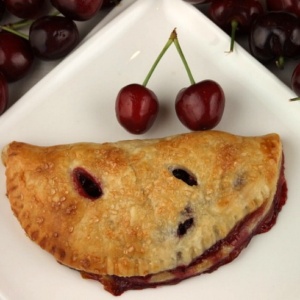 Yield:
9 turnovers
Prep Time:40 min + chilling time
Cook Time:25 min
Ingredients:
CREAM CHEESE CRUST:
1 1/2 cups all-purpose flour
1 teaspoon granulated white sugar
pinch of salt
1/2 cup (1 stick) cold, unsalted butter, cut into 1/2-inch pieces
1 (8 ounce) package of cold cream cheese, roughly cut into tablespoons
CHERRY FILLING:
2 1/2 cups pitted & halved fresh cherries (about 3/4 pound)
2 Tablespoons granulated white sugar
1 Tablespoon finely grated lemon zest
1 Tablespoon fresh lemon juice
1 Tablespoon cornstarch
1/4 teaspoon salt
EGG WASH:
1 large egg yolk
2 Tablespoons milk or cream
TOP:
coarse grain sugar
Directions:
1. Prepare crust: Place the flour, sugar and salt in the bowl of a food processor and process for 10 seconds to blend. Add the cold butter pieces and process for just a few seconds, until the mixture looks like crumbs. Add the cream cheese and pulse quickly about 25 times (or until a clump of dough has formed). Turn the clump of dough onto waxed paper and knead gently 2 to 3 times to bring dough together. Flatten into a 7-inch square. Wrap with plastic wrap and chill for at least 30 minutes (or up to 2 days).
2. Prepare filling: Mix cherries with sugar, lemon zest & juice, cornstarch and salt; set aside until ready to fill the turnovers.
3. Place the dough on a lightly floured surface.. Roll into a square that is roughly 15x15. At this point, you can decide if you'd like to make round or square-shaped turnovers. If you make round (half-moon shape) turnovers, you can simply use the top of a 6-inch diameter bowl as your cutter. If you'd rather make square (triangle-shape) turnovers, use a chef's knife to trim a 15-inch square. Mark 5-inch increments along all sides of the dough & with the ruler as a guide, cut the dough into nine 5-inch squares. Re-roll scraps as necessary.
4. Line two rimmed baking sheets with parchment paper or silicone baking mats.
5. Assemble Turnovers: Place cut-out dough onto prepared baking sheets. On each square or circle, use a knife to lightly mark a line showing the halfway mark (make sure it's just a line indentation & not cut all the way through). Spoon a couple of Tablespoonfuls of the cherries onto each "half"- keeping it on one side of the dividing line and leaving about a 1/4-inch border along the edge. Brush edges on the fruit side of the turnover with egg wash (egg & milk whisked together). Carefully fold the other side over the fruit and use the tines of a fork to press the edges together and seal them. Move baking sheets to refrigerator and chill for about 20 minutes. Adjust racks in oven to top and bottom thirds of the oven, and preheat oven to 375°F.
6. Bake Turnovers: Brush the tops of the turnovers with egg wash and sprinkle with coarse sugar. Use the tip of a paring knife to carefully cut three slits in the top of each turnover to allow steam to escape during baking. Bake turnovers on bottom and top third racks for 15 minutes. Then rotate the sheets and bake for an additional 10 to 15 minutes, or until the crust is golden brown. Transfer to a cooling rack to cool completely. Serve warm or at room temperature, with whipped cream or vanilla ice cream.
Tips:
*The dough may also be frozen. Wrap in plastic wrap and place in zip freezer bag for up to 2 months.
*These will keep at room temperature in a covered container for 2 days. To re-crisp, heat in a 375 degree oven until warmed through. They'll keep a little longer if wrapped airtight and refrigerated (about 5 days).