Fresh Cherry Turnovers are the best reason for using up your sweet, fresh cherries!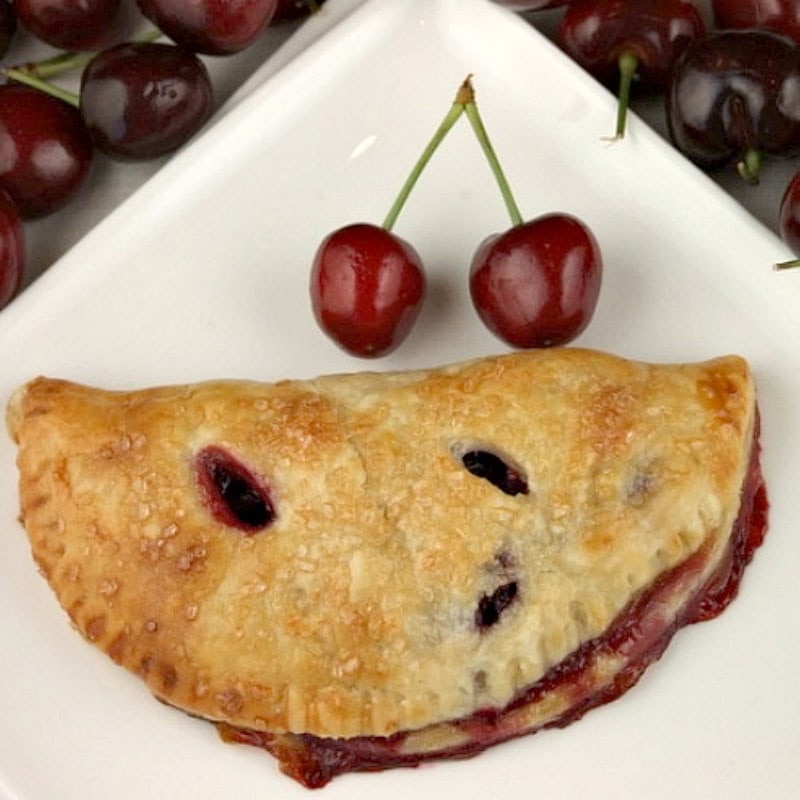 This hand-held dessert is perfect for serving a grab-and-go dessert that is easy to eat. Use sweet cherries for the sweetest flavor, and you're going to love the cream cheese pie crust on this one too.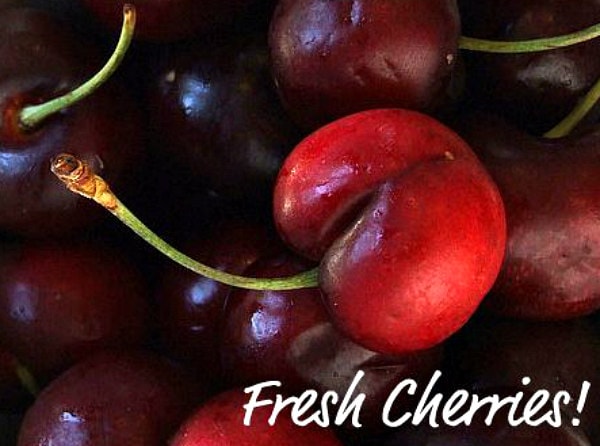 Fresh cherries are the best! They're in season in the middle of summer, so take advantage of that!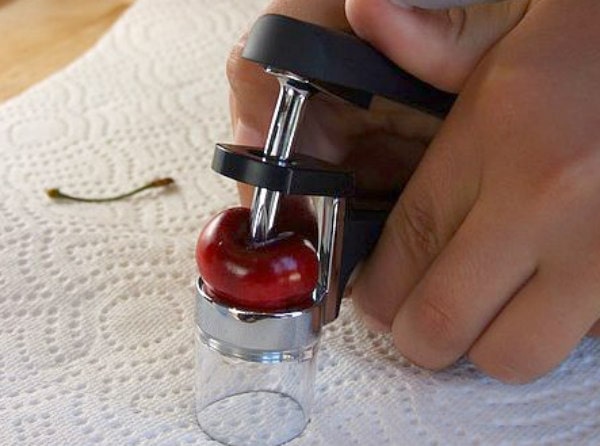 All you need to make these Fresh Cherry Turnovers is a good cherry pitter to get rid of the pits inside the cherries in an efficient way! What a cool tool!! Slip the cherry into the slot, punch the metal gadget through and the pit slides right out. The cherry remains intact with a clean hole through the middle, and the plastic guard holds back the splattering cherry juice. As a result of this tool, our lives are happily filled with cherries.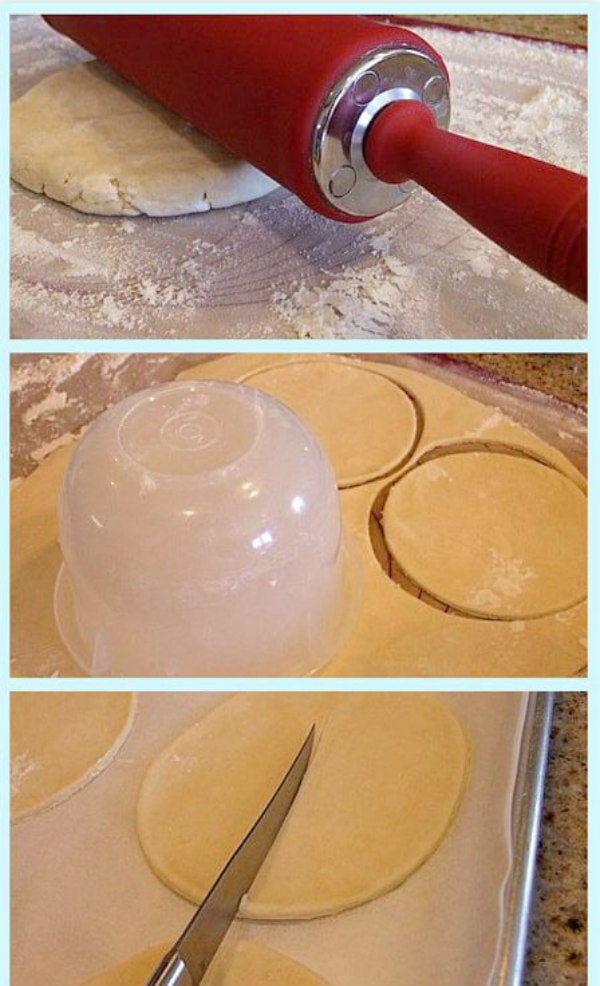 How to make the cream cheese crust:
The crust is pretty much the easiest crust I've ever worked with (this is coming from someone who is severely crust-challenged). The whole thing just goes into the food processor and then is given a short chill in the fridge before rolling. I use the top of a plastic container to cut out the rounds for the turnovers. I then use a knife to lightly mark the halfway-mark of each circle.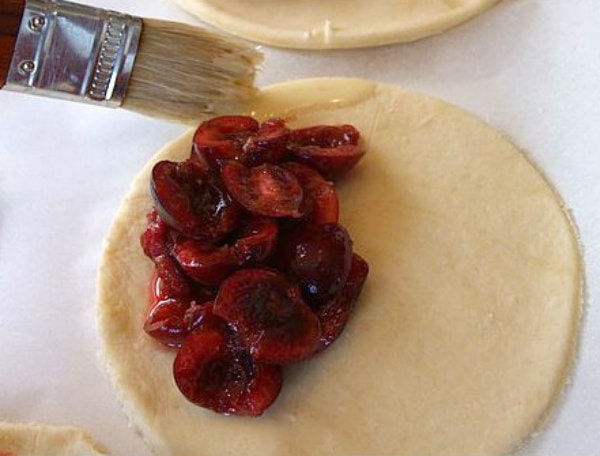 The cherry mixture is simple… just some sugared fresh cherries with a lemony zest and added cornstarch. I plop a couple of tablespoonfuls onto each turnover half. The edges of that same half are brushed with a milky egg-wash.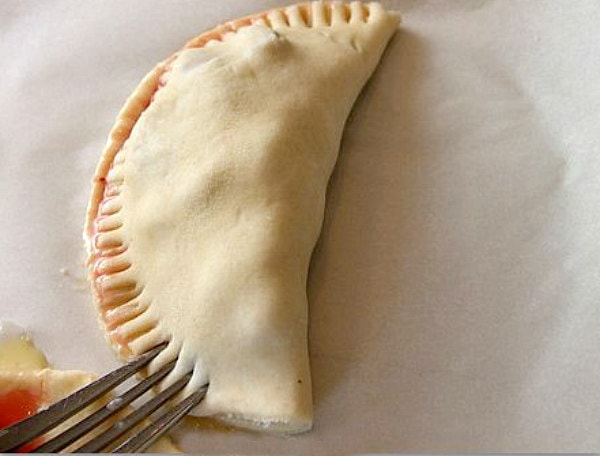 The tines of a fork are used to press the edges together to seal them.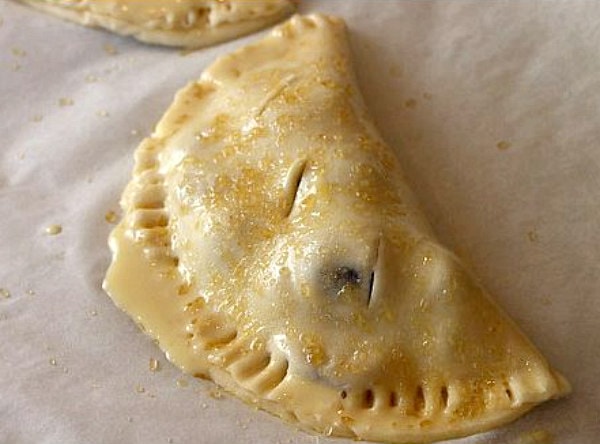 The turnovers are chilled in the fridge before continuing, and then brushed with egg wash again and sprinkled with coarse sugar.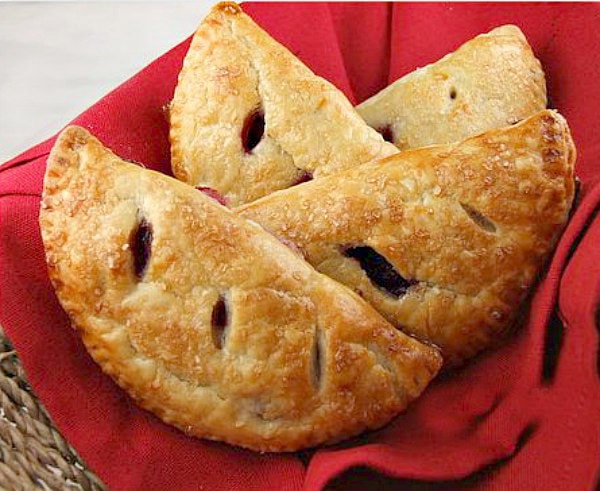 Fresh and warm out of the oven, these Fresh Cherry Turnovers are fantastic little hand-pies. Slightly crunchy with a syrupy cherry filling tainted with lemon-flavor, we enjoy these plain. They'd also be fabulous with a scoop of ice cream or a dollop of freshly whipped cream.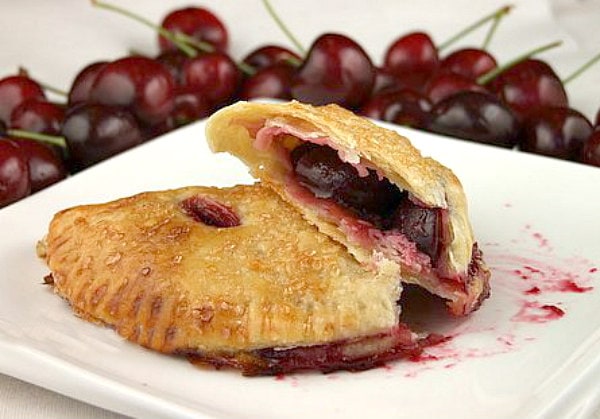 They are also amazing as leftovers eaten the next day. Enjoy!
Here are a few more recipes using cherries that you might like to try:
Fresh Cherry Turnovers
A lovely way to use up fresh cherries!
Recipe Details
Ingredients
CREAM CHEESE CRUST:
1½

cups

all purpose flour

1

teaspoon

granulated white sugar

pinch of salt

½

cup (1 stick)

cold unsalted butter,

cut into small pieces

8

ounces

cold cream cheese,

cut into tablespoons
CHERRY FILLING:
2½

cups (¾ pound)

pitted and halved fresh cherries

2

tablespoons

granulated white sugar

1

tablespoon

finely grated lemon zest

1

tablespoon

freshly squeezed lemon juice

1

tablespoon

cornstarch

¼

teaspoon

salt
EGG WASH:
1

large

egg yolk

2

tablespoons

milk or cream
Instructions
PREPARE THE CRUST:
Place the flour, sugar and salt in the bowl of a food processor and process for 10 seconds to blend. Add the cold butter pieces and process for just a few seconds, until the mixture looks like crumbs. Add the cream cheese and pulse quickly about 25 times (or until a clump of dough has formed). Turn the clump of dough onto waxed paper and knead gently 2 to 3 times to bring dough together. Flatten into a 7-inch square. Wrap with plastic wrap and chill for at least 30 minutes (or up to 2 days).
PREPARE THE FILLING:
In a medium bowl, mix the cherries with the sugar, lemon zest and juice, cornstarch and salt; set aside until ready to fill the turnovers.
ROLL THE DOUGH:
Place the dough on a lightly floured surface.. Roll into a square that is roughly 15x15. At this point, you can decide if you'd like to make round or square-shaped turnovers. If you make round (half-moon shape) turnovers, you can simply use the top of a 6-inch diameter bowl as your cutter. If you'd rather make square (triangle-shape) turnovers, use a chef's knife to trim a 15-inch square. Mark 5-inch increments along all sides of the dough & with the ruler as a guide, cut the dough into nine 5-inch squares. Re-roll scraps as necessary.
ASSEMBLE THE TURNOVERS:
Line two rimmed baking sheets with parchment paper or silicone baking mats.

Place the cut-out dough onto prepared baking sheets. On each square or circle, use a knife to lightly mark a line showing the halfway mark (make sure it's just a line indentation & not cut all the way through). Spoon a couple of tablespoonfuls of the cherries onto each "half"- keeping it on one side of the dividing line and leaving about a 1/4-inch border along the edge. Brush edges on the fruit side of the turnover with egg wash (egg & milk whisked together). Carefully fold the other side over the fruit and use the tines of a fork to press the edges together and seal them. Move baking sheets to refrigerator and chill for about 20 minutes. Adjust racks in oven to top and bottom thirds of the oven, and preheat oven to 375°F.
BAKE THE TURNOVERS:
Brush the tops of the turnovers with egg wash and sprinkle with coarse sugar. Use the tip of a paring knife to carefully cut three slits in the top of each turnover to allow steam to escape during baking. Bake turnovers on bottom and top third racks for 15 minutes. Then rotate the sheets and bake for an additional 10 to 15 minutes, or until the crust is golden brown. Transfer to a cooling rack to cool completely. Serve warm or at room temperature, with whipped cream or vanilla ice cream.
Notes
*The dough may also be frozen. Wrap in plastic wrap and place in zip freezer bag for up to 2 months.
*These will keep at room temperature in a covered container for 2 days. To re-crisp, heat in a 375 degree oven until warmed through. They'll keep a little longer if wrapped airtight and refrigerated (about 5 days).
Nutrition
Serving:
1
turnover
,
Calories:
318
kcal
,
Carbohydrates:
32
g
,
Protein:
5
g
,
Fat:
20
g
,
Saturated Fat:
12
g
,
Cholesterol:
76
mg
,
Sodium:
238
mg
,
Potassium:
207
mg
,
Fiber:
2
g
,
Sugar:
13
g
,
Vitamin A:
723
IU
,
Vitamin C:
6
mg
,
Calcium:
46
mg
,
Iron:
1
mg