These Mini Pumpkin Pies are a simple, no-bake dessert option for your upcoming holiday festivities. Creamy filling in a buttery, flaky mini shell give all that great Thanksgiving pumpkin pie flavor you love in a tiny little, bite sized package.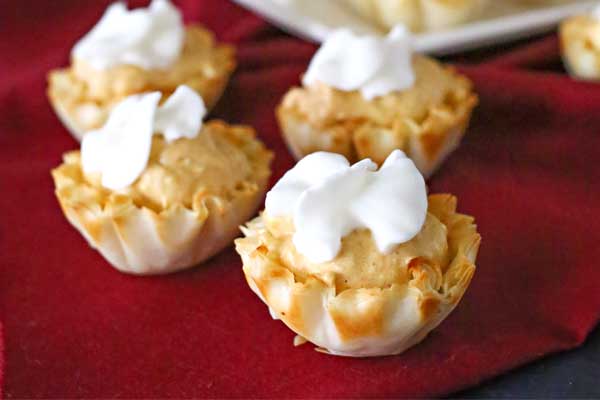 When I was growing up my great grandmother was the queen of pumpkin pie. She would slave away in her tiny little farmhouse kitchen and make pies by the dozens for the season to bring to lodge, church events and any other gathering she was invited to. I think she was invited because she came with pies… because I don't remember her leaving the house without a trunk packed full of pies to give away. That is the most vivid memory I have of her. Funny thing is, I was never really a fan of a regular pumpkin pie. Which was sort of a bummer growing up. Everyone would be enjoying their piece of pie after the feast and I (the dessert lover) was left without anything I really loved to eat. I have always been of the mindset that it has to be really good to be worth my time. So because I didn't care for it, I passed.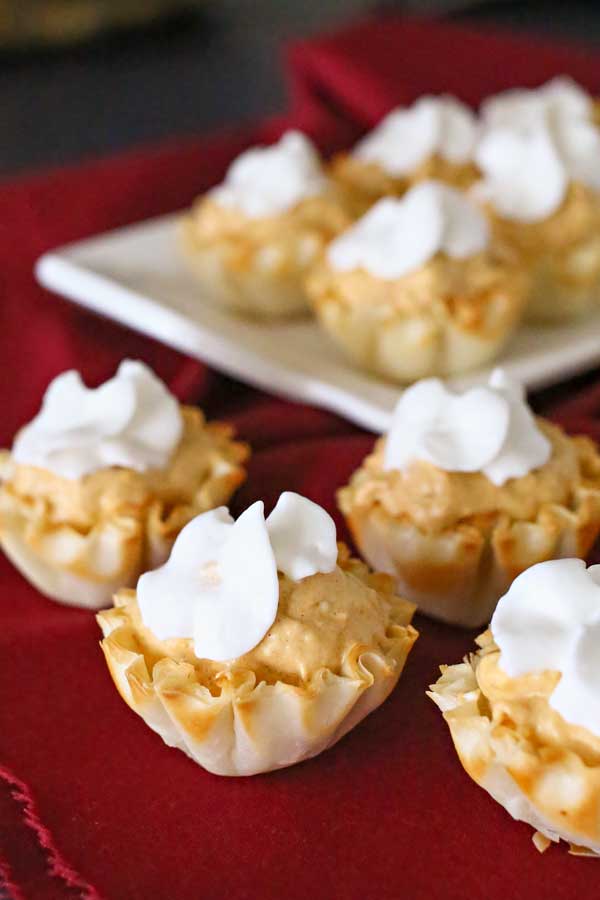 But as I got older I felt it was important to learn how to make her recipe. I knew my family loved pumpkin pie and I was eager to share this family recipe with them. So I perfected her recipe and the family did love it. But I was still left without dessert for myself. So that's when I decided to work on adapting her recipe to make it something we all would love and enjoy. After many variations for filling and actually moving away from my favorite easy pie crust recipe, I finally created the perfect little mini pumpkin pies that I just love.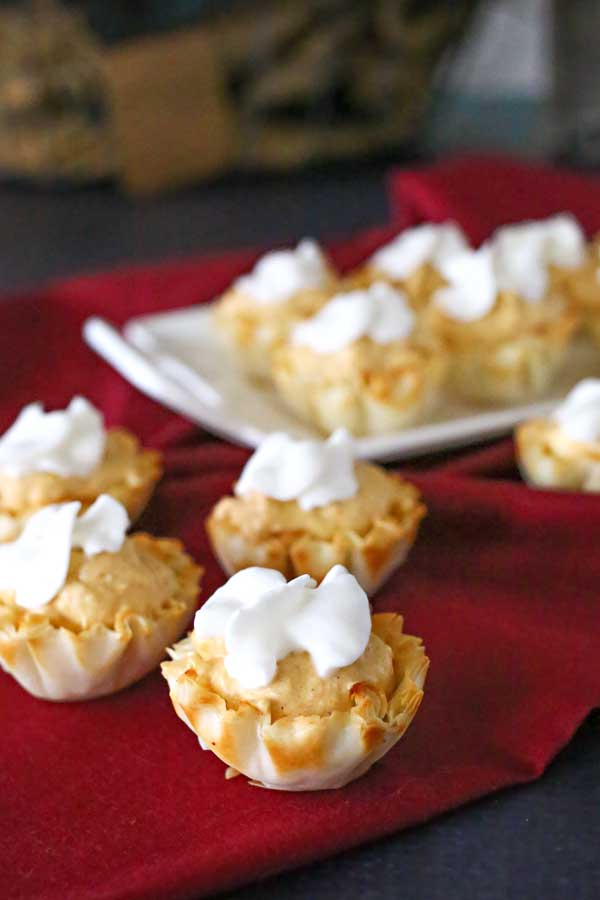 Utilizing fillo dough usually used in making pastries such as baklava and börek, I was able to make these so simple that I let my kids prepare them most of the time. Then when I was shopping for my fillo dough I noticed these mini fillo shells that were already baked and ready to enjoy. Well that made my day because it cut out a step. These are readily available with the frozen puff pastry and pie shells at the grocer.
If you are looking for a simple and easy alternative to wow your guests this Thanksgiving, you must give these a try!
Mini Pumpkin Pies
Yield:
30 mini pumpkin pies
Prep Time: 10 minutes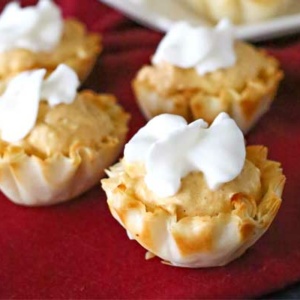 Ingredients:

4 ounces cream cheese, at room temperature
1/2 cup 100% pure pumpkin puree
1/4 cup packed brown sugar
1 teaspoon pumpkin pie spice
1/2 cup thawed whipped topping, either store bought or homemade
2 boxes (15 shells each) frozen Mini Fillo Shells, thawed
additional whipped topping of choice for the top

Instructions:

In a medium mixing bowl, use an electric mixer to beat the cream cheese until fluffy.
Add in the pumpkin puree, brown sugar and pumpkin pie spice and beat well.
Use a rubber spatula to fold in the whipped topping.
Spoon the mixture into the fillo shells, and add a dollop of additional whipped topping.
Keep refrigerated until ready to serve.  These desserts should be eaten the same day as they were made.

Nutrition:

You can use this filling in a ready made pie crust, homemade pie crust or fillo shells that you bake yourself. You can also use any type of whipped topping you like, either homemade or store bought. If you choose to top these with whipped topping in a squirt can, add it right before serving as it will deflate after a while. This recipe is simple to adapt based on your needs or tastes.
SOURCE:  RecipeGirl.com
Don't miss these great Thanksgiving ideas for your menu this year!