Wild Mushroom Stuffing is a delicious way to enjoy stuffing for a holiday dinner!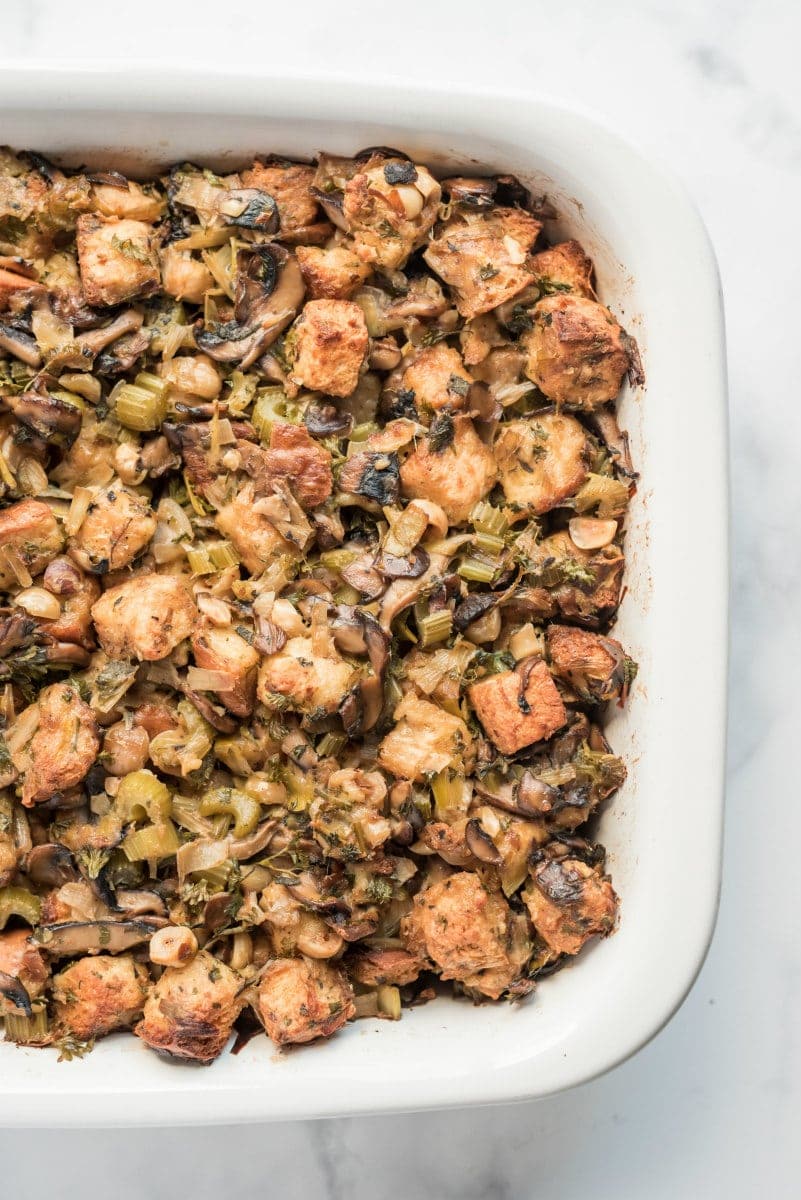 This is a stuffing recipe for major mushroom lovers. There are loads of mushrooms in this stuffing- porcini, cremini and shiitake! This Wild Mushroom Stuffing recipe also calls for using egg bread instead of plain 'ol French bread. I like to use a loaf of challah bread- it makes this stuffing taste so amazing! Look for challah bread in your market's bakery section, and ask if you can't find it. The recipe makes a lot of stuffing. If you're having a smaller Thanksgiving gathering, it's okay to cut all of the ingredients in half to make a smaller portion.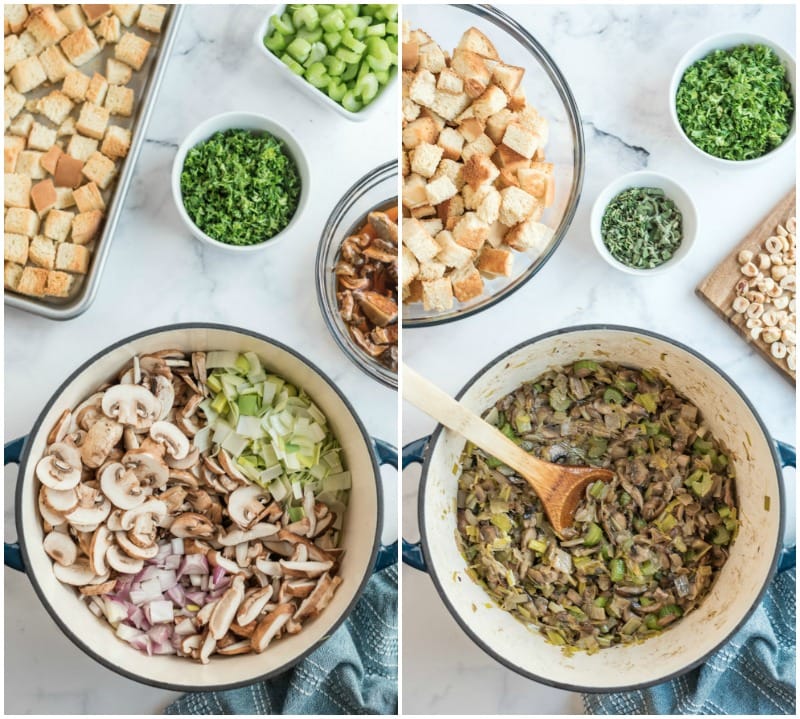 How to make Wild Mushroom Stuffing:
Porcini mushrooms are dried, so the first thing you'll do is soak them in hot water to soften them up. Then you'll chop up the porcini mushrooms and save the mushroom soaking liquid for later. The bread cubes are baked in the oven to dry them out.
In a large skillet, you'll sauté the leeks, shallots and cremini and shiitake mushrooms in butter until all are softened. Then you'll add in the celery and porcini mushrooms and sauté a little bit more.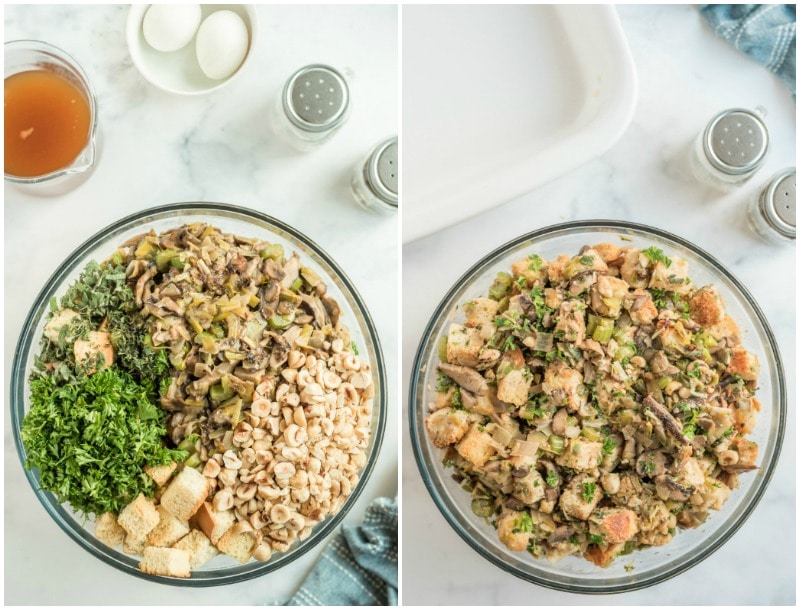 At this point, you'll transfer the sautéed mixture to a large bowl with the bread cubes. Then you'll mix in parsley, hazelnuts, thyme, sage and eggs.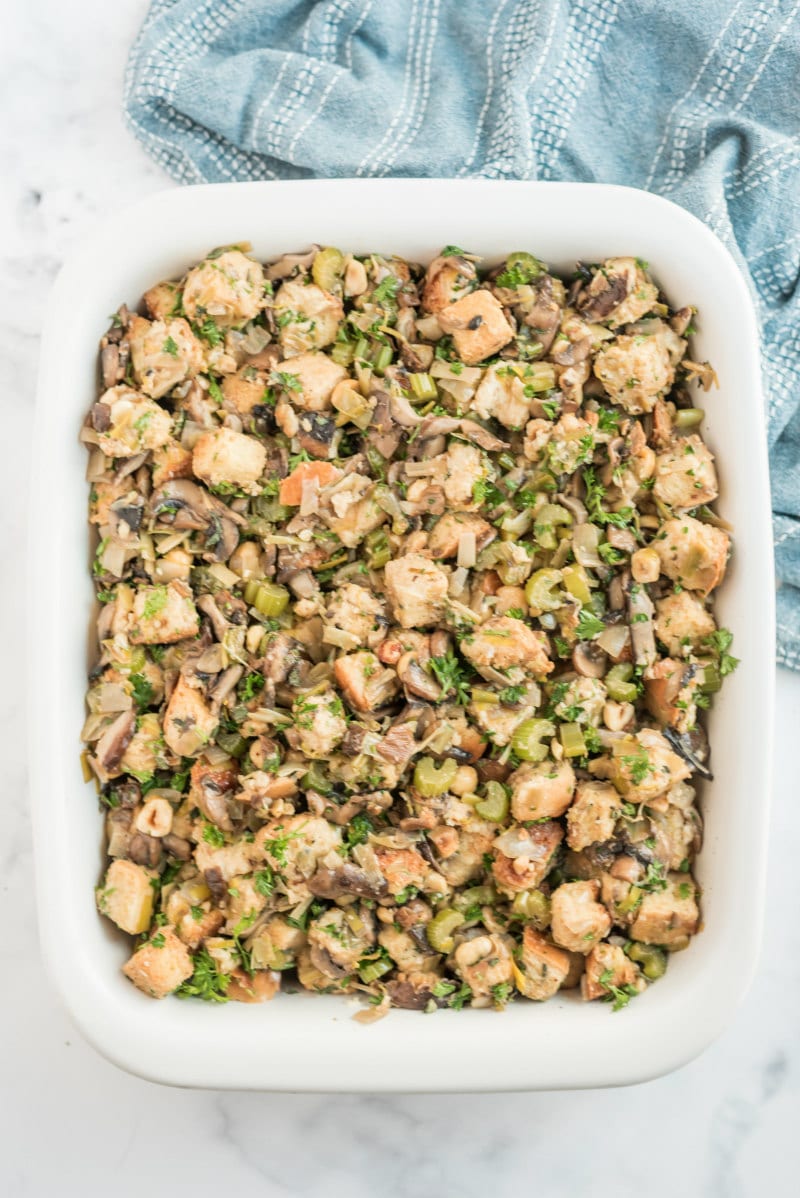 At this point, you can follow instructions for baking this Wild Mushroom Stuffing in a casserole dish or baking it as stuffed into your turkey. Instructions are laid out in the recipe below.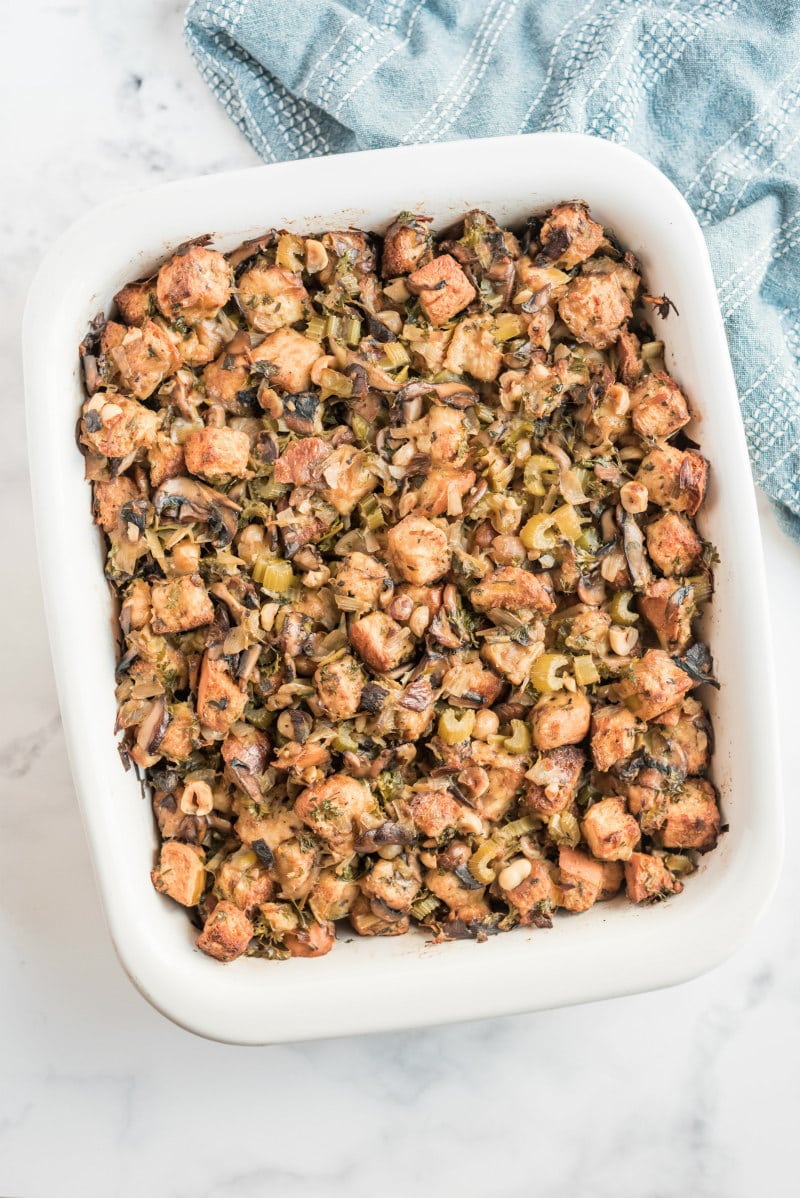 The result is a truly amazing tasting stuffing! Please note that this isn't a quick and easy stuffing recipe. It's a bit more gourmet, but the extra time is worth it. It's restaurant quality (as my husband would say).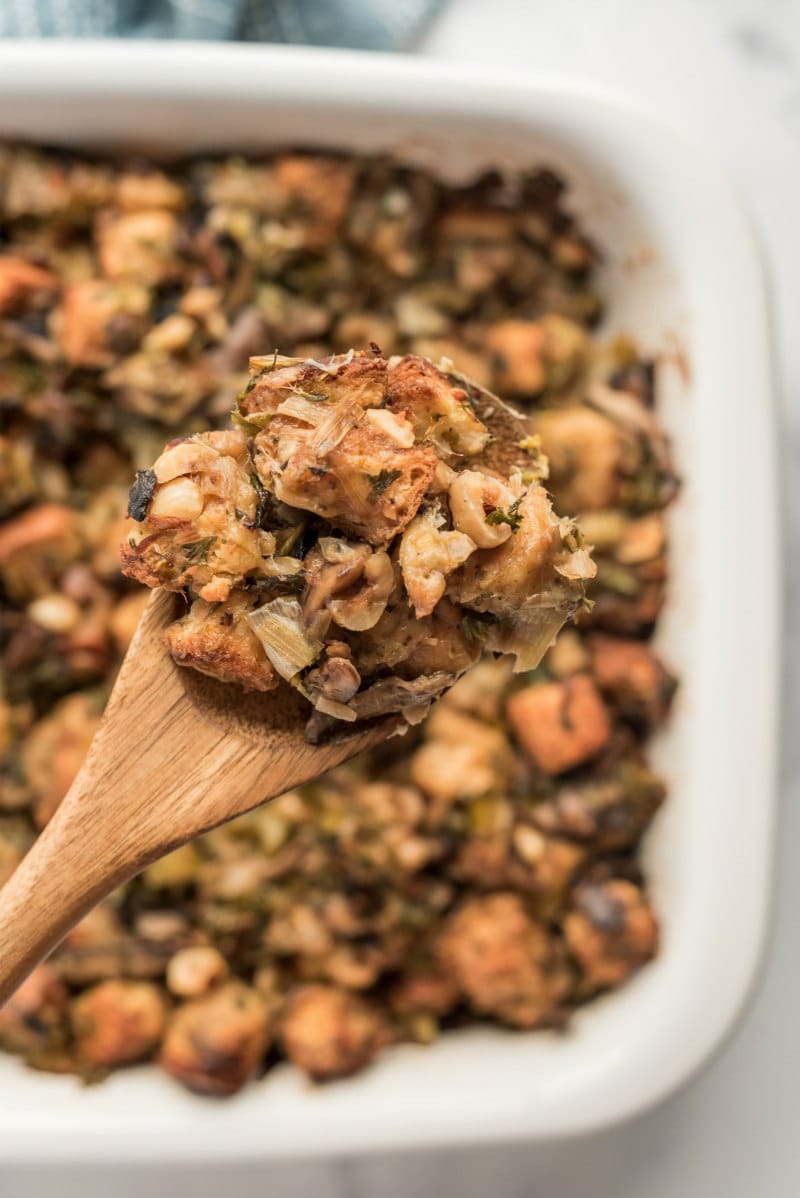 Can this stuffing be made ahead?
Yes, this Wild Mushroom Stuffing can be made one day ahead. You'll prepare it to the point right before you add the eggs to the mixture. On the day of making it, you'll mix in the eggs and proceed with the recipe.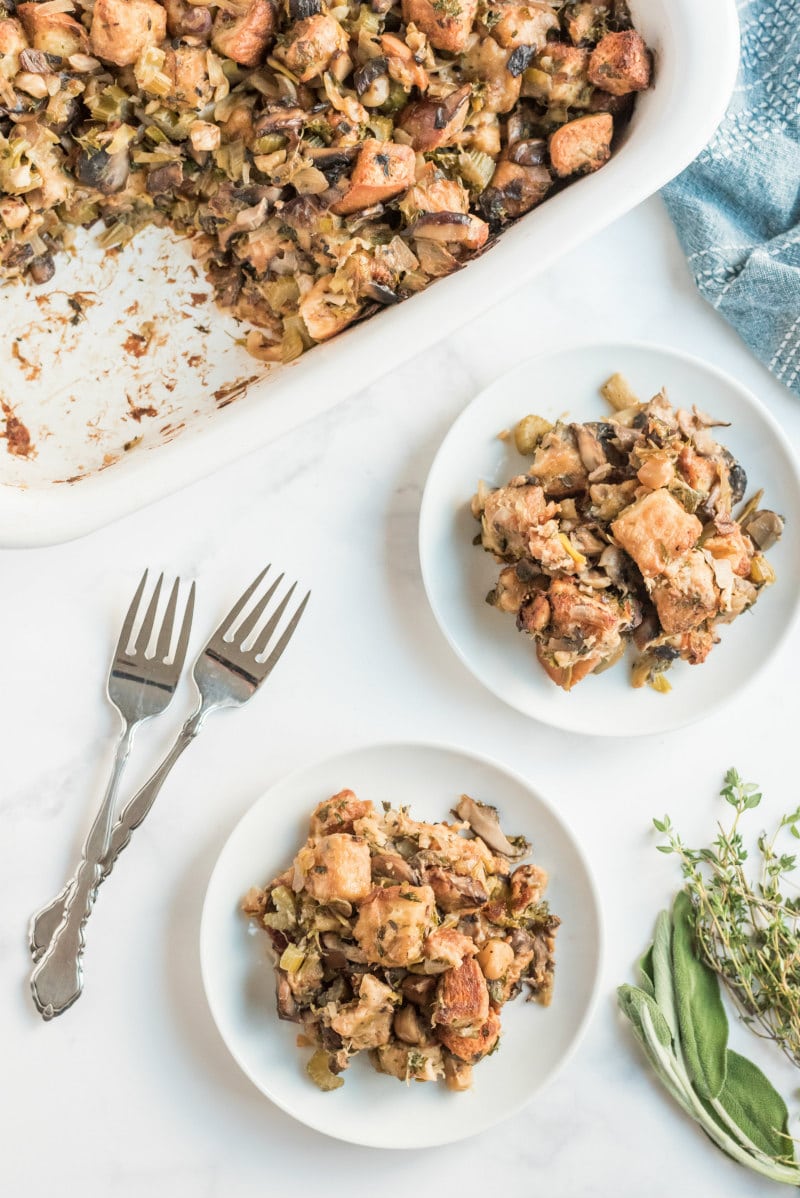 It's time to enjoy a holiday dinner with the best stuffing recipe ever (if you're a mushroom lover like me). Enjoy!
Here are a few more more stuffing recipes you might like to try:
Wild Mushroom Stuffing
Mushroom lovers will love this totally delicious stuffing recipe!
Recipe Details
Ingredients
2

cups

hot water

1

ounce

dried porcini mushrooms

1½ to 1¾

pound loaf

unsliced egg bread,

crust trimmed and bread cut into cubes (about 16 cups)

6

tablespoons (¾ stick)

unsalted butter

4

cups

coarsely chopped leeks (white and pale green parts)

-- about 3 leeks

1

cup

chopped shallots

(about 8)

1¼

pounds

cremini or button mushrooms,

sliced

8

ounces

shiitake mushrooms

(stems removed and caps sliced)

2

cups

chopped celery

1

cup

chopped fresh parsley

1

cup

coarsely chopped toasted hazelnuts

3

tablespoons

chopped fresh thyme

(or 1 tablespoon dried)

2

tablespoons

chopped fresh sage

(or 2 teaspoons dried)

2

large

eggs,

beaten to blend

3/4

cup

canned low-sodium chicken broth
Instructions
Combine the 2 cups of hot water and porcini mushrooms in a medium bowl; let it stand until the mushrooms are soft, about 30 minutes. Drain, saving the soaking liquid. Squeeze the mushrooms dry, and then chop coarsely.

Preheat the oven to 325°F. Divide the bread between 2 baking sheets. Bake until it is beginning to brown, about 15 minutes. Cool, and then transfer the bread to a very large bowl.

Melt the butter in heavy Dutch oven over medium-high heat. Add the leeks, shallots, and crimini and shiitake mushrooms and sauté until golden and tender, about 15 minutes. Mix in the celery and porcini; sauté 5 minutes. Transfer the mixture to the bowl with the bread cubes. Mix in the parsley, hazelnuts, thyme and sage. Season with salt and pepper. (Can be made 1 day ahead. Cover and chill porcini soaking liquid and stuffing separately.) Mix the eggs into the stuffing.

To bake the stuffing in a turkey: Fill the main turkey cavity with the stuffing. Combine the broth and 1/2 cup reserved porcini soaking liquid in a large glass measuring cup. Add enough broth mixture to the remaining stuffing to moisten (about 3/4 to 1 cup of the broth mixture, depending on the amount of remaining stuffing). Spoon the remaining stuffing into a buttered baking dish. Cover with buttered foil. Bake the stuffing in the dish alongside the turkey until heated through, about 30 minutes. Uncover and bake until the top is crisp, about 15 minutes.

To bake all the stuffing in the pan: Preheat the oven to 325°F. Butter a 15x10x2" baking dish. Mix 3/4 cup of the reserved porcini soaking liquid and 3/4 cup of broth into the stuffing. Transfer the stuffing to the prepared dish. Cover with buttered foil and bake until heated through, about 1 hour. Uncover and bake until the top is crisp, about 15 minutes.
Nutrition
Serving:
1
serving
,
Calories:
356
kcal
,
Carbohydrates:
43
g
,
Protein:
11
g
,
Fat:
17
g
,
Saturated Fat:
6
g
,
Cholesterol:
76
mg
,
Sodium:
262
mg
,
Potassium:
668
mg
,
Fiber:
5
g
,
Sugar:
6
g
,
Vitamin A:
1444
IU
,
Vitamin C:
16
mg
,
Calcium:
130
mg
,
Iron:
4
mg