This recipe has been featured in a post on The Recipe Girl blog: Shiitake Mushroom Stuffing.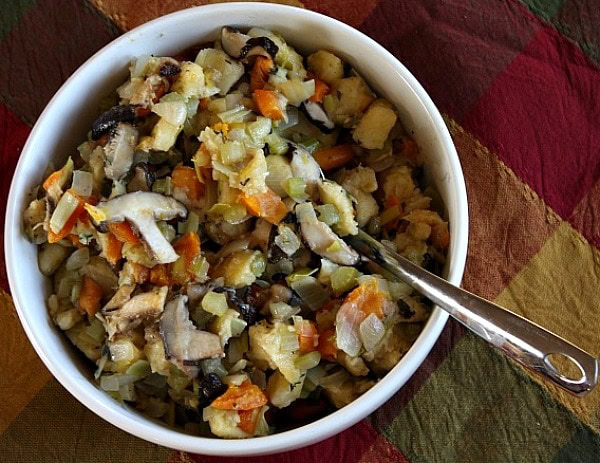 Shiitake Mushroom Stuffing
This is my favorite stuffing recipe- so good and so moist & full of the flavors of mushrooms and dried apricots and sage.
Yield:
12 servings
Prep Time: 25 min
Cook Time: 1 hr, 25 min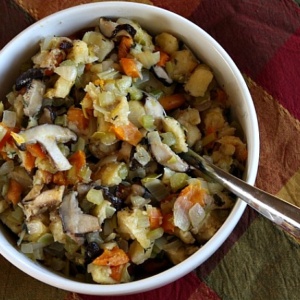 Ingredients:

2 Tablespoons extra-virgin olive oil
2 large onions, chopped (about 6 cups)
4 leeks white & pale parts only, finely chopped & then rinsed well (about 5 cups)
1 bunch celery, finely chopped (about 4 cups)
4 cloves garlic, minced
8-ounces shiitake mushrooms, rough ends cut off- then slice stems & caps
10 cups dried bread (buttermilk is good), crusts removed & bread cut into 1/2-inch cubes (from 2 loaves)
2 cups dried apricots, coarsely chopped
1/4 cup chopped fresh sage
2 Tablespoons chopped fresh thyme
2 cups vegetable broth
2 sticks (1 cup) unsalted butter, melted
kosher salt and freshly ground black pepper

Instructions:

1. In a large skillet, heat oil over medium heat. Add onions, leeks, celery, and garlic. Cook until onions are translucent and softened, about 20 minutes (stirring often).

2. Add mushrooms and cook until softened, about 5 minutes. Transfer mixture to a large platter; spread out and let cool, about 5 minutes. (This can be refrigerated overnight).

3. Combine onion-mushroom mixture, bread, apricots, sage and thyme in a large bowl. Just before baking, pour melted butter and broth over the mixture and stir gently to combine. Season with salt and pepper. Let stand for about 10 minutes, allowing bread to soak up the liquid.

4. Preheat oven to 375°F. If you're stuffing your turkey, get as much as you can into the cavity of the turkey and put the rest in a greased baking dish. Bake until top is crisp and stuffing is heated through, 50 to 55 minutes.

Tips:

*If you've stuffed your turkey with stuffing, the stuffing should be removed when the turkey is done roasting. Place it in a baking dish and bake for about 30 minutes while turkey is resting (stuffing temperature should reach 165 degrees).
*I covered my baking dish full of stuffing and refrigerated it until I was ready to bake it. It turned out just fine that way.