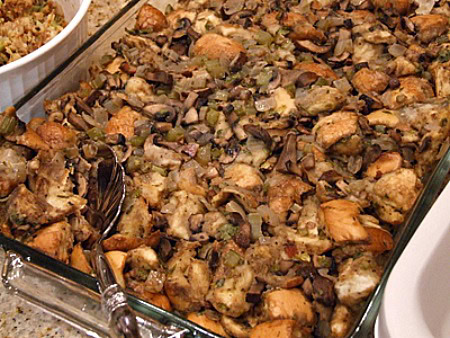 Portobello Stuffing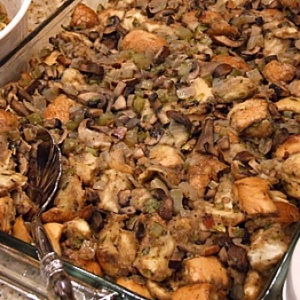 Yield:
12 servings
Prep Time: 30 min
Cook Time: 1 hr
Ingredients:
4 slices bacon, chopped
3 cups chopped sweet onion
2 cups chopped celery
1 pound portabella mushrooms, diced
1 teaspoon dried sage
1/2 teaspoon salt
1/4 teaspoon black pepper
One 16-ounce package unseasoned cornbread stuffing mix
1/2 cup chopped fresh parsley
1/2 cup chopped celery leaves
4 large eggs, beaten
1/2 cup dry white wine
1 to 2 cups chicken broth
1 Tablespoon butter, softened
Directions:
1. Preheat oven to 325 degrees F. Grease 13x9-inch baking pan.
2. Fry bacon in large skillet until crisp. Save 1 Tablespoon bacon drippings and discard the rest. Add onion and celery; sauté until soft and lightly browned (about 5 min.). Add mushrooms and cook for 5 minutes. Add sage, salt, and pepper; stir 1 minute.
3. Add stuffing mix, parsley and celery leaves. Transfer the mixture to a large bowl.
4. In a small bowl, whisk together eggs and wine; add to stuffing. Incorporate 1 cup of the broth into the stuffing and toss. Add more broth, as needed, until the stuffing comes together but isn't soggy. Scoop the stuffing into the prepared pan and cover with aluminum foil. Bake for 45 minutes. Let stand, uncovered, for 10 minutes before serving.
Tips:
* If you are not able to find cornbread stuffing that is unseasoned, use a loaf and a half of French bread- chop it up and toast it in the oven. It will work just fine.