Here's an easy recipe for just Mom and Dad to enjoy:  Chicken Cutlets with Mushroom Wine Sauce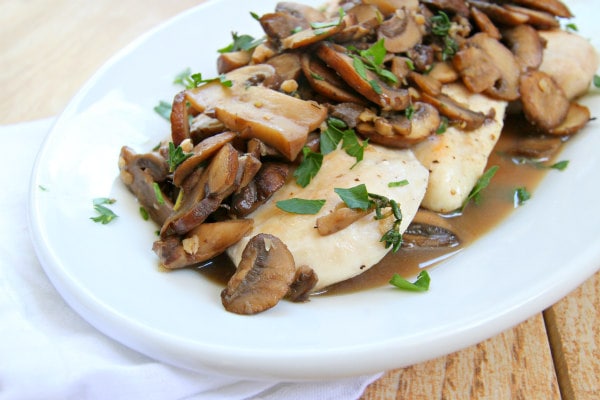 If you're a mushroom lover who enjoys wine with dinner, this recipe is for you!  We love mushrooms in my house.  We enjoy them so much that sometimes I just sauté a zillion mushrooms and serve them as a side dish to whatever we're eating.  So good!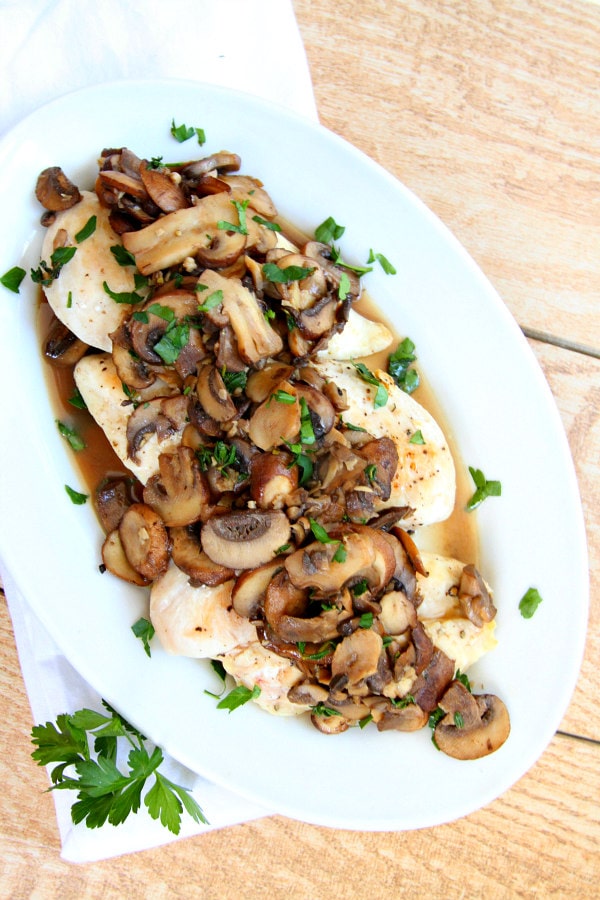 You'll use thin sliced chicken breast for this recipe.  The thin cutlets are quickly seared.  A simple sauté of the mushrooms with garlic, then reduced with white wine and enhanced with fresh thyme… and your dinner is ready in 15 minutes.  I've included nutritional information and Weight Watchers points in the recipe below.
Enjoy!
Chicken Cutlets with Mushroom Wine Sauce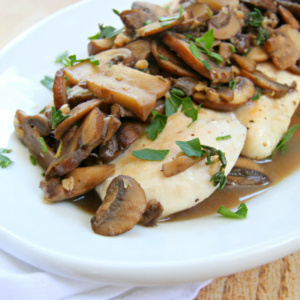 Yield:
4 servings
Prep Time:15 minutes
Cook Time:10 minutes
Ingredients:
Four 4-ounce thin-sliced chicken cutlets (1 pound total)
1/2 teaspoon kosher salt
1/4 teaspoon freshly ground black pepper
1 tablespoon unsalted butter
One 8-ounce package sliced mushrooms
2 garlic cloves, minced
2/3 cup dry white wine
1 teaspoon fresh thyme
1 tablespoon fresh parsley, for garnish (optional)
Directions:
Season the chicken cutlets with salt and pepper.  Heat a large nonstick skillet over medium-high heat.  Spray with nonstick spray, and add the cutlets.  Cook 2 to 3 minutes on each side- just until lightly browned and cooked through.  Remove the cooked chicken to a plate and cover to keep warm.
Melt the butter in the skillet.  Add the mushrooms, and cook over medium-high heat until mushrooms begin to brown and soften- about 3 minutes.  Add the wine to the skillet, and continue to simmer until about half of the wine has evaporated (4 to 5 more minutes).  Stir in the thyme.
Divide the mushroom mixture between the four cutlets for serving.  Sprinkle fresh parsley on top, if desired.
Tips:
If you prefer not to use wine in cooking, you can substitute chicken broth for the wine-- and if you're following WW and counting points... the use of chicken broth turns this into a 1 point meal!
Nutrition:
Nutritional Information per Serving (serving size 1 cutlet + 1/4 of the mushroom sauce) Calories: 207, Fat: 7g, Saturated Fat: 3.3g, Cholesterol: 73mg, Sodium: 336mg, Potassium: 219mg, Carbohydrates: 2.8g, Fiber: .8g, Sugar: 1.1g, Protein: 27g
Weight Watchers POINTS:  Freestyle SmartPoints: 3, SmartPoints: 4, PointsPlus: 5, Old Points Program 5
SOURCE:  RecipeGirl.com
Here are a few more chicken cutlet recipes you might enjoy: